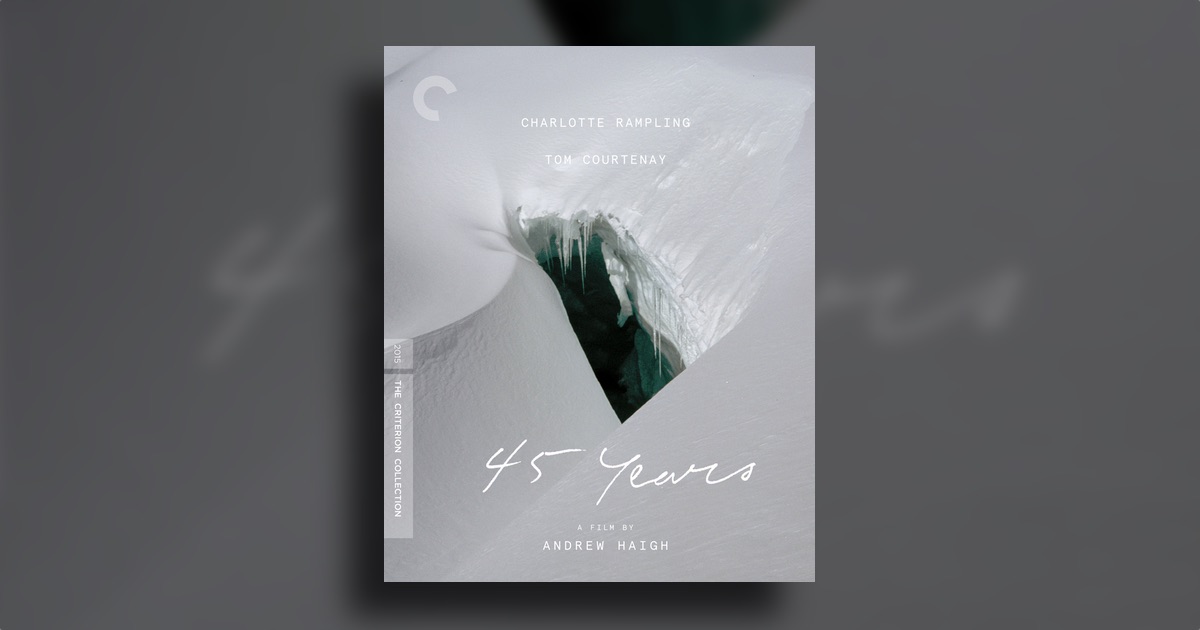 Like the film up for discussion itself, I'm going to keep this review of 45 Years very concise and heartfelt, though I'm sure with results not quite as finely wrought nor impeccably composed as director Andrew Haigh and his leading actors Charlotte Rampling and Tom Courtenay were able to achieve. Much like Criterion's release last year of Phoenix, another intimately scaled contemporary drama presented for the appreciation of perceptive adults, 45 Years is a profoundly direct and emotionally evocative portrayal of complex relational dynamics that shift suddenly and with devastating consequence when long dormant secrets unexpectedly erupt from the past. This story, of a respectable married couple preparing for a very public celebration of their forty-fifth wedding anniversary, is effectively rooted in its Norfolk, England context, but with a universal applicability that committed partners from all walks of life can readily connect with their own personal stories.
The dramatic tension is introduced within the film's first few minutes, when retiree Geoff Mercer receives a letter written in German one morning. Though not fluent in the language, he's able to scratch out enough meaning from the note to recognize that the body of Katya, his former lover, has been retrieved, almost perfectly preserved in ice over more than a half-century, after she had tragically fallen into a glacier while on a hiking expedition through Switzerland with Geoff back in 1962. This completely unanticipated discovery, which he immediately shares with his wife Kate, stirs up a host of old memories and painful feelings that never received adequate closure, and their disruptive effect is not limited to the man who had to find a path forward out of his own grieving process. In fact, as agonizing as his own plight obviously is to anyone capable of simple human empathy, Geoff's dilemma is actually more of a catalyst for the life-changing repercussions experienced by Kate, his spouse of 45 Years, who had known a bit about Geoff's past, but had never felt the need nor been forced by circumstance to fully reckon with her husband's previous romantic involvements. The film focuses with an intense but compassionate precision on how the revelation of long-suppressed attachments to the memory of a dead lover, and the undisclosed truths that shaped her husband's core identity, calls into question so many assumptions that Kate considered to be safely settled as she moved into the latter decades of her life.
As the trailer above effectively communicates to anyone who hasn't yet seen the film, 45 Years takes a discreetly measured approach to its subject, trusting the audience's ability to be drawn in and stay connected to performances that feel unequivocally true to life, so much so that one frequently has to push past feelings of intruding on private matters that we have no business peering in on. Indeed, many of us might even experience the sensation of having some of our own personal habits and tendencies unceremoniously revealed for all the world to see up on the screen. It's only when one steps back from the process that it becomes apparent how impressively well-executed the entire production was, from the script and direction of Andrew Haigh to the contributions of d.p. Lol Crawley, whose lighting and blocking situate us perfectly to capture every captivating nuance of Rampling's expressive face without drawing attention to his methods nor using any discernible trace of artifice to enhance the effect.
The supplemental features are few in number on the disc, but they do a wonderful job of introducing us to the creative talents that collaborated in perfecting this gem of a movie. Chief among them is a full length commentary track featuring Haigh and producer Tristan Goligher. Their conversation about the making of the film is consistently lively and engaging, veering between amusing anecdotes about their creative process and insightful analysis of key scenes that reveal some of their artistic intentions without spilling over into self-important grandiosity. I really enjoyed learning more about Haigh and welcome more of his work in the Collection as it seems obvious that he has a brilliant directorial future ahead of him. Haigh and Goligher contribute quite a bit to a short behind-the-scenes documentary that also gives Rampling and Courtenay a chance to express what the project meant to them. We're also given some helpful background on the film's origins as a short story, through an interview with its writer David Constantine, who was astonished that a modest sketch of a dozen pages, published over twenty years ago, became the basis for such a successful and widely admired feature.
Watching 45 Years a couple nights ago with my wife Julie proved to be quite a bracing experience, and a great conversation starter! As marriage partners halfway through the thirty-third year of our own journey together, the interpersonal tensions created with extraordinarily realistic tact and subtlety by Rampling and Courtenay stirred up so many recollections of crises we've endured and worked through over the decades. I'm truly grateful for the effect that a film like this has in generating dialog, even prompting us to revisit certain matters that may not have been as fully resolved as either of us might wish to think. I'm confident that the insights stirred up by our viewing will linger in memory and continue providing benefits of constructive dialog and appreciation for each other for quite some time. This is cinema as "couples therapy" in the best sense of that term, the kind of movie that can serve a constructive function in the lives of viewers, well beyond mere admiration for the artistic talents that went into its construction. I'm delighted that the Criterion Collection continues to include this kind of low-key but marvelously evocative fare in its steady flow of important contemporary films.
For more about 45 Years, check out Joshua Brunsting's theatrical review from 2015.