For months we were hearing little whispers of this pinku eiga film from Japan. Why was a pinku eiga film getting so much attention? The main tidbit that had us at The Criterion Cast interested was the director of photography doing this film. Christopher Doyle, the DP of Wong Kar Wai, was going to give his touch to a genre of film that doesn't get much attention when it comes to that subject. When news came out it was also a musical film about a kappa who comes back to the fishing town he grew up to see the girl he dug back in high school, I knew it was a film I had to check out when I was down in Austin for Fantastic Fest. Seeing the film early in the morning, I found the colorful film much more surprising than I could have ever known. Being sent the new DVD that the UK company Third Window Films put out, the two questions are: Is the film as good as I remember? and Should you purchase this DVD of it right now?
From Third Window Films own site comes a synopsis I think works rather well.
From Germany's Rapid Eye Movies and Japan's Kokuei Company comes a whimsical pink film musical about a woman and a sea creature.
Directed by pink-film veteran Shinji IMAOKA (Lunch Box, Frog Song), shot by Christopher Doyle '" the famed cinematographer behind Hero and countless films by Wong Kar Wai '" and with music by Germany's Stereo Total, Underwater Love '" A Pink Musical promises to be unlike anything you've ever seen.
Asuka works in a lakeside fish factory. She is just about to be married to her boss. One day, she encounters a Kappa, a water creature living in the lake and learns that it is the reincarnation of Aoki, her first love. What ensues is a zany spectacle of love, music and sex.
I went in with two thoughts about the film before even seeing it, which isn't necessarily a good thing. I knew it would look really vibrant and that it would be the usual softcore porn I've been used to watching pinky films for the last 10 years. Luckily only the first thing was true, with Doyle's cinematography uplifting the film and being sharp and beautiful throughout. But this is not a typical pinky film which made this a breath of fresh air in the genre. It wasn't just about the sex, which in the past I've been used to overly creepy scenes, usually with a middle aged man and a girl who appears to have just turned 18 and always turning my stomach a bit. Mind you, this is not all of the genre, but much of what I've been sent to watch and review tends to fall into the 'typical' pinky film. Underwater Love not only has a fun and comedic tone through the film, we also have such warmth and caring within as well which I would had never guessed.
And this is all lays upon our lead actress, Sawa Masaki as Asuka, who gives us a mixture of loss, regret and taking back her life considering she had given up in her old age (35 years old), settling on the best case scenario presented to her, which is to marry her boss at the fish factory. It's only when she meets up with her first love, Aoki (Yoshiro Umezawa), now reincarnated into a Kappa and still as childlike as when he died those many years ago. While Asuka is wide eyed when it comes to Aoki coming back into her life, Aoki is instead a lethargic soul, one who is very nonchalant as to what he wants in his newfound life, which is to reconnect with Asuka once more.
What puts this film in a level all its own is that it's also a musical, one that intentionally feels like an amateur stage musical, one that has true sentiment and full of life, even though it's always lip synched from an earlier recording. And that's what makes it charming, ultimately. People tend to point out Harold and Maude being the strangest romance every put to film, but I'd like to put Underwater Love in that same quirky bag, a film that truly needs to be seen to be believed. But I bet everyone wants to know how the sex scenes are. This is a pinky film, isn't it?
Well, in this case, we have sporadic sex scenes, dealing with our main characters, with other lovers and ultimately with one another. But they fit with each character, their wants and desires. The sex also signifies what they are missing in their lives, and for a pinky film to elicit that type of reaction from me, someone who had almost given up on the genre wholesale, is a lofty feat. The second time viewing this film, being the first time I watched it on DVD, brought forth an array of feelings from even this cynical critic. And all the feelings that Imaoka and Doyle were going for worked well and brought this film from what on the outside might look like an extended joke into something real and truly worthwhile.
After seeing this film at Fantastic Fest 2011 as I mentioned earlier, I was worried I wouldn't be able to view this film again for quite awhile, considering not only the length of time Japanese films take to come out on American DVD, but a pinky film to boot, but the great folks at Third Window Films acquired the film in the UK and have put out a stellar edition, one I can say is definitely worth importing. First off, the film was made with a small budget so the quality of the film is low budget, yet it gives it a charm all its own and with Doyle's handiwork at play, when the film shines with some bursts of color, we are all the more lucky because of it. We also get the great musical score from Stereo Total in 5.1, which is one of the highlights of this film.
What we also get is an array of special features, three of which are centered around Christopher Doyle, all in interview form but in different places. Ranging from 8 to 25 minutes, one of which is at a beauty parlor, which shows a sense of humor in supplements we sometimes don't get from distributors. He's a witty and insightful man who I really wish contributed a commentary track on the film, but we can't get everything we want. We also get a 15 minute interview with Shinji Imaoka, who describes pinky films in general and also the script and story direction for the film. Also on the disc are three 'porcupine' shorts, which are different views of the first sex scene in the film, showing different views of this scene, and is a welcome addition to the set. Finally a soundtrack for the film, which I can't stop listening to, is also included but is very limited so if you can, order it as soon as possible.
Third Window Films really hit this one out of the park, giving a well rounded disc for Underwater Love. Just like the film itself, it was a surprise in itself, one I thought might give a passing glance but in the end I'm glad I got to take it all in and truly experience the film in different ways. This is a film to watch with close friends or a loved one. It's not lewd, even with its sex. It's fun and very tongue in cheek. And what other film will you see a turtle man's privates? It's got a bit of everything, and I can definitely say this was one of the highlights in film I had this year. Pick up this film now and see what you've been missing.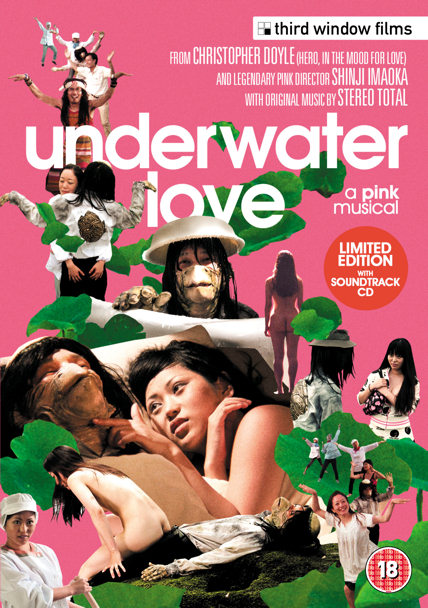 And the NSFW trailer is right below. You get a bit of the music in the film, which once you've heard will stay in your head.