This coming Friday, July 15, marks the birthday of the greatest of all Dutch painters, Rembrandt van Rijn. Born 505 years ago, I figured now was as suitable an occasion as I'd ever have to review Rembrandt, this fine biopic from 1936 starring Charles Laughton, part of Eclipse Series 16: Alexander Korda's Private Lives.
Korda is one of the most influential and dynamic figures in the history of UK cinema, founder of London Films and the first man ever granted knighthood for his work in the English film industry. Along with his brothers Zoltan and Vincent, he played a major part in creating some of the most fondly remembered British films of the 1930s, 40s and 50s, including The Scarlet Pimpernel, The Four Feathers, That Hamilton Woman, The Thief of Bagdad, The Third Man and Laurence Olivier's version of Richard III.
---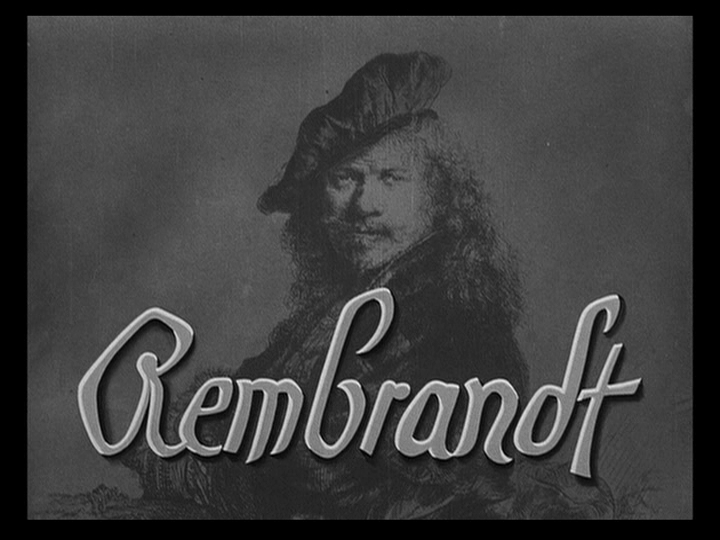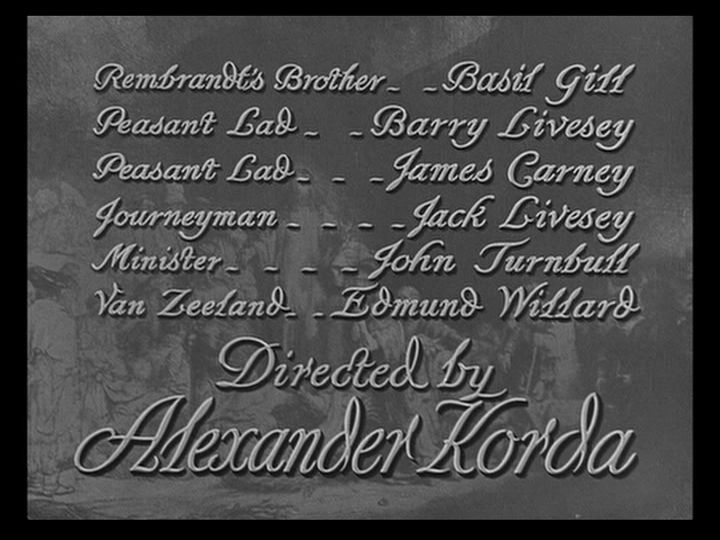 ---
As anyone who's paid even the slightest attention to Criterion's ever-expanding lineup of films exclusive to their channel on Hulu Plus already knows, they have the rights to a LOT of old Korda films, including several he produced that were released in between the four titles gathered in this particular Eclipse box. The theme of films based on famous historical figures unites The Rise of Catherine the Great, The Private Life of Don Juan (which I have yet to watch or review in this column) and The Private Life of Henry VIII.
That last one, actually the earliest of the four, bears the strongest connection to Rembrandt: a powerful yet sensitive lead performance by the great Charles Laughton, who found in Rembrandt a figure so compelling to portray on screen that he was able to set aside the neurotic hang-ups that had obstructed his earlier efforts to collaborate with Korda on a never-realized production of Cyrano de Bergerac. Though Henry VIII and Rembrandt were men of decidedly different temperaments, it seems that Laughton, a notoriously complex man himself, had enough in common with the two that one can easily conclude he was born to convey the essence of both characters to a mass audience. And in Rembrandt, he accomplishes that task splendidly.
---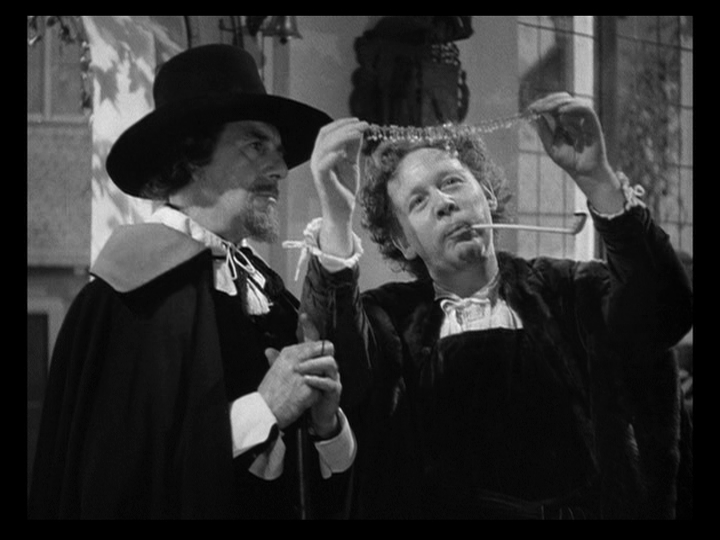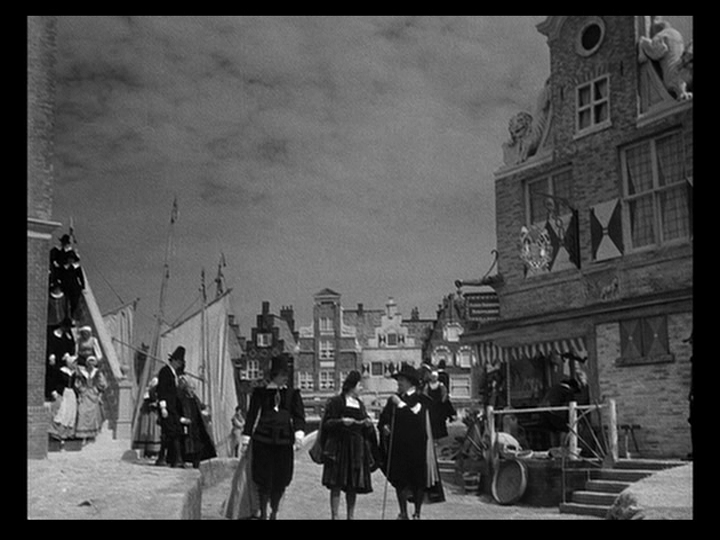 ---
The story begins with Rembrandt at the height of his fame and artistic powers. Confident in his talents, maybe even a bit full of himself, he's also blissfully in love with his wife Saskia, whose wealth played a major part in allowing him to cultivate his painterly skills without the annoying need for toilsome common labor in earning a steady income.
However, his extraordinary abilities were matched by equally extravagant tastes, as we see him overspending on paints and supplies as well as baubles for his beloved. This video clip, one of three wonderful, entrancing soliloquies that Laughton treats us to over the course of the film, perfectly captures the deeper-than-usual perception that fueled his artistic accomplishments.
---
---
Laughton's golden, resonant voice, and his unerring ability to capture and hold center stage for an extended passage of time without flinching or dropping the ball, are both put to good use in numerous scenes, making Rembrandt essential viewing for anyone who's come to appreciate this charismatic star from his more famous roles in films  like Mutiny on the Bounty, The Hunchback of Notre Dame, Hobson's Choice or even his small part, late in his career, in Stanley Kubrick's Spartacus.
---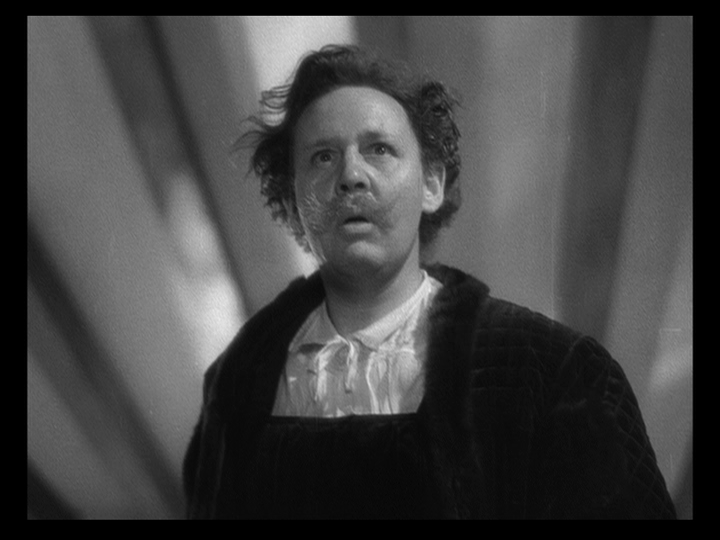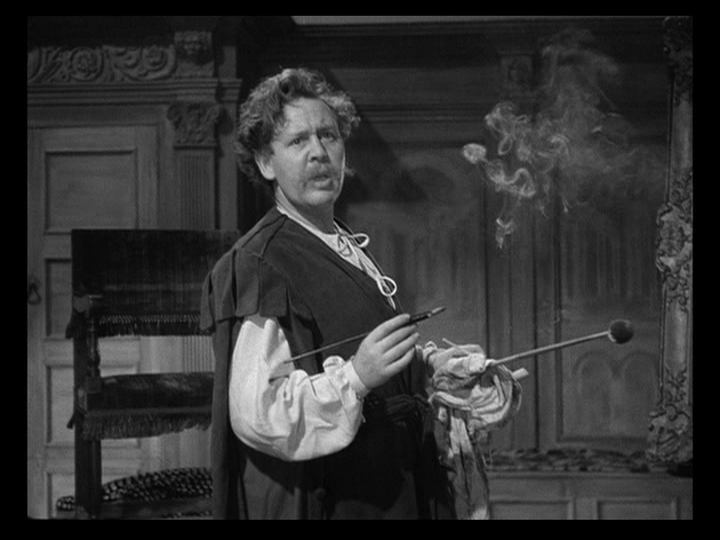 ---
Sadly but truly, Rembrandt's sublime state of perfect happiness turns out to be very short-lived (ain't that always how it goes?) as he hears the terrible news that Saskia, who we never see, has quickly, mysteriously fallen ill and died. The shock and loss push him deeper into the refuge he finds in his art, further infusing his painting with the dark chiaroscuro elements for which he remains so famous.
Significantly, except for one particular painting, his well-known masterpieces are not the focus of the story, and though we see him dabbing his brush on canvas a few times, we aren't shown any of the work in progress. A careful eye will note a few of his paintings set up in the background scenery from time to time, but the man himself, not his professional output remains the center of attention. Compared to  another Eclipse film dealing with the emergence of bold new developments in the arts, Roberto Rossellini's The Age of the Medici, Rembrandt dwells much more on the interiority of its central character, much less on his broader impact on the world around him.
---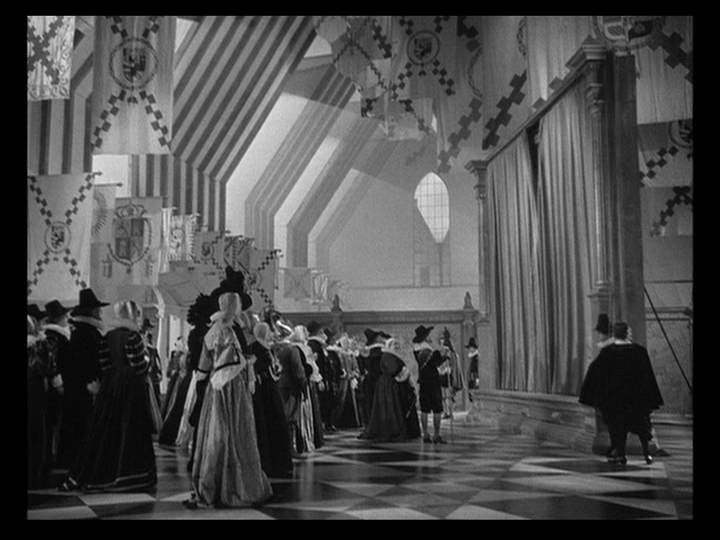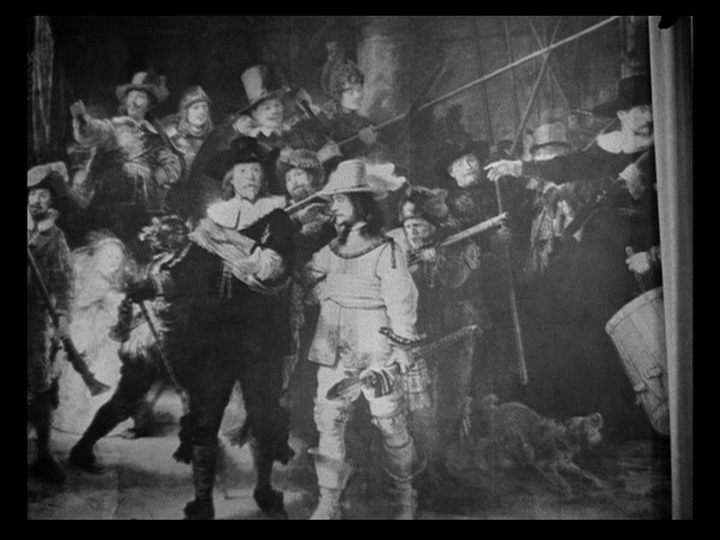 ---
But that one painting, The Night Watch, plays a significant role in Rembrandt's fall from grace and favor. A monumental work, measuring over 12 feet high and 16 feet across, it's one of the most familiar images ever created, ranking just behind the Mona Lisa, the Last Supper and the ceiling of the Sistine Chapel in the estimation of leading art critics.
The scenes leading up to the unveiling of this hotly anticipated "new release" from the leading painter of his era brought to mind the extent to which such a promotional build-up to see "the new Rembrandt" back then must have resembled all the hype and sense of expectation surrounding new movie premieres both in Korda's day and in our own.
---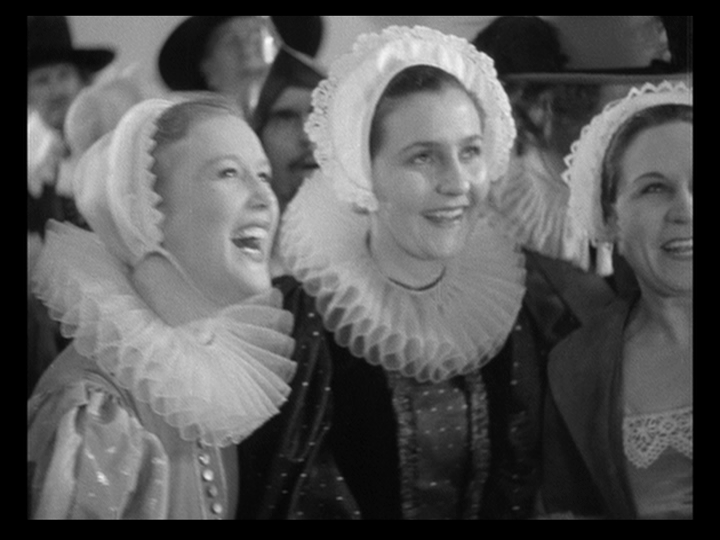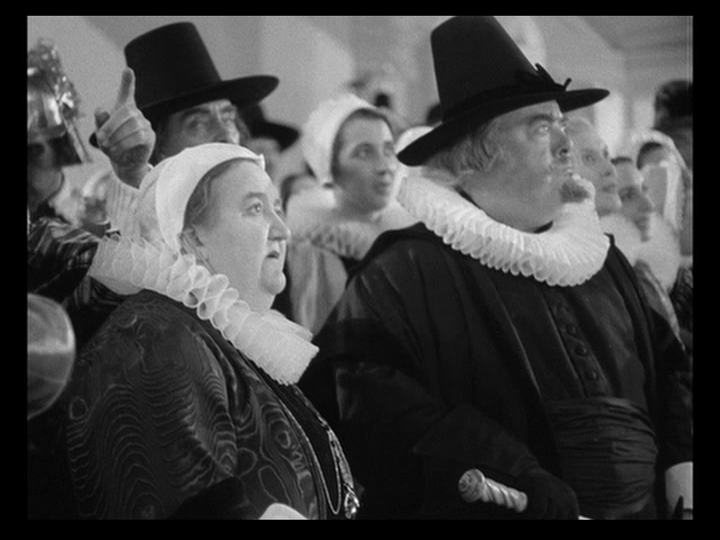 ---
Ironically, the screenplay by Carl Zuckmayer perpetuates a myth that historians dispute, namely that the painting was poorly received by the men it portrayed and led to Rembrandt's financial ruin. While it's true (as mentioned in the film) that noted civic leaders of the day each paid 100 guilders (a large sum of money) to have their faces included in the canvas, the shocked and outraged response we see was not really indicative of how it was received. But since when have great films let historical facts stand in the way of effective story-telling?
---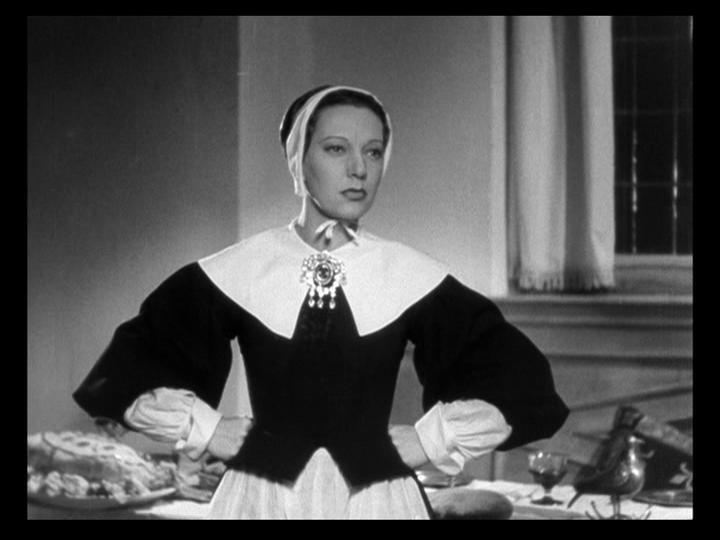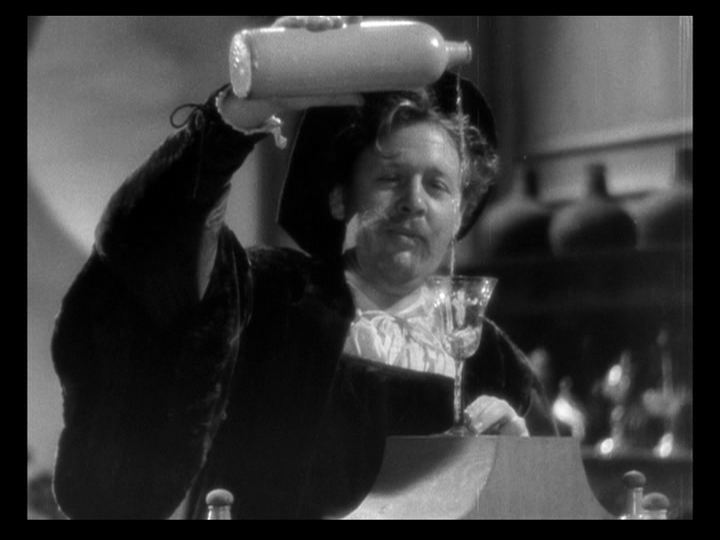 ---
Rembrandt, now widowed with his popular reputation  and personal fortunes having hit the skids, has to come to grips with the reality that his peak years have passed, even though his creative fires continue to burn just as intensely as ever.
Losing himself to the consolations of drink and satisfying his lusty appetites however he can (and what's a Laughton film without at least one paean of indulgence in life's carnal delights?), Rembrandt is left to ponder life's fickle ways with us mere mortals.
---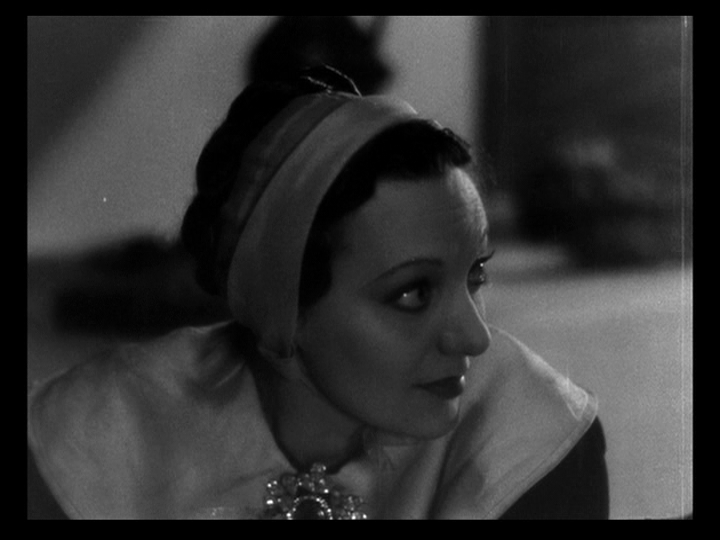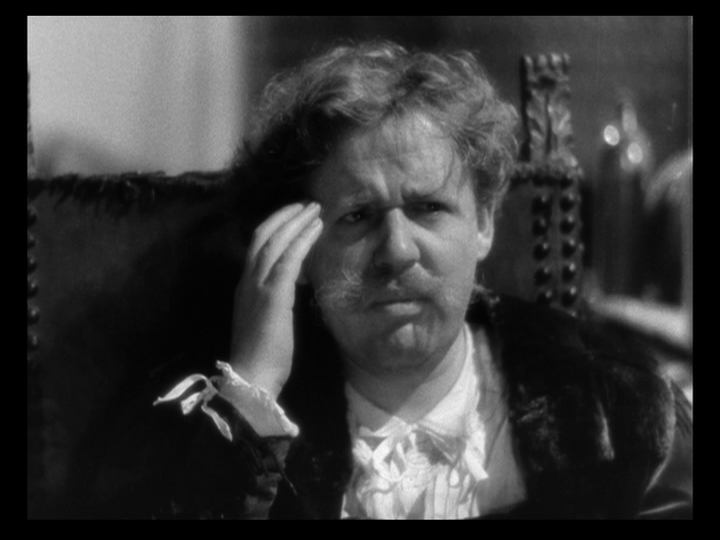 ---
And of course, his excesses and restless spirit open him up to exploitation and misfortunes of various sorts as he's now bereft of the consolations of the good woman who provided his shelter from the storms of emotion and adversity that are the artist's lot in life. His strong but conniving housekeeper, Geertje, sees her opportunity to fill the void left by Saskia's premature passing, and does so.
Played by noted English stage actress Gertrude Lawrence, this is one of her relatively rare appearances on film. She's clearly the strongest female presence in the film, and quite capable of holding her own with Laughton when the sparks fly between their characters.
---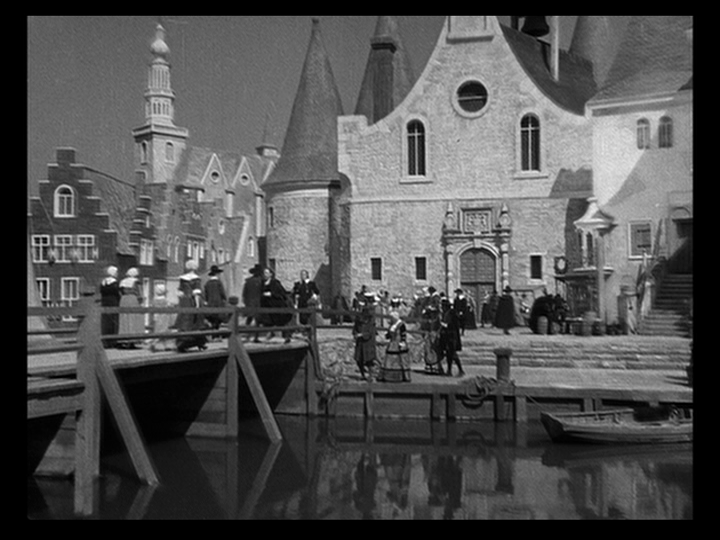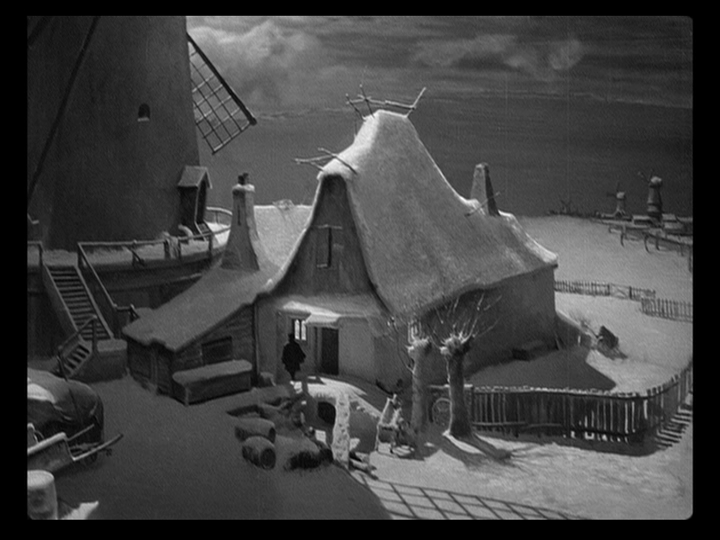 ---
Among the other pleasures to be found in Rembrandt are the striking exterior sets, designed by Vincent Korda, that capture the atmosphere of 17th century Holland so vividly.
Cinematographer Georges Perinal works his magic with light and shadow on the interiors as well, doing an impressive job of bringing the Golden Age of Dutch painting to life.
---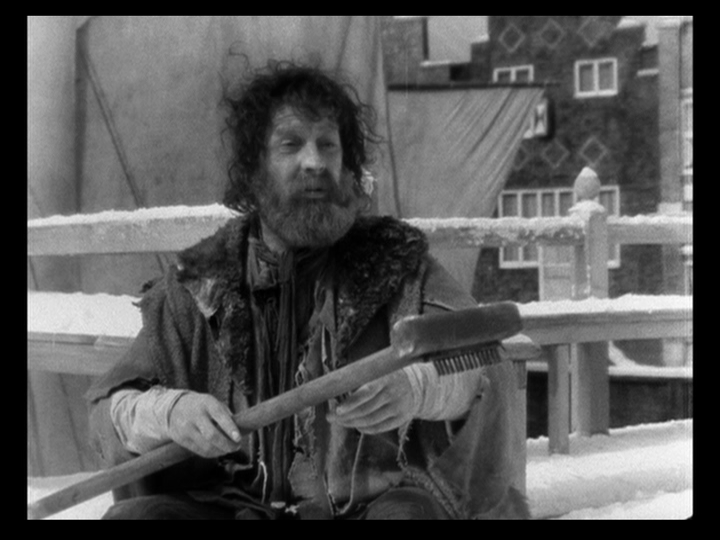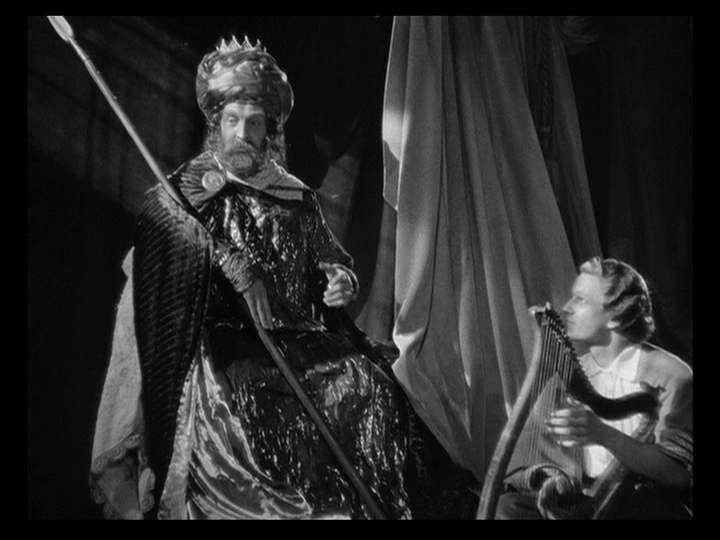 ---
Roger Livesey also turns up, quite surprisingly and a good several years prior to his appearance in Powell & Pressburger films like The Life and Death of Colonel Blimp and I Know Where I'm Going!, showing that even back then he was a capable "master of disguise." Here he plays a Boudu-esque beggar who skillfully punctures the aging Rembrandt's aura of self-importance, even while the artist is recruiting him to pose for a portrait of the Hebrew King Saul.
However, even the vagrant has his own conceits and soon enough, the tables are turned with another oratorical spell-binder by Laughton as he intones the story of Saul's decline and fall, capped by an evocative reading of Psalm 23 that has his model wiping the tears away from his eyes, a most plausible response I might add.
---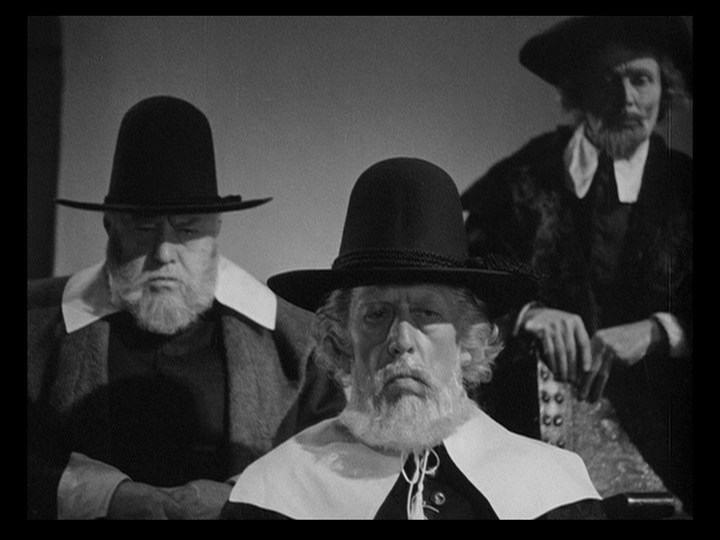 ---
Rembrandt winds toward its conclusion with the introduction of a new  (and predictably, younger) woman in his life, the housemaid Hendrickje Stoffels. Spurning the shrewish Geertje (at least, that's Rembrandt's side of the story; I'm sure the historic Geertje saw things quite differently!) for the charms of this innocent peasant girl, Rembrandt only manages to stir up more controversy from the local authorities in the bucolic village where he'd retired to escape big-city pressures and scrutiny.
Hendrickje was played by Laughton's wife, Elsa Lanchester, at his insistence, and our subsequent knowledge of their exquisitely conflicted long-term relationship adds another layer of fascination in watching them interact, however briefly, on screen.
---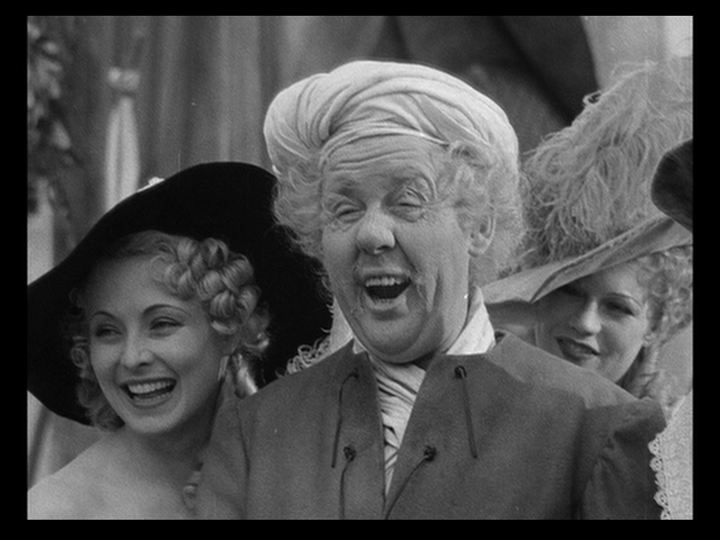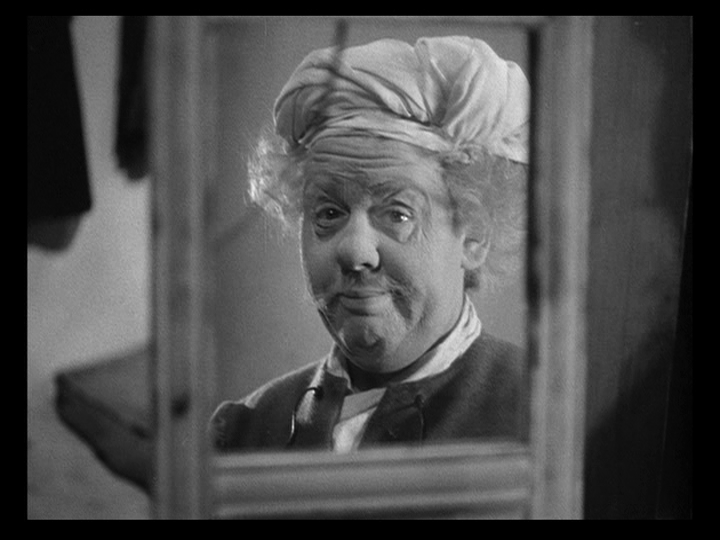 ---
Finally, we see Rembrandt in old age, worn down, wizened and loaded with more ruminative wisdom than time or the frivolous impatience of a younger generation can allow to be expressed. And even when he's cajoled  into sharing his thoughts  by a party of young revelers, drinking and feasting off the commission of a young artist's first big sale, all he can manage is to quote scripture.
Not recognizing the illustrious but washed up old figure whom they've admitted into their company, all that the beautiful, shallow party people can do is laugh uproariously as he solemnly intones lines from the Book of Ecclesiastes: "Vanity of vanities, all is vanity!" But the venerable artist is well past the point of being offended by such unreflecting insolence. He too has tasted the pleasures of the high life and enjoyed his brief return that heady state of exuberance, and he knows full well that just as he has known what the young know now, so shall they be granted ample opportunity to learn what life has revealed to him since then.
---