Over the past week or so, I've had two significant preoccupations on my mind: first and foremost, the wedding this past Saturday of one of my sons, and second, Ingmar Bergman's 1960 film The Virgin Spring, which I reviewed a few days ago on my Criterion Reflections blog. Kind of an odd juxtaposition, it turns out, with a very happy and celebratory event competing (and easily winning, in the big scheme of things) with a Bergman movie that's as depressive as it is impressive on so many levels. So to continue with the Bergman theme, and perhaps to take a sobering look at the "for worse" commitments that accompany marriage vows, for this week's installment of my Journey Through the Eclipse Series, I've chosen Thirst, another Bergman flick, shot ten years prior to The Virgin Spring. It's from the set that started this whole Criterion subsidiary line, Eclipse Series 1: Early Bergman.
---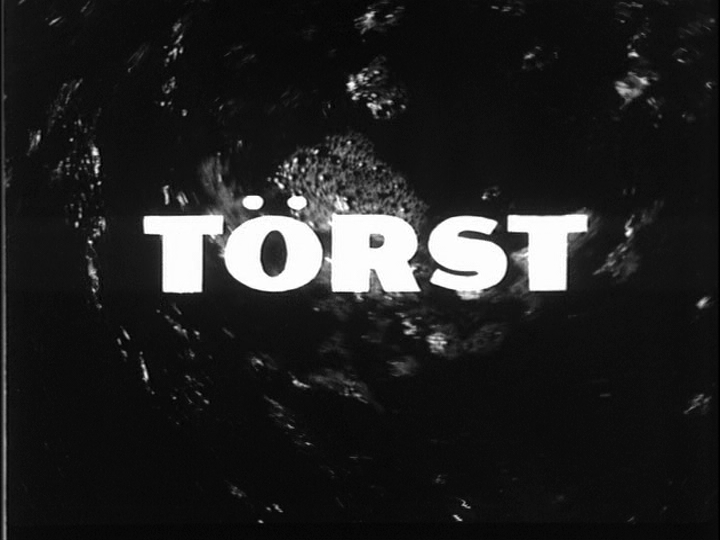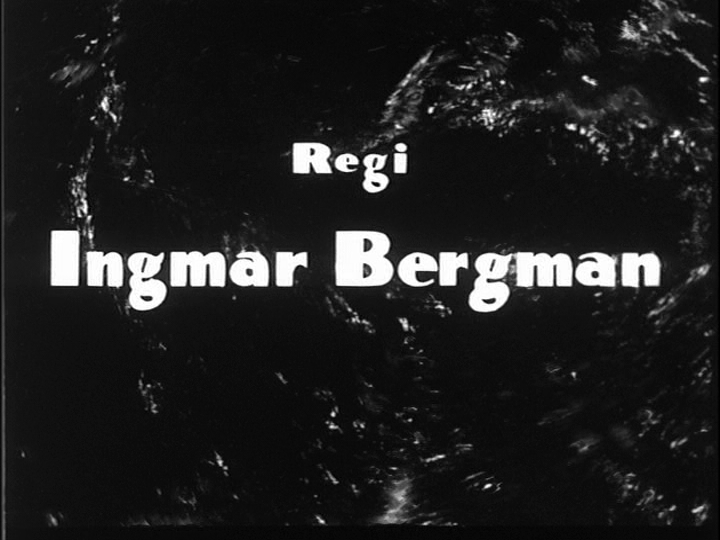 ---
On the surface of it, there don't seem to be many points of connection between the two films other than that they were both helmed by Bergman, obviously. The Virgin Spring, based on an ancient folk ballad, is a straightforward medieval morality tale that takes place in the 1300s and deals with heavy topics like God, suffering, the clash of religions, vengeance and grief. The screenplay for Thirst was adapted from several short stories written by Birgit Tengroth, an actor who also appears in the film. It's a thoroughly secular tale, set in 1946 as Europe was recovering from the ravages of war, focusing mainly on the interior struggles of a trio of female characters, all young women who've been emotionally scarred by romantic relationships gone bad. Well, I suppose the common theme of grief could be cited as a connection point, but then, we're talking about Bergman here, for whom grief is as essential an element in his films as the celluloid that holds the images. And I suppose it's too much of a stretch to point out the similarity between The Virgin Spring's father Töre and the Swedish title of this film, Törst… so I won't bother to mention it.
---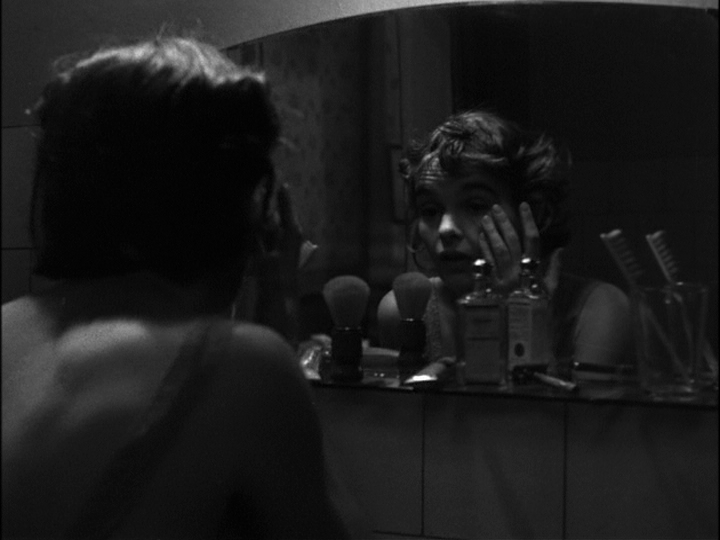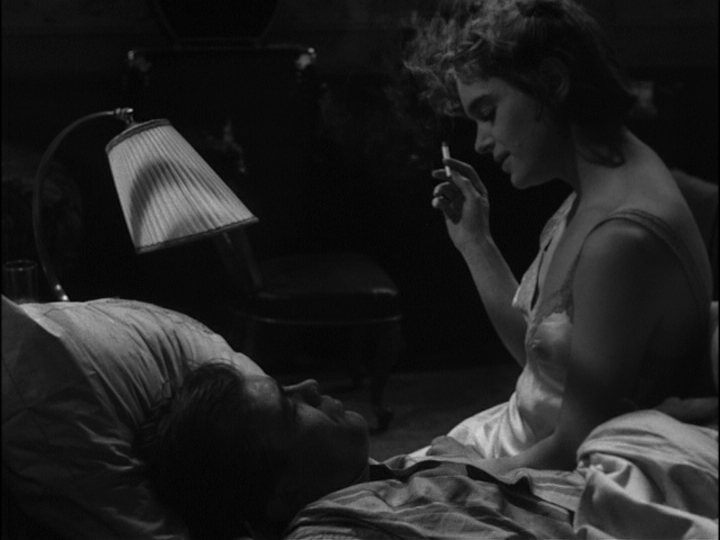 ---
What is worth mentioning though is that Thirst marks a definite advance in narrative bravery and confidence for Bergman, as he began to carve out his niche as a director of artistic importance in the Svensk Filmindustri. Drawing on his theatrical experience, but moving more definitely in cinematic directions, he began extending the length of takes to several minutes per shot, allowing the actors to fully inhabit their roles and drawing viewers into exchanges that, for all their dramatic heft, feel very life-like and believable. The long sequences raised the bar for cinematographer Gunnar Fischer, who had to arrange some rather nimble camera moves as he followed characters moving through rooms, finally tracking them down for the kind of dramatic close-ups that Bergman would eventually become so famous for even after his collaboration with Fischer ended in the late 1950s.
Thirst's main story line focuses on Ruth and Bertil, a young couple recently married and traveling north from Italy and back home to Stockholm. (The trip may be their honeymoon, though it's never clearly stated as such.) They've completed a tour that reached as far south as Sicily, and the scene opens in a hotel in Basel, Switzerland, in their hotel room. As we see her wake up in the middle of the night, unable to sleep, we quickly learn that Ruth is a bundle of anxiety, prone to rapid mood swings and a restless chain-smoker. Something is troubling her, and through a series of flashbacks, we learn more about the traumas she's endured.
---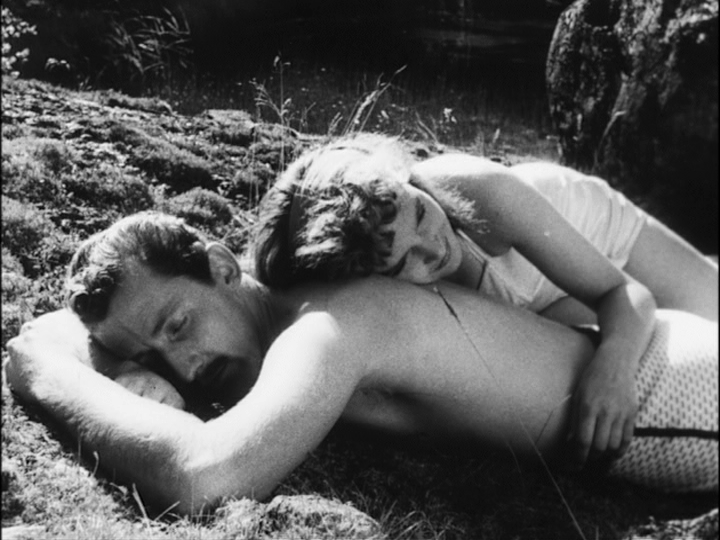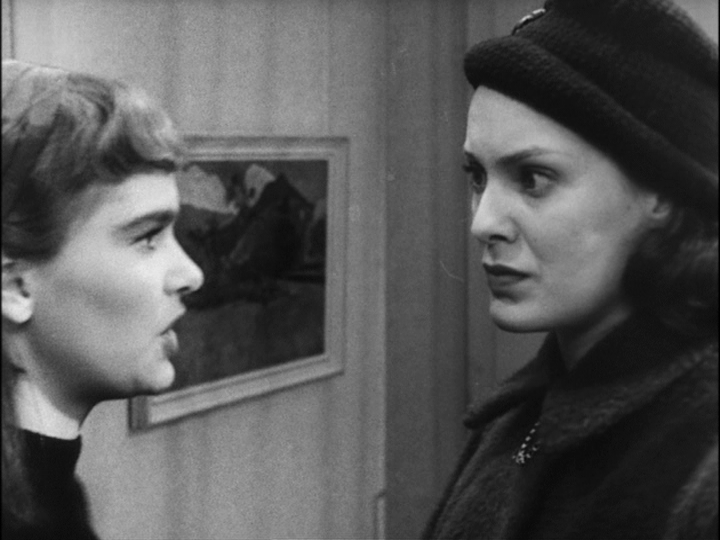 ---
The first is a sun-dappled memory of a lovely afternoon that Ruth spent in the arms of Raoul, a virile military man who turns out to be married, much to Ruth's surprise. Her memories drift forward in time to the day that his wife Astrid showed up unannounced to see how her husband's little dancer friend lived, shortly before Raoul himself entered the apartment. Seeing that he'd been cornered by the two women in his life, he boldly stakes his claim to each of them, asserting that having both a wife and a mistress is the optimal condition for a man of his status, basically challenging the women to just accept it. It's a hard, pitiless bargain, but with Astrid's dependence on Raoul for the support of her children and Ruth's naive feelings of love for the man, they have no other choice.
---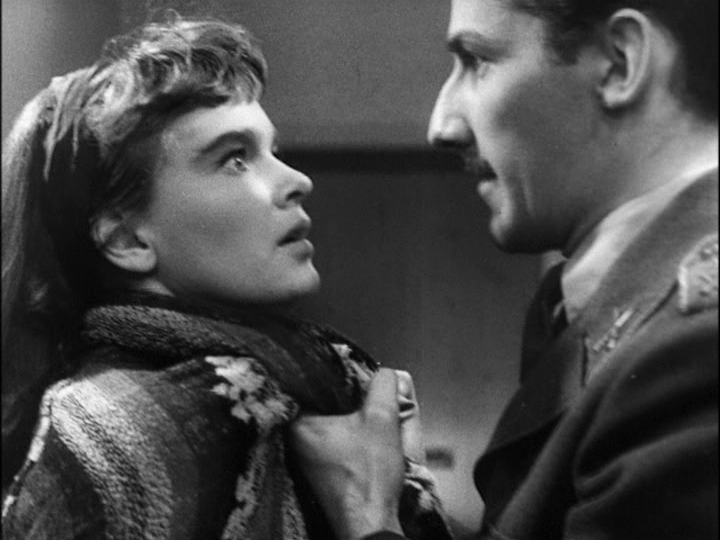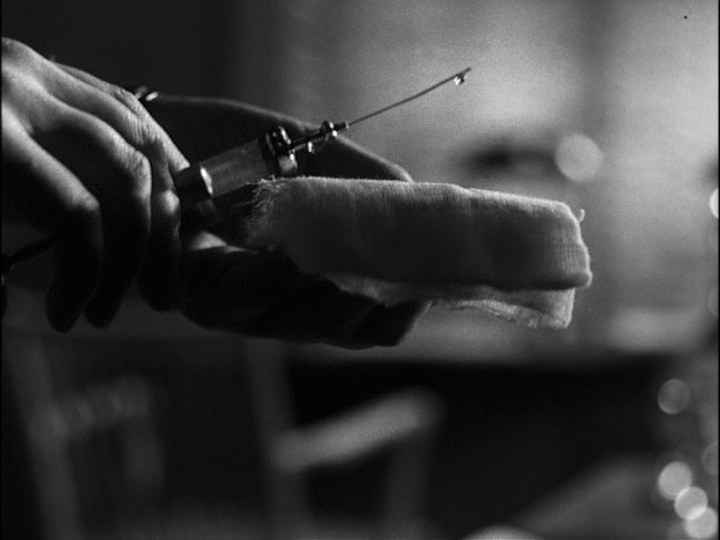 ---
Sadly for Ruth, her compliance with Raoul's demands leads to complacency and ultimately contempt on his end of the relationship, especially when she becomes pregnant and seeks his support. It's not much of a spoiler to say here that rather than support, Raoul comes up with a "solution" that creates all kinds of physical, psychological and emotional havoc for Ruth afterward… and of course, Raoul himself is nowhere to be found, until a bitterly humorous chance encounter a bit later in the film.
---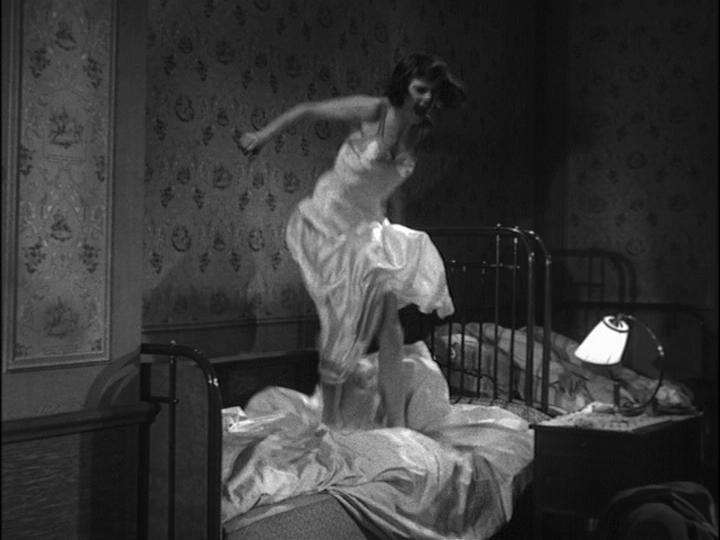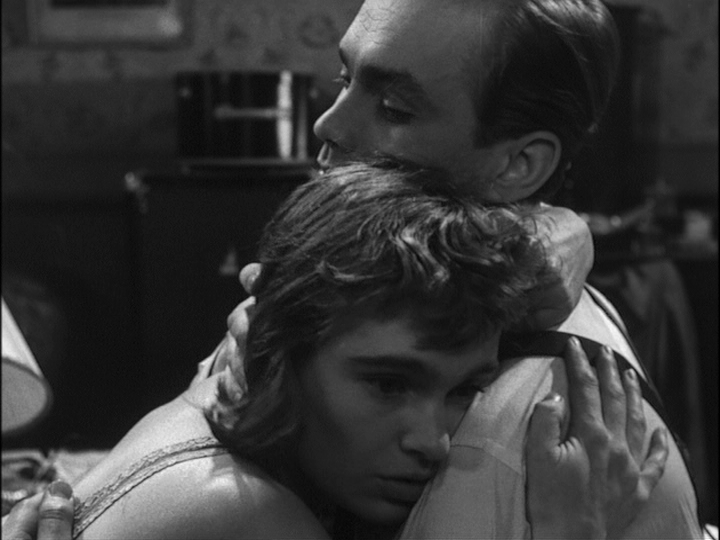 ---
Though most of Ruth's scenes (outside of the flashbacks) are spent in the company of her husband Bertil, he doesn't receive nearly the amount of attention she does, with no real back story other than a few minor hints about his own past affairs dropped here and there. He's the most sympathetic male reference point in the film (the other guys are major creeps by comparison), doing what he can to provide some kind of stability for his volatile partner while managing his own exasperation as best he can while she flips out, trashes their hotel room, then apologizes and throws herself into his embrace within the span of a couple minutes. Bergman himself was going through his second divorce around this time, so it's tempting to speculate just how much the interpersonal explosions and infidelities on-screen reflected recent events in his own life.
---
---
The world of professional dance provides the thematic element that ties Ruth's story with that of Viola and Valborg, the two other women whose amorous desires and frustrations gave the pretext for Thirst's English-language title Three Strange Loves when it was first distributed internationally. At a time when patriarchal assumptions about marriage established the range of options for young women to pursue in life, theatrical work offered a financially viable alternative, even though that work came with reputational strings attached (see: Raoul's treatment of Ruth.) The video clip above gives us a glimpse of one of Ruth's flashbacks, and in its brief meditation on the rigors of ballet also conjures some interesting comparisons to another dance-themed film, The Red Shoes, released the previous year. In it we also meet Valborg as she comes to Ruth's defense over the harsh treatment of the instructor, and Viola is also present, though she doesn't have any speaking parts in this clip.
---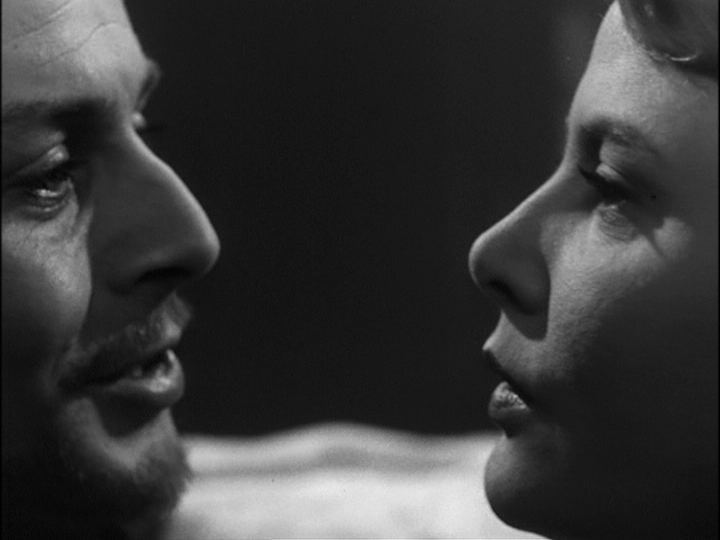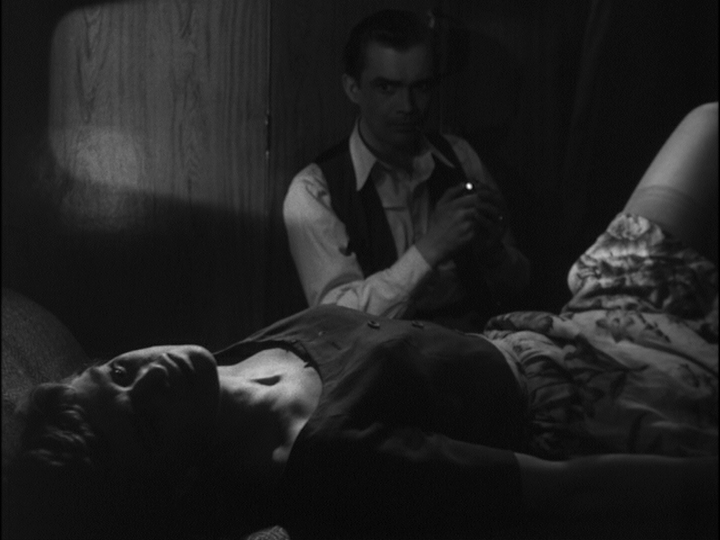 ---
Viola, the woman in extreme close-up in the left image above, is a young widow who left the dance academy thinking that she had married her way into some kind of social stability before losing her husband to an early grave. Her mourning, and the mental instability it triggers, led her to seek psychiatric support. But even that turns out to be worse than ineffective as she finds herself under the care of Dr. Rosengren, a master manipulator who uses his place of privilege to seduce vulnerable women. Their dialog is one of Thirst's most chilling and effective scenes, a powerful depiction of the weirdness that can quickly develop when mental health services are delivered without a proper respect for professional ethics.
Meanwhile, Ruth and Bertil, locked in the claustrophobic hot house of a rolling train compartment, continue to bicker, drink (a lot) and trade recriminations as their simmering conflict threatens to fly off the rails at any moment.
---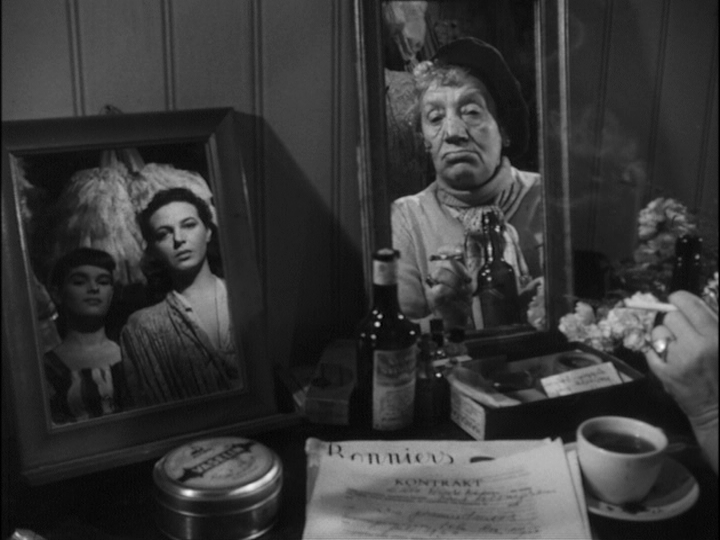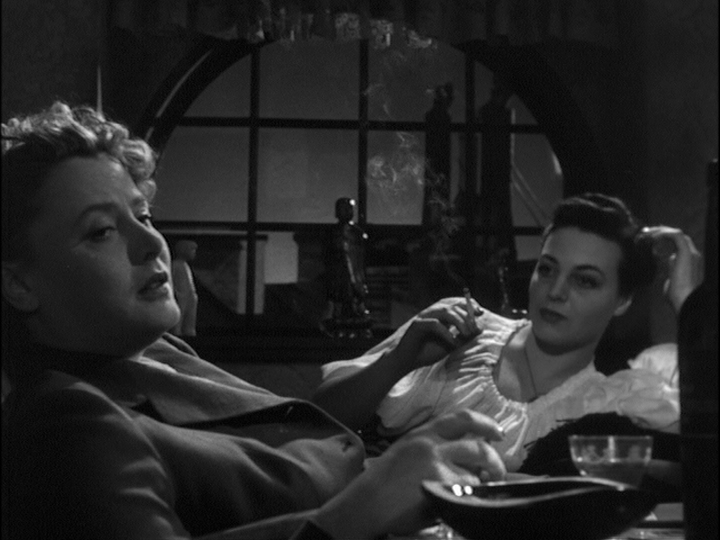 ---
Of the three women at the center of Thirst, Valborg is clearly the most self-assured and decisive about what she wants out of life. Any number of visual cues (body language, nude sculptures, the way she lights cigarettes and pours drinks for her friends) and statements like "men are a closed chapter for me"  inform us that she's a lesbian, and the sequence offers another fascinating example of Bergman's willingness to address topics that were still considered taboo for the vast majority of filmmakers.
---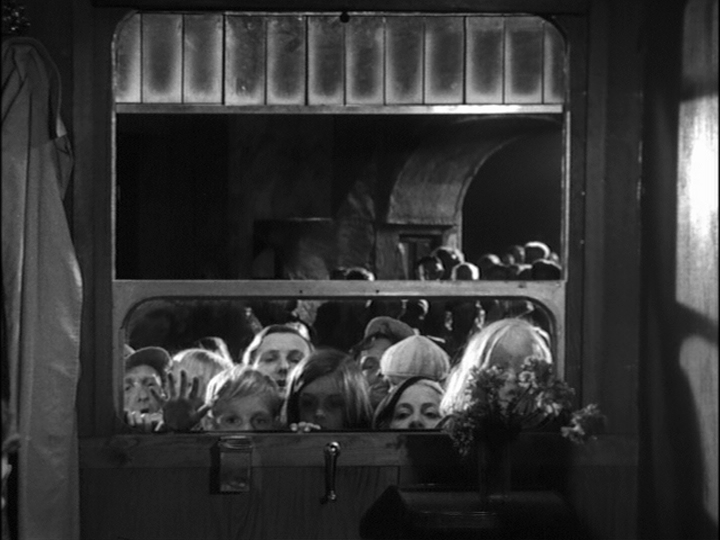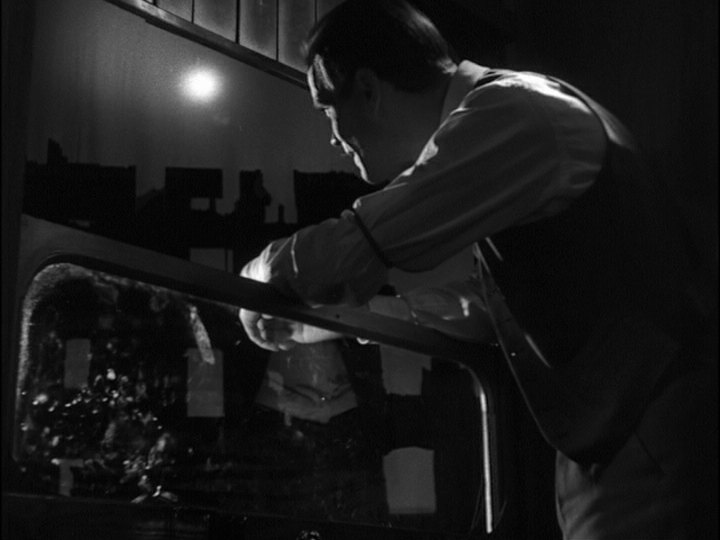 ---
Bergman also contextualizes, and in a way actually diminishes the significance of the interpersonal conflicts portrayed in Thirst, by reminding us in a brief but memorable scene that while these relatively comfortable citizens work through their emotional turmoil, millions of lives have been lost or massively disrupted by war, starvation and poverty. At one point, while tossing scraps of food to the hungry mob outside his railcar window, Bertil exclaims, "They're so busy surviving, they have no time for a spiritual life, one could almost envy them!" without a trace of irony or self-deprecation.
---
---
As is so often the case, the train pulls away, the masses are left behind, out of sight, out of mind, leaving Bertil and Ruth to work through the messy details of their own marital drama. The smug remarks of the "self-help expert" and his cigar-smoking clergyman friend provide a bemusing prelude to the non-communication that takes place between the couple in this late scene from the final few minutes of Thirst.
---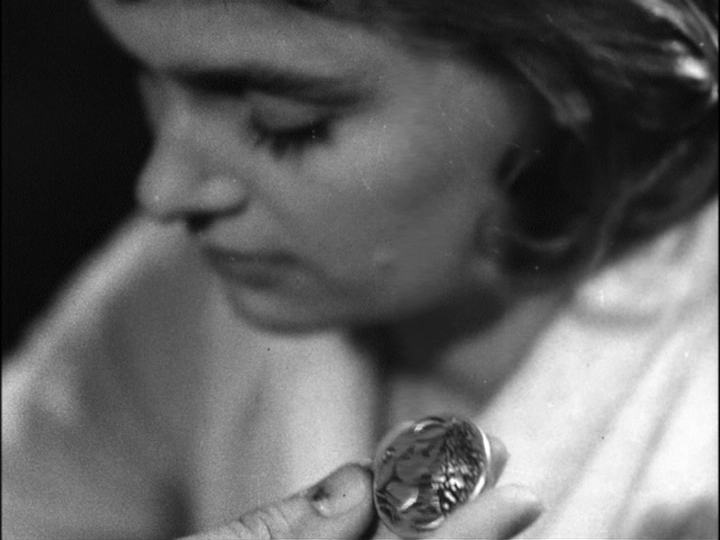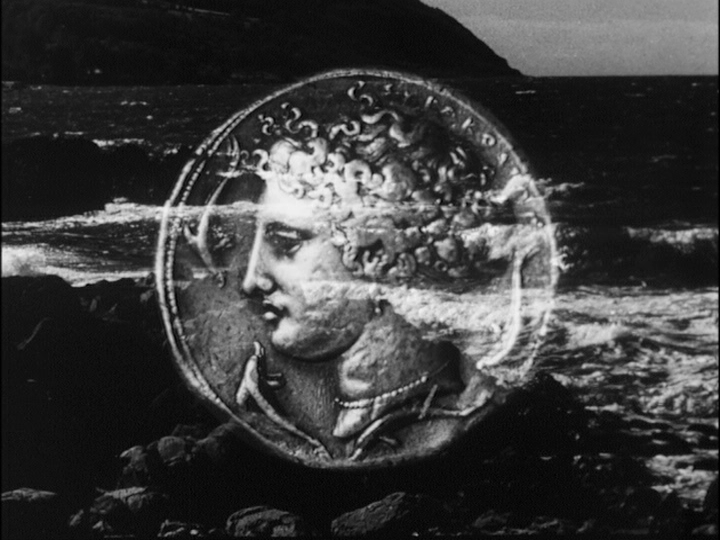 ---
As it turns out, there's yet one more connection to be made between Thirst and The Virgin Spring, in that both films can be linked to mythic legends. The Virgin Spring refers to a stream that miraculously appeared on the spot where the body of an innocent victim was lifted from the earth. Thirst alludes to the Greek myth of Arethusa, a nymph pursued against her will by the river god Alpheus, who lusted after her as he saw her bathing in his waters. Her fear and exertion caused her to perspire, to the point she transformed into a running stream that eventually went underground and even under the sea, only to resurface on the island of Sicily. In bracketing his film at the beginning and end with this reference, Bergman seems to be saying that erotic love, despite all the vexation and confusion it produces, remains a relentless, irresistible and ultimately life-giving force – a Thirst we often find so troublesome yet so necessary to quench.
---