Fans of Criterion's Eclipse line of DVDs have no doubt already taken notice that a new box set was just added to the catalog last week – Eclipse Series 28: The Warped World of Koreyoshi Kurahara. With its vivid orange and pink packaging, it practically leaps off the shelf into your hands, like a plump juicy grapefruit just begging to be squeezed. And though I'm an unabashed promoter of the series, finding something to like in every set and film I've seen so far, I have to say that I'm particularly enthusiastic about this collection. Though the films were all shot in the 1960s, the variety of topics, the liveliness of the action and the vitality of their cinematic techniques makes this one of Eclipse's most exciting and attractive sets to date for contemporary audiences that like their entertainment to veer recklessly on the wild side. One doesn't have to make concessions for "historical significance," keep in mind that "it was innovative for its time" or otherwise work all that hard to get into what Kurahara put forth in these movies; the entertainment value is high and the surprises they pack are virtually continuous. What's even better: you can check out the films for yourself before deciding whether to buy the DVDs, if you subscribe to Hulu Plus!
---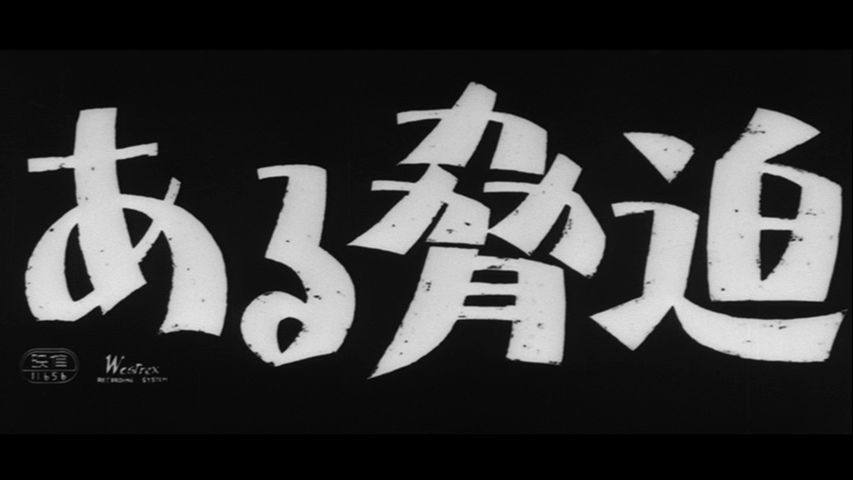 ---
Though I haven't taken the time to watch each film all the way through, I've sampled them all and definitely look forward to giving them my full undivided attention when the time is right. But for this week, I'm reviewing the earliest title in the set, Intimidation, which by happy coincidence also happens to fall right in line with my long chronological list of Criterion films that I'm reviewing on my Criterion Reflections blog, as well as in this column, when the dates line up just right. As it so happens, Intimidation opened on March 3, 1960, around two weeks after Jean Cocteau's Testament of Orpheus and two weeks before Jean-Luc Godard's Breathless –  just to give a little historical context!
---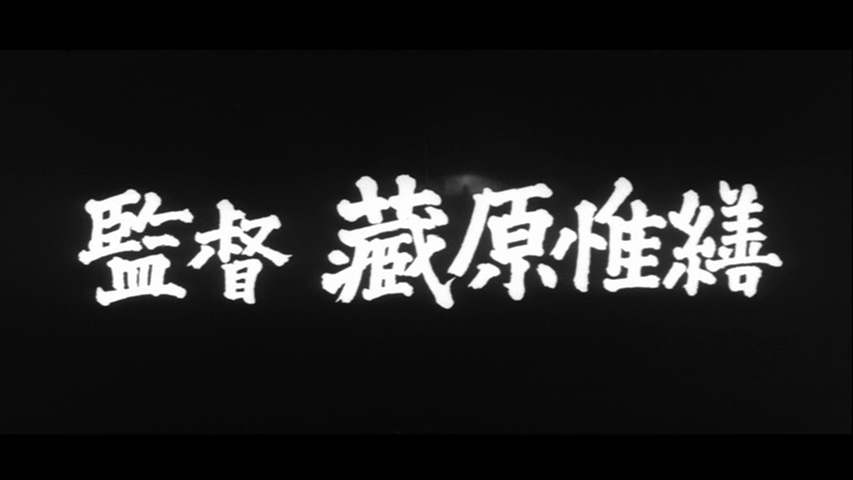 ---
Despite a directorial career that lasted well into the 1990s,  Koreyoshi Kurahara has been a pretty obscure name even among Western fans of Japanese cinema, up until Criterion announced this release last spring. His 1983 film Antarctica held the record for highest grossing domestic film in Japan until Princess Mononoke surpassed it in box office receipts. But Intimidation is not his first entry into the Eclipse Series, as he was included as one of five directors in their Nikkatsu Noir release from 2009, with I Am Waiting, which I reviewed here late last year when it also aligned with my blogging chronology. In that article, I focused more on the youthful stars of the film more than its director, but now that he's risen to the ranks of having his very own Eclipse box, I'd say it's time to give him more attention.
---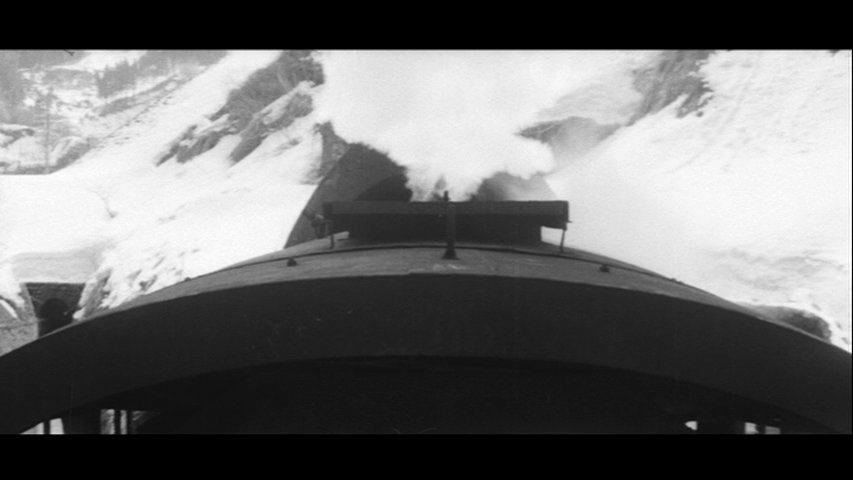 ---
Intimidation starts off with the powerful (though perhaps overused) image of a train barreling down the tracks, plunging into the darkness of a remote mountain tunnel. It's an effective means of entry into this truly noir-ish scheme of fraudulent success, casual betrayals and ice-cold double crosses that unfolds with elaborate precision over 65 fast-paced minutes. The plot twists and surprises make this a story that I'm very reluctant to write about beyond providing the basic set-up, given that very few readers here have seen the movie yet, and it would be easy to spoil if I gave too much away.
---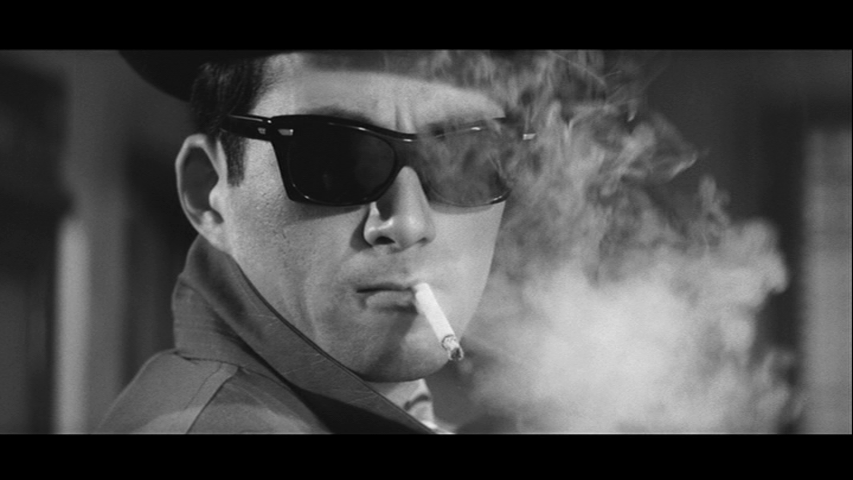 ---
So here's a quick introduction. The passenger on that hard-charging train is Kumiko, a shady character who's arrived from the big city to the remote small town Naoetsu (now called Joetsu, on Japan's western coast.) He makes a brash entrance into the local branch of a large national bank, pulling out a gun and threatening a nervous maintenance man with it, though it turns out he's just playing a prank. His more serious objective is to see…
---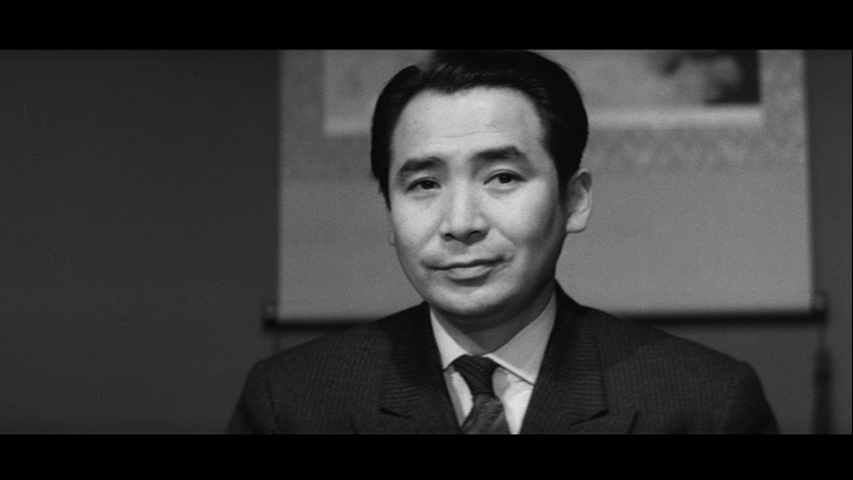 ---
… Kyosuke Takita, the bank's assistant manager who's just on his way to a big promotion and a likely spot on the bank's board of directors. We meet him as he's being honored at his farewell party, celebrated as a rising star with a promising future. But a few pointed looks between him and a particular woman at the reception, and a slight squirming in his countenance, give hints that perhaps he's not as straight of an arrow as his reputation would lead us to believe. Especially when we learn that the woman he gave that knowing look to is not his wife, but rather the sister of…
---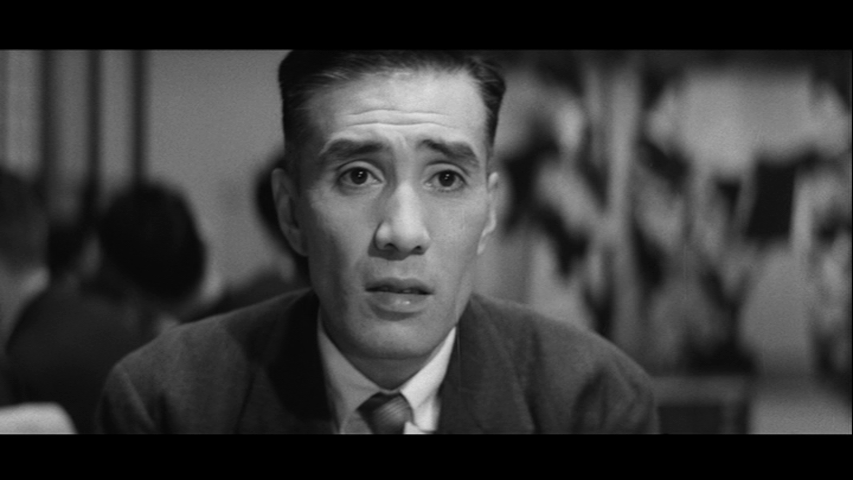 ---
… Matakichi Nakaike, a lowly clerk at the bank and all-around flunky who instinctively grovels whenever he's in the presence of Takita or any other executive superiors. It's a particularly degrading posture to take, considering that Nakaike and Takita have been friends since childhood and came from common roots, even though Takita has long since surpassed his boyhood chum in status and prospects for the future. And there's another thread that binds them, adding extra complication to the relationships, as we learn that Takita was once entangled in an affair with…
---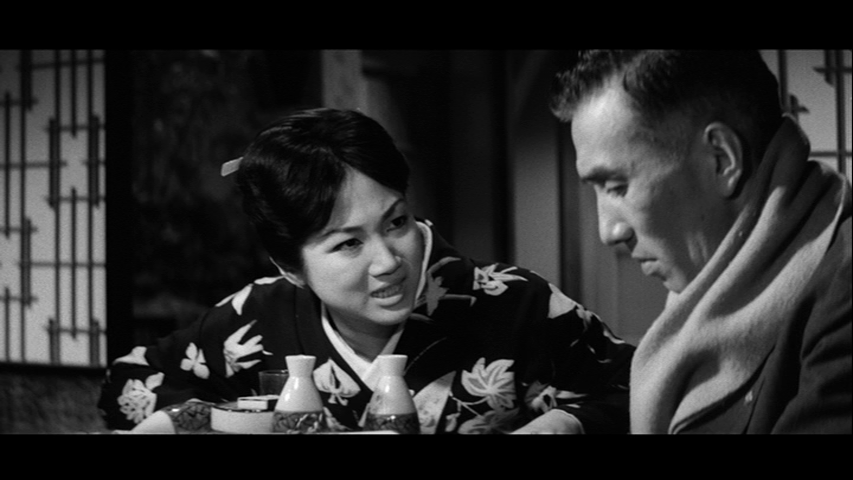 ---
… Yukie, Nakaike's sister, whom he callously abandoned when he seized the opportunity to marry the boss's daughter and make his big move up the corporate ladder. Yukie, nursing her own grudges and resentments, also adds heaping torrents of shame on Nakaike, who knows nothing of their affair, calling him spineless and cowardly for allowing the slick talking Takita to play him for such a fool. Painfully aware of his own shortcomings, yet unable to shake off the paralyzing fear and ridicule that come with being the office scapegoat, Nakaike is your prototypical low man on the totem pole, powerless to assert himself after internalizing so much scorn over the years.
---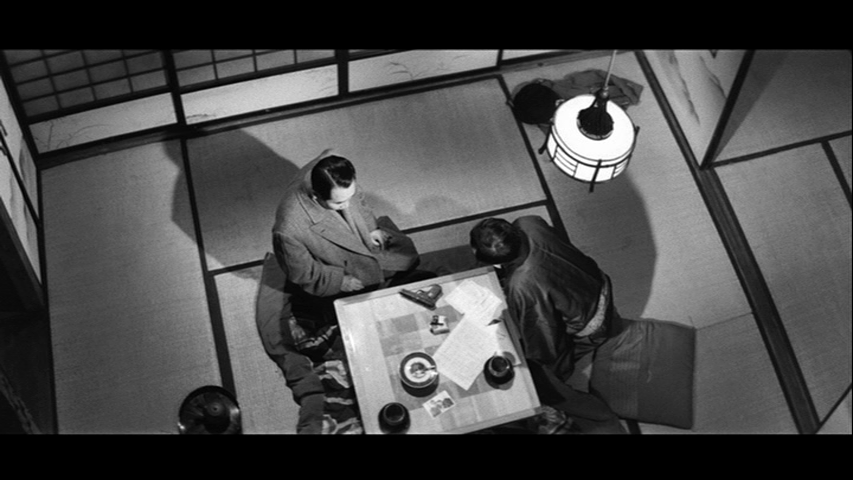 ---
With the spiderweb of envy and bitterness now woven, all we need is a fly to land on the trap in order to spring it into action and for the deadly venom to flow. That exchange takes place when Kumiko finally meets up with Takita, presenting him with damning evidence of corruption that played a big part in his rapid success and could just as swiftly lead to his disgrace and downfall. The blackmail scenario is in place: Takita has to make a dreadful choice, either come up with lots of money on very short notice or watch his long-pursued goal of executive privilege go up in smoke.
---
---
That's about all I'll say about the plot of Intimidation then, but this clip gives a nice bite-sized sample of Kurahara's visual chops, as the tension builds quickly in a bank heist scene that, even without knowing the details of what's going on, speaks effectively for itself.
---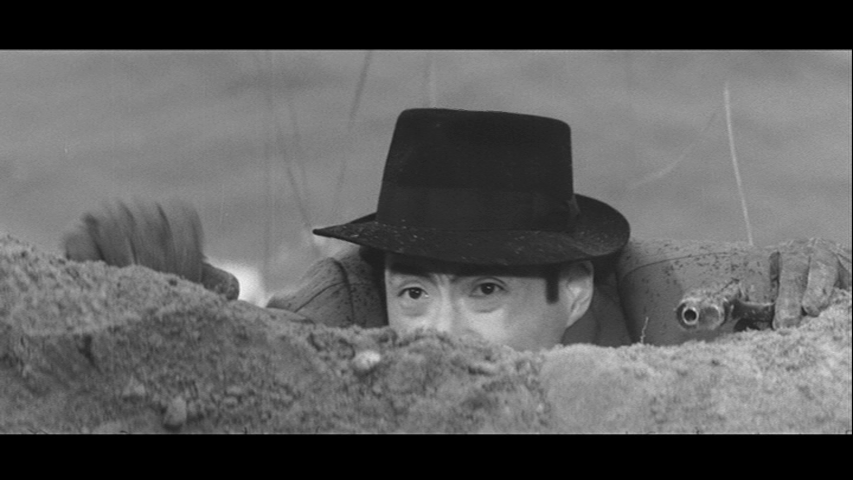 ---
Beyond the clever ingenuity of narrative twists and a snappy, satisfying conclusion, Intimidation offers an incisive commentary on the pressures faced by many people whose lives get caught up in the grind of corporate promotions and power grabs. An article that  made its way to me earlier this month cites research indicating that employees who characterize themselves as "agreeable" tend to earn significantly less money and don't rise as high in the ranks as those who don't play so nice, even in organizations that claim to value teamwork and cooperation as core values. From the looks of it, Kurahara already had that insight over 50 years ago.
---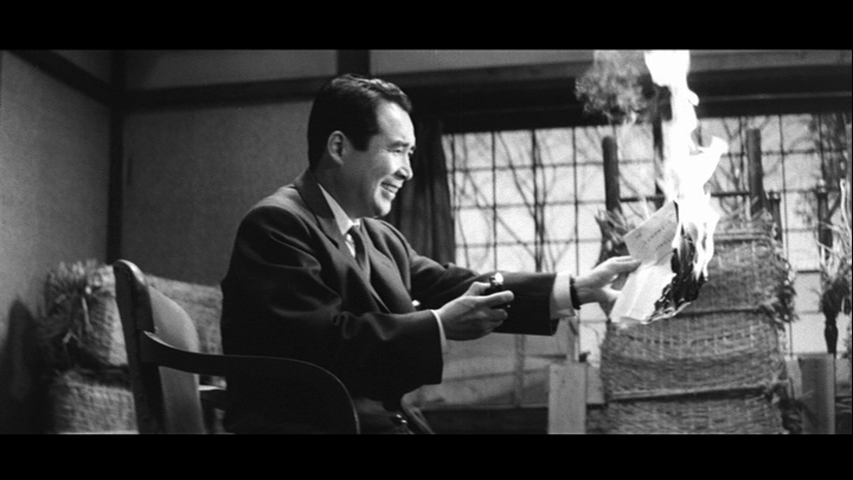 ---
Even as I found Intimidation a highly enjoyable kick-off to this brand new Eclipse set, it's clearly just an appetizer for even greater, more mind-bending things to come as we prepare to enter further into the warped world of Koreyoshi Kurahara!
---