When Rainer Werner Fassbinder began working on Beware of a Holy Whore in the autumn of 1970, it marked the tenth project he had directed since his debut feature Love is Colder than Death was greeted by taunts, jeers and derisive whistles a scant 14 months earlier at the 1969 Berlin Film Festival. The tenth. That's pretty impressive. By way of comparison, it's taken me almost two months just to finish up this series of five reviews of the titles included in Eclipse Series 39: Early Fassbinder. His rapid-fire productivity is so frequently cited in the critical literature dedicated to Fassbinder's work that it's easy to take it for granted, just a fait accompli that we accept once an artist's hard-fought achievements settle into the historical record and eventually become part of the canon.
---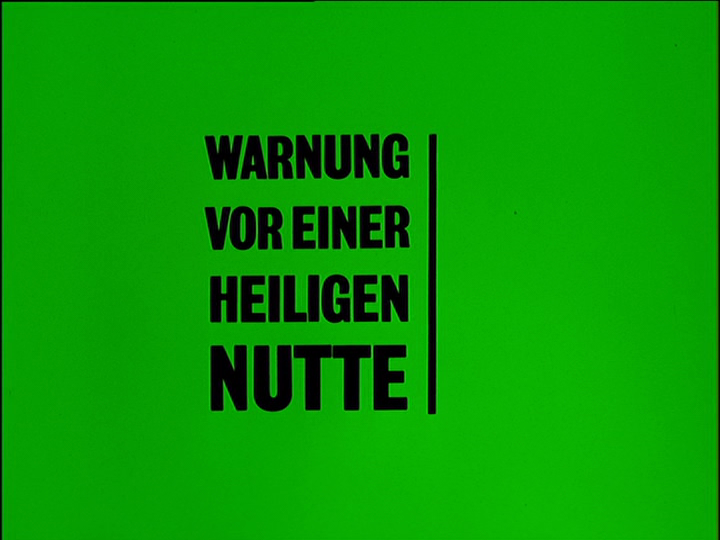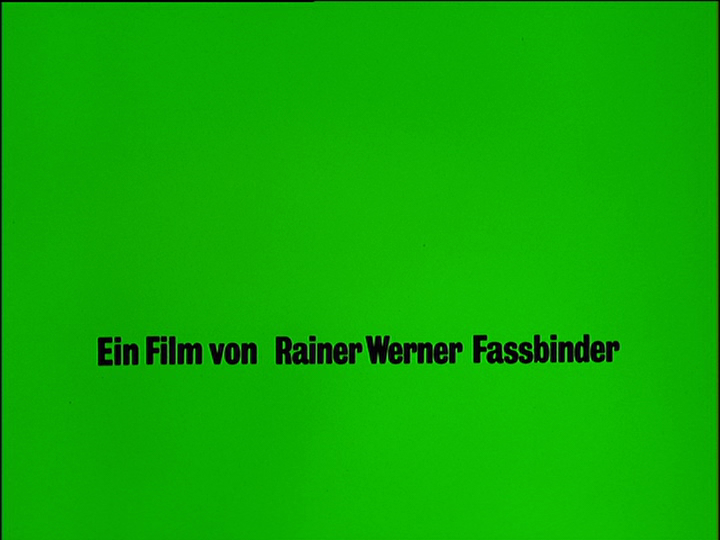 ---
To be sure, these first ten films that Fassbinder directed were for the most part very minimalist, straightforward scenarios that could be scripted, staged and shot over a period of a few weeks, with low budgets, no special effects or complicated logistics to wrangle over. The talent in front of and behind the camera was mostly drawn from the Fassbinder-led Antiteater collective, so recruitment and casting weren't that difficult either. The main thing to be considered, besides the perennial issue of money, was coming up with ideas compelling enough to justify another film and hold an audiences attention. With the frenetic pace that Fassbinder and his crew had established, and the attending meteoric acceleration of pressures experienced by just about everyone involved with the work, it was pretty much inevitable that he'd explore the self-referential option: a fictionalized account of what his life as a filmmaker had become and the torments he had to endure in the pursuit of Art and Commerce. Though the length of time that it took to get there was significantly more compressed, it's interesting to note that when he settled on Beware of a Holy Whore as his next project, Fassbinder was at roughly the same point in his filmography as Federico Fellini was when he scripted and directed 8 1/2.
---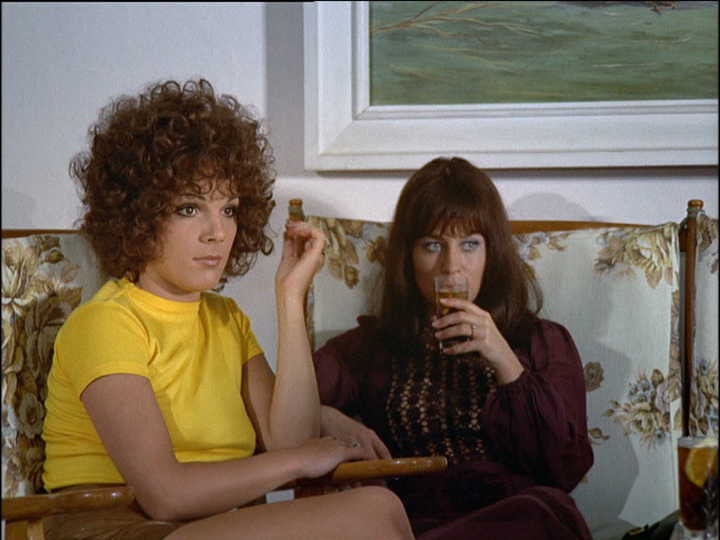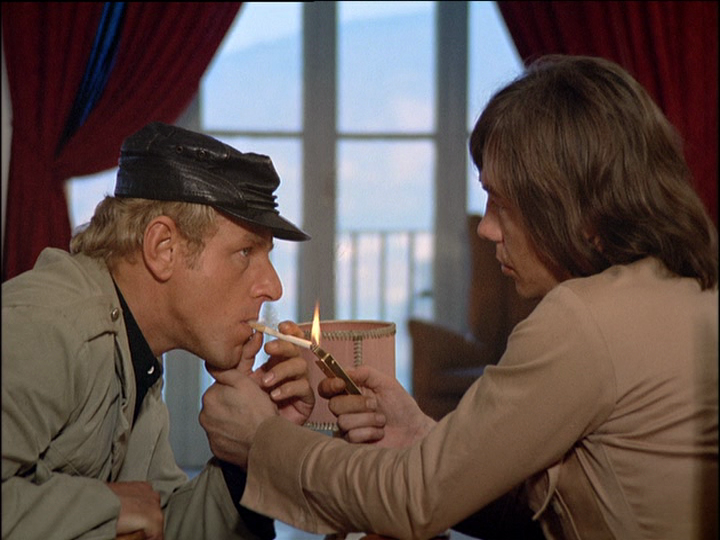 ---
After a droll and diverting  opening monologue that provides some cartoonish insight on Fassbinder's motives, we're dropped without any explanatory context into a laconic scene involving a dozen or so attractive, jaded and idle young adults eyeballing each other from across the nicely furnished rooms of a spacious Spanish villa on the Mediterranean coast. They're all cast and crew members of a film that's supposed to be in production, but the director and the star actor have yet to arrive. That doesn't stop the drinks or the money from flowing freely, and with those intoxicants fueling the already libidinous egos assembled there, it doesn't take the viewer very long to recognize that we're in a hothouse of strategic lust and emotional manipulation.
---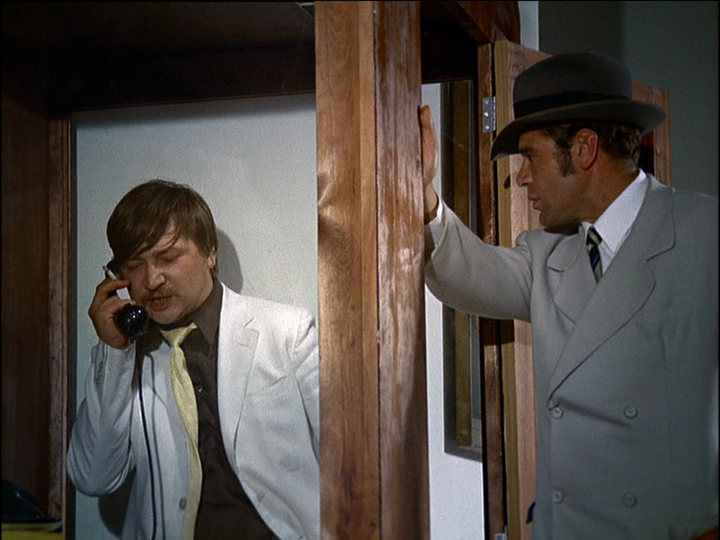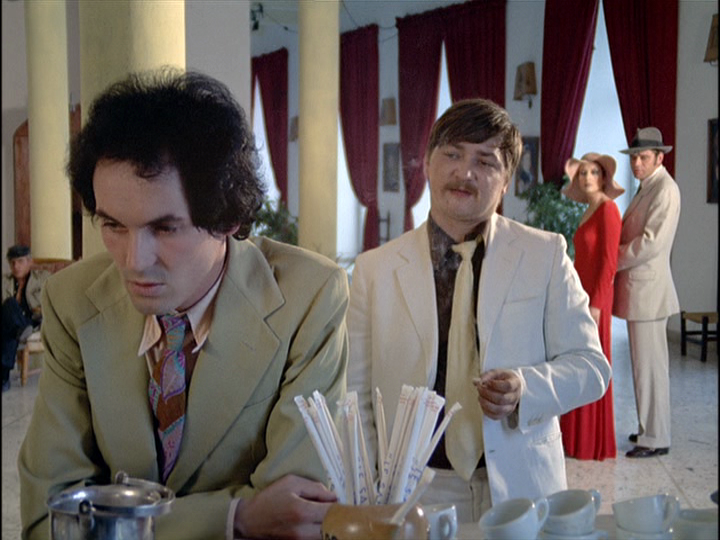 ---
But rather than get us engrossed in subplots revolving around questions of jealousy and confusion over who seduces who, Fassbinder keeps the perspective detached, wryly observant of the various neurotic impulses that propel the assorted characters. The erotic shenanigans aren't really all that important except as an outlet for the tension that everyone's feeling. There's a movie waiting to be made, despite the hassles and uncertainty of what the next day may bring. Clarifying roles and expectations involves a lot of yelling into telephones, verbal intimidation and ruthless power plays. Fassbinder himself, though not necessarily a great actor, was still an oddly compelling and volatile screen presence, by now one of numerous familiar faces spotted right away by anyone working their way through this phase of his career. He provides most of the early aggressive energy in Beware of a Holy Whore's opening scenes as Sascha, the absentee director's top production assistant.
---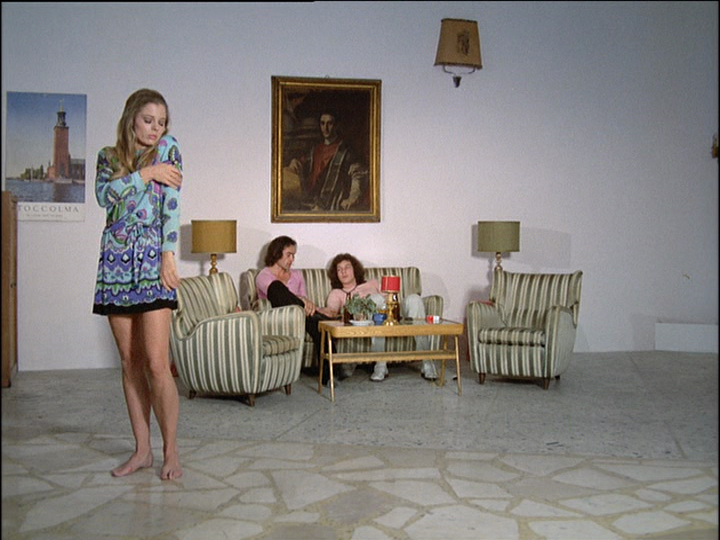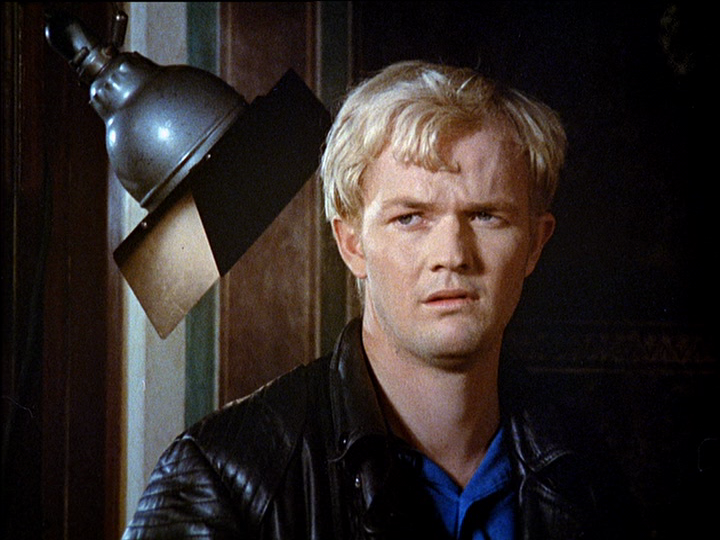 ---
The Leonard Cohen-infused soundtrack and vaguely burned-out ambiance of a bunch of aimless, over-stimulated young adults situates Beware of a Holy Whore in that distinct post-60s milieu, after the utopian dreams of free love, flower power and political idealism had been reduced to ashes by the cynicism that pervaded survivors of that era's excesses. It's closest equivalent to be found in the Eclipse Series is Allan King's Come On Children, a 1972 documentary set in a similarly communal though decidedly more rustic and dissolute environment. In Fassbinder's film, we're dealing with grown-ups who've come together with more inherent focus and professional motivation than Come On Children's neo-tribal pursuit of mere grooviness for its own sake.
And when the director, a mercurial petty tyrant named Jeff, finally shows up and stalks his way into the villa with militant determination, it's immediately clear that there will be absolutely no grooviness tolerated at all on the set.
---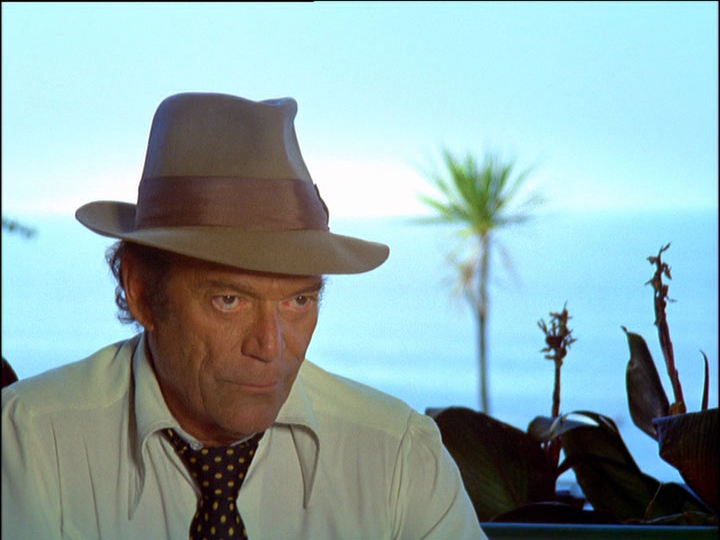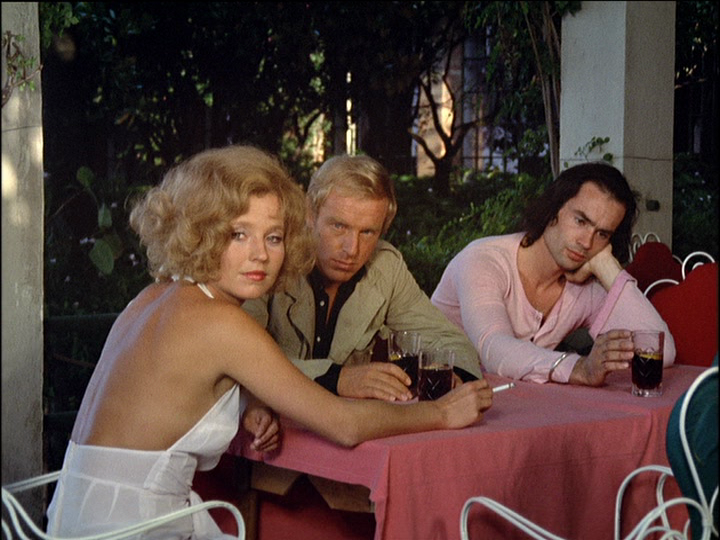 ---
The parade of familiar faces kicks into high gear with the arrival of Eddie Constantine and Hanna Schygulla as the film-within-a-film's male and female leads. They each pretty much play themselves, though he is the only one billed as such in the credits. Constantine was famous for his role as Lemmy Caution, a flinty tough guy anti-hero, protagonist in a series of French crime films of the 50s and 60s. The only entry in that series that I've ever seen was Jean-Luc Godard's Alphaville, which is notorious for breaking the mold on the character by putting him in a futuristic setting where his womanizing macho antics don't have their usual effect, coming across as absurd and obsolete for a man clearly past his prime. Here, a half decade later and with his craggy, eroding features fully exposed in luminous color, Constantine is indisputably the butt of a joke as he sits on the fringes of this group of young beautiful people, unable to communicate much to his German-speaking colleagues, staring ambivalently and met with either their derision or apathy. Especially condescending, at least upon first impression, is Hanna, who's nevertheless been cast as a Monroe-Dietrich fusion to pair up with Constantine's imitation Humphrey Bogart.
---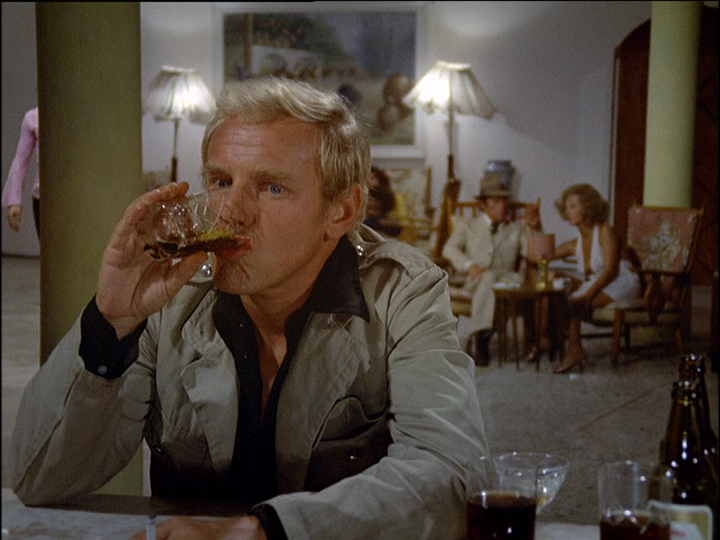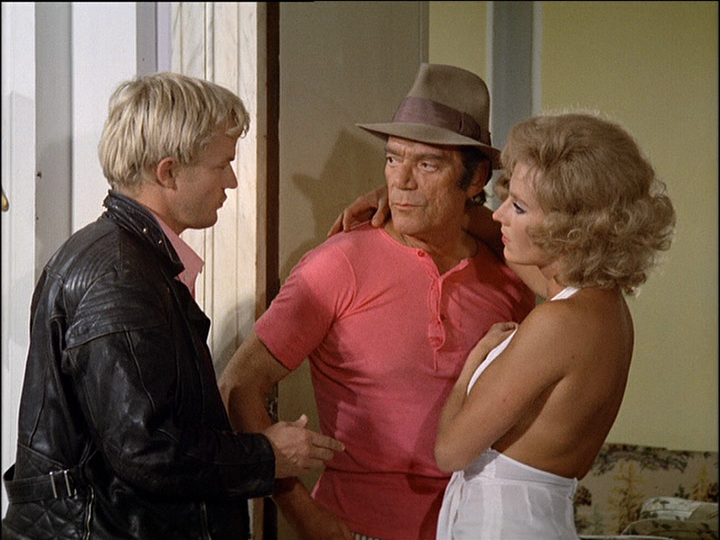 ---
Still, the eventual success of the film they're making must largely rest on some kind of chemistry being forged between the lead couple, and as it turns out, Eddie gets the last laugh as the only one able to cozy up in the sack with Hanna, much to everyone else's chagrin. Just goes to prove that bona fide star power, even when it's faded, is still formidable in the pursuit of sexy adventures.
---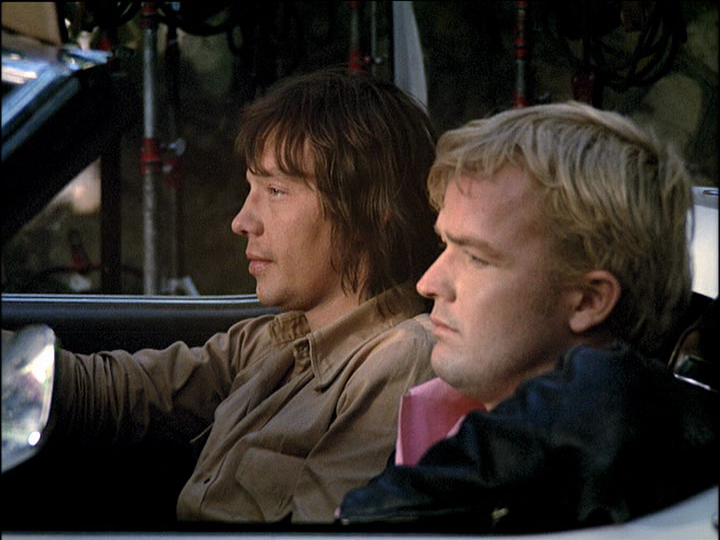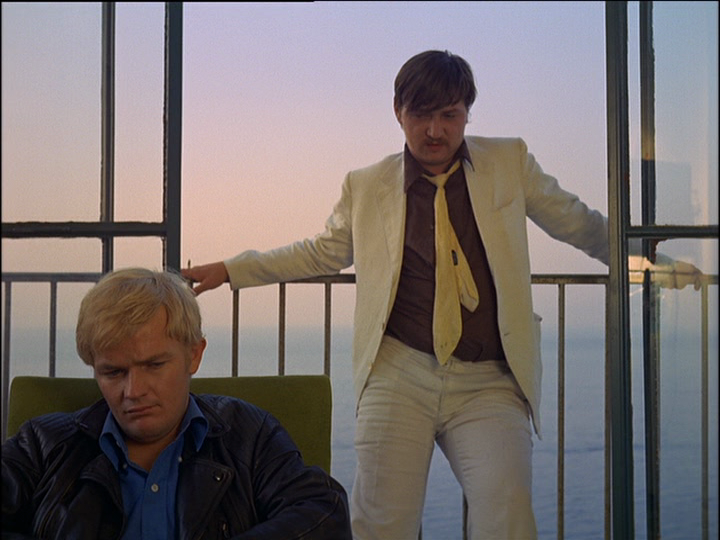 ---
The latter portions of the film shift the focus away from the Altman-esque ensemble piece to Fassbinder's knowing exercise in self-parody as he puts his notorious tantrums and irrational mood swings up on the screen. The director Jeff, basically a surrogate RWF, is portrayed by Lou Castel, star of Fists in the Pocket, about a paranoid epileptic serial killer, so you know that he can deliver the fireworks on cue. Castel does a great job commanding our attention as he modulates between raving incredulous outbursts ("You want my blood! I hate you all!"), despondent self-pity ("If I can't smash something, I might as well be dead") and cold musings borne from deep-seated ennui ("the only thing I accept is despair.") And though Fassbinder's acerbic, comedic intentions render Jeff more a lampoon of himself than a fully nuanced portrait of the artist as a complex and sensitive soul, there are enough inklings at what compelled the director to push himself and his collaborators so hard, to the breaking point and beyond, to make this film an indispensable artifact for anyone seeking to better understand what he was up to. It's a lively depiction, as close as we'll ever get, to what life on a Fassbinder set was like in the formative years of his career, and though much of the dialogue is delivered in casual, seemingly throwaway tones, he packs a lot of ideas into each scene. This review from an earlier DVD release in 2003 goes into much greater depth about the film than I am capable of at this time, and I strongly recommend it to anyone who came here looking to delve further into Beware of a Holy Whore.
---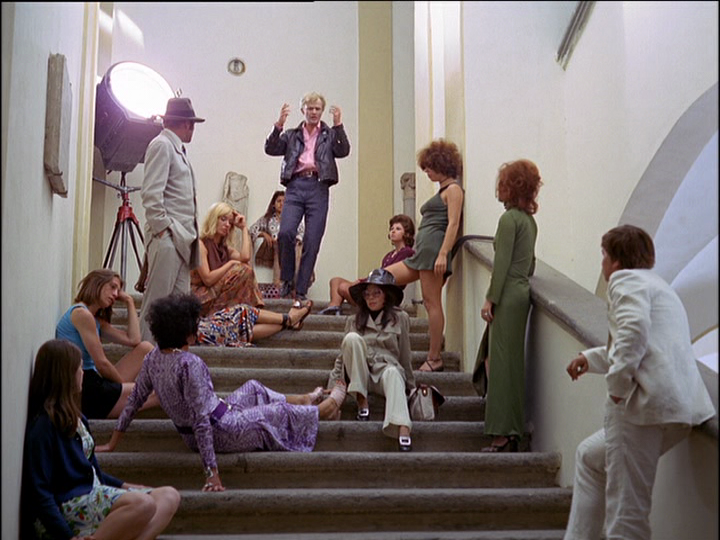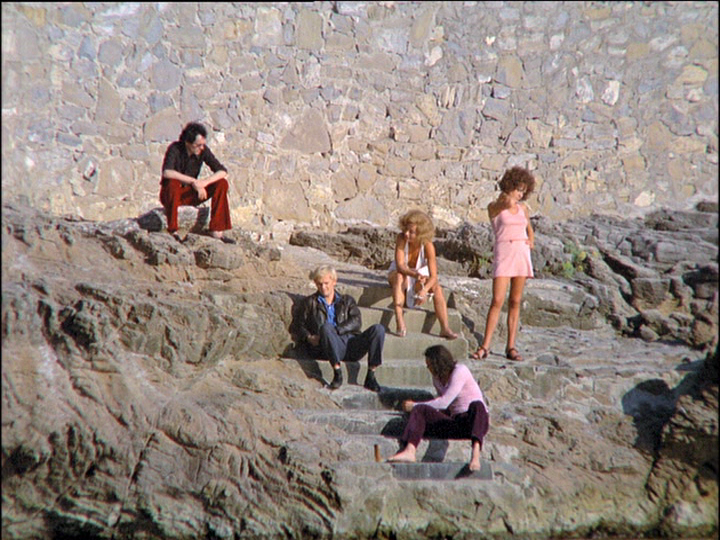 ---
Aesthetically, this is also quite definitively the most accomplished and beautifully shot film in the Early Fassbinder set, and not only because it's in color. The villa interiors and seaside location are put to great use, with a warm and rich color palette that, combined with their common film-about-filmmaking themes, draws obvious comparisons to Godard's Contempt. From his very earliest films, Fassbinder took obvious satisfaction from arranging his actors in meticulously posed tableaux, and there are quite a few rich, freeze-frame worthy examples to be found in Beware of a Holy Whore.
---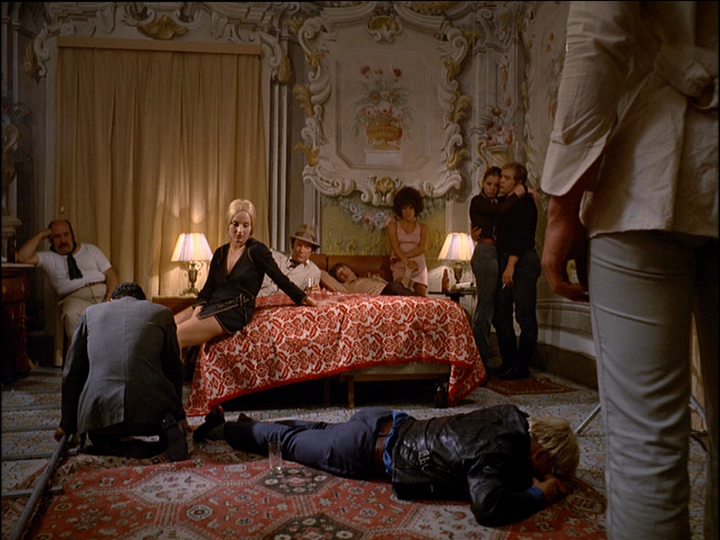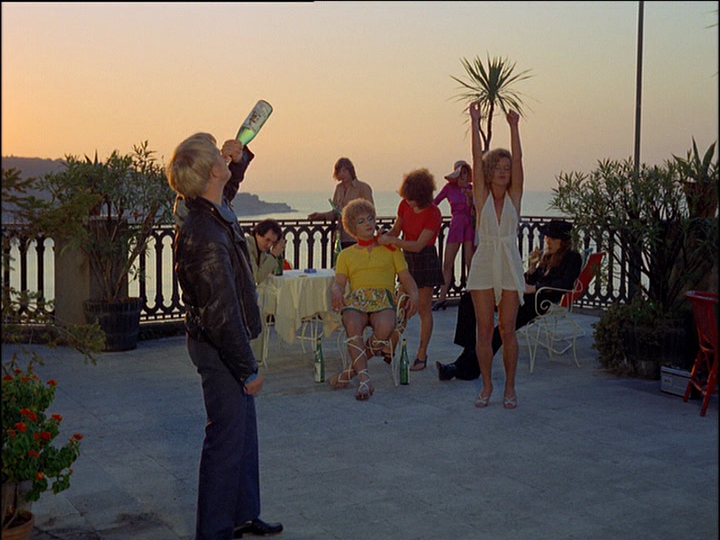 ---
The visual splendors of the film, and its significance as a key entry in  Fassbinder's oeuvre, give rise to the by-now predictable complaint from many quarters that Beware of a Holy Whore wasn't issued as a standalone blu-ray. The same gripe has been voiced about other Eclipse set anchors like Daisies, Maidstone and Putney Swope, and probably others as well. While I'm certainly not opposed to the concept of having these  films available in the highest definition possible, I doubt that this film would make as strong an impact if viewed in isolation from the four titles that preceded it in this box. It's in the process of getting to know Fassbinder and the other members of his young troupe in films like Katzelmacher and Gods of the Plague that we come to appreciate their appearance in this sharply intelligent and satirical peek behind  the curtain. Even the appearance of RWF and Karl Scheydt, as production assistant and producer respectively, has a revelatory effect when we see them wearing the same suits that they sported as sleazy two-bit criminals in The American Soldier. It's these connections between the films, the part they each play in creating this crucial overview of the beginning of Fassbinder's career, that makes this  box an important document in its own right, something synergistically more than just a compendium of films bundled together for the sake of convenience.
---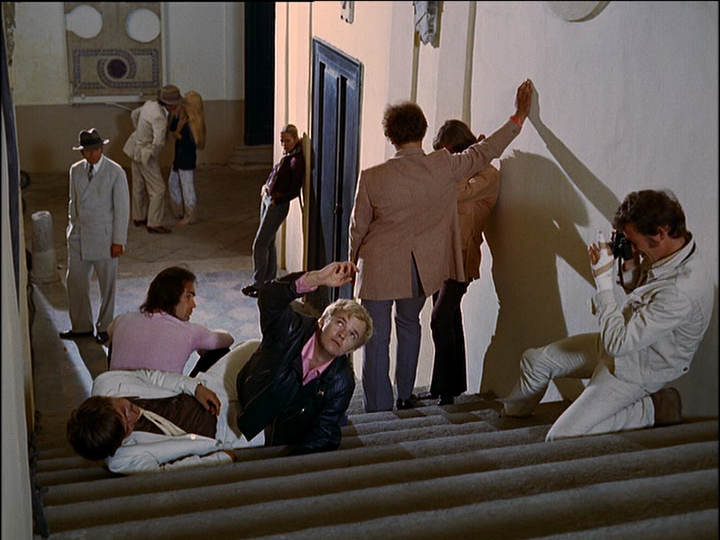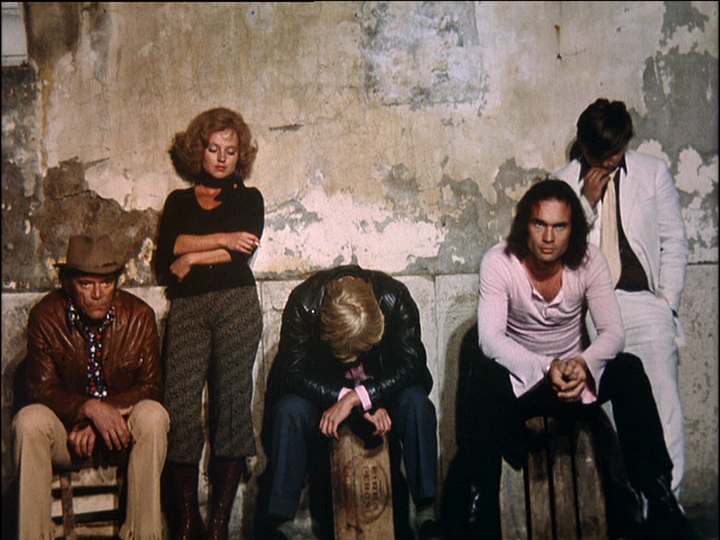 ---
Beware of a Holy Whore concludes without ever giving us an explicit disclosure of what the film's title implies, though it's simple enough to conjecture that it has to do with the profound conflict of interest between divine Art and slutty Commerce. Judge him (or not) as you will for the flagrancy of his carnal sins or the wanton dissolution of his prodigious talent. The fact remains that RWF was keenly aware of the self-destructive dangers he was flirting with in the process of realizing his creative vision, and he was kind enough to provide the courtesy of a warning to those who might naively, recklessly follow in his path. A chicken and egg debate ensues, as to whether his theatrical and cinematic pursuits propelled him on the road to ruin, or if he was already irreversibly on that path, why not commemorate the journey by capturing as much of it as possible on film? In any case, he was just a scant fourteen months into a blazing rampage that came to a crashing halt just 13 unlucky but productive years later when he died in 1982 with 44 directorial credits on his ledger. In both partaking of and depicting humanity with raw, unflinching candor, Rainer Werner Fassbinder opened up new angles of approach that many of us, leading far more conventional and sedate bourgeois lives, would do well to contemplate and learn from. Early Fassbinder is only a preliminary, but still quite visceral introduction.
---