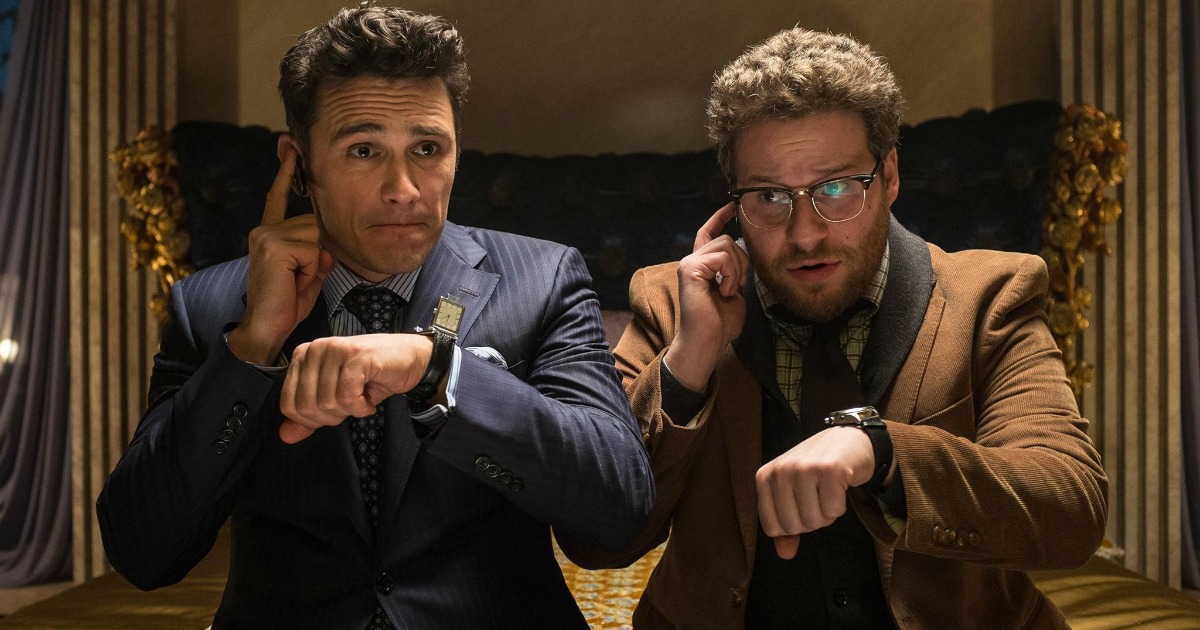 Every day, more and more films are added to the various streaming services out there, ranging from Netflix to YouTube, and are hitting the airwaves via movie-centric networks like TCM. Therefore, sifting through all of these pictures can be a tedious and often times confounding or difficult ordeal. But, that's why we're here. Every week, Joshua brings you five films to put at the top of your queue, add to your playlist, or grab off of VOD to make your weekend a little more eventful. Here is this week's top five, in this week's Armchair Vacation.
---
5. The Interview (Netflix)
The film that had the world on the proverbial edge is now available to stream on Netflix. The discussion surrounding this film, directed by star Seth Rogen and oft-collaborator Evan Goldberg, has been one of controversy, as the narrative surrounding the attempted assassination of North Korean dictator Kim Jong-un found the US under attack on the cyber front, but also threatened physically. Pulled from theaters before it was ever released, only to hit VOD and limited release, the film is now available on Netflix, and is still very much one of the most talked about films in the zeitgeist.
Receiving mixed reviews critically, the film has both fans and detractors, but if a film like This Is The End is any inclination, this is a comedy that pulls absolutely no punches. Ultimately a mixed bag in the eyes of this writer, the controversy surrounding the film ultimately makes this one that has to be seen, especially as it is now available on a mainstream streaming service like Netflix, and its place in history makes this one that absolutely cannot be missed.
---
4. We Won't Grow Old Together (Hulu)
The second feature film from director Maurice Pialat, this 1972 melodrama has now not only seen a brand new Blu-ray hit shelves thanks to Kino Lorber, but also that very company has decided to add this fantastic feature film to its Hulu Plus page. Despite playing the New York Film Festival, the picture never released here theatrically, and is now not only available on home video for the first time domestically, but this Jean Yanne-starring film is absolutely worthy of digging into on Hulu Plus.
Telling the story of a married 40-something and his lover as they go through various ups and downs, Pialat's film is a haunting look into the circular nature of relationships, especially those that are driven almost entirely by desire. Driven to destruction by this thing that humans call love, the two leads here are brutally relatable, and Yanne and co-star Marlene Jobert turn in two truly fantastic lead performances. Beautifully shot and hauntingly composed, this is a film that is both autobiographical and decidedly theatrical, and is one of the more honest and unforgettable looks at the destructive nature of love that we've ever seen. A must watch.
---
3. Election (Netflix)
One of the best comedies of arguably one of cinema's greatest years, 1999, is now available to stream on Netflix, and is an absolute must-watch film. From director Alexander Payne, this film stars Reese Witherspoon as a spunky and driven high school student who is not satisfied leading nearly every club at her school, and has her eyes set on being class president. However, when a teacher played by Matthew Broderick gets fed up with her drive and histrionics, he takes to tapping a local football star to challenge her in the school election.
Beautifully made, well acted and ultimately one of the funnier comedies of its day, Payne's film is a perfect distillation of his aesthetic and comedic tone. Broderick and Witherspoon turn in some of their greatest performances, and names like Chris Klein really hit the comedic tone perfectly. The script is perfectly paced and the tone is set well, turning the film into something far more dark and far more satirical than one would expect.
---
https://www.youtube.com/watch?v=-puzTrF9-h4
2. Jazz (Netflix)
From director Ken Burns comes one of the most entrancing and definitive music documentaries you're ever going to see. A monstrous, 17-hour long look at jazz music, Burns tries to distill over 100 years of music history into what turns out to be a breathlessly composed and evocative piece of non-fiction filmmaking. A must-see for anyone interested in jazz or even more so for those with no real understanding or knowledge of the music, this is one of Burns' most interesting and engrossing works, on par with his looks at things like baseball or to a lesser extent Prohibition.
Getting a myriad of interviews and historical pieces to add context to a musical style that is one of the more important and intriguing in all of music, Burns is at the top of his game here, and while the bombastic runtime may leave many a viewer scared to make the leap into this beast of a documentary series, this is arguably one of the greatest modern musical documentaries and an absolute must-watch for anyone with any interest in music.
---
1. Zodiac (Netflix)
Where to begin. From director David Fincher comes this masterpiece, a haunting meditation on obsession as seen through the story of one of America's most unforgettable unsolved mysteries. Centering around newspaper cartoonist Robert Graysmith and the legendary case of the Zodiac killer that still captivates this country to this day, the film stars Jake Gyllenhaal as the aforementioned newspaper man and the case that still haunts him to this day.
Looking at the Zodiac case from the point of view of Graysmith, a fellow newspaper reporter and one of the central police detectives involved with the case, Fincher's brilliant thriller is one of the greatest films from 2007, and in turn one of the best thrillers of the modern era. Hauntingly composed and featuring some career-defining performances, this is a masterfully made feature from one of film's greatest modern day auteurs.