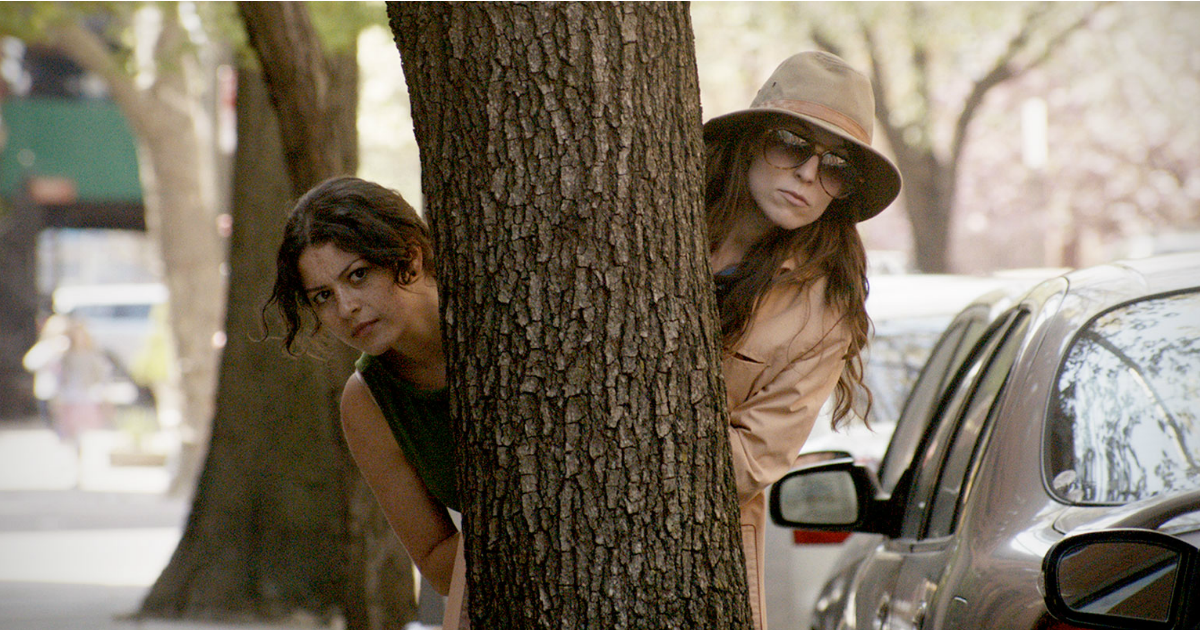 Every day, more and more films are added to the various streaming services out there, ranging from Netflix to YouTube, and are hitting the airwaves via movie-centric networks like TCM. Therefore, sifting through all of these pictures can be a tedious and often times confounding or difficult ordeal. But, that's why we're here. Every week, Joshua brings you five films to put at the top of your queue, add to your playlist, or grab off of VOD to make your weekend a little more eventful. Here is this week's top five, in this week's Armchair Vacation.
---
5. Do I Sound Gay? (VOD)
The first of two documentaries included on this week's list, this film comes from filmmaker David Thorpe, and covers a rather interesting subject. Coming out of a breakup with his boyfriend, Thorpe decides to go on a journey of self-discovery, through an outlet we all rarely think about; his voice. Deeply troubled by the idea of "sounding gay," he takes to finding out what is the root of the "gay voice" that society has deemed the case. Talking to acting coaches, linguists, and social luminaries like David Sedaris, Thorpe's film attempts to draw out the story of the gay voice, through films, music and other bits of culture.
Ultimately a film that's more entertaining than deeply enlightening, and anthropological study this isn't, and in many ways that's not entirely an issue. Thorpe's journey is one anyone, gay or straight, can truly relate to and the self doubt and loathing is startling to see on screen. It's an issue that faces the gay community to this very day, and it is a moving entrance point into this film. Not reaching as profound a conclusion as one would hope, the film asks more questions than it is interested in answering, and for viewers who like to actively engage films that provoke thought, this is right up your alley.
---
https://www.youtube.com/watch?v=moOQXZxriKY
4. What Happened, Miss Simone? (Netflix)
The second of our documentary double feature is one that joins a multitude of non-fiction films that have released this year that are from an artist's direct point of view. Like Montage of Heck, Amy, or the brilliant, upcoming Listen To Me Marlon, Nina Simone gets the documentary treatment here, and it is an absolutely superb film. Looking at a much more broad portion of her life than most modern artist documentaries, the film uses archival footage to dig deeply into the life of this legendary musician.
A "warts and all" style of documentary, the film has a thrilling pace here, particularly punctuated by the performance pieces, and there are specific beats particularly in the second act that are exciting to chew on. Of particular note, the film's interest in her place in the civil rights movement is startling. She had a mixed relationship with the leaders in that movement during that period, even going as far as to tell Martin Luther King, Jr. that she's "not non-violent." It's a haunting look at a deeply troubled artist and is one that all Netflix subscribers should be streaming.
---
3. Wild Canaries (Netflix)
Murder mysteries, in this Gone Girl era of pulpy cinema drawn from any given year's big blockbuster novel, seem to come a dime a dozen. However, there aren't many that take to the world of neurotic New York hipsters and quarter life malaise. That is, until now. That's ostensibly the world beloved indie filmmaker/thespian Lawrence Michael Levine thrusts us into with his latest film, a mystery/comedy entitled Wild Canaries. Freshly engaged are Barri and Noah, a pair of New York based hipsters stuck in what appears to be, for all intents and purposes, a relationship that is on the verge of complete collapse. Ostensibly about a couple on the verge who are tasked with "uncovering" a recent murder, the film, at its absolute best, is dastardly comical.
Levine takes cues from various comedic artists, most clearly the work of Woody Allen (even down to the flowing camera during a fight between our couple in the final act), and does so with an assured hand. He's arguably the film's biggest star, both on screen and particularly behind it, taking this comedic picture to real cinematic heights. With a percussive score and some gorgeous photography, Levine's camera is evocative and plays, rightly, to the film's comedic beats more than the rather campy murder mystery at its core. Intimate and ultimately both thematically stimulating and shockingly emotional come the final act, Wild Canaries is a real triumph from a seasoned indie veteran and one of the better films we've seen yet this still-early year.
---
2. Creep (Netflix)
There are few names in the world of modern film distribution quite like Jason Blum. With his Blumhouse production company, his name has been attached to some of today's most profitable low budget productions, including films like Paranormal Activity and Insidious. Now, with the help of Netflix, yet another film under that banner has hit the ether. The directorial debut of Patrick Brice, whose second film, The Overnight, is already in theaters, Creep tells the story of Aaron, a man in need of a job. Responding to an ad online, he drives to a remote cabin only to meet Josef (Mark Duplass), discovering that the gig is ostensibly filming this man for a full day so that he may have a document of himself for his child, as he is dealing with a recent health scare.
Going to extremely dark places after that opening act, Brice's film (he also stars here as Aaron) is a tense and beautifully raw look at interpersonal relationships and naivete. Both Brice and Duplass are great, and come the film's final act, there are some truly troubling scares and some delightful tension played perfectly. A solid indie horror film.
---
1. God Loves The Fighter (VOD)
Rounding out this week's list is a film unlike any you're bound to see this year. Set in Port of Spain, Trinidad, this City Of God-esque journey into the gritty urban landscape of Trinidad stars Lou Lyons as King Curtis, a poet who becomes our guide as he narrates the tales that have flooded the headlines in one of the area's worst slums. Very much influenced by the above modern classic, the film takes cues from that film as well as the later work of the late Tony Scott, and uses this kinetic vitality to tell some truly unforgettable stories.
A film that will hopefully find an audience now that it is readily available on VOD, this is a glimpse into a world that rarely ever gets discussed, and one that is as troubling as they come. With moments of true pure highs and some troubling lows, this is one of the best new releases currently available on VOD.