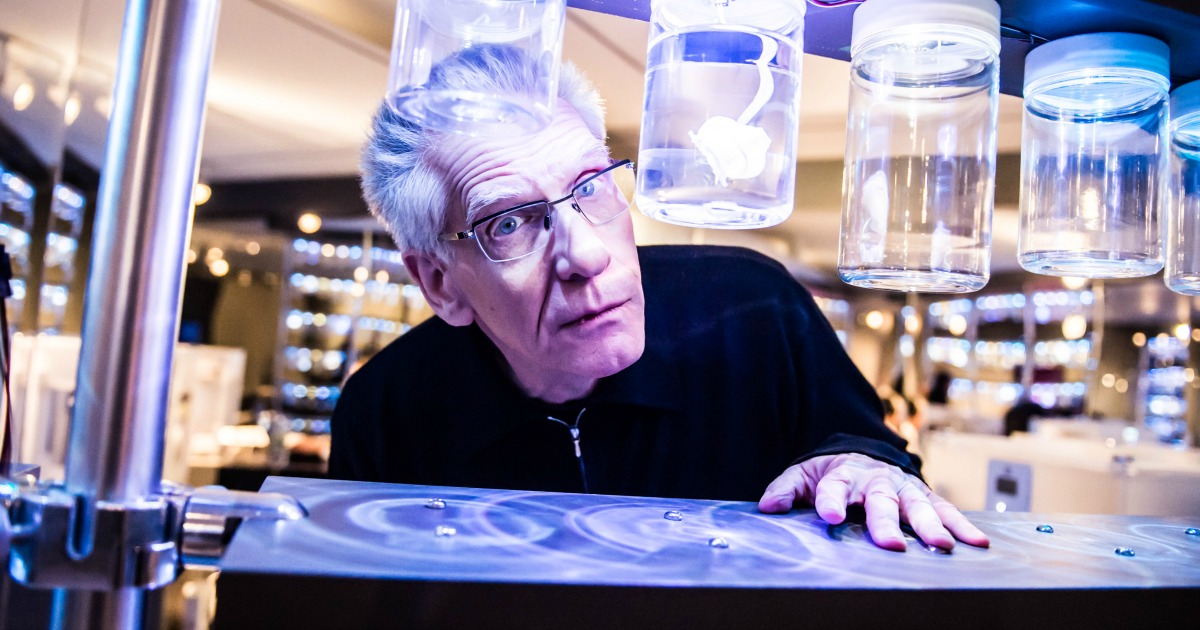 Every day, more and more films are added to the various streaming services out there, ranging from Netflix to YouTube, and are hitting the airwaves via movie-centric networks like TCM. Therefore, sifting through all of these pictures can be a tedious and often times confounding or difficult ordeal. But, that's why we're here. Every week, Joshua brings you five films to put at the top of your queue, add to your playlist, or grab off of VOD to make your weekend a little more eventful. Here is this week's top five, in this week's Armchair Vacation.
---
ABCs Of Death 2 (VOD)
Kicking off this week's horror-extravaganza is a sequel to a much talked about horror anthology film, and one that more than lives up to the original. A new round of horror shorts  is currently available on VOD prior to its theatrical run, and features an equally fantastic lineup of directors taking on this deadly course in the English alphabet. With names like Bill Plympton, the Soska sisters, Vincenzo Natali and even Room 237 helmer Rodney Ascher, this sequel features a who's who of genre directors each of which bringing their own unique vision to the singular topic of death. Admittedly a bit long, the film clocks in at just over two hours in length, but a perfect watch for this season in particular, ABCs Of Death 2 will make any horror marathon all the more interesting and all the more enjoyable.
---
Open Windows (VOD)
There are few filmmakers on this planet quite like writer-director Nacho Vigalondo. Best known for films like Timecrimes, he's back with a rather startling and unforgettable experiment in terror, the off beat Open Windows. Starring Elijah Wood as the winner of a dinner date with actress Jill Goddard (Sasha Grey), the film takes a decidedly dark turn after the date is cancelled, but the young man is offered the ability to view the starlet via her webcam. Ostensibly told in real time, the film is a rather stunning bit of cinematic experimentation, from one of genre cinema's great provocateurs. With solid turns from both Wood and Grey, the film is a pulpy bit of genre cinema that proves once again that Vigalondo is a director in a world entirely his own. Hitchcockian in the most pulpy and seedy of ways possible, Open Windows is bound to be an October staple for many people after they give it a shot, now on VOD.
---
https://www.youtube.com/watch?v=JOTOxk1naC4
The Town That Dreaded Sundown (Netflix)
It's not rare for a horror film from years past to get a new, modern day re-telling. That's exactly what's happening with this Charles B. Pierce-directed horror film. Before you see that remake, however, Netflix is offering up the original film for users to stream today, and it's an absolute must-watch. Set in Texarkana, Texas in the 1940s, the film focuses on a mysterious serial killer that has elluded the authorities in part due to the hood that turns him into something of a legend. A relatively hard find before the film was recently released on DVD and Blu-ray, the film is available to stream, and has become a cult classic regarded by many as a grandfather of the slasher film genre. With a decidedly dark sense of humor, Pierce's film is a haunting and unforgettable genre picture that helped turn the slasher film into something far more than just a "B-movie" genre.
---
https://www.youtube.com/watch?v=uAn5uLNMmjk
Shadow Of The Vampire (Netflix)
What better way to dig into the month of horror than not just a great horror film, but a great one about a great horror film. One of the best movies about movies, This E. Elias Merhige-helmed film looks at a version of the making of the legendary 1922 film, Nosferatu, finding Willem Dafoe in the role of that film's star Max Schreck, opposite John Malkovich as legendary filmmaker F.W. Murnau. A haunting film that is as gorgeously crafted as it is decidedly menacing, the film is mood-driven and with its focus on the use of shadow, it's very much rooted in the source picture. The spin here is relatively black and white. What if Schreck wasn't just acting the role of a vampire, instead channelling is one vampiric existence for the ultimate "method" performance? This surreal turn makes this picture a dark and often darkly comedic picture that stands up as one of the great underrated horror films of this millennium.
---
Shivers (Netflix)
David Cronenberg's first film is currently available on Netflix. What more does one need to know? Need more? Well how about the fact that it's actually a fantastic and deeply troubling debut from one of horror cinema's great masters? Proving that Cronenberg was almost fully formed when he debuted with this gem, the film is a typically Cronenbergian body horror picture that tells the tale of a scientist and the parasite that he creates. A deeply affecting body horror film that hits the bleak sexuality that makes Cronenberg the auteur he is today, this debut is far from a perfect film, but clocking in at just under 90 minutes, this is as singular a debut as genre film has ever seen. A meditation on human sexuality, this is a surreal and unforgettable nightmare that truly needs to be seen to be believed.