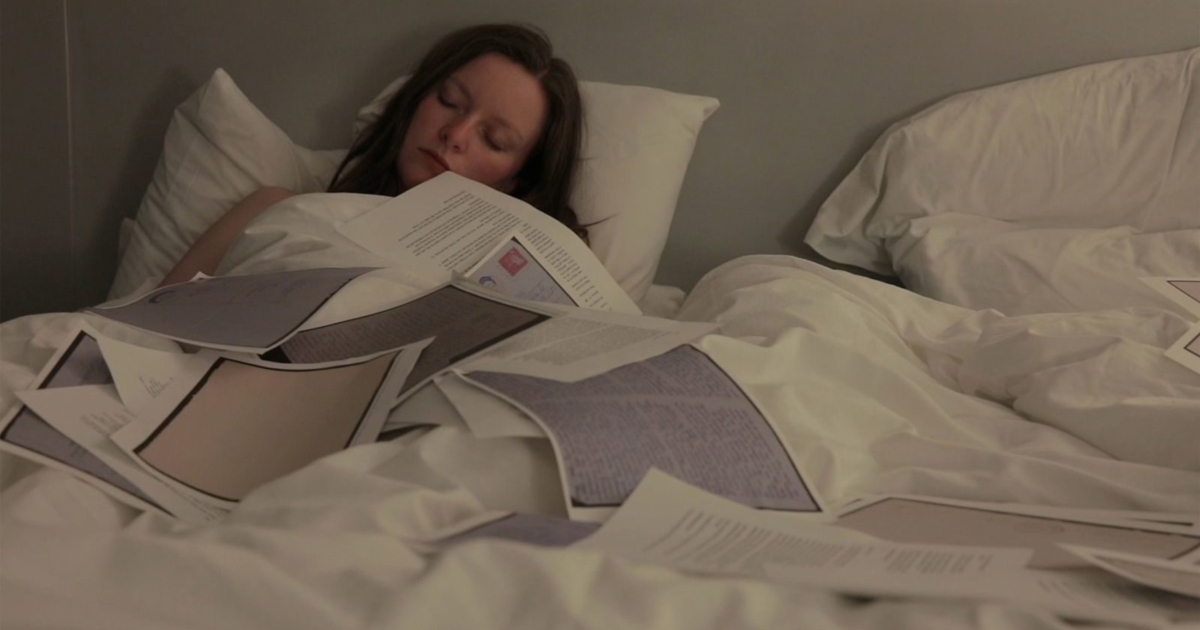 It goes without saying that we're in something of a strange moment in history. With the world upended entirely due to the ongoing COVID-19 pandemic, the last of our worries should be what the world of cinema is doing to cope with the shutting down of theaters and postponing of films both great and small. However, that's exactly what we're going to be doing here in the first of a regular series highlighting the upcoming additions to all your favorite, more niche, streaming services. Hope you all find something here you'll enjoy in these trying times.
Starting off this month's list is the latest film from director Bertrand Bonello, and tells the story of Melissa, the granddaughter of the late Clairvius Narcisse, a man who was allegedly zombified in 1962 and then put to work in sugarcane fields. We follow Melissa as she traverses relationships at a new school, in what is one of Bonello's most entrancing and radical works. Concluding with a scene that's as enthrallingly metaphysical as it is shatteringly emotional, the film's one of 2019's best and is a must-watch this month.
Directed By Cheryl Dunye (June 3)
Collecting two features and six shorts from the incredible filmmaker Cheryl Dunye, this series is an essential introduction into the work of one of cinema's great trailblazers. Of particular note is The Watermelon Woman, Dunye's most well known film and Vanilla Sex, a fantastic short about the relationship one has to language. Dunye is a master filmmaker and remains one of the great underrated filmmakers regardless of gender or race. She makes films from a decidedly black and queer perspective, and therein give a much needed voice to the infuriatingly voiceless.
Directed By Chantal Akerman (June 7)
I mean, all one has to do is list any of the 21 films here and you'd have one of the best series yet included on the Criterion Channel. Among the specifically new additions are films like Golden Eighties and, a personal favorite, South, a film that remains as essential a look into American race relations as there has ever been. Dealing with the brutal murder of a black man at the hands of three racists, South feels like an almost perverse watch in the current climate, yet there are few films that have as clear an eye towards the racism at the very heart of this backwards failed state known as The United States of America as this one.
The Eyes Of Orson Welles (June 8)
Mark Cousins' look into the works of Orson Welles is a delightful little change of pace for the filmmaker. Focusing more on things like Welles' paintings and sketches, the film attempts to craft a fresh and evocative portrait of an artist as heavily studied as American cinema has ever seen. It may be a bit lighter than his art history works like The Story of Film, but it's no less engrossing and takes a playful and humanist spin on the life and times of the incredible Orson Welles.
But I'm A Cheerleader (June 10)
A late '90s masterpiece is finally making its way to the channel, this time in the form of the brilliant But I'm A Cheerleader. One of the great queer comedies of the period, the film stars Natsha Lyonne as Megan, a cheerleader sent to a conversion therapy camp where she only falls more and more comfortable in her burgeoning skin. With incredible design work and a knockout cast, the film is a masterpiece of film comedy, a picture that's both arch in its artistry and yet humanist and humane in its portrayl of youth.
Three By Gregg Araki (June 18)
Speaking of queer classics, Gregg Araki is getting the Criterion Channel cosign with three new additions to the service. Spearheaded by his best loved film, Mysterious Skin, the channel also will include The Living End and Totally F***ed Up. All three films are fantastic examples of the type of radical filmmaking Araki has become synonymous with, particularly Skin, a tender yet raw picture that shot him squarely into the stratosphere following its premiere in 2004.
Marking its streaming debut with its run on the service is Jonathan Caouette's brilliant diary film Tarnation. Blending together archival materials like family pictures and VHS home recordings, Tarnation is Caouette's attempt to give head first into his childhood, a childhood chock full of trauma that he, with this film, hoped to work through in what is one of cinema's most cathartic and radical documentaries. Made for $218 on free computer software, the film remains one of the great American indies, and a real testament to the beauty and humanist power of non-fiction filmmaking.
These are just kind of cool, no? Collecting ten short films, this series gives legendary jazz performers the spotlight, with names like Louis Armstrong, Cab Calloway and Duke Ellington all getting highlighted in this raucous series. Spanning 1929-1939, these shorts are best viewed as cultural objects, a glimpse into the work of some of jazz music's greatest performers at the absolute height of their powers. The perfect type of late-night stream on a nice rainy weekend. These are the types of things that make this service so special.
Czechoslovak New Wave (June 28)
Rounding out the Criterion side of this conversation is a collection of 24 films highlighting the very best of the best of the Czech New Wave. One of the most intriguing radical movements in all of film history, the Czech New Wave remains a cinephile gold mind, with masterpieces ranging from the politically radical Daisies to the haunting Diamonds of the Night. This series is both a great way to introduce oneself to the movement and also dive head first into some deeper cuts for those more studied cineastes.
The most exciting addition to OVID this month is Denis Cote's incredible Bestiaire. Radical in its narrative and storytelling, the film's quite like anything else in Cote's filmography, playing as a shape-shifting rumination on man, animal and the relationship one has to the other. Beautiful and thought-provoking, the film is told primarily through locked frames that make this a frigid, yet poetic, meditation on humanity itself.
First up for MUBI is MS Slavic 7, one of the great unreleased films of the last half decade. The film stars Deragh Campbell (who gets a co-directing credit with the one and only Sofia Bohdanowicz) who takes on the role of a young scholar working to execute the estate of a beloved Polish poet who just so happens to be her own great-grandmother. An unusually humorous work, the film takes a superlative lead performance and runs with it, a quiet and gorgeous look at family dynamics as told through one of the defining works of the recent hybrid movement seen in independent cinema around the globe.
Remembering Chantal Akerman (June 5-7)
Over three days in June MUBI will be highlighting the life and work of Chantal Akerman with three films from or about the legendary filmmaker. The highlight here is No Home Movie on June 6, as any chance to dive into one of the great documentaries ever made is well worth it. There's also Almayer's Folly and the beautiful documentary about Akerman, I Don't Belong Anywhere: The Cinema of Chantal Akerman. All three films are must-sees this month.
Shooting The Hip: The Cinematography Of Sean Price Williams (June 27-28, July 5-6)
Finally, Sean Price Williams gets the retrospective treatment this month, as starting June 27 four films shot by the hot shot cinematographer will be launching on the site. One of the more interesting films included here is Fake It So Real from director Robert Greene. This portrait of independent professional wrestling is one of Greene's earliest films, helping launch not just one of the great cinematographers of our era but also one of documentary filmmaking's most exciting young voices.
Netflix
From Netflix:
From Academy Award® Winner Spike Lee comes a New Joint: the story of four African-American Vets — Paul (Delroy Lindo), Otis (Clarke Peters), Eddie (Norm Lewis), and Melvin (Isiah Whitlock, Jr.) — who return to Vietnam. Searching for the remains of their fallen Squad Leader (Chadwick Boseman) and the promise of buried treasure, our heroes, joined by Paul's concerned son (Jonathan Majors), battle forces of Man and Nature — while confronted by the lasting ravages of The Immorality of The Vietnam War.
From Netflix:
René González (Edgar Ramírez) is a Cuban pilot who leaves his wife (Penelope Cruz) and young daughter behind in the communist island nation to defect to the United States and begin a new life of freedom in the early 1990s. But René is not the upstart American striver he appears to be. Joining forces with a group of Cuban exiles in South Florida known as the Wasp Network — led by undercover operative Manuel Viramontez a.k.a. Gerardo Hernandez (Gaël García Bernal) — he becomes part of a pro-Castro spy ring tasked with observing and infiltrating Cuban-American terror groups intent upon attacking the socialist republic.

Based on the true story of The Cuban Five — intelligence officers including González who were arrested in Florida in September 1998 and later convicted of espionage and other illegal activities — Wasp Network is a gripping and stylish political thriller that wears many faces, bringing together a rogue's gallery of Cuban nationals and Cuban-American exiles engaged in a complex and deeply nuanced battle of competing ideologies and shifting loyalties.

Inspired by Fernando Morais' book The Last Soldiers of the Cold War, writer-director Olivier Assayas (Carlos, Personal Shopper) gathers an ensemble cast including Penelope Cruz, Edgar Ramírez, Gaël Garcia Bernal, Ana De Armas, Leonardo Sbaraglia, and Wagner Moura for an explosive and urgent spy game fought in a hall of mirrors across neighboring states whose decades-long standoff casts shadows into the present day.
Virtual Theater Highlights
From director Abel Ferrara comes Tommaso, his latest collaboration with actor Willem Dafoe, and one of the greatest films either of them have been a part of. The actor stars as an American expat living in Rome with his much younger wife and the innerworkings of their tumultuous relationship. Intimate and energetic, Ferrara is in rare form here, crafting a film that's sheer sincerity is refreshing and exhilarating. Dafoe gives a beautifully raw performance as a strange proxy for Ferrara in what's one of the director's most moving and introspective films in quite some time.
One of the many films directly effected by the cancelling of spring/summer film festivals, Babyteeth was originally eyeing a spring run at this year's New Directors/New Films, yet has been sadly relegated to being one of the numerous films sent to virtual theaters as COVID-19 continues to rage on. Starring Eilza Scanlen, the film tells the story of Milla, a terminally ill young woman who falls in love with low rent drug dealer Moses (Toby Wallace) despite her parents protests. The film is the debut of director Shannon Murphy and is a gorgeously textured coming of age film that takes a star-making performance from Scanlen and uses it to craft a beautiful portrait of young love at the close.
Three By Hong Sang-soo (June 5, 12, 19)
Gonna try and keep this last one short, as there are few filmmakers alive today whose work is more exciting than that of one Hong Sang-soo. The wildly prolific filmmaker has three films hitting the web this month, with Yourself And Yours, Hill of Freedom and Woman on the Beach coming to virtual theaters all in subsequent weeks. While all three films are wildly exciting additions to virtual theaters, its Yourself and Yours that stands as the most intriguing. One of Hong's most fun and funny films, Yourself is a comedy of mistaken identity (sort of) that finds a couple at odds after an argument, only to spend time apart in a strangely metaphysical manner. All three are wonderful entries into the director's filmography and are perfect entry points for those looking to dive into one of today's great directors.