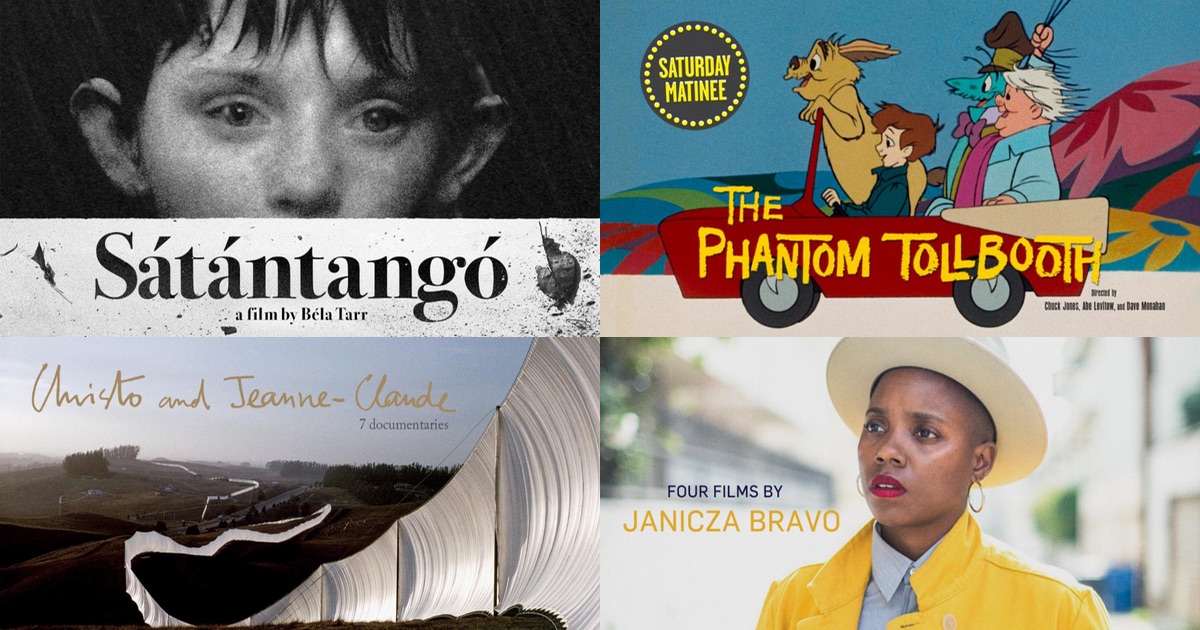 It goes without saying that we're in something of a strange moment in history. With the world upended entirely due to the ongoing COVID-19 pandemic, the last of our worries should be what the world of cinema is doing to cope with the shutting down of theaters and postponing of films both great and small. However, that's exactly what we're going to be doing here in the first of a regular series highlighting the upcoming additions to all your favorite, more niche, streaming services. Hope you all find something here you'll enjoy in these trying times.
Three By Robert Greene
Starting off this month's streaming roundup is a trio of films from documentary luminary Robert Greene. A master of the "hybrid" style film, Greene has spent the majority of his career blurring the line between the worlds of fiction and non-fiction cinema, in turn crafting one of the more influential and important filmographies in modern documentary filmmaking. The pair included here are Actress, his masterpiece Kate Plays Christine and the underrated Bisbee '17, a trio of docs that are as singular as any of this era. Already mentioned my fondness for Kate, but the film also feels like a perfect starting point for those new to the director, despite being made well into his career. Quite literally born out of the very experimenting between fact and fiction that makes Greene an important director, the film feels like a Rosetta Stone for those trying to connect with his filmography. A trio of absolute knockouts here.
Four Films by Janicza Bravo
The second of five straight director collections, Janicza Bravo gets the spotlight here, in anticipation of her forthcoming (and completely incredible) Zola hitting whatever theaters are open come its release date. Four of the director's short films are included here, including Gregory Go Boom, Pauline Alone, Woman In Deep and Man Rots From The Head, all of which are varying degrees of surreal, portraits of those on the outskirts of society trying to search for connection in an increasingly cruel world. Bravo is an incredibly skilled and textured filmmaker, making often dry and in many cases quite awkward comedies that come alive thanks to an impossible amount of humanity that Bravo seems incapable of avoiding. Her films are textured and nuanced thematically, making them essential portraits of modern American life.
Directed By Albert Brooks
I mean, this one's hard to ignore. Collecting five films from actor-turned-director Albert Brooks, this collection brings together well regarded masterpieces like Lost In America with underrated classics like Mother and Defending Your Life. A filmmaker who works all too rarely, Brooks is a master of the sardonic comedy, crafting portraits of everyman lead characters as they face everything from relationship issues to familial trauma. I myself am particularly fond of Defending Your Life, an underrated comedy that finds Brooks at his most broad narratively, and yet his proverbial knife is rarely as sharp, getting at deep seeded human truths that, paired with the superlative performances and whip smart sense of humor, make for a film that's truly unlike any other.
Three By Lucrecia Martel
Speaking of films unlike any other, the next director sidebar we'll focus on here is one looking at director Lucrecia Martel. While La Cienaga has been on the channel for a minute, and Zama has been more or less widely available since its theatrical run in 2017-2018, the real highlight of this threesome is The Headless Woman, maybe Martel's best and sadly hardest-to-find work yet in her career. A haunting and politically sharp dissertation on the abuses of the Argentine ruling class, the film remains a monument to Martel's revolutionary politics and filmmaking aesthetic, coming out some 7 years after her debut feature and finding the director at her most assured and experimental. Not the best place to start for those new to the director, it is absolutely the most must-see film new to the service in September and remains one of the greatest films not just of the '00s but of film itself.
The Films Of Agnes Varda
The final director sidebar here is the biggest. Coming right after the release of the seminal Agnes Varda box set, Criterion has more or less brought that very set to the streaming service, bringing well over 35 features and shorts to the service in September. Now, some are already available, but the fact that they'll be having available not just these films but "extensive supplemental features" from the box set makes this one of the great additions yet in the history of the channel.
By The Book
And now they're just getting greedy. Bringing together 63 films, Criterion Channel in September will place in conversation a number of films that are made out of adaptation. Playing as much as a Film 101 class as an English 101 class, this series brings together the very best of the best from the world of literary adaptations, ranging from golden age adaptations like The 39 Steps to modern ones like Certain Women from Kelly Reichardt. Here's the full list:
The Count of Monte Cristo, Rowland V. Lee, 1934
The 39 Steps, Alfred Hitchcock, 1935
La bête humaine, Jean Renoir, 1938
Of Mice and Men, Lewis Milestone, 1939
Great Expectations, David Lean, 1946
The Killers, Robert Siodmak, 1946
Anna Karenina, Julien Duvivier, 1948
Oliver Twist, David Lean, 1948
The Heiress, William Wyler, 1949
The Passionate Friends, David Lean, 1949
The Idiot, Akira Kurosawa, 1951
The Life of Oharu, Kenji Mizoguchi, 1952
Robinson Crusoe, Luis Buñuel, 1954
Senso, Luchino Visconti, 1954
Pather Panchali, Satyajit Ray, 1955
Aparajito, Satyajit Ray, 1956
The Burmese Harp, Kon Ichikawa, 1956
Apur Sansar, Satyajit Ray, 1959
The Cloud-Capped Star, Ritwik Ghatak, 1960
Purple Noon, René Clément, 1960
Zazie dans le métro, Louis Malle, 1960
Divorce Italian Style, Pietro Germi, 1961
Lord of the Flies, Peter Brook, 1963
Tom Jones, Tony Richardson, 1963
Charulata, Satyajit Ray, 1964
Woman in the Dunes, Hiroshi Teshigahara, 1964
Closely Watched Trains, Jirí Menzel, 1966
War and Peace, Sergei Bondarchuk, 1966
Memories of Underdevelopment, Tomás Gutiérrez Alea, 1968
The Angel Levine, Ján Kadár, 1970
Dodes'ka-den, Akira Kurosawa, 1970
The Phantom Tollbooth, Chuck Jones, Abe Levitow, and Dave Monahan, 1970
The Little Prince, Stanley Donen, 1974
Picnic at Hanging Rock, Peter Weir, 1975
The American Friend, Wim Wenders, 1977
The Ascent, Larisa Shepitko, 1977
The Getting Of Wisdom, Bruce Beresford, 1977
Empire of Passion, Nagisa Oshima, 1978
Watership Down, Martin Rosen, 1978
My Brilliant Career, Gillian Armstrong, 1979
Stalker, Andrei Tarkovsky, 1979
The Tin Drum, Volker Schlöndorff, 1979
Wise Blood, John Huston, 1979
You Are Not I, Sara Driver, 1981
Under the Volcano, John Huston, 1984
Mishima: A Life in Four Chapters, Paul Schrader, 1985
My Life as a Dog, Lasse Hallström, 1985
Betty Blue, Jean-Jacques Beineix, 1986
An Angel at My Table, Jane Campion, 1990
The Comfort of Strangers, Paul Schrader, 1990
Europa Europa, Agnieszka Holland, 1990
The Handmaid's Tale, Volker Schlöndorff, 1990
Emily Brontë's Wuthering Heights, Peter Kosminsky, 1992
The Castle, Michael Haneke, 1997
The Sweet Hereafter, Atom Egoyan, 1997
The Virgin Suicides, Sofia Coppola, 1999
The Piano Teacher, Michael Haneke, 2001
The Hours, Stephen Daldry, 2002
Gomorrah, Matteo Garrone, 2008
Almayer's Folly, Chantal Akerman, 2011
45 Years, Andrew Haigh, 2015
Certain Women, Kelly Reichardt, 2016
Zama, Lucrecia Martel, 2017
The Prison In Twelve Landscape
As we near the conclusion the Criterion Channel section of this round-up, one of the more exciting recent releases that the company is adding is The Prison In Twelve Landscapes. Now, I hesitate to talk about the film too much as spoiling the thematic and intellectual discourse that it will cause for anyone who sees it is almost criminal, all I'll really say is that as this country continues to burn due to our insidious hindrance on a toxic police state, director Brett Story's thrilling and explosive look at the destructive nature of police and prisons is a truly essential and deeply felt experience. A director of incredible insight, Story's superlative dissertation on the insidious nature of America's prison state is a textured and nuanced primal scream that stands as one of the 10's greatest documentaries.

The Loveless
And finally, the first film from beloved filmmaker Kathryn Bigelow. Starring Willem Dafoe, The Loveless tells the story of Vance, a rockabilly biker who leads a gang that, on their way to a race in Daytona, rolls into a small town and ultimately sends that very town into utter chaos. The film is a far cry from the Zero Dark Thirty style film that Bigelow would go on to make later in her career, yet stands as one of her most thrilling and exciting works to date. Very much in keeping with her interest in masculinity, the film is a strangely sexy and thrilling drama, with Dafoe at his most brooding. It's been a film long discussed in connection to The Criterion Collection, as it's a relatively hard to find first feature from a renowned director, and it's also inarguably one of her best and most exciting films yet.
Directed By Marlon Riggs
First of two collections added to OVID in September, this series collects seven films made by director Marlon Riggs. Led by his masterpiece Tongues Untied, this also brings together Affirmations, Anthem and Non, Je Ne Regrette Rien, among others, all standing together as shattering and beautiful portraits of life in America as a black queer man. Gorgeous ruminations on sexuality and gender, these four features and shorts are essential viewing in 2020. Here's the full lineup:
Thursday, Sept. 10th:
Color Adjustment (87 minutes, 1991) directed by Marlon Riggs
Ethnic Notions (56 minutes, 1987) directed by Marlon Riggs
Monday, Sept. 14th:
Black Is…Black Ain't

(86 minutes, 1995) directed by Marlon Riggs
Wednesday, Sept. 16th:
Tongues Untied (55 minutes, 1989) directed by Marlon Riggs
Affirmations (10 minutes, 1990) directed by Marlon Riggs
Anthem (8 minutes, 1991) directed by Marlon Riggs
Non, Je Ne Regrette Rien (No Regret) (38 minutes, 1992) directed by Marlon Riggs
Silent Shakespeare
Collecting seven silent films, this entire series is a set of films I haven't seen so ultimately I can't speak to the quality of them, but to see a service add a great number of silent era adaptations of Shakespeare plays is beyond exciting. I'm particularly fascinated by the 1899 King John picture, a film I've barely heard of let alone actually seen. These are all restored and brought back to life thanks to the BFI, from nitrate prints so these are maybe the most exciting streaming additions from the entire September slate.
The Lighthouse
Now onto MUBI. Initially released in 2006, this new restoration of Maria Saakyan's debut feature The Lighthouse is coming to MUBI in September. The first film ever directed by an Armenian woman, The Lighthouse made waves again after hitting Rotterdam 2019 in a new restoration, and while I can't speak to its quality as I haven't seen it yet, it sounds like one of the more fascinating explorations of life in Soviet-era Armenia that you'll ever see.

Bird Island
Now onto a film I've not only seen but written about. Here's my take from a roundup at this year's PIFF:
Speaking of Robert Bresson, one of the festival's shorter features owes a great debt to the legendary auteur. This hybrid docufiction from directors Maya Kosa and Sergio da Costa has been billed as some sort of Diary of a Country Priest riff, which may sound pompous but it's not entirely wrong. The film introduces viewers to Antonin, a rat breeder at an isolated bird rehabilitation center, a rehab center that doesn't just bring birds back to life or put them out of their misery, but more or less attempts to do the very same for those men and women who also call it home. One of the more radical films in this year's PIFF lineup, Bird Island is an empathy bomb, an almost experimentally humanist portrait of a giver of life to things born to be eaten at a place where broken things go to get fixed. Gorgeously shot and deceptively simple in its framing, Kosa and da Costa craft a brazenly tranquil film that concludes with a gut punch of a final sequence.
New Taiwanese Cinema
Directors Hou Hsiao-hsien and Edward Yang get the spotlight starting on September 5, with a series launching looking into the directors and their influence on the burgeoning New Taiwanese Cinema movement. Highlights of this series include that very series-launcher, The Terrorizers and the brilliant Hsio-hsien film A Time To Live and A Time To Die, both of which find directors at the early stages in their careers and yet also prove just how assured and almost fully-formed they were as craftsmen.
Love And Loss And Liberation
Finally, concluding this month's streaming roundup is another series of films I haven't seen but sound absolutely essential. Billed as two gay films by Arthur J. Bressan Jr., Gay USA and Buddies arrive on MUBI near the end of September, and these explorations of gay life in the 1970s sound utterly fascinating, particularly the latter which is described as the first film to focus explicitly on the AIDS pandemic, the very thing the director himself would later die of just two years after the film's initial release. These are two absolutely must-see films.