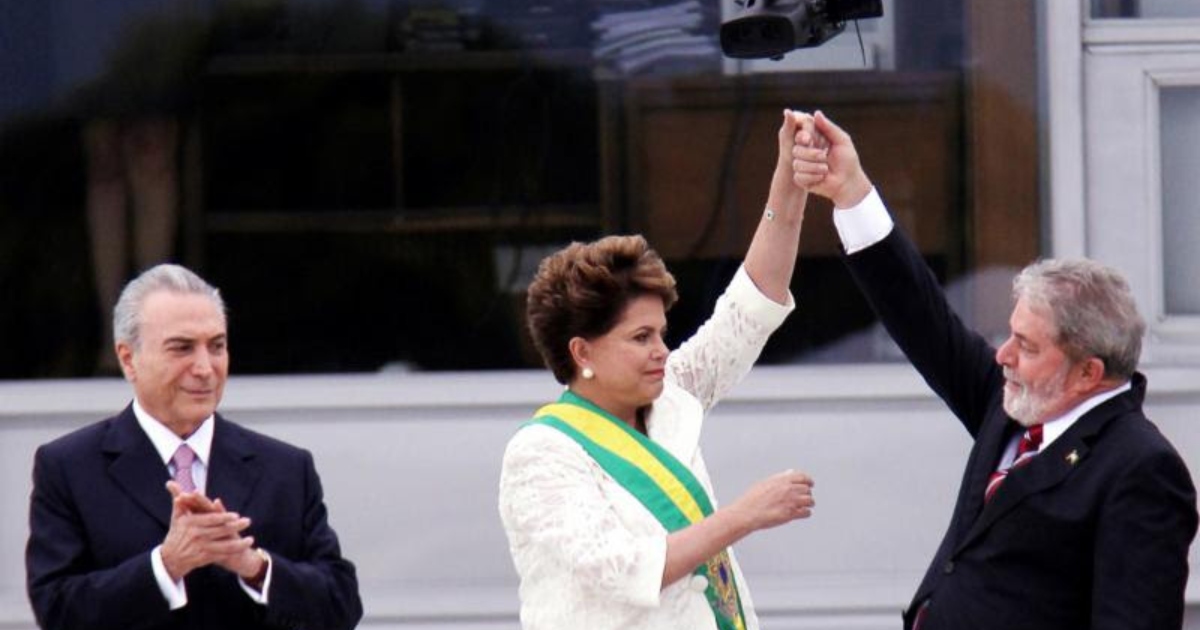 One of the lesser talked about film festivals, Visions du Reel recently held their first online-only edition. A bastion of experimental and avant-garde documentary and hybrid cinema, this year's festival included over 150 films of varying lengths, with 58 countries represented in what is one of 2020's most diverse festival lineups. But where should one begin when diving through the lineup and trying to collect the films that are must-see coming out of this year's incredible edition? Well, that's what I'm here for. Here are eight(ish) films that are just a few of the highlights from this year's special edition of Visions du Reel.
8. The Films of Petra Costa
Marking the first retrospective of her work, Oscar-nominated documentarian Petra Costa was a major focus at this year's festival. One of the more interesting Brazilian filmmakers working today, Costa's films are often deeply personal, taking a look at histories both specific and national, in order to mine deep and profound truths about the experience of living in a tumultuous landscape like Brazil. Her best known film, The Edge of Democracy, spearheads this retrospective, coming roughly a year after debuting here in the states on Netflix. Ultimately getting nominated at the Academy Awards, Democracy is a powerful and unflinching look at Brazilian politics and remains one of the more urgent and essential looks at the growing wave of nationalism/fascism today. There are, included here, other superb films like her brilliant Elena which helped launch her career here stateside after its release in 2012. A personal story about her older sister, Costa's beautiful and immensely moving look at her family history is a touching experiment in collage, blending home videos, audio recordings and other source material into an evocative rumination on memory and shared history. These are absolutely essential works from an essential filmmaker.
7. Sanfield
One of the great things about Visions du Reel is their insistence on programming the latest and greatest in short films. One of this year's great shorts comes from the ever fascinating Kevin Jerome Everson, and is titled Sanfield. Looking at the goings on at the Columbus Air Force Base, the film specifically shines a light on the men and women of color training to become airmen at the Columbus, Mississippi base. Continuing his ever expanding project of documenting African-American men and women in a world that's increasingly placing them on the periphery, Sanfield is a beautiful and often haunting look at the African-American experience in the White American War Machine. At just 20 minutes, the film may not seem like it could have all that much to say, but through Everson's gorgeous black and white photography and his almost science-fiction-like direction, the film is a breathtaking experiment in political rebellion. Carrying with it an almost 1984-like atmosphere, this is one of the more singular shorts seen in quite some time.
6. The Plastic House
Over twice the length of the last film, Allison Chhorn's The Plastic House is one of Visions du Reel's numerous medium-length short, and one of this year's most unforgettable films. Not quite documentary and not quite a fiction film, this proto-hybrid introduces viewers to a young woman who, after her parents pass away, decides to get back to work in their family greenhouse. However, she begins not only ruminating on life and death, but imagines shadowy figures haunting her home. Almost the definition of a tone poem, Chhorn's film is an unforgettable experiment in narrative, looking at one woman's attempt to combat her grief by tending to her family greenhouse. Despite the attempt to bring about healing through working in the well worn greehouse, it only becomes a vessel for direct contact with this grief and trauma, turning The Plastic House into less a documentary or fiction film and something not quite in-between but more outside either. It's simply unlike anything you've ever seen before.
5. An Ordinary Country
The first real direct documentary on this list, An Odinary Country comes from director Tomasz Wolski, and through the use of previously classified materials, attempts to reconstruct Soviet-Era Poland as the police state that it truly was. Despite searching for something resembling freedom, the film uses this material to create a document of surveillance by the secret police on everything and everyone, ranging from people on the street to religious gathering. In this quite litera found footage horror film, director Wolski uses this material to craft a haunting and haunted portrait of a nation under surveillance in some perverse subverison of democracy. A thrilling, often unsettling documentary, the film is a briskly paced, expertly edited document that despite being of a specific era feels disturbingly modern and narratively prescient.
4. Jungle
Similar in many ways to one of the best documentaries of the 2010s, All This Panic, Jungle is a poignant and incredibly powerful look at growing up female in the modern landscape. Following a handful of young Parisian women, Jungle is an intimate and deeply personal portrait of the female experience in modern day France, with director Louise Mootz allowing these young women the space to be frank and raw with regards to their lives and everything that goes with it. Straight-forward talks about sex and sexuality turn this film into something nearly groundbreaking, with its no-frills direction not void of emotion, instead allowing each young woman the room to breathe and the intimacy to feel safe and respected. It's a sincere and observational film that isn't sans a point of view, instead standing as a rousing feminist statement, allowing these women the room to take ownership of their lives. A truly great film.
3. Babenco: Tell Me When I Die
Produced by Petra Costa and featured in her retrospective is this incredible biographical film from director Barbara Paz, a biographical documentary not quite like any before it. A beautiful and thought-provoking rumination on the life and work of legendary filmmaker Hector Babenco, Tell Me When I Die comes with the director in toe, narrating his life in a manner that's more dream-like than biographical. A man whose life has included everything from Oscar-nominations to work as an extra in spaghetti westerns, Babenco is an endlessly fascinating character whose thoughts and philosophies turn him into a true one-of-one type filmmaker. Less a straightforward recounting of a life than a philosophical dissertation on one creator's end, the film is a journey through his dreams and his arts as only could be told by the poet himself. Engrossing and expertly crafted, the film is in keeping with its subject; truly one of a kind.
2. Some Kind Of Heaven
Coming second on this list is likely the one documentary out of this year's lineup that will make a genuine splash with a wide range of audiences once it hits theaters (whenever they come back). Owing a great debt to the films of Ulrich Seidl, Some Kind Of Heaven is a gorgeous and richly textured look at life at one of the State's foremost retirement villages. Directed by Lance Oppenheim, the film sends viewers to a Florida-set retirement home, and introduces them to four sets of characters within the building, lovingly known as "Disneyland for Retirees." However, what makes this film so incredibly powerful is, while it does embrace the occasionally surrealist and absurdist moments found within the walls, it also portrays these lives as conflicted and far from the rosey exterior the building may put on. It's a tender and deeply humane portrait of life nearing the close and all the knottiness and remorse that goes with it. Strangely comic in the way that Seidl's films are, Oppenheim's latest is one of the best docs of 2020 and has a humanity within it that's truly startling and endlessly engrossing.
1. El Father Plays Himself
Finally, the film that must stay at the top of your must-see list coming out of this year's Visions du Reel is one from a favorite director of ours over here at The CriterionCast. From director Mo Scarpelli (who was last seen as one half of the directing team behind the incredible Frame By Frame and the equally special Anbessa), El Father is a superb hybrid film that introduces viewers to a young filmmaker who attempts to make a film about the troubled life of his father while also casting the man himself in the lead role. What results is a powerful and deeply human look at a father/son relationship and the trauma shared between them. One of the longer films on this list, there's a lyricism and poetry to the filmmaking, allowing for viewers to become completely immersed into Scarpelli's rumination on filmmaking, family and loss. Loss of home, of time, of everything and the power of cinema to literalize and bring it all to light. A tender and thoughtful hybrid feature, the film's maybe a pinch long but it's in the service of a humanist portrait of a universal relationship and all the knottiness that comes with any parent/child connection. Sincerely one of the best films of 2020.