While the Western genre itself may be chock full of legendary features, there is one character that has become as synonymous with the telling of the truly Wild American West. Wyatt Earp has seen his name tossed into dozens of classic, and some not so classic, Western pictures and other bits of storytelling dating back to the early 1920s, with stories of his exploits traveling with him for years even prior to that. However, it has been his cinematic portrayals that have turned Earp into one of the most legendary and iconic names in all of Western storytelling.
And yet, in this monstrous amount of stories woven on the big screen involving Earp, a few still deserve to find the respect that they so richly need. Especially when one of them comes from a director with a name like Jacques Tourneur.
Entitled Wichita, this Earp is played by the ever engrossing Joel McCrea, taking Earp to the newly minted boom town known as Wichita, Kansas. Just looking for a place to put his feet down and find an honest bit of living, Earp is himself lassoed into a gig as the town's new Marshall. However, when he throws some bankers and saloon owners into a frenzy with a no gun rule that also puts a target on his back with some rather evil men setting him in their rifle's crosshairs, the town, and his life, are thrown into turmoil. Toss in a burgeoning romance and you have a story that is perfectly twisty for a director like Tourneur, and has enough action and intrigue to make even a modern audience stand up and applaud by the time the final credits begin to roll.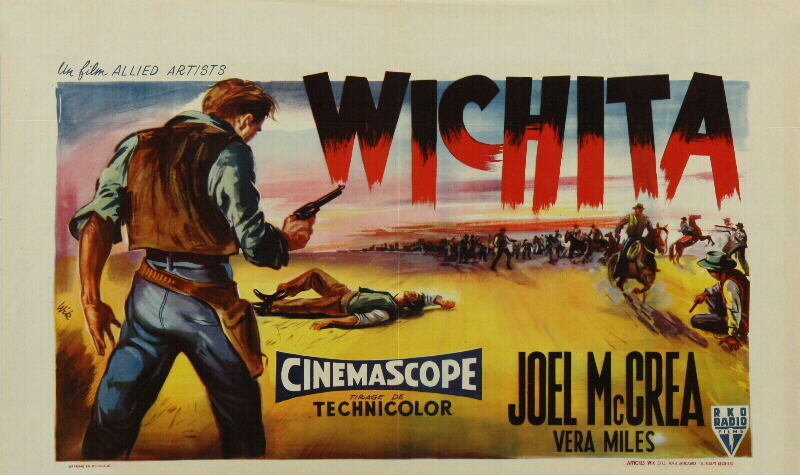 Oddly enough, for a film with such an interesting cast, Tourneur is truly this film's biggest star. Getting a rather punchy and verbose script from Daniel B. Ullman, the film has an uncanny sense of energy to it, something you don't truly see often within the world of Western cinema. The photography is warm and inviting, and the sets, particularly the town that is Wichita, is an oddly pastel hued city that houses humans who are all types of different shades of grey. Tourneur's action direction is superb, the choreography and geography classically toned and crafted, and his ability to make the relatively standard premise feel fresh and chock full of never ending thrills is real proof that he's one of the more underrated names in the history of film directing.  Tourneur's direction is full of maturity and stayed compositions, really carrying with it this intriguing ability to take what is ostensibly a political thriller into something grand, something bombastic and most importantly, something ultimately timeless.
While some of the discussion of man's connection to the firearm may seem a bit dated, take a look at any modern political debate, and the topic of right-to-carry is bound to show up. When paired with a genuinely exciting core dramatic narrative, Ullman's script is just as mature in its discussion of this issue as Tourneur's direction is in showing it aesthetically, and really turns this film into not only a great Western, but one with more than its fair share of things to say. An entrancing meditation on the never ending nature of violence, this film is a bleakly neo-realist bit of drama in the guise of an Easter Sunday-colored Western.
It also helps to have an A+ cast for an A+ Western. Joel McCrea is as good as he's ever been here, giving Earp life with a sense of ease and truth to his character that he becomes something more than just a typical Western hero. His relationship with Vera Miles' Laurie is believable and vital to the film, giving the picture a beating, emotional heart for viewers to deeply connect to. Walter Coy co-stars as a banker who goes from championing Earp upon his arrival into town to being a step away from firing his new Marshal before he himself experiences just what can happen if this no gun law is taken away, and plays well with names like Edgar Buchanan and Carl Benton Reid as just a few actors taking on roles of men looking to get Earp out of his new position. The drama runs high, political intrigue turned up to eleven and the romance even a notch higher, and every member of this shockingly deep cast turn in truly superb performances.
So, if this film is truly great (which it so very much is), why no Blu-ray release? Well, there is a DVD out via The Warner Archive, so a Criterion release seems unlikely, but a boy can dream for a Blu-ray in general, right? Being such a politically charged Western, one could do a cavalcade of things with interview segments or visual essays, and with Tourneur himself being one of cinema's most underrated filmmakers, a bit of a retrospective interview with any of his various "fans" in the directing community could really add some great depth to this release. Toss in a new restoration and you'd have a release that would give just the right amount of spotlight to one of the greatest Westerns you've likely never seen.