When one thinks of cinematic melodrama, names like Douglas Sirk pop into mind. Gorgeous, pastel color schemes, emotionally devastating narratives and heightened performances abound in this genre, and while to describe something as "melodramatic" or a "melodrama" has become a pejorative, there are a handful of classic pieces found within the genre. And yet, arguably the greatest melodrama of the lot couldn't be further from the stereotypical norm.
Released in 1952, The Bad And The Beautiful sounds like your normal, run-of-the-mill melodrama, looking behind the curtain and shining a light on Hollywood filmmaking. Starring Kirk Douglas, the film tells the tale of a vindictive Hollywood mogul over a span of 18 years, seeing the man's rise and ultimately his fall. One of a handful of films from the time period looking at the world of Hollywood and filmmaking, the film is structured as a narrative built through various perspectives, none of which are that of the central character. Seen through the eyes of a director, an actress and an author, Douglas' mogul is a key character from this time period, and a legendary melodrama figure.
---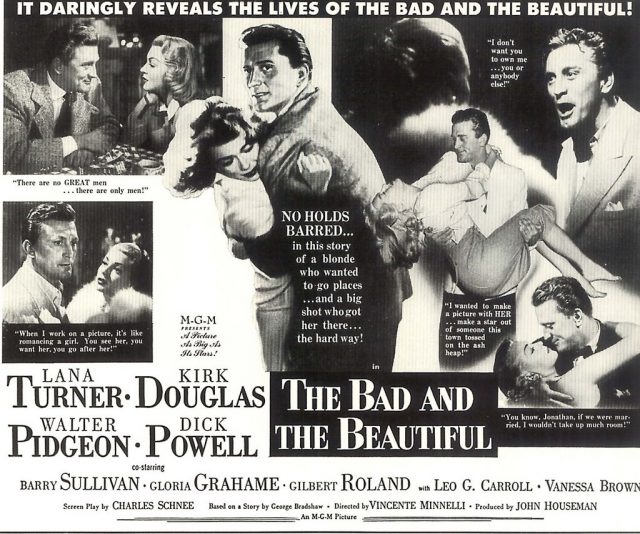 ---
However, despite sounding like a normal piece of melodrama, it could not look further from the film one imagines when hearing that plot description. Closer, aesthetically, to noir pictures from this time period, director Vincent Minnelli gets haunting black and white cinematography from Robert Surtees, using light and shadow as deftly as a director like Sirk uses bright blues and blinding reds. David Raskin contributes an iconic score here, and Minnelli's camera is lyrical and very much influenced by his work on the stage, giving us perfectly framed sequences that use shadow here to absolute perfection. Despite being best known for his musical work, Bad proves Minnelli to be one of the most assured and powerful names in the world of cinematic melodrama, and his ability to bring to the genre the sense of tension found more often in noir pictures, really makes this film a singular and esoteric entrant within the genre.
Performances here are also uniformly great. Kirk Douglas is pitch perfect here, as the evil and manipulative Jonathan Shields. The character itself is a riff on legendary Hollywood moguls like Darryl F. Zanuck and David O. Selznick, or with his penchant early on for crafting "B" films one could argue he's a glorified Val Lewton, and Douglas has a way with this screenplay that makes it feel almost second nature for the iconic thespian. It's a fully lived in performance that, while heightened, feels raw and lively in a way that most melodramatic lead performances rarely hit. Opposite him is Lana Turner in the role of Georgia Lorrison, an actress who has a romantic affinity for the genius film producer. She's absolutely fantastic here, and is equally as deft with the material here as her leading man. It's a rousing and evocative performance, one that is almost more difficult to shake once the film ends, particularly given the film's final sequence. Rounding out the main players are the pair of Walter Pidgeon and Dick Powell, both of whom are really superb. Pidgeon is particularly enjoyable in the film's first "act," as his relationship with Shields is not only bewilderingly entertaining, but the manipulative nature of its ultimate end is heartbreaking and emotionally resonant. Gloria Grahame has an Oscar for her Best Supporting Actress-winning performance here, and while it's a brief turn (barely 10 minutes in length), it's a buzzsaw of a turn, and she steals almost every sequence she's on screen for. All in all, this is one hell of a film getting routinely amazing performances out of its murderers row cast.
---
---
Now, one would imagine that this film's already on Blu-ray in a massive box set of a release, right? Wrong. Despite being a winner of five Oscars, the film isn't available on Blu-ray here stateside, with a DVD release in need of a definite update. A new transfer would be more than welcome here, as the black and white photography is absolutely stunning, and more than worthy of a new 4k restoration. There's a depth to the blacks here that is as heightened aesthetically as the performances are emotionally, that would really make this a transfer to be seen to be believed. A commentary would be welcome, as would a look at the characters and their relationships to real life names from this period in Hollywood history. There's a full length documentary on Lana Turner on the DVD release, and that would be a welcome port, and a retrospective look at Minnelli's career and style could really round out what would be a superb home video release. Overall, for such a breathtaking meditation not only on film melodrama, but the world of Hollywood and the "dream factory," a Criterion Collection DVD and Blu-ray release is the least it deserves. Hopefully it's a dream we will all get to see come true one day.
---