With his new film, On The Road, coming to theaters later this year, the films of director Walter Salles have been once again thrust under the cinematic microscope. Now, while his main Hollywood attempt via the film Dark Water, may in fact be an example of an auteur gone wrong, one of his films may very well be a masterpiece of the decade past.

Released into theaters via Focus Features, The Motorcycle Diaries stars Gael Garcia Beral, and is based on the book of the same name from revolutionary and college-dorm-room staple Che Guevara. Following he and Alberto Granado's 1952 trip across South America, the film finds a young and energized Guevara, who finds that his continent's plight as the main player in his change from youthful man into true revolutionary. Featuring a brilliant cast giving equally top-notch performances, and a score that may in fact be one of the best in the history of modern cinema, The Motorcycle Diaries is a film that is anxiously awaiting and truly deserves the illustrious Criterion Collection treatment.

While most people, when discussing the brilliance that is this feature, look at the star making turn from actor Bernal or the bravura filmmaking of Salles, it's truly the score that is the film's most highly tuned attribute. Composed by Gustavo Santaolalla (Brokeback Mountain), the string-heavy score is a brilliant character in and of itself. A perfect fit for the expedition/adventure-focused narrative, the film feels as free and loose as the stunningly spirited and life-filled soundtrack from beloved composer Santaolalla. He himself has become best known for his equally string-laden work on films like Brokeback and personal favorite Babel, but this is far and away the composer's strongest work, encompassing everything that makes his type of guitar-centric compositions so potent and perfectly tuned into a film as adventurous and free-spirited as Salles' masterwork.

[youtube http://www.youtube.com/watch?v=1SMMTYZXjfY&version=3&hl=en_US&rel=0]

Bernal is breathtaking here as Guevara, a man at this stage in his life described by Paul Webster, the film's executive producer, as more Kerouac than Marx. This isn't the man willing to do anything and everything for change that we become accustomed to in a film like Steven Soderbergh's Che epic, but instead a man who is so enthralled by the world around him, that he breaks away from everything he knows and loves, to learn more and more about the place that he calls home. His arch is one of the best arcs, narratively, of the decade, and is perfectly paired up with Rodrigo de la Serna, as his best friend, Alberto Granado.   A film led by these two vibrant and pure performances are perfect pairings for a film that itself is steeped in a stark sense of both purity and the impoverished landscapes that it focuses upon. A coming of age tale of the highest regard, this film may look into the life of one of the best known men of the century past, but it could truly be a film about any and every man in his early 20s.

That is where the film's greatest aspect lies. A perfect pairing with two films one can automatically think of, both Che and oddly enough Lena Dunham's Tiny Furniture, the film's director, Walter Salles, is so utterly deft with his ability to tell a true coming of age tale, that it's something to behold. Imbuing the film with a sense of altruistic wonder, it is a road movie on par with Two Lane Blacktop, blending the existential nature of leaving your home, with two men attempting to find their place in a world that they don't know a ton about. The epitome of a transformation, these two men come out on the other side entirely changed, and it is this breathtakingly well crafted change that is the film known as The Motorcycle Diaries.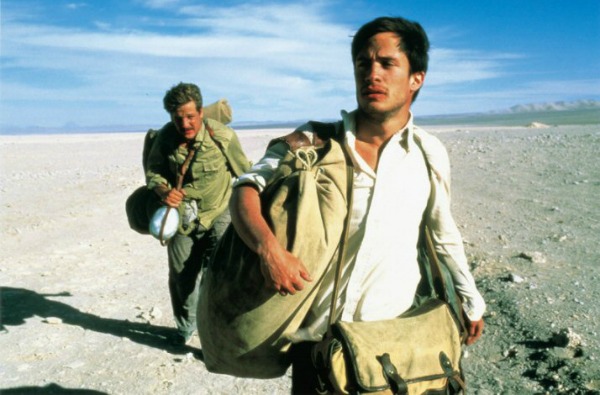 Visually, Salles is at the top of his game. It's a beautifully crafted film, blending the evocative score, moving performances, and earth-tone-tinged cinematography into arguably the last decade's most stunningly built road movies. Poetic in its fluidity, the film rides a wave of naturalism and emotion into a completely breathtaking look into youth and what that entails. A cousin to his Kerouac film On The Road, Diaries is both a sign of its era, and also the best film from one of today's most interesting filmmakers. What else do you really need?