Confidentially Yours  (the French title of which, Vivement Dimanche!, translates more literally to "Looking Forward to Sunday") ended up being legendary filmmaker François Truffaut's final film, though he did not know it at the time. Shortly after its release in 1983, he was diagnosed with a brain tumor. He died the following year with several films in the waiting. As a final film, one would be tempted to view it as sort of a summation of his career, but those were hardly the circumstances under which it was released, and certainly not made. Truffaut was only in his early fifties, and had planned to make another five films before retiring to write novels.  Confidentially Yours  is clearly the work of a man who still feels he has time to play.
In this case, he's playing with, as Vincent Canby termed them, the bloodless murder mysteries Hollywood churned out in the 1930s and 40s. It has in common with them an appealing, though not terribly intricate or involving, mystery that's suddenly, resolutely solved at the end, and two protagonists whose relationship is much more compelling. In this case, the team is secretary Barbara Becker (Fanny Ardant) and her boss, Julien Vercel (Jean-Louis Trintignant). Forced to go into hiding after becoming the prime suspect in a quick succession of murders, Julien has to rely on Barbara to do the legwork (so to speak) to clear his name. She travels to Nice, hits up detective agencies, goes to the racetrack, poses as a prostitute, risks her life, and – this is Truffaut, after all – goes to the movies, all to find the real killer.
---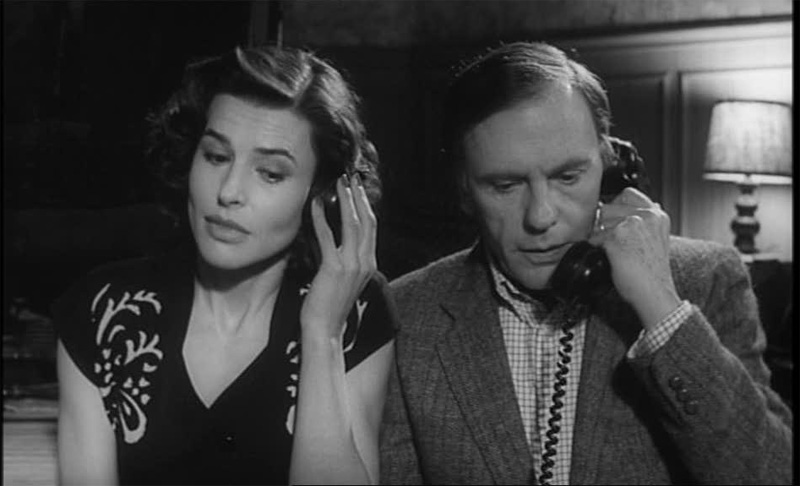 ---
Truffaut sets up the mystery in an interesting way, immediately implicating Julien through information given only to the audience, making him appear even more guilty to us than he does to the detectives. While the "wrong man" movie has its share of conventions, the most obvious is that you know the protagonist is falsely accused from the start. People love to bandy about that Hitchcock bit about the bomb under the table, but it's too often related situationally. The thing that made Hitchcock great is that he so often gave us the entire puzzle well before the film was over.  While Truffaut is still essentially playing in the same sandbox, the differences in his approach show that so much of Hitchcock's suspense could not be accounted for in merely his shot choices – it came from his own personal paranoia.
For Truffaut, it's all about passion, and if one couldn't read in a biography that he was romantically involved with Ardant at the time, you'd still notice his immense admiration for her. Though one cannot understate the tremendous appeal, cinematically and aesthetically, all her own, Truffaut accords her special treatment, holding shots on her just a little bit longer and blocking the scenes to direct us to her. He'll frame her within objects, place her at the foreground; whatever it takes. It's a beautiful marriage of a filmmaker's personal passions and his cinema, made all the more beautiful through the cinematography of Néstor Almendros.
---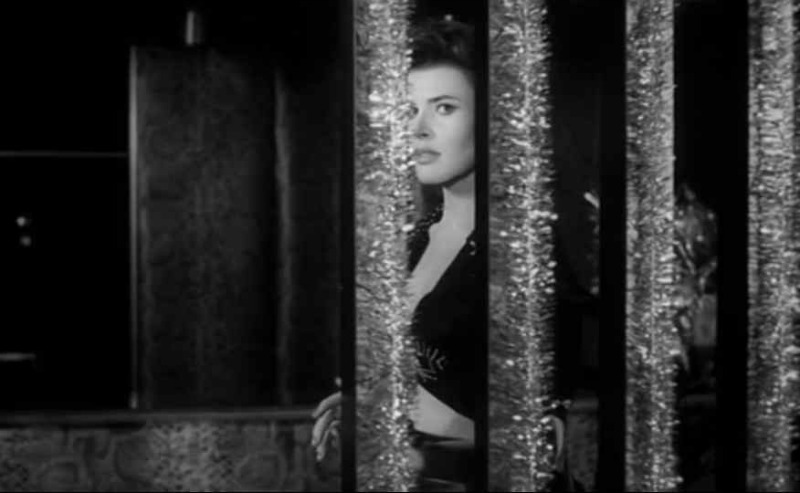 ---
Which makes it something of a shame that  Confidentially Yours  is given only a standard-definition transfer on Criterion's Hulu Channel. Great cinematography will always be evident, but most of the time we're forced to acknowledge it intellectually rather than viscerally. The compression this time takes on a general feeling of  muddiness  in the picture, when it feels like it's begging for a lush, high-contrast appearance. It is, thankfully, presented in the correct 1.66:1 aspect ratio, and is certainly not jarring in any meaningful way.
I really hope Criterion considers this for a proper Blu-ray release. As Richard Brody astutely notes in his piece on the film, we may not have any late Truffaut's, but we have a last one, which makes it notable all on its own. Beyond that, it is a pretty fun little picture, more a companion piece to  Shoot the Piano Player  than anything else, but I was always more of a  Shoot the Piano Player  man myself anyway. And, as noted, it just looks drop-dead gorgeous. Imagine these screencaps with that extra Criterion boost, and man, we'd be in for a treat. Throw in some segments from the Truffaut/Hitchcock interviews, as well as Truffaut's plans for future films (which were said to be more personal and deliberate), and you'd have a real treat.
Until then, do check out  Confidentially Yours  on the Hulu channel. Even I, who have yet to be totally won over by François Truffaut, found much to enjoy here, both as a play on some classic Hollywood tropes and as a thing very much unto itself. At turns thrilling, seductive, and playful, it's the kind of movie they invented movies in order to make.
Click here to watch  Confidentially Yours  on Hulu Plus.
To try Hulu Plus and get two weeks free, click here.
---