With  The Sound of the Mountain, Mikio Naruse really digs into two things that had largely been sidelined in the works of his I've seen to date – men and family. In the past films, men are largely problematic figures, given to adultery and drunkenness; foils that the women must in some way battle. Meanwhile, family has provided a safe haven, a way for the women to escape their troubled domestic lives without having to become fully independent.
Here, family becomes much more complex, starting with something as fundamental as the protagonist. The story is told from the point of view of Shingo (So Yamamura), an elderly man who, per custom at the time, lives with his wife in the house of their son, Shuichi and his wife, Kikuko (Setsuko Hara). But the story centers almost entirely around Kikuko; Shingo is more of a witness, a filter through which the unfolding horror of his son's domestic life is drained. He has a very warm relationship with Kikuko, and is pained by the torment his son causes her. Some have read their relationship as somewhat incestuous (even though they have no blood ties, it'd still be a little…icky), but I found nothing that suggested more than a genuine, fatherlike concern for her well-being.
This gets at a unique family dynamic, that of feeling protective and close to someone to whom you're related only by circumstance. Kikuko and Shingo live under the same roof, and are legally family, but haven't the shared history that would truly make them so. The obvious solution to Kikuko's problems would be for her to leave Shuichi (his sister is in the process of leaving her own husband, demonstrating this to be a possible and socially acceptable option for Kikuko), but that would mean cutting off ties from Shingo and his wife, who are endlessly generous towards her. For Shingo, it would mean losing someone about whom he feels more strongly than his own son, who would in fact be the cause of her exile.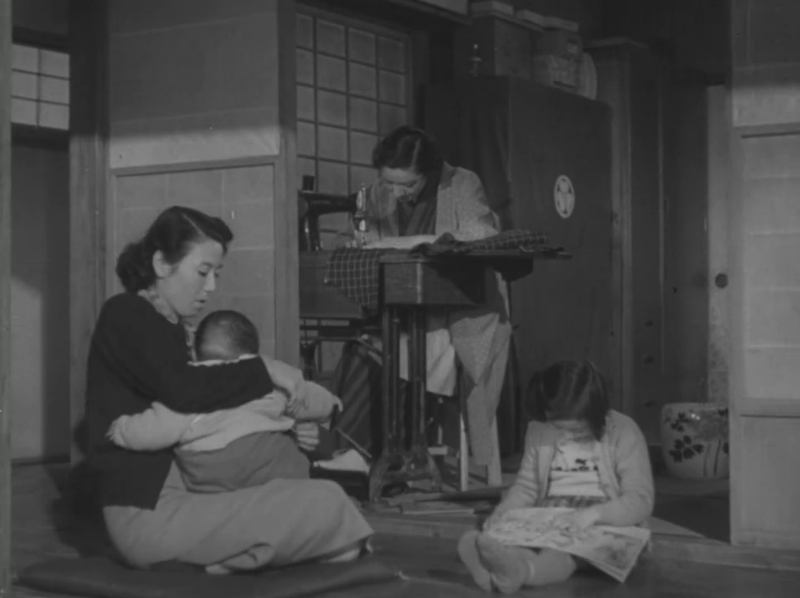 Characteristic of Naruse, he doesn't push this inner conflict too far, keeping it just that – interior. But there's little doubt, from Naruse's somewhat distanced perspective, that Kikuko should flee. Infidelity, too often treated as the biggest problem a couple can face, is just the beginning of her and Shuichi's marital troubles, which I won't go too deeply into. This isn't a plot-driven movie, as you might expect, but Naruse has a wonderful way to turn character pieces into honest-to-goodness drama, and tell it like the story it is. The revelations that come down the line are shattering, both for their immediate impact and everything they reveal. Kikuko and the other women in the story are constantly grasping for what little claim they can make to personal ownership, and sometimes those efforts are at odds with those around them.
Because of the lack of an interior voice – in the films previously discussed in this series, Naruse employed voiceover liberally – this is a much slower build than we've become accustomed to, but the result is a feeling of a gigantic weight being incrementally lowered onto the viewer. At first it's barely noticeable, then manageable, then insistent, and before long, it's overpowering. The final scene of  The Sound of the Mountain is truly one for the books; even if Naruse hits the metaphor he employs fairly hard, it's no less resonant.
Thus far, I've been extraordinarily please with the technical quality Criterion has employed in bringing Naruse's work to Hulu. They are largely HD transfers, and tend to look quite stunning.  The Sound of the Mountain fades a bit at the end – though that could always just be my connection speed – and it favors gray over strong black and white (though that feels natural to the film itself), but for most of the running time it's sharp, surprisingly free of compression, and retains a nice level of grain. A lovely HD transfer.
Along with  When a Woman Ascends the Stairs, this would provide a nice entry point for people curious about Naruse and his work. It retains many of his central themes – a woman's place in Japanese society, the inability to maintain happiness, and the lingering trauma of World War II – but is by far the least insistent of those I've thus far come across. Naruse is really coming into his own as more than an explorer of character and theme, and into an honest-to-God storyteller. I think this would make a tremendous Blu-ray release from Criterion, and would provide an easy avenue to discuss how the war affected the way the men of a certain generation behave in this and other Naruse films. It's not simply a matter of their age that the middle-aged men in this film are so cruel as compared to their elders; the experience of the war still lingers.