The biopic is a notoriously difficult beast to wrestle, so easy is it to simply recount the events of a person's life, offering little in the way of structure or artistic indulgence, but stray too far into the latter, and historians will have your head on a headline for doing a disservice to a (usually, supposedly) great (usually) man. Controversial filmmaker Ken Russell was apparently undaunted by this proposition, as, in the 1970s, he made three films about renowned classical composers – The Music Lovers examined Pyotr Ilyich Tchaikovsky, Lisztomania, naturally, took a look  at Franz Liszt, and the somewhat-less-inventively-titled Mahler gave us a glimpse into the life and mind of Gustav Mahler.

The film is structured around a train ride Gustav (Robert Powell) and his wife, Alma (Georgiana Hale), are taking, during what we come to discover will actually be among the last days of his life (Mahler died in 1911, a month from his 51st birthday). Already quite sickly, and in active denial of it, he's plunging forward, oblivious to the path that has been more or less set for him. The train is an apt metaphor, in this way, but it's also one of those devices from which stories set before plane travel benefit infinitely. It forces he and his wife together, despite the immediately-evidenced strain their marriage has taken, to sort out what has become of their relationship.
---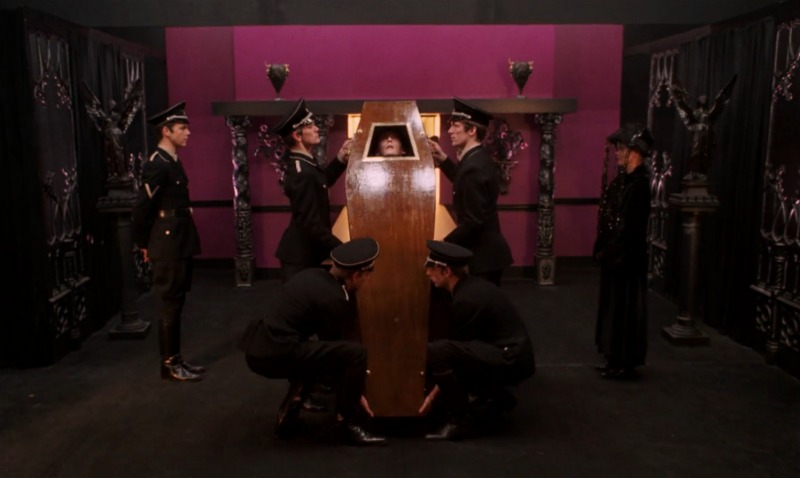 ---
Don't worry, kids, this is still a crazy Ken Russell film. The opening scene, in which Alma, completely nude, wrestles her way out of a sort of thick webbing, rather urgently establishes two important things – first, that Alma is as much the protagonist of this film that her more famous, titular husband, and second, that this isn't just going to be two hours on a train, but an experience in which the past, present, imagined future, and total fantasy will roll together to create the kind of total portrait that no element on its own could fulfill. We come to know Gustav as a child, his many encounters with anti-semitism, the death of his young daughter, his conflicts with the Wagner family, his terse relationship with his suicidal brother, and all the happiness and grief that comes when a pretty-damn-eccentric genius decides to tie his life to another in matrimony.
As such stories tend to go, simply showing the devastation of Gustav and Alma's marriage would feel woefully incomplete. By showing us the early, happier days, mostly centered around a country estate wherein Gustav is attempting to compose, we see all the joy they could bring each other. Gustav has a temperament not unfamiliar, I trust, of balancing manic streaks of writing in which he absolutely must not be disturbed to suddenly wanting to jump into the lake for a lengthy swim with his beloved, and Russell rather economically illustrates the very thin line between the two. He can be enormously affectionate one second, then outrageously demanding the next. A similar impulse drives each.
---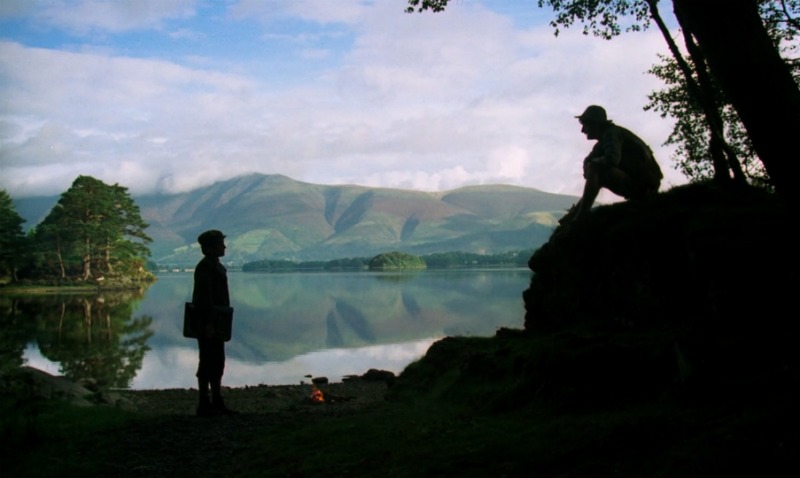 ---
The country estate also nicely illustrates Gustav's love of nature, which is said (repeatedly, in the film) to be evoked in his music. An early, gorgeously-shot walk along a lakeshore provides the foundation for this, presenting as idealized a vision of the great outdoors as you could possibly imagine. Then, while at the estate, we rarely, if ever, see him in the actual house, preferring as he does the solitude of a tiny boathouse on the edge of the lake. It offers him isolation, certainly, but he seems equally enamored with the surrounding soundscape that he believes trickles into his music, even unconsciously. For someone, like me, without a real academic understanding of music, this intellectual angle was fascinating.
More than anything, however, Mahler is viscerally engaging, full of opulent, absurd imagery and gorgeously moving cinematography, as urgent and immediate an experience as, well, listening to classical music. And it has musical numbers! It looks really great in HD on Criterion's Hulu channel, with really bold, bright colors and very crisp images. As one might expect, the sound design plays a key role in this, and is nicely rendered here as well. Should Criterion decide to take this to Blu-ray, it seems like all the materials are in place (not to say the stream is Blu-ray quality, but I'm sure the digital source is), and it would make a very worthy addition. Aesthetically adventurous and historically important fits right in the Criterion wheelhouse, and the breadth of material concerning the real Mahler, Russell, and the various production concerns that accompany a piece as outlandish as this would make for a great tour through the supplements.
Until that mighty day befalls us, do cruise on over to Criterion's Hulu page, watch a little Mahler. Or the whole thing. Yeah, do that.
---