France was not the best place to live in 1942. Germany had established occupying rule in 1940, which would last until 1944, and quickly limited the freedom of the French people, as well as more tangible properties like food, money, and employment. But like all oppressive regimes, the image of "business as usual" was important to develop, and the easiest way to silence the masses is through entertainment.
So the Germans founded Continental Films, an outfit dedicated to making movies that were kind of like American productions, if only the Nazis hadn't banned American films from French theaters. Scrolling through their limited output (thirty films between 1941 and 1944), it does read like a checklist of mass distraction – heavy on light comedies, light on stiff dramas, with a dash of the thriller to keep 'em coming. Not a great many classic films were made by Continental, but at least one director found his salvation – Henri-Georges Clouzot.
Though he studied political science as a college student in Paris, Clouzot always drifted towards narrative arts, finding work in the early 1930s as a screenwriter, and even directing a short and two features. His career screeched to a halt when, in 1935, he was diagnosed with  tuberculosis, a disease that confined him to a  sanatorium  for five years. He took advantage of this time, reading voraciously and getting acquainted with fellow patients, knowledge that would inform his work, but when he was released, the world had changed entirely. World War II had broken out, most of the producers he knew had fled France, and he was ineligible for military service due to his health.
He managed to scrounge some work together, but it barely kept him alive, so when Germany established Continental, it was a deal with the devil Clouzot couldn't afford to refuse. He went to work for their screenwriting division for a couple of years before finally, eight years after his previous project, getting another chance to direct with L'Assassin Habite au 21 (The Murderer Lives at Number 21).
---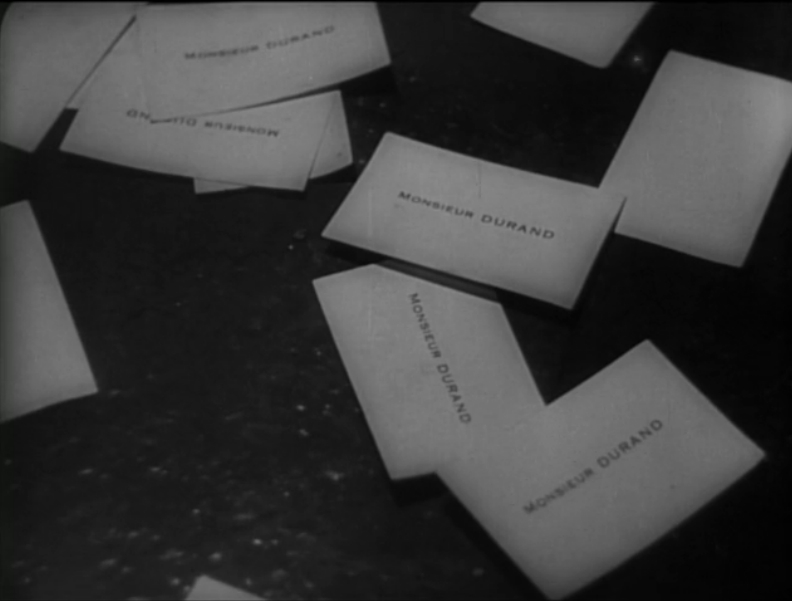 ---
Despite an apparently rough shoot, during which Clouzot physically slapped several members of the cast and worked long hours, a tenacity that would certainly inform his later masterpieces (especially The Wages of Fear), but when applied to L'Assassin seem almost silly. L'Assassin is hardly a demanding film by any stretch – it's a light comedic affair in which a mysterious killer, known only as Monsieur Durand, is on the loose, leaving business cards at on his victims to tease the government officials. In one amusing sequence, we see the buck continually passed downward, the first official promising that he'll have his subordinate fired if he doesn't see results in a week, the next in five days, until we get to Inspector Wenceslas Vorobechik (Pierre Fresnay), who thankfully for us is content to be called "Wens." Wens is given a mere two days to solve the case, and after getting a tip that, as the title suggests, the killer lives at No. 21 Avenue Junot, he takes up residency at the boarding house there, disguised as a minister.
At the same time, his girlfriend, Mila (Suzy Delair), who's a struggling actress, decides that if she can get here name in the paper, she might finally be able to land a gig on recognition alone. And what better way than to catch the famed Monsieur Durand? Anyway, it makes a certain level of sense in the glorious movie world in which the film exists. Before long she's shacked up in the same boarding house on the same mission as Wens, resulting in all the usual hilarity that comes from a woman undermining a man's occupation. The gender politics of the era weren't exactly healthy for a society, but they sure made for some great movies, didn't they?
The mystery elements are delightfully involving, and the cast of characters introduced via the boarding house are everything you'd want from a 1940s comedic thriller. We're quickly introduced a doorman who makes bird calls, a retired army doctor, a magician, and more. Any of them could be the murderer!
While, like I said, I wouldn't call the film any great shakes, it has more than its share of fun moments. Clouzot isn't about to rob us of the thrills just because we don't know who the killer is, so he stages the murder scenes in Durand's point-of-view, making for great extended tracking shots and a really pointed form of the guilt-by-association psychology inherent to the slasher genre. While the film does get considerably lighter as it moves along, it does take frequent steps to slow down just long enough to remind you of the stakes. Cinematographer Armand Thirard would become a frequent collaborator of Clouzot's, and you can see in this the shadowy, atmospheric camerawork that would so define their Wages of Fear and Diabolique.
---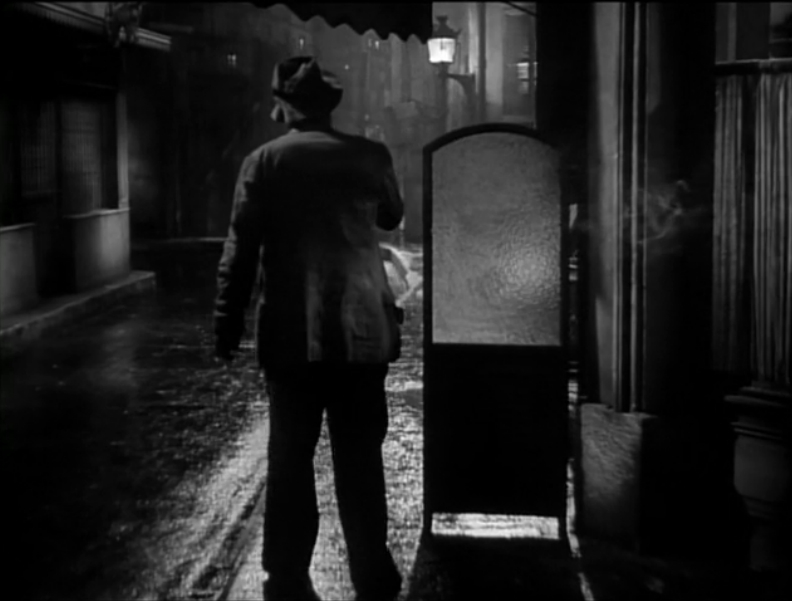 ---
L'Assassin Habite au 21  was a huge crowd-pleaser and a great commercial success for Continental, though Clouzot would immediately squander that good will the very next year with Le Corbeau. Though the film, which would go on to be Clouzot's first lasting contribution to cinema, also did big business in France, its subject matter somehow managed to offend the occupying forces, the Catholic Church, and the resistance movement all at once. He was fired from Continental before the film even hit screens, and after France was liberated, was tried for collaborating with Germans. He was immediately banned from making films for the rest of his life, a sentence that was reduced to only two years follow overwhelming support from such luminaries as Jean Cocteau, René Clair, Marcel Carné, and Jean-Paul Sartre. Though he'd find success in the 1950s, his films fell out of favor with the rise of the French New Wave, which I find baffling given the close connection between Diabolique and Hitchcock, but it just goes to show how near-sighted even the smartest crowds can be.
I'm going to be honest with you, dear readers – L'Assassin Habite au 21  does not look good on Hulu. The print is exceedingly damaged, with spots popping up throughout most of the running time. It's also littered with the expected dust and dirt. The transfer, while serviceable, is laden with compression artifacts. It's certainly watchable, don't get me wrong, but it's not the most pleasant to listen to. The audio is scratchy and gets a little screechy in higher pitches, especially in replicating Suzy Delair's voice, which reaches almost nails-on-a-chalkboard levels of irritation (too bad, too, as I found her a very engaging comedic presence otherwise). I'm happy to hear, per Josh's post yesterday, that Gaumont is diving in and restoring this, as there's a lot of the Clouzot to come in here, and it contains a few admirable aspects all its own. And, frankly, it could use some help; if the Hulu transfer is at all indicative of the state of the print, it looks on the verge of falling apart.
Hopefully the restoration signals a future Criterion release, as Gaumont is still plenty tight with our beloved home video distributor. Though Criterion has representations of French cinema under Nazi rule, most notably with Children of Paradise,  L'Assassin  provides a real opportunity to explore a more run-of-the-mill production, and what the cultural landscape of France was like at the time. As with many such things, the cultural censorship imposed by the Nazis would have a positive impact as the sudden glut of American films brought to France upon its liberation resulted in a sudden, ecstatic celebration from the Cahiers du Cinema crowd. I'm not saying we wouldn't have the French New Wave without such cultural lightning rod, but then again, we'll never know.
To try Hulu Plus and get the first two weeks free, click here!