Hello, dear readers, and welcome to a new weekly column discussing the films that are offered through The Criterion Collection's Hulu Plus channel. Don't have Hulu Plus, you say? Well, click this link and try it out for a month at half the price. I was an early adopter, and became an instant fan.
Over the next five weeks, we'll be looking at the Ingmar Bergman films that are on Hulu, but not yet part of The Criterion Collection in disc form (that includes Eclipse). Why Ingmar Bergman? Because he's awesome, that's why Ingmar Bergman. Also, two of his films will be joining the Collection in May – Summer Interlude (1951) and Summer with Monika (1952) – so it seemed like a good time to take a look at some lesser-known films by the best damn director who ever lived (in my humble opinion). And in fact, those films are the two we will be starting with today.
I've written about Summer with Monika at some length, but suffice to say it's a stunning film by any measurement. Of all of Bergman's regular company of actors, Harriet Andersson arguably went through the greatest transformation with regards to her screen persona over the course of their collaborations. Here, she embodies the very image of feminine youth – sensual, carefree, restless, and unconcerned with the repercussions her actions may cause. After ten years of playing off that persona, she'd subvert it with the psychological torment of, in many ways, living up to that image in Through a Glass Darkly. Ten years after that, she'd play the dying, screaming, terrified sister in Cries and Whispers. And finally, in another ten years, she'd be nearly unrecognizable, almost a walking corpse, in Fanny and Alexander. She never stopped being an arresting screen presence.
Monika has a lot to recommend beyond the titillating aspects that earned it its reputation (and that of most European cinema), in that it doesn't exactly spare the rod for the over-eager young lovers who dive headfirst into romance without a thought to tomorrow, until tomorrow catches up with them. Monika's place in cinematic – and cultural – history is crucial, coming as it did when theaters gained their independence from the studio system and were able to look abroad for more subversive material. But unlike the manner of films that would follow as the exploitation market grew, Monika is as concerned with the consequences of bad behavior as it is with the behavior itself. It's not an overly moralizing film; it's just very honest in depicting what happens when a "wild child" is forced to settle down before she's done with her youth. Bergman would stray further and further from these idealized portraits of summer (and its inevitable end) as he aged, but this remains his definitive statement on that short six-week period of Swedish life.
The video quality on Hulu is exceptional. It seems like just yesterday (wistful music plays) that I was in my college apartment watching the first iteration of Netflix streaming to TV and thinking it was "good enough." Now I stream stuff through my HDTV (including Monika) that outdoes DVD by a mile and is catching up fast to Blu-ray. Even film grain is present, and the image is crisp and clear throughout. Compression artifacts are rare (only  in the darkest scenes, and even then, not always), and the separation of blacks, whites, and grays is as clear as you could ask for. Looking at it on my MacBook, compression artifacts are a bit more evident, but it still provides a satisfying viewing experience.
Summer Interlude, not yet available in HD, is a bit more problematic on the video front, but at this point, it only makes one hunger for Criterion's forthcoming Blu-ray all the more. When I watched in a few weeks ago with no expectation of anything better, I was still very pleased with it. The picture's a little muddy in areas and compression artifacts are of course much more evident, but it's not so different from the experience of watching a VHS or an early DVD; even a 16mm print would be comparable. But no matter the quality of the image, the richness of Bergman's artistry is always deeply felt.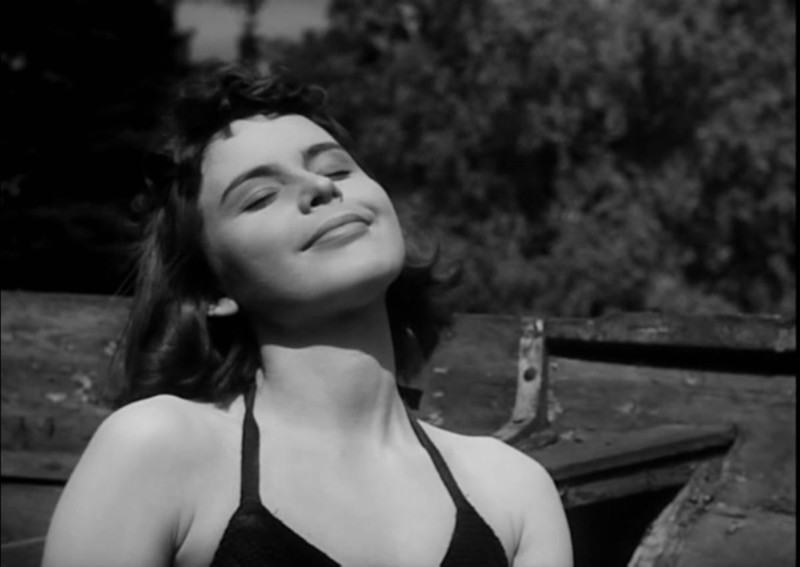 Bergman himself points to Summer Interlude as a major mark in his career, noting, "This was my first film in which I felt I was functioning independently, with a style of my own, making a film all my own, with a particular appearance of its own, which no one could ape. It was like no other film. It was all my own work. Suddenly I knew I was putting the camera on the right spot, getting the right results; that everything added up." Adapted from a short story he wrote, itself spawned from a brief fling he had one summer as a sixteen-year-old, Summer Interlude concerns a ballerina in her late twenties who, upon receiving the diary of her first love, revisits the island where they met and reflects on all that has changed since then.
When asked about his earlier work, and how it suffered in relation to that in Interlude and beyond, Bergman replied, "I did understand that I did things wrong, that I'd overstrained the medium, placed the camera in the wrong spot and pushed too hard when I should have held back, and the reverse. Technique really is a question of breathing, of respiration, of the relationship between camera and actor and the motion of the camera in relation to the actor. For me it is the summing-up of the whole technical side."
It's hard to imagine the man who would go onto make Persona worrying terribly about "overstraining the medium," but his points are well taken. When I first read that Bergman considered this a major turning point in his career, I though of an earlier film, Thirst (which David covered with typical aplomb here), and the profound mastery of the camerawork in it. I certainly don't renounce my high opinion of that film, but I can see now how he might have felt that he'd overstepped his dramatic bounds with artistic license.
But Summer Interlude is a good deal more aesthetically complex than it lets on. At its center is a long flashback that puts Casablanca's ambitions in that department to shame, both in duration of the film and in the fictional chronology – Interlude's Marie (Maj-Britt Nilsson) is reflecting on happier times that took place thirteen years before we meet her. Rather than cover those lost years with a series of montages, Bergman just trains his camera on Nilsson, letting us register the striking differences along with the similarities, while she communicates years of wasted time and mistaken opportunities with as little as a glance. It'd be a perfectly-built character without the contrast, but seeing her unrestrained positivity alongside the face of a woman reaching the end of her career as a dancer, and the dwindling opportunities for companionship that are afforded older women, is heartbreaking.
Bergman aficionados will notice an immediate connection to Wild Strawberries, which he'd make six years later. Both upset the expectations of a rather ordinary day to let the characters reflect on their past, but more tellingly, both really take advantage of their lead actors' natural humanness to disarm otherwise chilly characters (Marie the embittered, caustic middle-age woman; Isak the distant father). Wild Strawberries is the more accomplished of the two, a more visceral experience and lived-in world, but Summer Interlude  is a younger film in every sense of the word. It concerns younger characters, but it also has a youthful cynicism that Bergman would slowly chip away at as his career went on. Sure, he'd go on to deal with more depressing material, but in a more rounded way – less reflexive, more reflective – before going on to craft some of his warmest moments (the ends of Cries and Whispers and Scenes From a Marriage), if not films (Fanny and Alexander).
Both Summer with Monika and Summer Interlude are available now on Hulu, and will be on Criterion DVD and Blu-ray on May 29th. I can't wait.
Postscript
Jean-Luc Godard wrote an ecstatic essay in 1958 that began with Summer Interlude before cascading across Bergman's filmography to date and indeed to all of cinema itself. He fervently positioned Bergman as one of the prime auteurs, noting that while Bergman was happy to direct the plays of others, he only filmed scenarios he wrote himself. His main argument is thus: "The cinema is not a craft. It is an art. It does not mean team-work. One is always alone; on the set as before the blank page. And for Bergman, to be alone means to ask questions. And to make films means to answer them. Nothing could be more classically romantic."
It's a delightful read, as all pieces in Cahiers du Cinema were, but Bergman didn't think much of it. "You must never forget that my life has been lived in the theater; and theater – even if it's a protected world – is always collective… I have felt very much alone in other dimensions, but never in a professional context. I know one great conductor, whom I met, who talked about feeling all alone in front of the orchestra. That's something I've never experienced, either in the theater or together with actors and technicians in a film studio.
"Walk onto a cramped set, where some 25 people are milling around you. You never see anyone trampling on anyone else's toes or bumping into anyone. Never a harsh word, never a sulky face, never a rude word, hardly a raised voice. If things are like this, it's because everyone knows he's dependent on all the others… No, I've never known that sort of loneliness. I've felt terribly lonely in the outside world and for that very reason I've taken refuge in a community of feeling, however illusory."