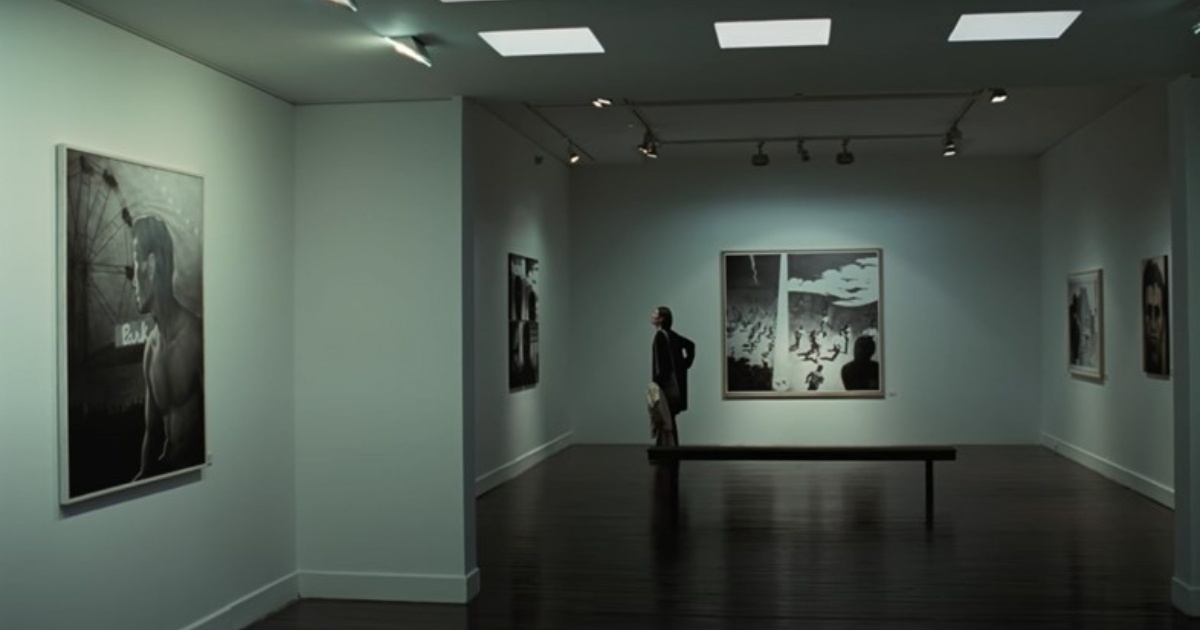 I said it at the end of 2020, and frankly things haven't really changed some 360-ish days later: this year can, again, go absolutely straight to hell.
However, I'm not going to dwell too much on things like the death of the modern blockbuster or American cinema becoming more and more a hub for IP instead of true art. Instead, while the year saw distribution models change, festivals going virtual and a raging global pandemic continue to, well, rage, it also gave us one of the better film years in recent memory. With film festivals going digital and major film releases arriving in homes almost instantly upon release, this has been a crowded and fruitful year for an ever evolving medium. And here are the 10 films that stood head and shoulders above the rest.
10. Benediction
Starting off the list of the ten best films of 2021 is one of the more powerful biopics of the year. The latest from Brit auteur Terence Davies, Benedictionis an epic yarn of war and romance as only he could craft. The film tells the story of Siegfried Sassoon, iconic turn-of-the-century poet who went from decorated war veteran to anti-war poet, finding Jack Lowden in the lead role here in what should be a hotly discussed performance come awards season. An elliptical, time-hopping narrative that sees the great Peter Capaldi in the role of the older Siegfried Sassoon, this is less a generic, cookie cutter biographical feature and more a poetic rumination on a life driven by furious righteousness and a profound sense of humanity.
While the performances here, at least particularly Lowden, will likely get much of the buzz, Davies once again proves that there are few filmmakers with as strong a sense of filmic lyricism than he. Interjecting archival footage to both set the film in a specific moment in global history and also give the film an air of impressionism, Davies teams with cinematographer Nicola Daley to create images of unshakable intimacy and engrossing texture. A film very much about identity both on a personal basis and of a more global context, Benediction is a thrilling yet delicate portrait of a revolutionary figure.
9. Outside Noise
Next up is maybe the quietest film on this list. Outside Noise is the latest film from underrated Philadelphia filmmaker Ted Fendt (Classical Period remains one of the great "great films you've not heard of"), and tells the story of Daniela who has returned home after a brief excursion to New York. Set in both Berlin and Vienna, Outside Noise is a one of a kind character study that attempts to bring to life a very specific moment in one's life where the past and future both feel vaguely untouchable. A step forward down the path of narrative deconstruction for Fendt, his latest clocks in at just a pinch over an hour in length and finds the director very much leaning into the idea of narrative sparseness.
The narrative here feels solely structured around a series of interactions, involving characters caught in the strange proverbial purgatory that one's mid-thirties can become. Daniela is unsure of her next steps and where to live next, just like Mia is unsure of how to finish her master's degree and viewers will also encounter Natascha, a woman contemplating a move to an entirely new country that would upend her entire life. Less about the before or after and more about the journey one takes in between, Outside Noise is a gorgeously shot 16mm experiment in narrative weight and the bullshit concept of "stakes" as something legible or tactile. Driven by incredible performances from Daniela Zahlner and Mia Sellmann, this is humanist filmmaking at its very best.
8. Petite Maman
Next up is the latest film from beloved filmmaker Celine Sciamma, Petite Maman. Returning back to the world of small, character-driven dramas, Petite Maman finds Sciamma leaving the 18th Century of her previous feature for a brisk, modern fable that tells the story of an eight-year-old girl and her response to a world-changing trauma. Following the loss of her grandmother, young Nelly begins helping her parents clean out her mother's childhood home, only to one day find her mother missing. In her stead is a young girl of a similar age to herself, with the two sparking a connection all their own.
At just 77 minutes, this stands as Sciamma's shortest feature, and yet may very well be one of her most fascinating and moving. Driven by a star-making performance from Jesephine Sanz, Petite Maman isn't sly in its flights of fancy and narrative experimentation. This is a coming of age fable that sets the viewer squarely side by side with the young heroine as she nears the precipice of something truly profound. Sciamma is one of the great writer/directors of our time, a filmmaker of profound intimacy and in this taut, unassuming rumination on loss and self-knowledge she doubles down, reverting to a moment in childhood where lives truly begin to awaken. Tender and humane, this is arguably one of the very best films of 2021
7. The Matrix Resurrections
Next up is potentially the most controversial addition to this list. The Matrix Resurrections is the latest from beloved filmmaker Lana Wachowski, and sees the filmmaker return to the world she and her sister Lilly birthed into existence some 20-plus years ago. Keanu Reeves and Carrie-Anne Moss return as well as Neo and Trinity, this time finding the former back in the Matrix, living life as a game designer who built a game version of The Matrix that more or less had the in-film impact that the film did in our own world.
Now, while that logline may sound a little strange and the reviews may leave one feeling apprehensive, what culminates here is a film so decidedly Wachowski, so achingly, bleedingly romantic that it stands as one of the year's great melodramas. A film about a million different things, The Matrix Resurrections is a true auteur statement, a cohesive deconstruction of the modern blockbuster, cinema as IP, identity, gender and even capitalism. Lana's camera is evocative and wonderfully fluid, shooting some of the series' best action sequences and culminating in a final act that rivals anything seen in recent memory for sheer romantic scope. It's not every day that a film of this artistic bravado comes along, even less so when it comes born out of the dying modern studio system. One of a kind, this film.
6. Barb And Star Go To Vista Del Mar
Speaking of one of a kind, Barb And Star Go To Vista Del Mar is not just 2021's best comedy, but one of *the* great modern comedic motion pictures. Starring Kristen Wiig and Annie Mumolo as the titular two best friends, Barb And Star Go To Vista Del Mar comes from Too Funny To Fail director Josh Greenbaum, and marks a decided step forward for the relatively unknown filmmaker. The film tells the story of Barb and Star who go on a much needed vacation to Vista Del Mar, Florida, only to get caught up in a web of intrigue, all surrounding a supervillain bent on murdering everyone in the city.
Wiig is the clear star here, taking on both the role of Star and the aforementioned baddie Sharon Gordon Fisherman, but ace performances abound here, particularly from Mumolo and maybe even more so co-star Jamie Dornan, whose Edgar Paget is a lightning bolt of a character and performance. Rooted heavily in the type of mid-life crisis comedy that's become par for the course in modern studio comedies, Barb And Star Go To Vista Del Mar subverts these tropes with an almost surreal-like sense of humor, creating a world that feels both absurd and yet endlessly captivating. There's a sincerity to the absurdity that doesn't just elevate it, but turns it into something often truly beautiful. Story of love and friendship amidst insanity. Biggest surprise of 2021.
5. The Works and Days (of Tayoko Shiojiri in the Shiotani Basin)
Clocking in at a dense 480 minutes, The Works and Days (of Tayoko Shiojiri in the Shiotani Basin) is the latest film from directors C.W. Winter and Anders Edstrom, and is one of the year's most essential and engrossing achievements. Shot over 14 months and led by nearly 50 different inhabitants of a small mountain village in Japan's Kyoto Prefecture, this fiction-ish type hybrid epic tells the story of a farmer and her family as told across five different chapters. Structured as if it were a typical 8-hour work day, including two 15-minute breaks bookending a 45-minute intermission all surrounding a story of life, death, joy, sadness, love and loss. While the epic nature of the runtime may glance towards a film of incredible stuffiness or tedious dryness, The Works and Days is the polar opposite of that.
A film of routine evolution, directors Winder and Edstrom have crafted a lush, textured work that thrives thanks to its profound intimacy. This is very much a work of hybrid portraiture, a film that feels closer to something like The Quince Tree Sun than anything resembling that of something like a Frederick Wiseman documentary. A film about life in and of itself, the 480-minute runtime may be daunting at first glance but within this epic yarn is a million moments that any viewer will struggle to forget. A beautiful and captivating rumination on the spanning of time and man's relationship to it, directors Winter and Edstrom have turned in a picture that's truly one of a kind.
4. What Do We See When We Look At The Sky?
From the year's biggest surprise to its biggest discovery, What Do We See When We Look At The Sky?. From Georgian director Alexandre Koberidze, What Do We See When We Look At The Sky? is a rightly elusive picture, telling the story of Lisa and Giorgi who meet one random afternoon in the Georgian city of Kutaisi, only to have the fates act against their instant connection at every turn. Very much a film about fate, destiny and the beauty of the mundane, Koberidze's second feature film is one of the year's most hopelessly romantic films, and it's also one of its most impressively constructed. Truly a love letter to the country of Georgia, What Do We See When We Look At The Sky? is a meditation on the importance of companionship in an age where that still feels strangely dangerous. It carries with it the energy of a fable or a fairy tale, wherein an evil spirit casts a pox on both of our star-crossed lovers houses, making their re-connection feel of the absolute utmost importance to each and every viewer.
The main performances are utterly superb, turning even the seemingly most mundane of moments like choosing to walk with a girl around a city rather than stay and watch a soccer game feel akin to a life or death choice. It's this blurring of the magic realism of the overarching narrative and the keen understanding of the human experience that turns what could be a run of the mill romance picture into something of a humanistic epic. Magical romanticism? Truly unlike anything else from 2021.
3. Memoria
In a year where theater-going brought with it some sense of existential crisis, Memoria is one of the year's most earth-trembling experiences. Based on the director's own experience with the bizarre idea known as "exploding head syndrome," the film feels endlessly driven to explore the unknown. The film stars legendary thespian Tilda Swinton, who plays Jessica, a Scottish expat living in Columbia who is awoken one night by an alluring bang that haunts the rest of the picture. There's a thread about her sister, Karen, being ill and hospitalized, and friendships with a musician and an archaeologist, but more or less this is a film about a fish out of water being haunted by something completely abstract and unseen.
Weerasethakul feels completely disinterested in the concrete, in the tactile, at least narratively. Instead he crafts a film that is less interested in what anything "is," whatever that means, and more connected to the idea of what it could mean on a much larger, cosmic if you will, level. Throughout his career, Weerasethakul has explored the mundane through a cosmic, otherworldly lens, and this is no different. The profound beauty and humanity doesn't come from the *fact* that Jessica's sister is ill, but what that means on a higher plain for our heroine.
2. West Side Story
Coming in the silver position this list is the latest, and one of the greatest, work from director Steven Spielberg. West Side Story is Spielberg's long anticipated remake/re-imagining of the legendary musical that tells the story of Tony and Maria, two star-crossed lovers from opposite sides of the proverbial tracks. The story is a tried and true one, a riff on Romeo and Juliet that has become synonymous with the musical (both on stage and screen), given new life by a filmmaker at the absolute height of his powers.
Spielberg's camera is otherworldly here, with Janusz Kaminski's photography giving the period setting a distinct sense of place and texture. The direction is muscular but sensitive, as in love with the superlative dance choreography as it is the face of his lead, Rachel Zegler. Her turn here as Maria is the stuff legends are made of, a type of star-making performance that doesn't really seem possible in the dying Hollywood system. Ariana DeBose is also stunning here as Anita, as is Mike Faist whose Riff is one of the most fascinating rogues (of sorts) in all of Spielberg's oeuvre. Every set piece is more captivating, more beautifully rendered than the last, culminating in one of the director's great final scenes. A brilliant work from a master filmmaker.
1. The Worst Person In The World
That all said, there was only ever one film that would top this list. The Worst Person In The World is the latest from director Joachim Trier, and tells the story of Julie, a young woman who viewers spend, more or less, four years with, navigating love, loss and the natural ebbs and flows of life as lived today. All the insecurities, the struggles both at home and at the office, everything becomes fodder for this heartbreaking, deeply felt romantic drama, driven brilliantly by the year's best performance, Renate Reinsve as Julie.
The film co-stars Anders Danielsen Lie and Herbert Nordrum as Aksel and Elvind respectively, the two men who share most of these four years with Julie. At the core of The Worst Person In The World is a melancholic character study of a decidedly modern woman, where love and happiness isn't a constant state, instead a fluid one that seems as distant as it does frustratingly tactile. Trier's film is gorgeously shot, often surreal romance drama that bursts of the screen with a vitality and a humanity one simply doesn't see often enough in cinema these days, where a character is never simply one thing, instead a strange, often messy, but always human collection of contradictions and fluid emotions. The Worst Person In The World will stand as a titanic work of modern humanism. And it's the year's best film by a comfortable distance.