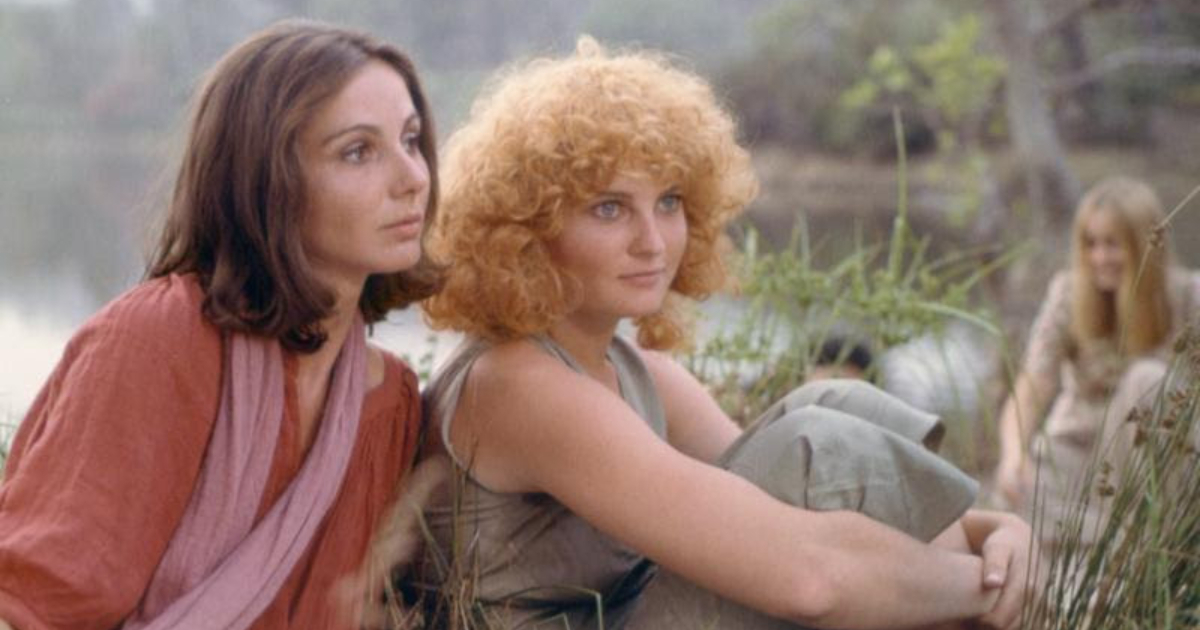 It's a new month, and with that, some retrospection. Each month, hundreds of home video releases hit the streets, and who better to curate the best of the best than us here at The CriterionCast. So with that, here are the five best home video releases of August 2020, as per yours truly:
5. Reginald Denny Collection (Kino Lorber)
First up on this list is one of three multi-film box sets, this time from the team over at Kino Lorber. Collecting three silent feature films starring the former boxer Reginald Denny, this box set presents them in new 4K restorations overseen by Universal Pictures, bringing back to life three incredible comedies starring one of the UK's great silent thespians. Included here are the trio of The Reckless Age, Skinner's Dress Suit and What Happened to Jones?, all three highlighting one of the more underrated careers in all of silent cinema. With the help of directors Harry Pollard (Reckless) and William A. Seiter (Skinner's and What Happened) these films find Denny caught in the upper crusts of society, be it in the role of an insurance agent connected to a wealthy heiress or, the real highlight of the disc, in the case of What Happened To Jones?, a bachelor whose bachelor party is raided and he must go on the run. This feature, at just 71 minutes, is an incredible and propulsive little diddy, a film that finds Denny at the height of his powers as a physical comedian, and while the film is structured as little more than a series of gags, each set piece is increasingly well done and captivating. If you're looking for a more dense narrative, Skinner's Dress Suit is your pick, as the story of a clerk who lies to his wife about getting a raise only to have her purchase of a new dress completely shatter their lives may play as melodrama with a comedy spin, but is as incisive as they come. These are simply three of the more interesting discoveries you'll find on Blu-ray this year.
Notable Supplement: Three commentaries with film historian Anthony Slide. Across all three films are commentaries from film scholar Anthony Slide, and given the lack of cultural conversation around Denny and his work, these are essential deep dives not just into the production of these films but the career of the lead performer as well, making them utterly captivating pieces.
4. Town Bloody Hall (Criterion Collection)
Speaking of captivating pieces, next up is the fascinating Town Bloody Hall. From directors D.A. Pennebaker and Chris Hegedus comes this incredible document of a moment of political revolution that feels as timely today as ever. A rarely seen masterpiece, the 1979 film finds Pennebaker in the company of a handful of cultural luminaries of the 1970s, including the likes of Norman Mailer, author Germaine Greer and queer icon Jill Johnston all of whom are themselves caught on stage and in the throes of heated debate. Facing off in a thrilling verbal battle in 1971, this film documents the dialogue, using the verite style to give a sense of volatility and urgency to a film that crackles today with as much energy as it did on its initial release. Billed as one of the great documents of 70s feminism, Town Bloody Hall is an endlessly entertaining, intellectually exhilarating deconstruction not just of the burgeoning feminist movement but of the early stages in the destruction of American social intellectualism. Watching as someone like blowhard Norman Mailer take what begins as a truly profound back and forth and turn it into an amorphous blob of grotesqueries lobbed at those he's sharing the stage with makes this both a profound and ultimately frustrating bit of social documenting. The direction may be a pinch on the light side for both Pennebaker, but the sheer fact that this document exists makes it one of the great rediscoveries of the year.
Notable Supplement: An essay by film critic Melissa Anderson. As a consistent reader of outlets like Four Columns, Anderson has become one of the more fascinating film critics and scholars of our time, and here she turns in one of her best pieces yet. The way that she's able to wax poetic about how fitting Pennebaker was to a film like this is truly engrossing. There's a bit in the piece about how the volatile nature of the proceedings speaks perfectly to Pennebaker's importance in the direct cinema movement, and it speaks to exactly what makes this such an important and essential work in the director's career. It's really one of the better essays of the year.
3. Diva (Kino Lorber)
From Jean-Jacques Beneix comes Diva, one of the 1980's most beloved French pictures, and one of August's great home video releases. Kino Lorber has released the film on Blu-ray here stateside, in a relatively loaded release (especially for a company that specializes in great, but slim, Blu-rays and DVDs), bringing back to the forefront this legendary drama that follows a young singer as she goes performer to potential witness to crimes perpetrated by a dirty cop and the prostitution ring he runs. As the film progresses from a story about a burgeoning creative relationship to that of a more knotty crime thriller, Beneix's hand with tone and atmosphere become clear, with the director weaving a film that's both moving and endlessly thrilling. Centered around a now iconic moped chase set in the Paris underground, Diva remains one of the more fascinating French films from the period, and a film that's often been thrown around as a potential Criterion Collection release (not that Kino is any lesser a brand, but it's worth noting as, given a recent article in the New York Times, the brand means a lot for consumers).
Notable Supplement: Commentary with critic/scholar Simon Abrams. Kino does it once again with their commentary tracks. Abrams is one of today's more interesting writers, and this commentary shows why, as it is both reverential to the film and its importance today, but also does a magnificent job breaking down the film's history and production. Never once losing site of the intended audience for this type of commentary track, he also keeps an eye to the scholarly side of things, breaking down the film's themes and filmic tricks as well as where it stands culturally in today's society. Just a killer track.
2. Gamera: The Complete Collection (Arrow Films)
Coming up in the runner position is one of the year's biggest releases for that section of cinephile with a taste for the campier side of genre cinema. Released by Arrow Films on August 17, Gamera: The Complete Collection brings together all twelve films in the legendary kaiju series, all under one gorgeously-assembled box set. Like any good cross-section of a legendary franchise, this box set not just brings together the full series, but allows viewers to fully engage with the series, with its evolution from a relatively light-hearted science fiction affair to something far more bombastic and, in many ways, experimental. Originally billed as "The Protector of Children," Gamera is often seen as a lesser-than rip-off of Godzilla, yet despite the giant turtles clear connection to the titanic beast, it stands completely on its own as some of the more entertaining and lively kaiju films ever made. Even once rebooted the series only grew in respect, finding many critics calling the restarted series one of the best collections of kaiju films in the genre's history. Each film in this set looks incredible in their new restoration, and comes chock full of supplements ranging from a book of essays and interviews to commentary tracks featuring the likes of Criterion-approved kaiju critic David Kalat. A must own for anyone with an interest, new or long-seeded, in genre cinema.
Notable Supplement: Hardback comic book. This 130-page hardcover book features a full-color reprint of the 1996 Dark Horse comics run of Gamera, as well as the first ever English-language translation of the prequel comic The Last Hope, which doesn't so much add any depth to a discussion about the film's production as it does help contextualize what they have meant to creators since. These aren't as heady an experience as their better-known cousin Godzilla, but they do stand tall as the type of arch, comic-book-like stories that play perfectly to that section of the fandom. Also? The book looks just bloody gorgeous.
1. The Complete Films of Agnes Varda (Criterion Collection)
Duh. Clocking in at number one in this roundup of August's home video releases is probably the year's best release and one of Criterion's most important releases. The company's endlessly important study on the works of director Agnes Varda, this box set structures itself as a series of "programs," collecting the complete works of the director in a manner placing together films of similar ideas and themes. In this extra step, Criterion goes about recontextualizing each film not as a singular piece, but as part of a continual dialogue between Varda and her films, finding the chameleonic director to be even more compelling and thought provoking. I'm particularly excited by her documentaries, particularly those in California, with a microscopic focus on a film like Black Panthers, which remains to this day one of the more moving and engrossing portraits of the Black Power Movement made yet to date. It's always exciting to see foreign eyes on domestic issues (shouts to Roberto Minnervini, whose films feel very much influenced by Varda's), and between that and films like Mur Murs there have been few filmmakers more empathetic to the underprivileged as Agnes Varda. Film after film is an empathy bomb here, and that makes this one of the most essential home video releases of all time.
Notable Supplement: The mammoth, 200-page book. I mean, come on, what else am I supposed to pick? With essays by writers Amy Taubin, Michael Koresky, Ginette Vincendeau, So Mayer, Alexandra Hidalgo, and Rebecca Bengal, as well as pieces of Varda's own photography and installation art, this gorgeously composed book is a hefty thing, but one that stands as a must-read for any fan of Varda. I haven't, myself, made it all the way through yet, but the only way this could be a greater supplement is if it were made available to buy on its own, because the conversations it could start if I sat it on my coffee table are exactly the type of chats that Varda really deserves.