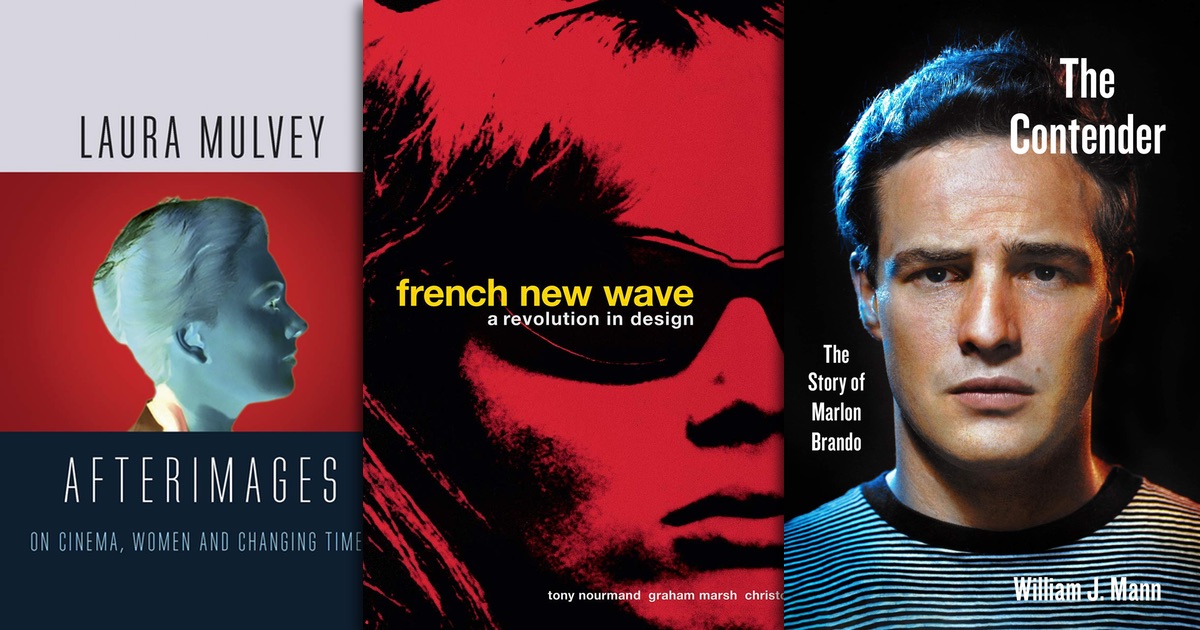 Over the next week we at CriterionCast will bring you a series of lists about the books, Blu-rays and other items that may just make you the new apple in the eye of that always tough-to-shop-for cineaste in your life. First up, we look at a collection of ten coffee-table books to consider for your wishlists, and ten of my own favorite books from this year to buy this season, with a handful others:
---
For Your Coffee Table Consideration
---
Top 10
10. Zoological Surrealism: The Nonhuman Cinema of Jean Painleve
University of Minnesota Press
Beginning the "top ten" portion of this Holiday Buyer's Guide is one of the "headier" books on this list, but one that this writer is particularly fond of. As what the kids would call a "stan" of filmmaker Jean Painleve, this new study of the filmmaker's work from writer James Leo Cahill is a dense, thought provoking work that attempts to re-contextualize Painleve's work within the larger conversations surrounding non-fiction and the Surrealist movement.
Not an easy read by any means, this scholarly text is nonetheless engrossing, a work of increasingly provocative ideas about film and the world it attempts to portray.
---
9. Afterimages: On Cinema, Women And Changing Times
Next up is beloved experimental filmmaker Laura Mulvey's latest effort, a captivating rumination on film theory through a decidedly feminist lens. A gorgeously put together book superficially, this release from Reaktion Books is an exciting discovery, a book that challenges classical thoughts around structures in a manner that feels fresh and of this specific moment in time.
Looking at everything from the use of women as spectacle in fiction cinema to the rise of cinematic language within visual art in the gallery space, Afterimages is a wide-reaching collection of essays that all carry with them the same lyrical and compelling Mulvey voice. Toss in a provocative FAQ section surrounding her legendary "Visual Pleasure And Narrative Cinema" essay and you have a release that's essential for anyone interested in the intersection between cinema and gender.
---
8. The Contender: The Story of Marlon Brando
The most straight-forward biography on this list, it would be hard to look at myself in the mirror if I didn't add what is one of the more engrossing biographies of the year to this list. A deep dive into the life and times of one Marlon Brando, author William J. Mann takes us through not just the iconic performer's life as numerous books have done, but does so with the assistance of new and previously unseen archival materials, making this a definitive and all encompassing look at one of cinema's greatest screen presences.
The book is a brisk read despite its 700+ pages, and for an actor who is best known for his beloved performances, he lived life to the absolute fullest, playing as a sort of cross section between generations of performers both classic and decidedly modern. It's a one of a kind book for a one of a kind actor and is an absolute must-own for any cineaste.
---
7. Philosophers on Film: From Bergson to Badiou
I had previously mentioned that the Jean Painleve book was a "heady" read, but it looks like a tabloid rag in comparison to this essential, yet admittedly very niche collection of essays. Edited by Christopher Kul-Want, Philosophers on Film is an exciting collection of works from various legendary thinkers, ranging from Alain Badiou to Jean Baudrillard, finding these intellectuals interacting with cinema in ways only they truly could. Figures like Gilles Deleuze and Slavoj Zizek find some of their most legendary essays critically discussed throughout this dense and thought-provoking reader, with essays ranging from Giorgio Agamben's "Notes On Gesture" to Jacques Ranciere's incredible, essential discussion on the works of Fritz Lang entitled "From One Manhunt To Another."
Despite its lofty, scholarly ideas, this is an essential piece of editing as it invites new cinephiles to think about large ideas in ways that don't feel stiff like they would within a school-like context, and allows these ideas to interplay with one another in a thoughtful manner. Not a book for every film watcher (your friend whose only Criterions are the Wes Anderson films and Chasing Amy probably won't get much out of this) but for any film lover in or freshly out of school may just have their life changed with this little diddy.
---
6. The Lost World of DeMille
Far from a "little diddy" is this incredible, truly impressive look at filmmaker Cecil B. DeMille. Written by the late historian John Kobal, this his final manuscript written before his death in 1991 and just now published by University Press of Mississippi, The Lost World of DeMille takes a thoughtful and deep look into the life and times of the iconic filmmaker, telling the story of his indoctrination into the world of filmmaking while watching a film being shot as a child all the way through the production of The Ten Commandments right before his death some three years later in 1959, all the while using archival materials and gorgeous photographs to add even more context to what is one of the more fully realized biographies you'll read in 2019.
Looking at both the director's life and work as well as the larger cultural impact each of those things had on the world around him, Kobal proves to be one of the more accomplished film scholars of his generation, if the back catalog of over 30 books wasn't enough already. No stone is left unturned here, making this an absolute must-own for that cinephile in your life who just can't turn off TCM.
---
5. The Eloquent Screen
Another release for that cinephile in your life who won't shut up about the latest film added to MUBI this week, The Eloquent Screen may be sitting here in the middle of the pack but I'd argue that very few releases here on this list are as truly important as this new collection of essays from writer Gilberto Perez. Broken down into three sections of sorts (including an entire introduction breaking down the rhetoric within John Ford's cinema which is easily one of the more exciting "introductions" I've read in my life), Perez discusses the broader rhetoric surrounding both "Cinematic Tropes" as well as "Melodrama and Film Technique," with each section broken down into various smaller, almost bite-sized discussions involving things from Rosebud in Citizen Kane to what's this writer's favorite section, a small piece on the films of Alfred Hitchcock entitled The Devil's Point Of View.
Sure, the book is one that'd be found on your store's Film Theory shelves, but it's endlessly readable and inviting, a genuinely thrilling deep dive into the interplay between cinema and rhetoric and how the latter is used, almost on a primordial level, in the former. It's really the perfect stocking stuffer for that film fan you know who isn't afraid of a little challenge.
---
4. My Mother Laughs
How does one begin to describe this truly one-of-a-kind masterpiece? From legendary filmmaker Chantal Akerman comes this engrossing, endlessly moving memoir originally published in France in 2013 but only this fall is it available stateside in English. In keeping with the director's final film, the potentially decade-best No Home Movie, the book dives headlong into Akerman and her relationship with her mother, particularly her time caring for her as her health began slipping. Brilliantly rendered in a matter-of-fact style similar to that of her films, this book carries with it a similarly textured rendering of her and her mother's connection, a relationship that is seen across Akerman's work but only now does the director deal with that head on in writing.
It's a stunning piece of memoir writing from one of cinema's titans, and a heart-wrenching rumination on a mother-daughter relationship that feels truly universal. As interior a read as you'll ever see, this is a special book for that special cinephile in your life
---
3. On The Back of Our Images
From indie publisher Featherproof comes one of 2019's more intriguing film books. Far from the scholarly writings and biographies featured here, this first volume of what appears to be an ongoing series collects writings from legendary filmmaker Luc Dardenne for all the world to partake in. Specifically, this collection focuses on diaries written by the filmmaker from 1991-2005, paired with three of he and brother Jean-Pierre's scripts for The Son, The Child and Lorna's Silence.
The screenplay additions here are nice and quite welcome for any fan of the beloved directing duo, but the diaries are the true discovery here, as readers are given first hand access to the thought process surrounding the inception of some of the great films in all of French cinema. These entries are available for the first time in English in this collection, and offer a profound look at one artist's creative process as solely seen through their mind as it was within the very moments they lived. It's truly a special and important release for any aspiring filmmaker or creative.
---
2. The Movie Musical!
Now onto what will likely be the most popular film book of the season. From writer Jeanine Basinger comes The Movie Musical!, a thoughtful and exhaustive look at the history of the filmed musical, a genre that, despite its ups and downs in popularity, has remained a fixture of cinematic history for nearly a full century. An endlessly engaging read, Basinger's study of movie musicals spans their inception through their various rises and falls, even up to and including the beloved La La Land, with few stones unturned in between.
From Al Jolson to Fred Astaire, this book is a lengthy read, but an engaging one, with witty and inviting prose that makes this genre less stiff than one would imagine, inviting readers both young and old to either enter into a dialogue with a new discovery or learn just a pinch more about a film or performer they have enjoyed for years. With beautiful, eye-popping photographs that pair perfectly with the crisp prose, Basinger's book is a must own for that classic film fan or that cinephile just getting their start dancing along with some of cinema's most enjoyable spectacles.
---
1. French New Wave: A Revolution In Design
Where to begin with this beauty. Topping this year's book buyer's guide is 2019's most beautiful film book, the incredibly designed French New Wave. Put together by the team of Tony Nourmand, Graham Marsh and Christopher Frayling, this book is less a narrative read than a series of profiles about artists from across the globe who left their mark on the world through the posters they produced for the films of the French New Wave. Including biographies on over 100 separate artists, this book looks at creatives both big and small, ranging from Jean Cocteau to Kiroku Higaki, including hundreds of photographs and archival materials bringing their work back to life in as vivid a way as one could ever imagine.
Diving into the history of the French New Wave via a discussion of design, this book is an important and thoughtful text about one of film's great movements, a series of brief artist profiles that re-contextualize this moment in history in a manner never truly done before. The epitome of a coffee table book, this will no doubt be the topic of any discussion you have after buying it, and any cinephile should be proud to give or receive this deeply important work as a gift this holiday season.
---
Honorable Mentions