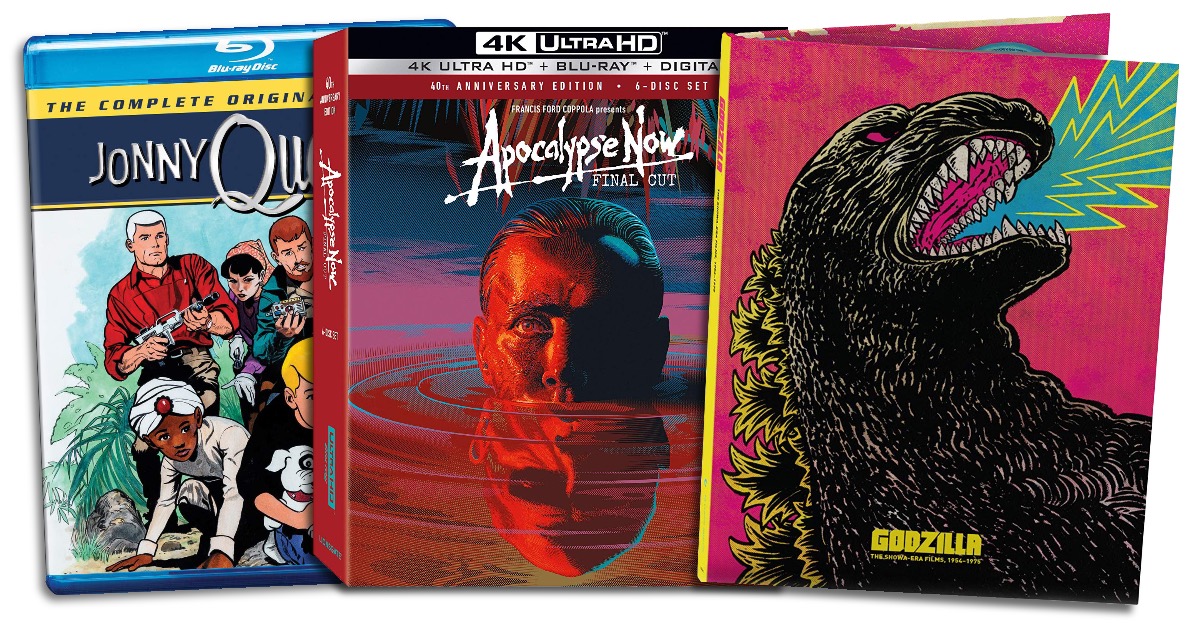 It's that time of year, folks. Hot chocolate is being brewed, salted caramel lattes scent the mall air as you attempt to shop for your loved ones leading up to the big day in December. But where does one begin for that endlessly difficult cinephile in your life? Do you simply try to blindly buy a film you're unsure they haven't already bought? Do you try and buy them a book about a famous actor you think they admire? Well, that's where this series of lists will come in to play.
Over the next week we at CriterionCast will bring you a series of lists about the books, Blu-rays and other items that may just make you the new apple in the eye of that always tough-to-shop-for cineaste in your life. Today, we'll present several "best of the year" lists, along with ten of my own favorite Blu-rays from this year to buy this season.
Jump to:
Criterion / 4K / Boutique / Box Sets / TV / Josh's Top 10
---
Top 10 Criterion Collection Releases of 2019
---
Top 13 4K Ultra HD Releases of 2019
---
Top 25 Boutique Label Releases of 2019
---
Top 10 Box Sets of 2019
---
Top 7 TV Sets of 2019
---
Josh's Top 10
10. The Limits of Control
Starting off this list is one of the great underrated gems from one of America's foremost film artists. While Criterion may be the company most synonymous with the films of Jim Jarmusch, at least regarding their time spent on home video, Arrow Academy has given the world the first truly essential release of his criminally undervalued Limits of Control. An unfathomably "cool" looking film, this masterpiece of Jarmusch's patented low-key, high-art style is spearheaded by a fantastic lead performance from Isaach De Bankole, and sees Jarmusch at a moment of apparent evolution.
Besides being a fantastic little film, this new Blu-ray looks truly beautiful and comes stacked with supplements abound. The most important of which is arguably "The Rituals of Control," a video essay from critic Amy Simmons that pairs well with a fellow new supplement entitled "An American In Europe" which finds author Geoff Andrew discussing this film in the broader context of Jarmusch's filmography. It's really a doozy of a release.
---
9. The Emperor's Naked Army Marches On
Jumping from the cool and esoteric to the haunting and deeply unshakable. Second Run has become one of the most exciting boutique home video distributors today, and releases like their new Blu-ray of The Emperor's Naked Army Marches On is as clear a reason why as any. Directed by Kazuo Hara, this haunting documentary looks at the atrocities committed during WWII by the armies led by Emperor Hirohito. Through the eyes of war veteran Kenzo Okuzaki this bravura, almost gonzo look at the Japanese side of WWII is a documentary truly unlike anything you've ever seen before. And now, it's finally readily available on Blu-ray.
The gorgeous Blu-ray is backed by a new HD remaster itself backed by Hara and Hara can also be seen on an informative and engrossing new interview filmed exclusively for this release. It may be a relatively niche release, but for that cinephile in your life with an eye towards political non-fiction, few films will open their eyes quite as wide as this one will.
---
8. Long Day's Journey Into Night
One of 2019's most talked about foreign language features, the gorgeous and profoundly inventive Long Day's Journey Into Night comes in at number 8 on this list, in the form of Kino Lorber's superb 3D Blu-ray of the expertly made epic. From beloved filmmaker Bi Gan comes his sophomore effort, a film that takes a rather grand and epic approach to a noirish tale of a missing woman and a past coming back into clear focus for our lead.
With ace performances from Huang Jue and Tang Wei, Long Day's Journey is most well known for it's epic centerpiece sequence, a mammoth single-shot 3D sequence that's a dream-like, almost reality-breaking set piece that's truly one of a kind. One of China's biggest arthouse box office hits, this is a hotly talked about film and thankfully the Blu-ray is equally as worthy. The use of 3D here is fantastic, and is engrossing at home, and with new interviews with Gan and star Huang Jue as well as a supreme making of documentary all of which make this a must-own release.
---
7. Hammer Volume Four: Faces of Fear
The first of two major box sets on this list, the latest in Indicator's impressive Hammer Films series arrives here at number 7. The fourth volume, to be exact, the company's latest dive into the world of Hammer Films is one of their best yet. Collecting four superb thrillers, the set includes The Revenge of Frankenstein, The Two Faces of Dr. Jekyll, Taste of Fear and The Damned, all of which come stacked to the brim with supplements, too many to list in their entirety. The segment of this release I'd like to specifically point out is The Damned from director Joseph Losey, a film that's endlessly haunting and features an underrated performance from none other than Oliver Reed, a performance that feels rather close to the performance he'd give years later in The Brood.
Led by a new 2K restoration, the release is almost bottomless with supplements, ranging from multiple separate cuts of the film, a commentary and ten separate vignettes looking at the film's production and subsequent impact. It's proof positive that there may not be a better company doing genre cinema than Indicator.
---
6. Once Upon A Time…In Hollywood
Not all the films here are going to be from boutique labels. Sometimes, just sometimes, big studios know exactly how to bring their latest and greatest films onto home video in a way that feels truly important. I'm specifically speaking of the latest from beloved filmmaker Quentin Tarantino, and the 4K Ultra HD Collector's Edition of Once Upon A Time…In Hollywood. The film itself is quite good. I've been dying to see it a second and third and fourth time, so any release could fit that bill, but what makes this specific set worth a major spot on this list is what makes home video itself so special.
Not only adding broader context to the film's production and its influences through a series of supplements, this release includes things like vintage posters for a film starring Leonardo DiCaprio's Rick Dalton, a parody MAD Magazine cover doing something similar and even a vinyl 7" with two tracks from the film's incomparable soundtrack. It's the type of release that makes you remember why collecting these things can be so very special.
---
5. Black Mother
One of the great underrated 2019 films is now available on home video, and it's an equally impressive and important release. Entitled Black Mother, the film is Allah's love letter to his mother and his mother's homeland. A truly groundbreaking rumination on the history of Jamaica and where it stands in the modern global landscape, Black Mother is structured as a pregnancy of sorts, as we take to the streets of Jamaica for an engrossing non-fiction masterpiece.
Shot on HD video and 16mm, the style of the film is thrilling and feels oddly spiritual, taking on the lives of everyone from sex workers to young boys and girls to tell the story of Jamaica. Released on home video by Grasshopper Films, the Blu-ray features a stunning cover that's also the film's theatrical poster, and for such a deeply felt, intensely experimental work to finally it home video just in time for the end of year catch-up rush, it's truly remarkable.
---
4. Old Joy
The first of two Criterion releases here, Old Joy is a thrilling release from the company, bringing back to life one of the great modern American films from one of the great modern American filmmakers. From 2006 we have Old Joy finally hitting the Collection, and from filmmaker Kelly Reichardt this expressive, quietly moving portrait of two friends attempting to rekindle a lost relationship during an overnight camping excursion remains one of Reichardt's most moving and lyrically engrossing films.
With two ace performances from Daniel London and Will Oldham, the film remains one of her crowning achievements, a film of effortless beauty that finds deep and often profound truths in the seemingly simplest gestures and glances. The new 2K restoration is top tier and with interviews with Reichardt and her cast, this is a well rounded and enveloping deep dive into a modern American masterpiece.
3. Robocop
Where does one begin when discussing Paul Veerhoven's satirical masterpiece Robocop? From Arrow comes this new, Limited Edition Blu-ray of the classic sci-fi action masterwork, and while entire books have been written about this film and its timeless look at the hero's journey, capitalism in a police state and even its take on the Jesus story, this new Blu-ray seemingly brings everything known to man under one mammoth box. The new 4K restoration spearheads this release, a gorgeous revitalization of the classic. The release comes with both the theatrical and director's cuts, themselves coming with their own commentary tracks as well.
The Director's Cut actually has two commentaries, one by scholar Paul M. Sammon and one from a group of "fans" which pair perfectly with a series of new conversations with everyone from co-writer Michael Miner to Nancy Allen, the film's Lewis. Everything from the editing to the score get touched on in their own video programs, making this one of 2019's most well rounded and truly complete, essential box sets. There may never be another release of this film more worthy of one's hard earned dollar.
---
2. Batman Beyond
The sole television release on this list, it's hard to really argue with that remains one of the great television animation sequels of all time? The sole TV release here, the runner up slot goes to the incomparable Batman Beyond. A direct sequel to the legendary Batman: The Animated Series, this middle-distant future take on the caped crusader sees Bruce Wayne, in old age, teaching the ropes to young Terry McGinnis who, after his father's murder, steals some Wayne-tech to enact revenge.
Running for three breathtaking seasons and all collected here over six discs, this definitive futuristic take on Batman remains one of the most interesting sequels/spin-offs/reboots of any comic book character in modern media. Supplemental materials abound here as, besides a cute little Funko Pop, a new roundtable chat with cast and crew leads a box set that looks to properly retell the show's history and subsequent impact. I'm partial to the included Return of The Joker feature film which, much like Mask of the Phantasm remains one of the best features in the Batman canon. Simply a must own for any animation fan in your life.
---
1. Godzilla: The Showa-Era Films, 1954-1975
I mean, what did you expect to top this list? Marking the legendary distributor's 1000th spine number, Godzilla: The Showa-Era Films, 1954-1975 is truly one of the highest high points in Criterion's long history. Across 15 iconic films, this massive box set introduces an entire generation of film fans to the early stages in the life of film's greatest monster, Godzilla, and all the ups and downs along the way. Ranging from the profoundly political Godzilla to the absurdly surreal Godzilla vs. Hedorah to the kid-friendly Son of Godzilla this set has a little bit of everything for any cinephile you may feel comfortable dropping a few shekels on.
Besides being gorgeously put together in what is easily the company's most difficult-to-shelve release, special features include everything from a handful of English-language dub tracks for films like Destroy All Monsters to an engrossing interview program with cast and crew from across the series. It's a definitive release of a definitive movie monster that's truly unlike anything you'll ever own.