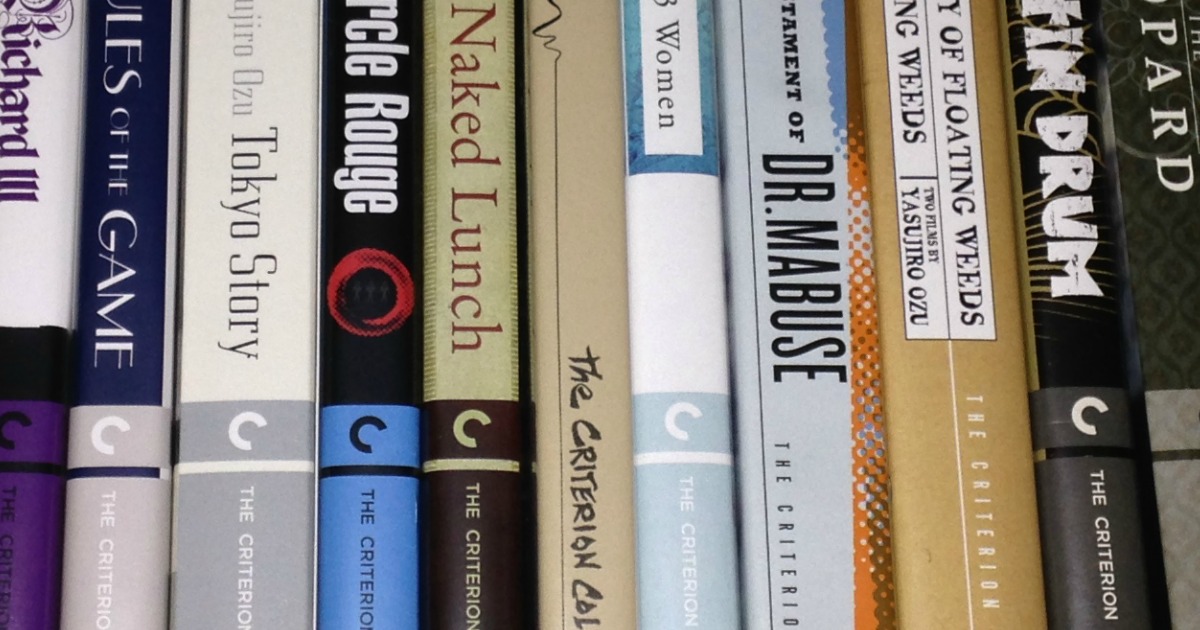 The Barnes & Noble sale may have ended a couple of weeks ago, but that doesn't mean that you can't still buy some Criterion Collection releases for 50% off. Best Buy is currently having a 50% off sale on a number of Criterion releases, and Amazon has begun to match their prices.
Thanks to everyone for supporting our site by buying through our affiliate links.
A note on Amazon deals, for those curious: sometimes third party sellers will suddenly appear as the main purchasing option on a product page, even though Amazon will sell it directly from themselves for the sale price that we have listed. If the sale price doesn't show up, click on the "new" options, and look for Amazon's listing.
I'll keep this list updated throughout the week, as new deals are found, and others expire. If you find something that's wrong, a broken link or price difference, feel free to tweet at me.
Not everything is 50% off (yet), but here is what you can pick up if you don't already have them:
Blu-rays
The 39 Steps for $21.99 (45% off)
Ace in the Hole for $19.99 (50% off)
Ali: Fear Eats the Soul for $19.99 (50% off)
The Battle of Algiers for $24.99 (50% off)
Belle de jour for $19.99 (50% off)
Breaking the Waves for $19.99 (50% off)
The Brood for $19.99 (50% off)
Burroughs: The Movie for $26.19 (34% off)
Children of Paradise for $19.99 (50% off)
City Lights for $19.99 (50% off)
Cries and Whispers for $19.99 (50% off)
The Darjeeling Limited for $21.99 (45% off)
Design for Living for $19.99 (50% off)
Dressed to Kill for $19.99 (50% off)
The Earrings of Madame De… for $19.99 (50% off)
Eyes Without a Face for $19.99 (50% off)
Fanny and Alexander for $29.99 (50% off)
Fantastic Mr. Fox for $19.99 (50% off)
F for Fake for $19.99 (50% off)
The Fisher King for $19.99 (50% off)
Foreign Correspondent for $19.99 (50% off)
The Forgiveness of Blood for $19.99 (50% off)
The Four Feathers for $19.99 (50% off)
Hearts and Minds for $19.99 (50% off)
Heaven's Gate for $24.99 (50% off)
Here Is Your Life for $19.99 (50% off)
The Hidden Fortress for $19.99 (50% off)
Hiroshima mon amour for $19.99 (50% off)
Hoop Dreams for $22.17 (45% off)
I Married a Witch for $14.99 (50% off)
Insignificance for $19.99 (50% off)
It's a Mad, Mad, Mad, Mad World for $24.99 (50% off)
Jellyfish Eyes for $19.69 (34% off)
The Killers for $19.99 (50% off)
The Kid with a Bike for $19.99 (50% off)
The Life Aquatic with Steve Zissou for $19.99 (50% off)
Like Someone in Love for $19.99 (50% off)
The Long Day Closes for $19.99 (50% off)
Make Way for Tomorrow for $19.99 (50% off)
A Master Builder for $19.99 (50% off)
The Moment of Truth for $14.99 (50% off)
Moonrise Kingdom for $19.99 (50% off)
My Dinner With André for $19.99 (50% off)
The Night Porter for $19.99 (50% off)
The Organizer for $14.99 (50% off)
People on Sunday for $19.99 (50% off)
The Phantom Carriage for $19.99 (50% off)
The Qatsi Trilogy for $39.99 (50% off)
Quadrophenia for $21.99 (45% off)
Red River for $24.99 (50% off)
The River for $19.99 (50% off)
The Royal Tenenbaums for $21.99 (45% off)
Salò, or the 120 Days of Sodom for $19.99 (50% off)
Sansho the Bailiff for $19.99 (50% off)
Seven Samurai for $27.99 (44% off)
Le Silence de la Mer for $19.99 (50% off)
A Special Day for $19.99 (50% off)
The Spy Who Came in from the Cold for $19.99 (50% off)
The Three Colors Trilogy for $39.99 (50% off)
Time Bandits for $21.99 (45% off)
Tokyo Story for $19.99 (50% off)
Two Lane Blacktop for $21.99 (45% off)
Vengeance is Mine for $19.99 (50% off)
Wings of Desire for $21.99 (45% off)
Y tu mamá también for $19.99 (50% off)
Eclipse Series DVDs