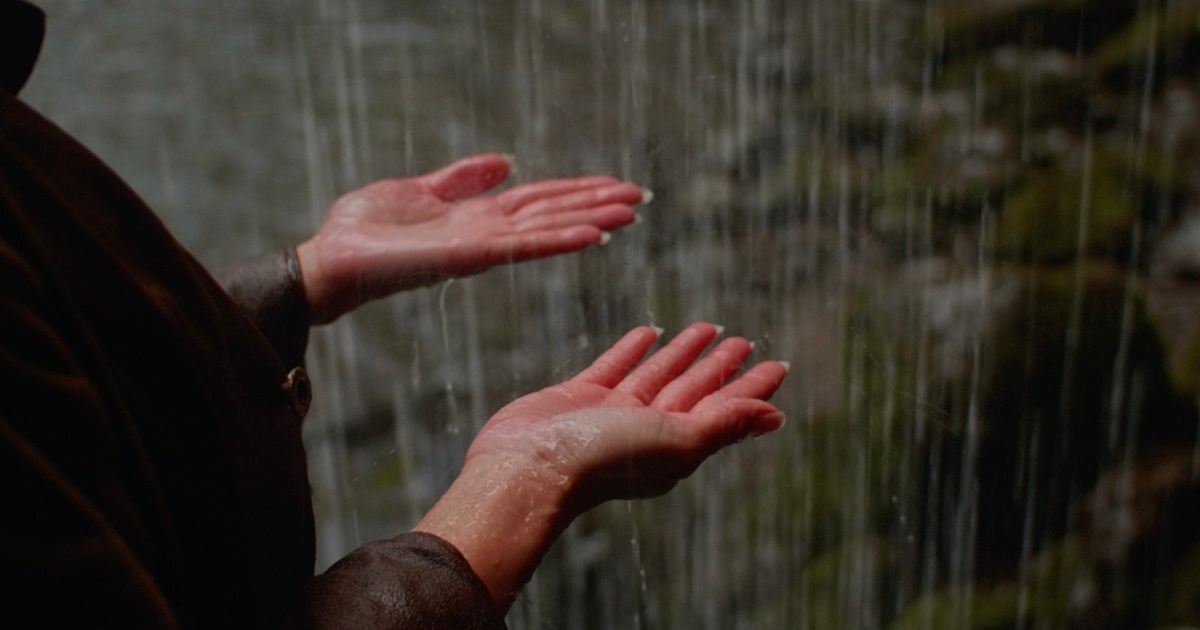 Now in its seventh edition, Film At Lincoln Center's annual festival of nonfiction and hybrid filmmaking, The Art Of The Real, is finally set to return after being delayed due to the ongoing COVID-19 pandemic. Now scheduled for November 13-26, the festival is now going entirely online, yet the quality hasn't taken a hit despite the delay. Bringing together the latest and greatest in films that attempt to change what we cinephiles see as "the cinema of the real," this series is routinely one of the most interesting festivals running. And to help you make your way through the lineup, here are seven of the best films that Art of the Real 2020 has to offer:
7. Bird Island
It's hard to argue with a film that's been garnering some comparisons to the films of legendary auteur Robert Bresson. This hybrid docufiction from directors Maya Kosa and Sergio da Costa has been billed as some sort of Diary of a Country Priest riff, which may sound pompous but it's not entirely wrong. The film introduces viewers to Antonin, a rat breeder at an isolated bird rehabilitation center, a rehab center that doesn't just bring birds back to life or put them out of their misery, but more or less attempts to do the very same for those men and women who also call it home. One of the more radical films in what has become an increasingly radical film festival lineup, Bird Island is an empathy bomb, an almost experimentally humanist portrait of a giver of life to things born to be eaten at a place where broken things go to get fixed. Gorgeously shot and deceptively simple in its framing, Kosa and da Costa craft a brazenly tranquil film that concludes with a gut punch of a final sequence. One of the more strangely human and humane works in the festival.
6. Field Resistance
Routinely one of Art of the Real's more fascinating segments is their shorts program. Often highlighting the truly radical works of non-fiction and hybrid filmmaking, these shorts are where the truly groundbreaking films show up. And look no further than one of the best works in the program, Field Resistance. As much a genre film as it is a documentary, Field Resistance gives a dystopian, almost science-fiction spin to the ongoing climate crisis, this time highlighting the increasingly terrifying state of things in Iowa. Directed by Emily Drummer, this 16 minute short opens on what appears to be a CAD-like drawing of a flower being deconstructed on a computer, and only gets more dystopian as the short progresses. Blurring the lines between natural and artificial, and entirely jettisoning humans from the story of the burning of our planet, this short glances towards science fiction cinema with anti-human breathing like that of Darth Vader beginning a scene that devolves into complete natural abstraction to what could be one of the year's more terrifying sequences set underground. A powerful and unforgettable experiment in atmosphere and tone, Field Resistance is one of the year's best films, length be damned.
5. Cenote
Continuing with this preview of Art Of The Real 2020 is one of the more well traveled films of the festival. A film festival darling both a broad and here in the states (we actually talked about the film back during July's Japan Cuts series), Cenote comes from director Kaori Oda, and is a Spanish-language experimental docu-hybrid film that sends viewers to Mexico in what is one of the festival's most beautiful and singular works. Drawing its name from the natural sinkholes that are found throughout Mexico, particularly in the Yucatan, which have been, for hundreds of years, considered sacred as both a source of water and also a spiritual barrier of sorts. Seen by indigenous groups as a gateway between the mortal realm and the afterlife, these sinkholes become truly transcendent entities thanks to the boundary-pushing direction from Oda and the blending of both Super-8mm footage as well as that shot on an iPhone X. This mixture of formats and narration featuring Mayan poetry and actual research regarding the centuries-long history of these natural occurrences, turns Cenote into a brooding and beautiful rumination on life and death as seen through the lens of water being something both physically necessary and spiritually metaphysical. Truly unlike any film you'll see this year.
4. Expedition Content

Speaking of radical, metaphysical works, Expedition Content is next on this list, and stands as maybe the festival's most formally experimental work. Ostensibly a black screen set against a sonic backdrop ripped from roughly 37 hours of audio recordings taken during a 1961 expedition to Dutch New Guinea made by anthropologist Michael C. Rockefeller. Joining filmmaker Robert Gardner on his journey to study the Hubula people, these recordings are now the basis for directors Ernst Karel and Veronika Kusumaryati's own exploration of image and sound, and the relationship between the two. For all but the briefest of moments an entirely imageless picture, Expedition Content is an engrossing dive into everything from overlapping cultures and languages, the place sound has in the world of anthropology and what the image itself means in our collective recollections of history and culture. Quite literally a "found" film, Expedition Content's most radical aspect is in fact its own recontextualizing of this journey as less one of people encountering a different group of people than a collection of cultural traits overlapping a different set. Ripping the image out of the story denies viewers the ability to "otherize" one party or another, instead enrapturing the viewer in different aural landscapes at every turn. It's a truly transcendent piece of work.
3. Work, Or To Whom Does The World Belong
From one strangely rigid formalist work to another, this time with some images. The sophomore effort from director Elisa Cepedal, Work, or to Whom Does the World Belong takes an alluringly dark tone as it looks at the last days of working class power as made manifest by recounting the history of miners strikes in the Asturias, a region in northwest Spain. This region has become synonymous with labor struggles, most historically impactful being the ones during the 1930s, which were themselves all but snuffed out by the monstrous Franco regime prior to the Spanish Civil War. Pairing this bluntly retold history with images of profound modernity (everything from cash being handled at a supermarket to a thrilling exchange of ideas at a union meeting) and even some shattering source material (there's a lengthy digression involving a scene from Slatan Dudow's 1932 film Kuhle Wampe that's maybe the towering moment in the film), all into a concise, if dry, deconstruction of modern labor movements and capitalism's toxic destruction of them. At just shy of 70 minutes, this experiential work is incredibly well paced and, as a piece of film editing, stands as a true testament to the relationship between narration and the moving image. And as a political statement, Work, or… is a captivating and increasingly infuriating battle cry for those who still believe in solidarity and upending the capitalist structures that leave devastation in their wake.
2. Those That, At A Distance, Resemble Another
Directed by Jessica Sarah Rinland, Those That, At A Distance, Resemble Another is more than just a pompous title. Directly hinting at the film's central thesis about "the thingness of things," the film looks at various moments of natural conservation, while formally portraying this process as some sort of copy of a copy of a copy. Squarely drawing influence from directors like Straub-Huillet and Kiarostami, the film attempts to pair things like the process of restoring and conserving a collection of tusks found in a shipwreck with larger ideas about filmmaking, creativity and even how we, in 2020, find ourselves watching films less in their original form and more on screens through the internet. Told through, primarily, beautifully composed close ups, Rinland's feature turns the art of replication and conservation into something dramatic and almost spiritual, culminating in a film that feels almost ritualistic and hypnotic. Maybe the festival's most outright pleasant film as well. A soothing balm of sorts.
1. małni—towards the ocean, towards the shore
And rounding out this year's preview of Art Of The Real is maybe the festival's most hotly anticipated film. The first feature effort from beloved visual artist Sky Hopinka, małni—towards the ocean, towards the shore has not only garnered incredible notices from various festival bows including this year's Sundance Film Festival but has earned even more interest after its director saw a series of his films land on The Criterion Channel this November. A deeply important visual artist, and maybe the most important indigenous filmmaker working today, Hopinka is a member of the Ho-Chunk nation, and has subsequently made films that engage with identity both culturally and spiritually. Blowing this fascination out to feature length, małni sees Hopinka following two members of the Chinook nation, as they engage with their own relationship to their identity and the history of the people from which they came. Viewers meet Jordan and Sweetwater, two people who have vastly different relationships with their heritage yet, despite never meeting spatially, find even ground through their deeply human interest in connection be it to one's own past in Jordan's case or to what may come in our collective future in Sweetwater's. A profoundly meditative (there's a gathering sequence here that culminates in a song and dance number that's downright transcendent) film, małni finds Hopinka at his most ambitious, crafting a poetic film about cultural identity through the before times and the afterlife.