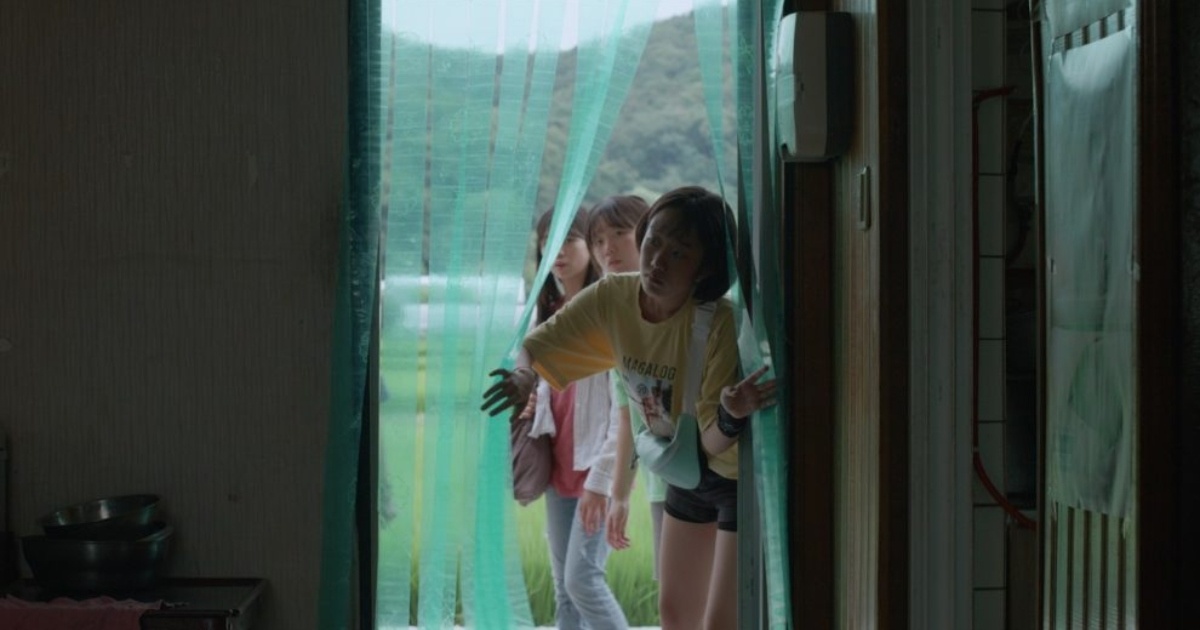 While the list of legendary film festivals with incredible pedigrees seems to be growing ever so quickly, few film festivals have the sheer history within their alumni as Film At Lincoln Center and the Museum Of Modern Art's New Directors/New Films. Names like Fassbinder, Akerman, Bi Gan and even the likes of Spike Lee and Kelly Reichardt have all been associated with this annual collection of films, all from filmmakers at the very earliest stages of their careers. One of the most exciting and exhilarating collections of films within any given year, New Directors/New Films 2021 is no change in that history. And these are just seven of the incredible films from this year's lineup that you need to keep an eye on.
7. Taming The Garden
Starting off this year's New Directors/New Films preview is one of the great documentaries of the festival. Sending viewers into the forests of Georgia, director Salome Jashi attempts to give a seemingly surreal twist on the life span of the trees being uprooted from these plots of land. Giving a ground-level view of this process, viewers become privy to everything from the battles between workers and the cities they inhabit to the relationship locals have with these beacons of hundreds of years worth of history, Taming The Garden is an evocative and expertly crafted rumination on the literal fight between man and nature, and the often surreal, sometimes dystopian visuals that come with that battle.
Even down the otherworldly opening shot of a massive tree making its way across the Black Sea, Taming The Garden is a film very much for our moment, a film about how foreigners, as long as the money is right, are able to uproot entire cultures and do with them as they wish. Not so much about gentrification than it is the physical manifestation of cultural appropriation, this is a devastating document of the ills caused by uncapped capitalism.
6. We're All Going To The World's Fair
From one of the festival's more exciting documentaries to one of its more surreal fiction films. We're All Going To The World's Fair is the debut feature from writer/director Jane Schoenbrun, and tells the story of Casey, a seemingly mild-mannered American teen making her way through the internet, caught in the glow of the screen. However, things aren't as they seem. With the "World's Fair Challenge" taking hold of people around the web, Casey decides to join the trend, joining the ranks of the ever-growing role playing horror…game? See, when one is initiated, their lives must begin being documented, for serious, mysterious changes are set to begin, blurring the lines between what Casey perceives as reality and fiction.
Connecting her with another player, this decision changes the progression of Casey's life in previously unforeseen ways that I hesitate to ruin or even truly glance towards. However, what one can say is that, driven by a ground-shattering lead performance by Anna Cobb, We're All Going To The World's Fairis one of the first films to truly grapple with what makes the internet such a captivating, and ultimately horrifying, arena. Schoenbrun's direction is intimate and claustrophobic, with much of the film taking place with Cobb's Casey staring directly down the middle of the camera, at once a young child in over her head and also something more intense and otherworldly.
5. All Light, Everywhere
Next on the list, and last of the films we've already chatted about here at The CriterionCast, is still possibly the best film of 2021. Theo Anthony returns to screens with his sophomore feature film, the mind blowing and endlessly infuriating rumination on surveillance and policing, All Light, Everywhere. Taking a time and space-hopping approach to tell the larger story of how the camera has been weaponized, Anthony's chapter-book structure sends viewers careening from a warehouse producing tasers and body cameras, to the Baltimore Police Department being trained to use said cameras, all while comparing and contrasting these developments with historical concepts like the recontextualization of carrier pigeons in WWI as simply another evolutionary moment in the history of the violence brought on by cameras. This is all set up with startlingly provocative narration and a use of subtitles that, by the film's awe-inspiring epilogue, feels like a transmission from some otherworldly figure, a figure footnoting the last film made by a civilization out of control.
Power is born of perception. Perception is the key to complete power. Thus these body cameras, in all of their artificiality and subjectivity, are given a strange sense of objectivity by a police state needing them in order to maintain control over the community. But it doesn't have to be that way forever. Come the film's stunning epilogue, a different future is proposed, in the form of a film production class at a largely black school in Baltimore. Anthony proposes them as the original central focus of the film, but instead leaves them as a small symbol of hope, viewers watching as they brilliantly deconstruct the images that they want to bring to the screen. It's a potent conclusion to a film that posits that "the eye sees only what the mind is prepared to comprehend."
4. Rock Bottom Riser
Next on the list is one of the festival's biggest surprises. Already set to hit theaters later this year via Cinema Guild, Rock Bottom Riser comes from director Fern Silva and sends viewers to the endlessly photogenic world of Hawaii. However, this isn't your father's typical landscape picture. Not in the slightest. Instead, Silva has crafted a thrillingly esoteric experimental journey through the state's landscapes both literal and philosophic, turning what could easily devolve into Disney-esque nature filmmaking into something entirely its own. Touching on everything from the lava that flows throughout the island to the very origins of the universe that we all inhabit, Rock Bottom Riser packs an encyclopedia's worth of history and philosophy into it's startlingly dense 70 minutes.
It's also an endlessly engaging and entertaining work. The photography is impressive and Silva's modulating of ideas and tone is truly profound. Primarily focusing on the history of the islands as a magnet for astronomers and the fact that it's more or less a clump of lava floating through the ocean, waiting to explode at any second, Rock Bottom Riser doesn't turn a blind eye to the island's history on a literal, almost cosmic level, instead using these ideas as launching points for digressions that, in the abstract feel out of place but when taken in context are strangely moving. Moments like people doing vape tricks or digressions involving Simon and Garfunkel become entrancing flights of fancy in a film that takes a macro look at Hawaii so expansive it becomes almost abstract. A sight to be seen, most certainly.
3. El Planeta
The sole black and white film on this list, there may not be a more beautiful film featured here than Ameli Ulman's brilliant El Planeta. Ulman's debut directorial effort, Planeta is set against the backdrop of a post-financial crisis Spain, with the story surrounding the relationship between the mother and daughter team of Maria Rendueles and Leonor Jimenez. Played by literal mother/daughter duo Ale and Amalia Ulman (who also wrote and produced the film alongside acting in and directing it), the film finds these two more or less grifting their way through life, making manifest the sense of economic distress that remains as the world still reals from a crisis now well over a decade old. Arguably the most approachable film on this list, Ulman's debut is a startlingly mature one, clearly drawing on influences like Almodovar, yet its clearest connection is to the French New Wave, with its black and white photography and vaguely anarchic energy feeling almost cosmically in conversation with that era of filmmaking.
The performances are textured and lived in, impressively modulated without ever feeling forced or stilted. Amalia Ulman is particularly a magnetic screen presence, with her face, particularly her eyes, being utterly engrossing in its emoting. It's a complex relationship these two women share, and while the specifics may be arch and fictional, the core narrative is endlessly relatable, particularly for a generation with a deep fear of economics. The photography is gorgeous here as well, again owing a debt to the French New Wave, but also to filmmakers like Hong Sang-soo whose loose, conversational energy oozes out of every frame here. That isn't to say the film is derivative. It's far from it. Ulman proves to be her own filmmaker, particularly in her portrayal of gender politics, with much of the heart coming from Leonor's love life. The crowning scene involves Leonor wearing a shirt which has a window cut out, thus having her bare one of her breasts for "feminism," or so she shrugs. It's a powerhouse of a comedic moment, of which there are many within this quiet socio-political comedy.
2. Gull
In the penultimate slot is one of the festival's more challenging films. Less a film about rape itself than it is about the lingering repercussions of sexual assault, director Kim Mi-jo has crafted, in Gull, one of modern film's most textured and thoughtful portraits of trauma and the waves that continue to crash through one's life in its wake. The film tells the story of O-bok, a 61-year-old woman who, after a night out with fellow workers at a local seafood establishment, is raped by the chairman of a redevelopment group. At first wanting to simply let the assault go without voicing it to anyone, O-bok not only informs her daughter about it but lets the police in on the information, thus putting forth an investigation that itself sends shock waves throughout O-bok's life, both personally and professionally.
Born out of director Mi-jo's own observation of a man following a middle-aged woman through her local city, observational is very much the style of picture here, with static camera work and subtle framing, inviting viewers into a life that is sent into increasing despair following this horrific attack. Much of the film's heart and soul is set squarely on the shoulders of lead actress Jeong Ae-hwa, whose performance is thrillingly textured and lived in, perfectly in sync with Mi-jo's subtle and contemplative direction. Viewers watch as O-bok is not just patently blamed for the rape by her co-workers, but has her increasing depression go unnoticed by the man she calls her husband, proving as to just how far the impact of this attack truly goes. Almost documentary-like in its lack of directorial frills, Gull is a mature work, a work of incredible empathy and righteous frustration at a society that wants little more than to sweep these type of stories under the rug.
1. Short Vacation
Topping this list is one of the great surprises so far of 2021, a film coming off a hot debut at this year's Berlinale, and one that has every chance to be this festival's true breakout picture. Short Vacation is an almost Richard Linklater-like tale of burgeoning friendship. The directorial debut of Kwon Min-pyo and Seo Han-sol, Short Vacation tells the story of four young girls who, after getting a camera gifted to them by their photography club teacher, go about their summer vacation with one task; take photos of "the end of the world." With this charming premise as its launching point, Vacation is a deeply heartfelt and humanist portrait of young female friendship that itself is drawn very much from the core four actresses.
Drawing heavily on their performers and even allowing them to improvise large swaths of dialogue, the (male) duo craft a film of incredibly subtle texture that, told over ostensibly one day, may seem like little more than a proper "hang out" picture on the surface, but is in actuality a thrillingly beautiful of youth and companionship. It's also a fascinating look at a youthful worldview. What exactly does the literal end of all things look or sound or feel like to those whose life is quite literally just beginning? Ultimately deciding to simply take the subway to the final stop, this is a beautifully rendered slice of life drama that takes its simple premise and turns it into something truly grand. Art and sisterhood converge for one of the great modern hangout pictures.