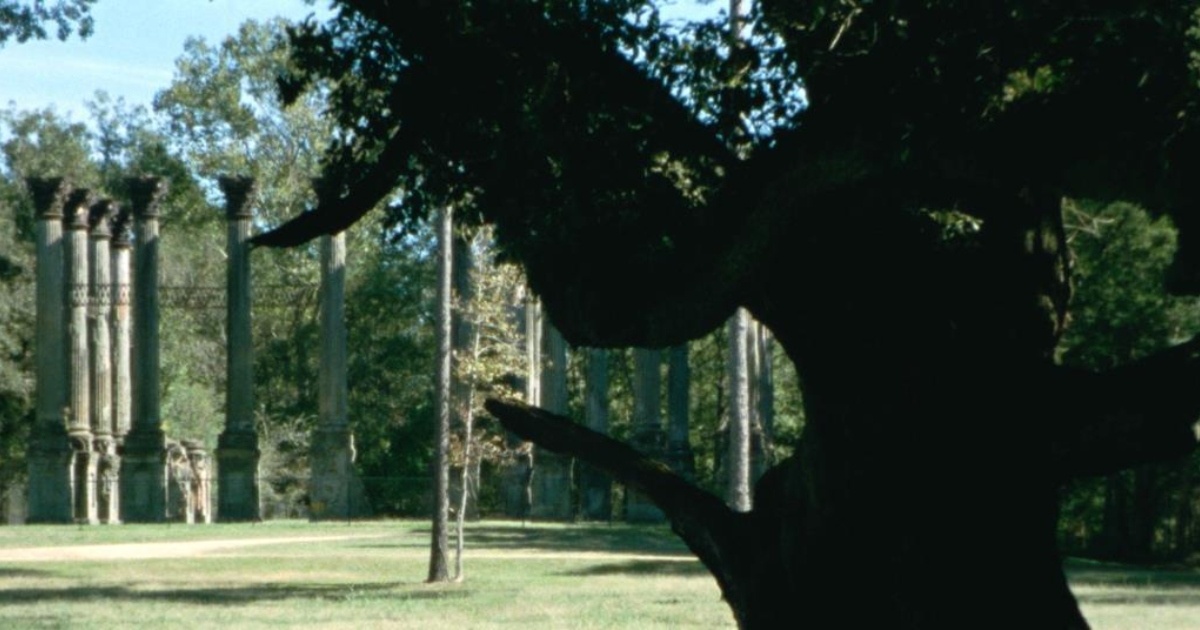 Continuing festival month here at The CriterionCast, we're about to take a journey through my own backyard. As one located here in Michigan, the Ann Arbor Film Festival is something of hallowed ground. Now doing its second virtual edition (after being the first one to do so in just 10 days following the initial COVID-19 outbreak here stateside last March), the festival has reached the masses in a way it never quite has before. One of this country's most important and influential experimental film festivals, Ann Arbor has become synonymous with the latest and greatest in boundary pushing works, both feature and short. So it's about time we cover it here, and that's exactly what we've done. Here are seven films you absolutely have to see during this year's brilliant Ann Arbor Film Festival.
7. Purple Sea
We're starting off this preview of the Ann Arbor Film Festival with one of the more harrowing, polarizing, works showing this festival. Directed by Khaled Abdulwahed and Amel Alzakout, Purple Sea is a terrifying, shattering first hand recounting of the sinking of a boat that Alzakout was on just off the coast of Lesbos. At just a pinch under 70 minutes, this film is narrated as well by the co-director, giving it a strangely fictional feel, a sense of abstract surrealism that, when one remembers that this is a lived traumatic event makes the film all the more devastating. There's a conversation to be had about this film's position within the theoretical black box theater, but what is absolutely true and sans potential argument is that this is as urgent and essential a piece of non-fiction storytelling as we've seen yet in 2021. Viewers become privy to the plight of refugees simply trying to make a better life for themselves and their families, only to be undone by the only thing more vicious than the governments shunning them; mother nature.
6. The Quoddy Fold
One of the many barely-feature length films playing this festival, The Quoddy Fold is a thrilling experiment in storytelling. Directed by Paulette Phillips, this documentary draws its narrative not from a forward-moving story, but one's own relationship to the past. Over the span of a year, Phillips chronicled the life of a decaying settler-house located near the coast of the Atlantic Ocean in Nova Scotia's West Quoddy. An experiential conversation with the passing of time, Phillips' film is a beautiful, often strangely haunting look at life and the spaces we inhabit, in turn viewing these spaces the same way we would the people we share them with. At just an hour, the film doesn't overstay its welcome, instead enveloping the viewer in a strangely melancholic atmosphere, one that keeps the viewer at arms length while in turn embedding them within a home that seemingly could implode at any moment. It's this sense of uncertainty that is equal parts captivating and deeply haunting in the current world we live in. A powerful, singular achievement.
5. The Annotated Field Guide of Ulysses S. Grant
From one singular picture to another. The Annotated Field Guide of Ulysses S. Grant is from director Jim Finn, and tells the story of General Grant, as he attempts to liberate the southern states during the 1860s. However, this isn't your father's historical documentary. Instead Finn takes things like board games and collectible trading cards to lay out the respective battles Grant found himself in, pairing these opposite modern day landscapes of former battlefields, all shot in gorgeous 16mm. An engrossing, travelogue-like riff on a legendary historical figure, Field Guide is a strange melting together of the revered (former battleground location footage) and juvenile (board games). This is also a brilliant piece of research, moving viewers from the border between Texas and Louisiana up to the coast of New England, pairing seemingly misplaced thing like a 1970's inspired soundtrack with deeply textured and dense historical background, making this an endlessly surprising feature.
4. Hitting My Head on the World
The sole short on this list, Hitting My Head On The World is also maybe Ann Arbor's most purely entertaining work. Directed by Anna Vasof, this 13 minute short is more than just a highly-stylized riff on the globally understood gesture of hitting one's head on a solid, inanimate object. No, instead Vasof, with glances towards the films of Jodie Mack, turns this act of indignant frustration into something musical, something delightfully composed. Less abstract than Mack's films, Vasof's short is no less percussive and engrossing, with musical editing that turns each new destination into an entirely new piece of music. There's not much to the film narratively or thematically, but then again what is cinema if not filmed motion? More an experiment in editing and sound design than anything narratively or visually, Hitting My Head On The World is a raucous 13 minutes that turns universally understood frustration into something strangely beautiful.
3. Instructions For Survival
Back to features for Instructions For Survival. Telling the story of Alexander, a transgender person living a life as a man despite being identified as female on his passport. This causes Alexander to be unable to find work legally, in turn causing him to begin hormone therapy without the help of a doctor, and just his wife Mari and a powerful internet community to give him support. When Mari decides to help the couple by becoming a surrogate for $12,000, the couple are given the chance to break free from a seemingly hopeless situation, that is until the connection with the yet-to-be-born child causes an entirely new wrinkle to crop up. Directed by Yana Ugrekhelidze in her debut documentary feature, Survival is a deeply felt, powerfully observational rumination on the transgender experience, an experience that is, like the title says, one of survival. Shot by Jule Katinka Cramer in an incredibly intimate, yet not exploitative, manner, the film is a sensitive and empathetic piece of portraiture, a film that doesn't linger in the oppressive nature of this person's circumstances, instead focusing more on the power of their spirit and the power of love and companionship in the face of a world that has no interest in embracing them. It's a beautiful, humane and deeply felt picture.
2. małni—towards the ocean, towards the shore
Next up is arguably the film's most anticipated feature. The first feature effort from beloved visual artist Sky Hopinka, małni—towards the ocean, towards the shore has not only garnered incredible notices from various festival bows including last year's Sundance Film Festival but has earned even more interest after its director saw a series of his films land on The Criterion Channel this past November. A deeply important visual artist, and maybe the most important indigenous filmmaker working today, Hopinka is a member of the Ho-Chunk nation, and has subsequently made films that engage with identity both culturally and spiritually. Blowing this fascination out to feature length, małni sees Hopinka following two members of the Chinook nation, as they engage with their own relationship to their identity and the history of the people from which they came. Viewers meet Jordan and Sweetwater, two people who have vastly different relationships with their heritage yet, despite never meeting spatially, find even ground through their deeply human interest in connection be it to one's own past in Jordan's case or to what may come in our collective future in Sweetwater's. A profoundly meditative (there's a gathering sequence here that culminates in a song and dance number that's downright transcendent) film, małni finds Hopinka at his most ambitious, crafting a poetic film about cultural identity through the before times and the afterlife.
1. The Inheritance
Topping off this year's preview of the Ann Arbor Film Festival is one of the best films of 2020, and one of the most exciting works of American filmmaking in quite some time. From director Ephraim Asili comes The Inheritance, a Philadelphia-set drama which itself blurs the line between fiction and non-fiction while standing as a vehicle for expression of black liberation. Mixing a documentary about the Philadelphia liberationist group MOVE with a fictional work about a collective trying to reach some semblance of political consensus, the film is a gorgeous and evocative work of cinematic revolution. With clear influences ranging from Tarkovsky to Sam Greenlee's seminal The Spook Who Sat By The Door, Asili's film owes its greatest debt to the work of Jean-Luc Godard, whose iconic La Chinoise plays not only as a literal reference (a poster is seen throughout) but its closest stylistic relative as well. The photography here is utterly breathtaking, and each performance is properly textured and modulated as to not just elevate the film beyond something that could have been stale and stagnant, but to give this politically charged feature a definite humanity and heart.