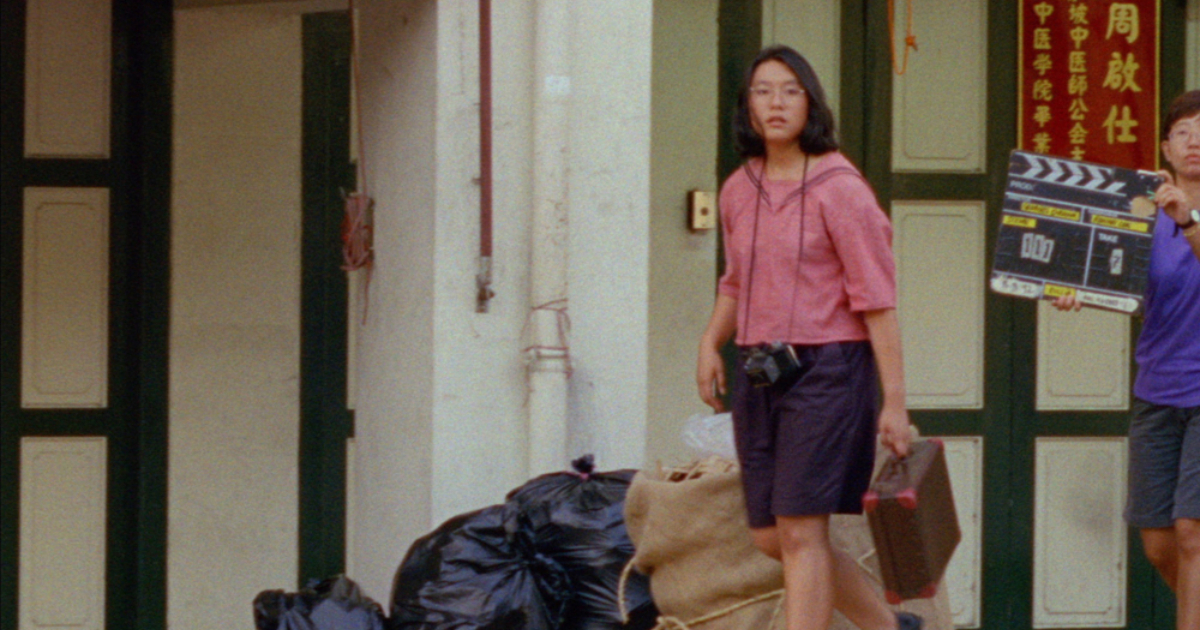 It's that time of year again. As fall festivals begin to wind down, they haven't quite come to a close, especially for those cinephiles with a keen eye on the world of non-fiction cinema. The year's biggest documentary festival is set to begin this weekend, and thankfully we're here to give you a little glimpse into what this year's DOC NYC Festival has to offer. It's one of the better slates in recent memory, so here are just a few of this year's highlights, and films you need to keep real focus on going forward into "Best Of The Year" season:
10. Minding The Gap
Starting off this list are two films, both from the famed Shortlist section of the DOC NYC lineup, that are both hits from earlier this year and also available to stream at this very moment. Both have to do with young men and women coming together to chronicle their youth, with the truly brilliant Minding The Gap leading the way. Bing Liu's mature and moving documentary debut took home the Special Jury Award at this year's Sundance Film Festival, and the film tells the story of Bing and his friends Zack and Keire over the span of roughly a decade, looking at their life growing up in a small Illinois town while flocking to the world of skateboarding to escape their day-to-day woes. Very much in conversation with the films of directors like Steve James, whose Hoop Dreams is the most oft-compared film to this superlative debut, the film is a humanistic portrait of life on the periphery in blue collar America, and a really nuanced look at masculinity and specifically fatherhood. There's a great deal on this film's mind, and while it doesn't have the same epic-nature of the above-mentioned Steve James masterpiece, the same tenderness and nuance is clear throughout. It's currently streaming on Hulu.
9. Shirkers
From that same segment of the festival and now streaming on Netflix is one of the great discoveries of 2018, Shirkers. Director Sandi Tan also marks her documentary debut here, a Sundance Directing Award winning picture that tells the story of her own group of friends and contemporaries, this time focusing on their work directing a film they went on to call Shirkers. An original script that she and a group shot during summer break under the guiding eye of a teacher named Georges, the film was all but complete when Georges seemed to disappear into thin air, with the footage in tow. Shirkers is both Tan's attempt to recall these events while also finding some closure, sitting down with whoever she can that happened to be involved with the project to go through the story of its creation and ultimately its theft and disappearance. A film that feels like a filmed memoir as it does a true crime picture, Shirkers is an expertly crafted, energetic film, a documentary that through all of its twists and turns feels like a whole feature, an assured work from a director far beyond her years.
8. The Greenaway Alphabet
Marking its NYC debut as part of the Behind The Scenes section of DOC NYC, The Greenaway Alphabet is a film that is real catnip for any and all cinephiles hoping to attend this series. Directed by Saskia Boddeke (Greenaway's wife), Alphabet is her attempt to get her husband to dive head first into his life and his work, through some fun and engaging alphabetical word association. Opposite his daughter during the film, the pair pick through the letters of the alphabet while waxing philosophical about everything from life to death, love to loss and yes, even some stuff about his films. Told with a verve and energy that is fitting of Greenaway and his films, even so far as to frame some shots with clear connections to his pictures, Alphabet feels like the rare biographical documentary that both digs into its subject's life while also drawing inspiration from their work, without ever feeling slight or reductive. Clocking in at just shy of 70 minutes, the film never overstays its welcome, which may very well be the central idea behind the entire Greenaway project.
7. The Worlds of Ursula K. Le Guin
Another biography, this time from the Portraits section, director Arwen Curry shines a light on the late Ursula K. Le Guin with this brisk, lively and genuinely beautiful love letter. Pairing interviews with some superb animation and ffirst-hand encounters with the writer herself, Worlds is a quietly astonishing piece of work that may be rigorous in its chronological storytelling structure, but adds such contextual detail and critical evaluation that it becomes as much a scholarly work as something more human. It's another film clocking in under 70 minutes, and sure this may seem a bit too brisk and much too short, but it is a genuinely dense documentary that is moving and shockingly intimate, adding a whole new level of import following her passing earlier this year. The animation is blended in perfectly, fitting wonderfully with her science fiction writing, and despite the lack of focus on her non-science fiction work, it feels like a tender and textured love letter to a fallen icon. It's also a genuinely gorgeous film, and with interviews with people like Neil Gaiman and David Mitchell, there's a level of critical discussion that makes it feel a bit beefier than its lean runtime would have one believe.
6. See Know Evil
The final pure biography on this list comes from the Metropolis section, the section of documentaries that look at stories set within New York City proper. See Know Evil introduces us to Davide Sorrenti, a young man born into fashion royalty. Part of an iconic family of fashion photographers, Davide would in his own right become an iconic figure in 1990s New York City, despite being diagnosed with a terminal illness. Early on in his life, just as a teenager actually, he began shooting spreads for magazines like Interview, all while making an impact on the underground and street art scenes in NYC. A figurehead and inspiration for the movement of '90s fashion known as "heroin chic," Davide's life is one of twists and turns, and See Know Evil is director Charlie Curran's attempt at retelling the man's life as seen by those who shared it with him. With interviews with friends, family and contemporaries like Mia Jovovich, See Know Evil is a brisk and energetic love letter to a fallen friend and artist, told by those who loved him for those who may not know anything about him. Blending these interviews with archival materials and photographs shot by Sorrenti, this is a moving portrait of an artist with a raw energy that was truly unlike any other.
5. The Cat Rescuers
Starting off the last half of this list is one of the lesser talked about documentaries, but one that's bound to be a minor hit with those who give it a chance. Part of the festival's Wild Life section, Cat Rescuers isn't half as flashy as the rest of the films on this list or in the festival writ large, but what it does have is such a specific focus that it becomes quietly captivating. Introducing the viewer to a group of men and women who have made it their life's work to curb the ever growing population of stray and abandoned cats that are making their home on the streets of NYC. Very much a rough and tumble production, the film may lack the stylistic touch of a Shirkers, but through its incredibly intimate and specific focus and storytelling, it becomes a portrait of human tenderness, city planning and even government inaction all while making the viewer laugh, cry and grip their seats. It's not a muscularly made picture, but when a documentary is able to have a clear sense of storytelling and an even more clear voice, it's hard to see it as anything more or less than a real delight.
4. The Truth About Killer Robots
On the opposite end of the spectrum is The Truth About Killer Robots. From director Maxim Pozdorovkin (Pussy Riot: A Punk Prayer), Killer Robots is an oppulent and in many ways surreal look at the state of modern technology, more specifically the ever growing role robots have in the human society. Structured around a series of events and trends that have both literally and figuratively seen robots "kill" everything from literal human beings to the jobs that they once held, the film's main question is summed up as "when a robot kills a human, who takes the blame?" Feeling very much like a science-fiction film just told through the body of a non-fiction picture, Killer Robots is an absolutely captivating piece of documentary filmmaking, a brooding rumination on the human-robot relationship in both the literal and the abstract. Be it taking jobs or automated cars killing drivers and pedestrians, this is a tenuous relationship at best, and makes for a documentary that feels both transgressive and genuinely well made. Pozdorovkin proves, once again, that he's among the great documentarians of his generation.
3. Harvest Season
Making another tonal shift, Harvest Season comes to the festival as part of its American Perspectives subsection and is one of the many real discoveries from this lineup. Those with an admiration and taste for wine will flock to this truly entrancing documentary, a deep dive into the role Hispanic wine makers are having on the state of Napa and Sonoma Valley wines, and the socio-political issues that this population also face. Told expertly and with some startlingly gorgeous photography, director Bernardo Ruiz gives a first hand account of small wine producers and the struggles they face both economically and politically in 2018 America. Trump is a cloud hanging over this film, sure, but what makes this such an expert and superlative piece of work is that the focus never loses sight of the minority population which is under attack, telling their stories through a film that's as beautiful as it is intimate and emotionally moving.
2. It Must Schwing: The Blue Note Story
Coming in second place in this haphazardly structured list is a biography of sorts, just of an abstract entity instead of a solid single person. The longest film on this list at an epic two hours, It Must Schwing is a gorgeous and evocative look into the genesis of Blue Note, one of if not the very most influential jazz music label ever created. Sure to get some eyes with producer Wim Wenders attached, Schwing stands all on its own as a truly fantastic portrait of a seminal record label through the use of the Blue Label music archive and some fascinating animated sequences. Pairing both of these with interviews that give a much broader historical context to both the forming and impact of this label, Schwing is a energetic film, a film that is more rigorously structured than the jazz music that Blue Note has become famous for, but embraces the kinetic nature of the music and brings that same sense of vitality to the big screen with an eye as much to the music as to the cultural moments that the music became a vocal player in. Through discrimination and segregation jazz has withstood, and that important cultural context is a major aspect of this special documentary.
1. False Confessions
And finally, rounding out this list is easily this festival's great discovery. Entitled False Confessions, the film comes from the In The System subsection and is as prescient and pertinent an entry into this festival as it has to offer in 2018. The film comes from director Katrine Philp, and introduces us to defense attorney Jane Fisher-Byrialsen as she attempts to curb the ever increasing practice of getting false confessions out of under-pressure citizens by law enforcement officers. A captivating documentary that evolves from a true crime style picture into something more closely and shockingly resembling a director commentary of false confession footage, False Confessions is a haunting piece of work. Making a false confession isn't a rare or impossible concept. As seen throughout the film there are numerous existential reasons why one would confess to a crime they didn't commit, from being pressured physically by police officers or simply wanting to get home to their families. Philp proves to be a talented filmmaker, a filmmaker with deep understanding of not just the nuts and bolts of her subject but also how that subject is best brought to screen. I mentioned this already, but there's a sequence that's ostensibly two people talking in a play-by-play fashion over footage of a false confession being acquired, and it's among the most haunting and unshakably frustrating sequences seen in all of cinema in 2018. It's really a masterful piece of work in a film that is a devastating emotional journey.