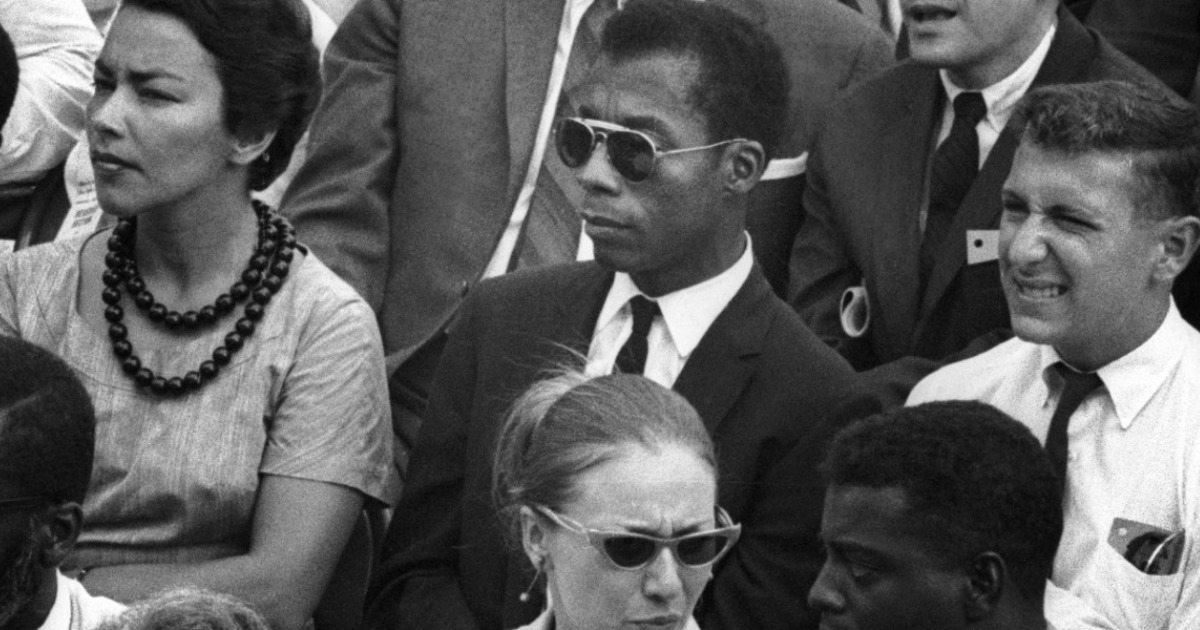 Now in its seventh year, the New York City-based and documentary-focused film festival aptly titled DOC NYC has become a mainstay on the documentary festival circuit. Along with series like Hot Docs and the more avant-garde-heavy True/False, DOC NYC is slowly but surely becoming one of the must-attend festivals for cinephiles who have an affinity for the non-fiction side of cinema.
And yet, it's still a festival on the come up. With only six previous iterations in its history, DOC NYC is one of the hundreds, if not thousands, of festivals or film series that make up a calendar year in New York and the film world in general. Marking this year's event with 110 features (roughly 44% of which are directed or co-directed by women, I will add) including 18 world premieres and 19 US premieres and even a small repertory sidebar, this is set to be the biggest and arguably best lineup yet. And here are ten films to see during the festival, just to get you started:
---
https://vimeo.com/184595907
10. Rikers
Starting off this list is one of the festival's shorter features, and also one of its most powerful. One of the above mentioned 18 world premieres, Rikers is a collaboration between a team of producers led by co-directors Mark Benjamin and Marc Levin as well as "executive editor" Bill Moyers, that looks into the lives of former inmates held at the iconic and controversial Rikers Island. A topic we will touch back on in a matter of moments, this film is a startling meditation, based off of first hand accounts, of the systemic racism and corruption that not only sits deep within Rikers specifically, but the judicial system broadly.
With mass incarceration sitting as one of the nation's most polarizing political issues, Rikers attempts to embed the viewer in the reality of what it's like being held within one of the most legendary prisons in all of the US. Arguably simplistic in its aesthetic conceit, the film's greatest comes not in any directorial flights of fancy, but a matter of fact bluntness in the telling of each former inmates tale and the inherent magnetism therein. It's a real doozy, and when paired with a certain film below, it makes for a hell of an indictment of modern incarceration.
---
9. Bobby Sands: 66 Days
A much different look at a very specific, and historic, incarceration, Brendan J. Byrne's Bobby Sands: 66 Days is one of the festival's most narratively dense and most narratively thrilling documentaries. Chronicling Sands' time as part of the Irish Republican Army and the subsequent time spent in prison for his association with the group, 66 Days may sound like a harrowing watch, and it is, but it's also genuinely thrilling intellectually. Blending Sands' personal story with dense discussions of everything from the nature of hunger strikes within Irish culture to the impact of Margaret Thatcher on the IRA and its movement, the film takes a supremely layered look at every aspect of this man's life and the larger cultural ramifications of the political path his life took.
With Sands' own voice running throughout thanks to lengthy excerpts ripped out of his prison journal, Byrne's film is a tense thriller in the guise of a bio-documentary that elevates its form through unforgettable bits of archival footage and a narrative that reaches broad topics while never losing sight of its singular focus.
---
8. How To Build A Time Machine
From the world of the deadly serious to a subject of a more theoretical basis. An NYC premiere as part of the festival's Science Nonfiction sidebar, Jay Cheel's new feature chronicles not only man's relationship to the concept of time travel but two specific people, with vastly different histories with the theory.
We meet Ron Mallett, a theoretical physicist who flocked to the concept after suffering a personal tragedy. And then there's Rob Niosi, a Hollywood prop maker who finds nostalgia in the tactile nature of a classic like The Time Machine, so much so that the man attempts to recreate that very machine. Beautifully made, if admittedly quite quiet outside of its gorgeous photography, Cheel's film is remarkably moving, and the varied looks at the impact of time travel on humanity is quite powerful.
Arguably one of the festival's most approachable films, this is bound to be a hit once it breaks out of the festival circuit.
---
7. After Fire
Another one of the numerous World Premieres listed as part of this festival's vast and varied lineup, After Fire sets its sights on a troubling aspect of this nation's Armed Forces, namely its relationship with its female recruits. The film focuses on a military outpost stationed in San Antonio, Texas, and the various women who face not only the frustrating military bureaucracy but also the repercussions of the physical and psychological damage taken both on the field of battle and back at camp.
Women now make up one out of every five new recruits to the various branches of the US Armed Forces, and while we only meet a handful of these brave and strong soldiers, the vast variety of stories here is one that is utterly captivating. Told with nuance, tenderness and a clear head, director Brittany Huckabee's superlative meditation on the power of these soldiers is a quietly composed piece of documentary filmmaking that's as intimate emotionally as it is genuinely stimulating intellectually.
---
6. Beware The Slenderman
Few documentary sub genres have expanded as quickly as the "true crime" documentary. Now getting its own sidebar at DOC NYC 2016, arguably one of that section's highlights is one of the handful of documentaries that HBO Documentary Films will be sharing with audiences. Directed by Irene Taylor Brodsky, Beware The Slenderman is a tense and moving portrait of a true life crime almost too uncanny to believe. The subject of much discussion in 2014, the film follows a case involving two 12 year old girls from Wisconsin who nearly murdered a friend in order to make a sacrifice to The Slenderman, an otherworldly creature that the two children believed would harm their families. Think the boogeyman with a penchant for suits and ties, The Slenderman was an internet legend that took hold of these two girls, ultimately leaving them, their families and their communities to try and make sense of it all.
At once a portrait of these two girls and their attempted murder as well as a dense look into the ability for an urban legend like this can spread across the internet, this is a singular take on the true crime documentary, a film that opens up as a deeply unsettling thriller only to evolve into one of the year's most nuanced and truly engrossing crime documentaries. At 112 minutes this is one of the festival's longer films, but it's one of its most briskly paced and plays out like a film that runs about half that run time.
---
5. Borderline
Similarly classical in its fly-on-the-wall aesthetic to the above mentioned After Fire, Borderline is a moving and deeply intimate look into the life of a woman suffering from a condition not all of us have any real familiarity with. Director Rebbie Ratner introduces us to Regina, a New Yorker who happens to go about her day living with Borderline Personality Disorder. As much about her daily battles with her shifting emotions and aggressions as it is about Regina's battle finding love and a partner in this ever changing world, Borderline is a lively documentary punctuated by the brief but inspired bursts of directorial energy that thrives when it mixes the genuine discussion of the disorder with the everyday battle Regina faces.
Occasionally finding herself getting involved with the proceedings, there's something to director Ratner's presence that makes this documentary feel almost otherworldly, at least with regards to this type of feature. The two have a clear rapport, but one that makes the film carry within its briskly paced 88 minute runtime a vitality all its own. Be it the use of black and white interview segments or various other flourishes, the documentary is a textured look at a singular woman and the strength she carries within, even when facing a disorder that makes every day an uphill battle.
---
https://www.youtube.com/watch?v=V66F3WU2CKk
4. 13th
This film may be a familiar one for those with an oft-dug through Netflix feed, as it's one of the few films from this festival that's not only available to be seen right now, but has sparked actual discussion in and out of the film world. Directed by the brilliant Ava DuVernay, 13th mines somewhat similar territory to a documentary like Rikers or even more so Do Not Resist (a film which hit theaters earlier this year and is still not being discussed quite as strongly as it should be) but with a broader scope.
DuVernay sets her lens on not so much the institution of our judicial system but the systemic racism found therein which has its roots in the very constitutional amendment that vowed to free slaves. Ostensibly weaving a sociological dissertation leading the viewer from the formation of the 13th Amendment to how one phrase within it became perverted into ostensibly a legalized form of slavery still seen today. Bi-partisan in its lashing, this is an exhaustive, frustrating and utterly enthralling look at the ever presence of racism throughout the history of this country from slavery to the war on crime and today. Simply put, it is one of the year's most must see films, genre be damned.
---
3. Versus: The Life And Films Of Ken Loach
Taking a more classical approach to the biographical documentary than a film like 66 Days, Versus sends the viewer head long into the life and work of famous Irish filmmaker Ken Loach. As the director works on his latest and ultimately Palme d'Or winning feature I, Daniel Blake, we see the auteur hard at work while splitting time between that and various talking head interviews which discuss his films critically and his relationship to the Irish culture he rose out of.
By its opening title sequence, the film sets the stage for a film that attempts to find the real center of a filmmaker who went from simple neo-realist director to one of the UK's most controversial artists. Not afraid to get into the minutia of his filmography, discussions here range from his working-class masterpieces like The Wind That Shakes The Barley to even a few choice jobs as a commercial director. It's a superbly crafted, if classically structured, deep dives into a filmmaker who seems to be forgotten when discussing the true greats of his generation. Hopefully this will help change that.
---
2. The Lure
When Errol Morris adds his name to the producing team of a new documentary, it's impossible to do anything but pay close attention. It happened with a film like Joshua Oppenheimer's Act Of Killing, and while a film like The Lure is a far cry from that avant-garde exploration of one of the world's truly horrendous atrocities, it still proves the filmmaker has a keen eye for clear voices and high quality. The film comes from director Tomas Leach, and tells the story of an eccentric millionaire named Forrest Fenn and the treasure that he buried deep somewhere within the Rocky Mountains. Only giving hints to those interested in uncovering it in the form of a cryptic poem and the occasional clue he'd give through newspapers or other news outlets, the Fenn Treasure is still yet to be uncovered.
However, The Lure introduces us to a handful of men and women Hell-bent on finding the treasure whatever, and wherever, it may actually be. With an eye on more than just a story of men and women after wealth, The Lure is a noteworthy gem of a documentary in its uncanny ability to dive deeply into numerous reasons as to why men and women would risk their lives, limbs and copious amounts of money to find this legendary hidden wealth. Beautifully made with some genuinely awe-inspiring nature photography, Leach's film is not the brainiest of the DOC NYC bunch, but it may very well be one of its most utterly enjoyable features.
---
1. I Am Not Your Negro
And finishing off this list is unquestionably the festival's most evocative works. From filmmaker Raoul Peck comes I Am Not Your Negro, a supremely made look at one of the most undeniable voices in the civil rights movement. Before his death, author James Baldwin began work on a book focusing on three of the civil rights movements true martyrs: Martin Luther King Jr., Malcolm X and Medgar Evers. Peck's film takes those unfinished documents, clear examples of Baldwin's specific and singular voice, and breathes life into them with a mixture of archival footage and the powerful and assured voice of one Samuel L. Jackson.
Very much similar to the recent spat of documentaries which offer a glimpse into the life of an artist or political figure squarely through their own voice (Listen To Me, Marlon and By Sidney Lumet for example), Negro adds an undeniably poetry and creative flourish through its use of music, archival materials (including poignant footage ranging from early talkie motion pictures to footage of police abuse like the now legendary footage of Rodney King being beaten by police) and Jackson's stern, yet oddly musical, voice. It's an essay picture in the purest sense, taking various bits of Baldwin's work (including but not limited to the above mentioned text) and weaving together a tale of systemic racism that spans decades and generations. Culturally as dense as a film like 13th is politically, I Am Not Your Negro is a documentary film going experience unlike any you'll ever see.