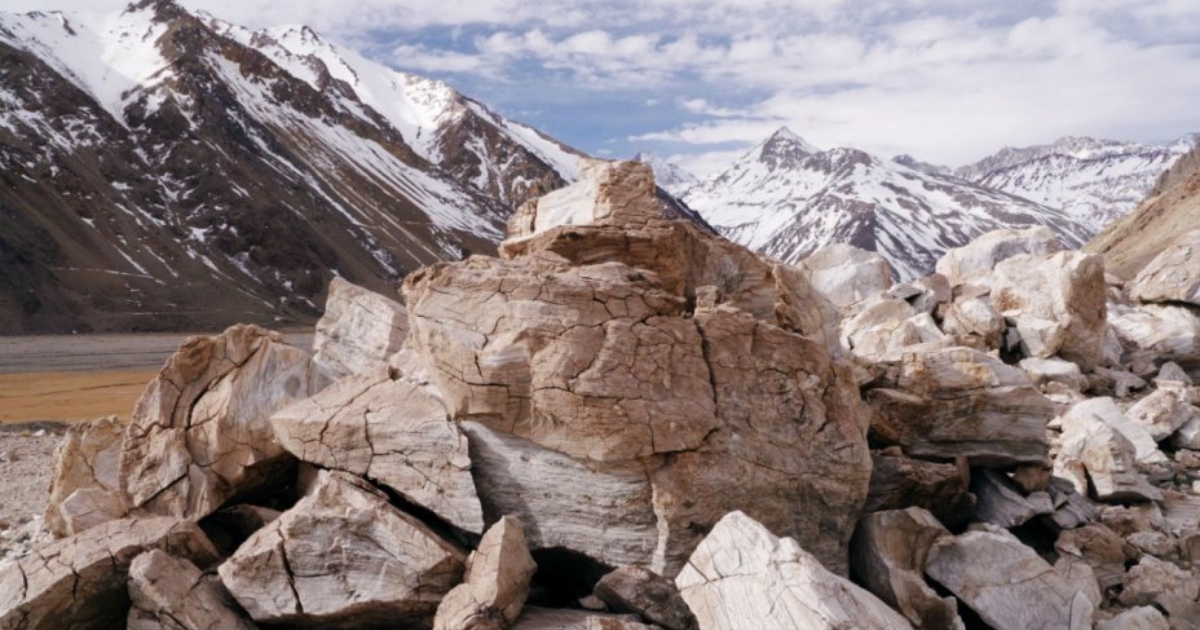 It's that time of year again. As fall festivals begin to wind down, they haven't quite come to a close, especially for those cinephiles with a keen eye on the world of non-fiction cinema. The year's biggest documentary festival is set to begin this week, and thankfully we're here to give you a little glimpse into what this year's DOC NYC Festival has to offer. It's one of the better slates in recent memory, so here are just a few of this year's highlights, and films you need to keep real focus on going forward into "Best Of The Year" season:
10. Once Were Brothers: Robbie Robertson And The Band
Starting off this list of ten films to see at the tenth DOC NYC, what better film to choose than the one starting the festival itself? Once Were Brothers: Robbie Robertson And The Band comes from director Daniel Roher, and focuses squarely on the rise, fall, and ultimately the immense impact of the iconic musical act The Band, as seen and told by the group's founder, Robbie Robertson. Executive produced by the lead Band chronicler on film, Martin Scorsese, Once Were Brothers is a handsomely produced, endlessly captivating rumination on one of music's great groups, with incredible access and archival footage paired perfectly with impactful interviews with titanic figures like Bruce Springsteen. A band broken up right at what seems to have been their absolute peak, this film is a devastating portrait of addiction and struggled for power that feels at once almost definitive of any rock group's history but yet immensely personal and singular thanks to the closeness to the subject. You may have seen documentaries about this group before, but never quite like this one.
9. Bedlam
From a film of expert craftsmanship to one that feels a bit more raw. The beauty of a festival like DOC NYC is not so much the top line, "Winner's Circle" lineup, but the programmers' willingness to bring to light lesser talked about films with a real, tactile message behind them. One such film is Bedlam. Directed by psychiatrist Dr. Kenneth Paul Rosenberg, Bedlam is a simply told but endlessly captivating account of the American mental healthcare system, as told by someone with first hand knowledge both personal and professional. Structured as your prototypical issue documentary, what makes Bedlam truly one of this year's DOC NYC highlights is both the flesh and blood humanizing of the central issue as well as the empathy with which Rosenberg goes about it. Scholarly without ever once feeling stuffed with information, the film is a kinetic and emotionally rich document of men and women in crisis and the system that has systematically broken itself apart in order to increase profits regardless of any decrease in quality of services. Viewers become privy to all sides of the issue, from those in need of care to those providing it, allowing for a briskly paced yet intensely textured portrait of one of the many stains on the American healthcare system.
8. Town Bloody Hall
Now onto a classic that's getting something of a revival here at this year's DOC NYC festival. The festival's own way of honoring the late, great D.A. Pennebaker, Town Bloody Hall will be screening in a brand spanking new 2K restoration spearheaded by none other than Janus Films. Us here at The CriterionCast are clearly in the bag for this sly reveal of a new title from the legendary boutique distributor and father of the home video brand we so desperately love, but we're also in the bag for incredible, profoundly influential films, of which this most certainly is one. A rarely seen masterpiece, the 1979 film finds Pennebaker in the company of a handful of cultural luminaries of the moment, including the likes of Norman Mailer, author Germaine Greer and queer icon Jill Johnston all of whom are themselves caught on stage and in the throes of heated debate. Billed as one of the great documents of 70s feminism, Town Bloody Hall is an endlessly entertaining, intellectually exhilarating deconstruction not just of the burgeoning feminist movement but of the early stages in the destruction of American social intellectualism. Watching as someone like blowhard Norman Mailer take what begins as a truly profound back and forth and turn it into an amorphous blob of grotesqueries lobbed at those he's sharing the stage with makes this both a profound and ultimately frustrating bit of social documenting. The direction may be a pinch on the light side for both Pennebaker, but the sheer fact that this document exists makes it one of the great rediscoveries of 2019.
7. The Changin' Times Of Ike White
Back to new releases, and this time one that feels nearly impossible to truly explain without diving into spoiler territory. The Changin' Times Of Ike White tells the story of, you guessed it, Ike White, who after serving time in prison following an accidental shooting that left a shop owner dead, became something of a musical superstar, releasing a series of impressive records while in prison. Teaming with WAR producer Jerry Goldstein, White would launch a career that would ultimately lead to a connection with the iconic Stevie Wonder, and subsequently his release from prison. So why isn't this titanic talent a household name today? Well, some 40+ years on, The Changin' Times attempts to tell his story in all of its twists and turns. And boy are there some twists. Ebbing and flowing between straight forward biography and something a bit more like a true-crime documentary, director Daniel Vernon crafts a knotty tale about regret and forgiveness, that never once has a clear grip on truly what happened to this man. That's meant as a compliment. Asking more questions than it ever intends on answering, Vernon's film is a well told, incredibly nuanced portrait of a man that may have simply been broken by the legal system, or one who is sincerely a monstrous sociopath. It's a truly impressive bit of investigative journalism and filmmaking.
6. Body Of Truth
At number six is, yes, another artist profile, but this time of not just four separate artists, but four of the most exciting and truly important artists working today. Body Of Truth introduces viewers to four female artists, including the likes of Shirin Neshat, Marina Abramovic, Katharina Sieverding and Sigalit Landau. The beauty of director Evelyn Schels' Body of Truth is not in the simple fact of bringing to light the stories of these four incredible artists (particularly Abramovic who herself has been quite a few biographies of this sort), but it comes in Schels' ability to weave each of these stories into a larger portrait of true female empowerment through the recontextualizing of their own bodies. Each of these artists use their bodies in ways to turn the female form into something more than a sexualized slab of meat as seen in mass media the world over, with each woman creating work that challenges that relationship on an almost primal level. Expertly crafted and intellectually engrossing, Body of Truth is a film not to be missed.
5. Kate Nash: Underestimate The Girl
Settling into the five spot here is potentially DOC NYC 2019's most enjoyable documentary. Underestimate The Girl comes from director Amy Goldstein and is they absolute best type of biographical artist portrait. Given incredible access to an artist on the brink of either collapse or absolute superstardom in a world that wants to commercialize individualism, Goldstein points her camera at the one and only Kate Nash, a Brit-pop wunderkind who has gone from chart topping hits to breaking out quite literally on her own as an independent act. Blending performance footage with some rather candid interview sequences, Goldstein's film is a no-punches-pulled look at both an artist in flux as well as an industry that still has little idea about how to either handle their own relationship with female performers or their entire business model writ-large. Herself tossed from her label and forced to self fund her third record, Nash is at the forefront of the increasingly independent rock movement, finding herself at once forced to take odd jobs like hosting a QVC-like show out of a comic book shop while also being given the freedom to not only perform her music but take on passions like acting for TV and film. Briskly paced, the film may not be the most intellectually dense film among this incredible lineup, but what Underestimate The Girl absolutely is is a percussive, endlessly charming artist portrait that's as entertaining as it is moving.
4. Shooting The Mafia
As part of the festival's "Masters" lineup, legendary documentarian Kim Longinotto is seeing the NYC premiere of her newest film, Shooting The Mafia, and it's right in keeping with the rest of the director's stellar filmography. Longinotto's film looks at the life and work of photojournalist Letizia Battaglia, one of the few people with enough willpower and true-blue courage to go toe to toe with the Sicilian Mafia. A hit out of the Sundance and Berlin film festivals earlier in 2019, Shooting The Mafia portrays Battaglia, rightly, as both a chronicler of injustice as well as a chronicler of life in the wake of that injustice, putting as much emphasis on the lives directly involved with the crimes committed by the monsters in these circles as the lives they indirectly changed forever. Battaglia's films are haunting and unshakable, with Longinotto's film rightly giving them immense power both emotionally as well as metaphysically. Toss in the fact that these men, in all of their gun-toting machismo, were brought to justice by a woman in what Battaglia sees as something of a proper bit of irony, and you have the makings of a story perfectly ripe for telling in such a weighty manner. What culminates here is an engrossing look at crime and the waves it makes through generations, as told through the work of one woman who made it her life's passion to break this cycle.
3. Searching For Mr. Rugoff
The vast majority of the films featured during any given DOC NYC festival are ones of a certain scope. Often taking on grand socio-political topics spanning more or less the entire globe, much of the slate in recent years has had something of a political bent. However, while those films are increasingly important in the world we live in today, some of the real highlights come from a filmmaker looking at the medium of film itself. Take Searching For Mr. Rugoff for example. A propulsive portrait of art film juggernaut Donald Rugoff, Searching comes from director Ira Deutchman, a former employee of Mr. Rugoff and his legendary Cinema 5, a former theater chain-turned-film distributor that became one of the foremost proponents of art cinema in the 1970s before crashing and burning in a cloud of bankruptcy and stockholder in fighting. Think of a grittier version of Janus Films and you have something closer to Cinema 5, with Rugoff as its head fighting for the rights of artists while even occasionally nodding off during a screening here and there. Seemingly forgotten (homie doesn't even seem to have a Wikipedia page), Rugoff's impact is deeply felt to this very day, and while this film can veer a bit into hagiography (Harvey Weinstein is mentioned but not nearly enough given the similarity in alleged temperament), this isn't an easy or thin examination, instead taking on the life of a forgotten legend from the men and women that knew him personally and professionally. It's also simply one of the festival's most entertaining watches.
2. The Cordillera Of Dreams
The last of the films mentioned here from the "Masters" section, director Patricio Guzman returns with yet another immensely personal and profoundly moving portrait of Chilean history. Capping off his spiritual trilogy of documentaries looking at life in Chile before, during and after the Pinochet regime, Guzman arrives in New York with a film called Cordillera of Dreams, and it's an absolute gem. Following Nostalgia for the Light and The Pearl Button, Guzman's latest film (which he narrates) feels in conversation with quite literally the whole of Guzman's career, particularly a film like 1975's Battle Of Chile. A poetic, endlessly personal look at the horrors of the Pinochet regime and the shockwaves still being felt within Chile today, Guzman's latest is a harrowing, lyrically meditative rumination on time and memory both personal and collective. The chief documentor of modern Chilean history, Guzman turns yet another personal, hauntingly intimate document into something that feels historic and shatteringly urgent, a film that's at once horrific and devastatingly beautiful.
1. He Dreams Of Giants
Rounding out this year's DOC NYC preview is arguably the festival's most anticipated premiere. In 2002, directors Keith Fulton and Louis Pepe made what remains one of the great portraits of an artist in crisis in the incredible documentary Lost in La Mancha. Genuinely one of the great films not just about filmmaking but of the artistic process writ large, La Mancha is a crushingly beautiful film about a film that was perceived genuinely doomed. Well, some 15-plus years and one completed Terry Gilliam-directed The Man Who Killed Don Quixote later and the pair are back, this time bringing to light the story of a filmmaker not so much destined for doom as one completely and utterly driven to overcome it at all costs, mental or physical. He Dreams of Giants doubles down on the "director in crisis" idea, this time putting both this documentary and the film it chronicles in conversation with Gilliam's past work, his career writ large and his influences, specifically a film like 8 ½. It's a gorgeously made, completely captivating deconstruction of one man's artistic process and the lengths one will go to exorcise their proverbial demons. Living up to the hype set by their previous film, Fulton and Pepe return with a film that outdoes the portrait of a creatively blocked artist better than the film whose making is being portrayed. It's really an absolute achievement.
DOC NYC runs November 6-15