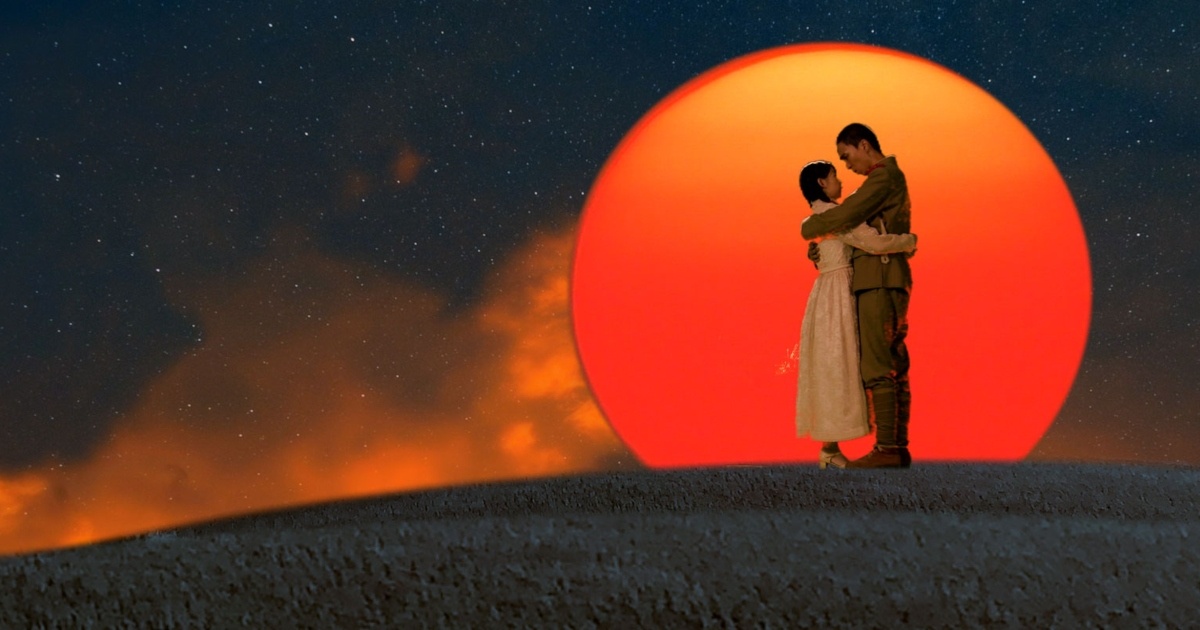 As the world continues to be ravaged by the COVID-19 pandemic, more and more film festivals are adapting and heading to the web. Giving a wider audience access to an increasing number of fascinating films from across the globe, these festivals are offering various types of viewing experiences, and we hear at The CriterionCast are attempting to bring you the latest and the greatest from these festivals. And so begins a series highlighting some films from the ongoing Fantasia International Film Festival.
First up on this final dispatch from Fantasia 2020 comes maybe the best film yet to see theaters in 2020, and the final film from director Nobuhiko Obayashi. From the late Obayashi comes Labyrinth of Cinema, a ground-shattering conclusion to one of Japanese cinema's great careers. A densely packed three hour magnum opus, Labyrinth tells the story of three men who are transported into a series of Japanese war films being shown at a theater on its last night being open. Bombastically anti-war, the film is a love letter not only to cinema as the premise would have one imagine, but also a thrilling and audacious meditation on the power of cinema to connect people through space and time. Embracing every trick and gimmick the director has ever used into one eye-popping extravaganza of surrealism, Labyrinth is a thoughtful and thought-provoking acid dream that finds Obayashi distilling all of his interests and passions into a final sonic boom from one of cinema's great experimenters who saw cinema as a way to connect nations to their history and one generations to one another. A genius work.
Next up is a film less from an iconic director (no shade to the incomparable Makoto Tezuka) than it is a film based on an iconic bit of source material. Entitled Tezuka's Barbara, the film is just that, an adaptation of Osamu Tezuka's groundbreaking manga of the same name. Based on his father's book, Tezuka teams with cinematographer Christopher Doyle to tell a gorgeous spin on the neo-noir, a tale of a novelist who, after meeting what appears to be a mermaid, sparks a relationship and sees his career take a strange and increasingly surreal turn. Stylized in many ways like a prototypical post-modern noir, the film is a lively and propulsive adaptation, a consistently surprising psycho-sexual drama that sees the narrative evolve from simple experiment in genre storytelling to a fascinating and evocative modern fairy tale. The performances are uniformly great here, with Doyle's photography playing perfectly into both the noirish moodiness signifying of that genre and also the textured surrealism of any good fairy tale. This is going to be a far cry for those who only know Makoto Tezuka's father for his work behind Astro Boy, but his adaptation of his father's beloved adult manga is a layered one, a film that's less about any real narrative reward than it is an overall mood and atmosphere. Sure, that makes for a film that feels a bit thin, but if you're able to catch onto Tezuka's wave, there are simply too few films with the ambition and experimentation as this one.
Batting third this dispatch is one of the festival's more hotly anticipated films, given the interest around its director. Entitled Alone, this is the latest film from genre icon John Hyams, and stars Jules Wilcox as Jessica, a young woman hoping to start a new journey in her life as she attempts to return to her hometown for a fresh start. However, things get derailed quickly after meeting an older named played by Mar Menchaca, and things go south almost instantly. Kidnapped and taken to a remote part of the Oregonian wilderness, Jessica must not only escape her confines but lose a man who seems to be around every corner, wanting nothing more than to torture and mame her with perverse glee. A relatively simple thriller, the film is a far cry from Hyams' now iconic Universal Soldier: Day of Reckoning, and one of the more disappointing films from this year's festival. It's a flatly made thriller, with its muted photography almost playing as a bit of self-parody. The pair of lead performances are equally as frustrating, with Wilcox doing a serviceable job with little to do script-wise, and Menchaca's "Man" being laughably parodic. Even down to the pretentious lack of an actual character name, the film is all brood and little meaning, an infuriatingly simplistic look into grief and trauma that feels less manipulative than it does simply uninterested in anything beyond skin deep. The horror of the events themselves feel limp, so clearly intended to shock that any humanity or insight is pushed out for simple shock value. A complete disappointment.
Finally, closing out our deep dive into the Fantasia 2020 lineup, one of the festival's more interesting debuts, Bleed With Me. From first-time feature director Amelia Moses, the film introduces viewers to a group of friends who head out on a little vacation to a rural cabin where relationships and friendships are challenged almost from the very outset. A film at its very core about isolation both literal and figurative, Bleed With Me is Moses' first effort as a feature director and is a moody exploration of relationships, focusing on a moment of crisis for one Rowan (Lee Marshall) who finds it hard to break into the core group during the trip. A textured and nuanced look at trauma, Moses' direction is quiet and yet deeply felt, giving a mature and layered look into a woman on the brink of implosion. Marshall is the real star of the film, however, giving a profoundly moving and humane performance, even in the face of a film that gets increasingly surreal and otherworldly. Far from your prototypical character study, Bleed With Me is a brooding and thoughtful psycho-drama the likes of which really do not get made anymore.