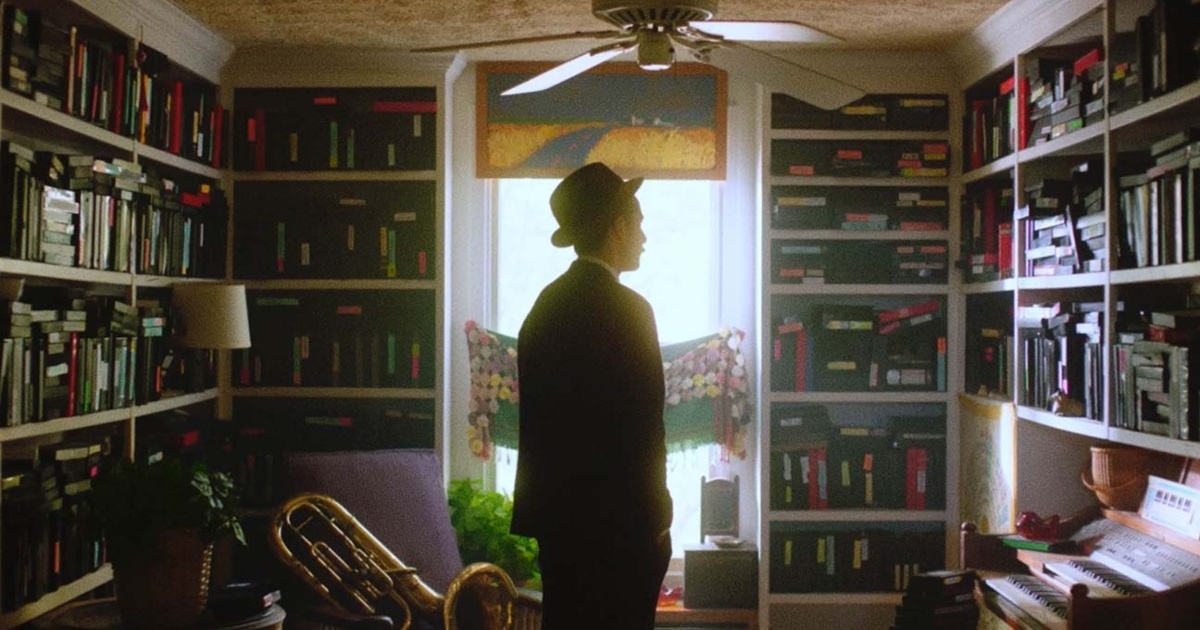 As the world continues to be ravaged by the COVID-19 pandemic, more and more film festivals are continuing the trend started in 2020 and running virtual festivals opposite some sparse in-person screenings. Giving a wider audience access to an increasing number of fascinating films from across the globe, these festivals are offering various types of viewing experiences, and we here at The CriterionCast are attempting to bring you the latest and the greatest from these festivals. And so begins a series highlighting some films from the ongoing Fantasia International Film Festival.
Starting off this premiere dispatch from the 2021 Fantasia International Film Festival is one of the festival's more curious entries. While the festival is rightly known for its robust collection of horror pictures, one of this year's strongest efforts is a surrealist, Sundance-approved proto-Mumblecore drama with glances towards the work of writers like Philip K. Dick. Entitled Strawberry Mansion, this film comes from the mind of writer/director Kentucker Audley (along with fellow writer/director Albert Birney) and places viewers in a not-too-distant future wherein taxes are now levied upon the dreams of citizens.
Starring Audley as "dream auditor" James Preble, the film evolves from vague science-fiction into a deeply felt story of love and human connection that feels like a cousin to films like Eternal Sunshine of the Spotless Mind, albeit a slightly more reserved one. While images like a frog playing jazz music may have the viewer thinking they're in for a neo-Lynchian journey into the mind, what Audley and Birney's film is in actuality is a textured, often breathlessly touching rumination on memory and human connection best summed up by the film's best line, "I wanted someone to share my dreams with." Oh, and the Dan Deacon score may be the best of his prolific 2021.
From one of the festival's smallest fiction films to easily its biggest. While it's currently in theaters here stateside, James Gunn's The Suicide Squad is not just playing this year's Fantasia International Film Festival, but stands as one of its most entertaining releases. Gunn's proto-sequel/spin-off of the David Ayer-directed 2016 nightmare Suicide Squad, The Suicide Squad is a thrilling, often grotesquely violent blast of a film.
Sending a new version of Task Force X into the fictional, military-run island of Corto Maltese, Gunn's film stars Margot Robbie, Idris Elba and John Cena, among others, and plays entirely unlike anything the pair of WB and DC have yet released. Clearly influenced by Cathy Yan's Birds of Prey, The Suicide Squad ups the ante to an almost cosmic scale, throwing this rag tag group of villains-turned-anti-heroes against a monstrosity of kaiju-proportions. Stealing the show here is John Cena, whose performance as Peacemaker is brilliantly dry, pairing perfectly opposite the classically tough turn from Idris Elba. That said, the real show stopper here is David Dastmalchian as Poka-Dot Man, a performance that's wickedly sharp and has one of the better running jokes of any movie of 2021.
From one of the festival's more exciting blockbusters to one of its more surreal fiction films. We're All Going To The World's Fair is the debut feature from writer/director Jane Schoenbrun, and tells the story of Casey, a seemingly mild-mannered American teen making her way through the internet, caught in the glow of the screen. However, things aren't as they seem. With the "World's Fair Challenge" taking hold of people around the web, Casey decides to join the trend, joining the ranks of the ever-growing role playing horror…game? See, when one is initiated, their lives must begin being documented, for serious, mysterious changes are set to begin, blurring the lines between what Casey perceives as reality and fiction.
Connecting her with another player, this decision changes the progression of Casey's life in previously unforeseen ways that I hesitate to ruin or even truly glance towards. However, what one can say is that, driven by a ground-shattering lead performance by Anna Cobb, We're All Going To The World's Fair is one of the first films to truly grapple with what makes the internet such a captivating, and ultimately horrifying, arena. Schoenbrun's direction is intimate and claustrophobic, with much of the film taking place with Cobb's Casey staring directly down the middle of the camera, at once a young child in over her head and also something more intense and otherworldly.
Next up, and rounding out this first dispatch, are two inspired documentaries that hint at the depth of this year's lineup. Leading the way here not just in length but in quality is arguably the fascinating and gargantuan Woodlands Dark And Days Bewitched: A History of Folk Horror. Very much what the title portrays, this Kier-La Janisse-directed documentary takes the deepest of dives into the history of folk horror cinema. Glancing towards everything from its literary roots to its manifestations across the globe, Woodlands is a deeply fascinating and startlingly researched rumination on a movement in global cinema that's been running more or less since the art's very inception. At 193 minutes, the film is not for the faint of heart, but with its chapter book structure, this is going to do absolute gangbusters when it inevitably ends up on a streamer later this year (I'd subscribe to Shudder to be able to watch this in October in and of itself).
Finally, one of the big discoveries of the festival was another female-led picture, Poly Styrene: I Am A Cliche. A look into the life of the legendary punk rock icon and X-Ray Spex singer, the spin here is that the woman taking the dive through that life is the artist's daughter. Directed by Paul Sng and Celeste Bell, the film follow's Celeste's attempt to dig through her mother's archives in the hopes of jumping back in time to better understand her mother. With Ruth Negga taking on Poly Styrene's voice in voice over, the film is a propulsive look not just at one of punk rock's great trailblazers, but also a daughter's journey to understand the mother she never really knew. Their relationship proved to be toxic at best, and Styrene's own battling with mental illness turns I Am A Cliche into an essential watch for anyone with a passion for punk rock music or deeply melancholic family portraiture.