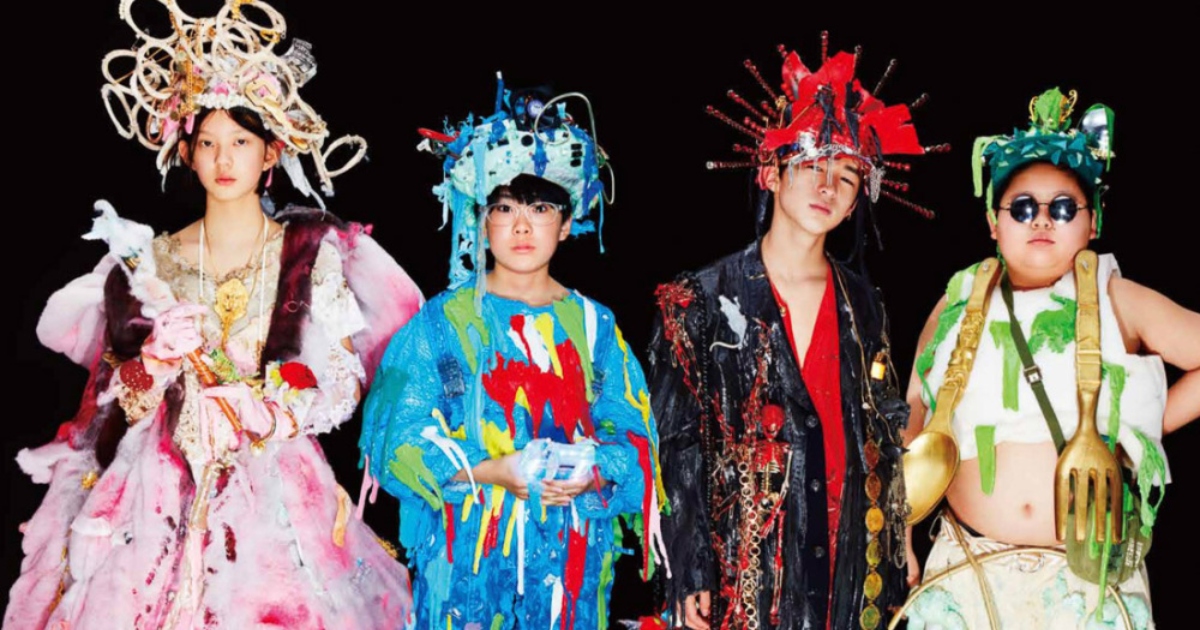 While many of the over 130 films playing this year's Fantasia International Film Festival are making their debut at the esteemed genre-centric festival, a large chunk of the festivals well curated lineup is in some stage of festival run, often garnering greater and greater notices as the run progresses. One such film may very well be the highlight of this year's Fantasia Festival, a charming and deeply moving drama/comedy of sorts, We Are Little Zombies.
Playing like the orphaned love child of Sion Sono and Scott Pilgrim, We Are Little Zombies tells the story of four young children, all of a similar stock. Hikari, Ikuko, Takemura and Ishi are all self-assured youths, not only orphaned after their parents all die of violent, upsetting circumstances but also connected through their shared apathy towards these very tragedies. Seemingly incapable of feeling any sadness over their loss, the four kids become a family all their own, ultimately settling on music as an outlet for their emotions to finally be released through. Starting a band whose name the film draws its title from, the group become a widely renowned viral sensation, using their garish costumes and poppy arrangements to both garner fans but also finally be capable of bringing to the surface the emotion surrounding the trauma that's turned this group of friends into a family of undying bonds.
The feature directing debut of award-winning filmmaker Makoto Nagahisa, We Are Little Zombies arrives at Fantasia after a lengthy festival run including a smash response at this year's Sundance International Film Festival, and it's hard to argue with that hype. Zombies is a neon-hued, candy-colored romp featuring some of 2019's most eye-popping photography and a soundtrack stacked head to toe with bangers. The title track is maybe the best original song yet this year, and Nagahisa's direction doesn't disappoint. The use of video game-like visuals and percussive editing does play into the Sono/Scott Pilgrim connection, but what makes Zombies so exciting is its ability to maintain its own voice while playing with these influences. Nagahisa blends in things like animated sequences, all playing into the youthful experimentation that is the central focus of the narrative. The musical sequences are exciting and often oddly moving, and there's a tenderness and complete and utter empathy that Nagahisa has that's clear through his loving and energetic camerawork.
Clocking in at two hours, the film can get a little cumbersome, however. There's little break within the confines of this kinetic and lively picture, and while that's all very true, it's hard to not be smitten with this humane portrait of childhood grief. "This film's about grief" is a line thrown about seemingly every week by critics (at least whenever a horror film crops up), and yet there's something frank and deeply moving about Nagahisa's portrayal of grief that makes this worthy of the discussion. Seeing these children come to grips not just with their own personal trauma but the kinship of shared trauma and the power that comes with finding others who feel like you is absolutely stunning. Sure, the coating may very well be sugary and candy-coated, but when one chews to the center of this beautiful and charming little picture, you'll find a film that has a heart that bursts with compassion and a soul brimming with empathy. An absolute delight, this film.