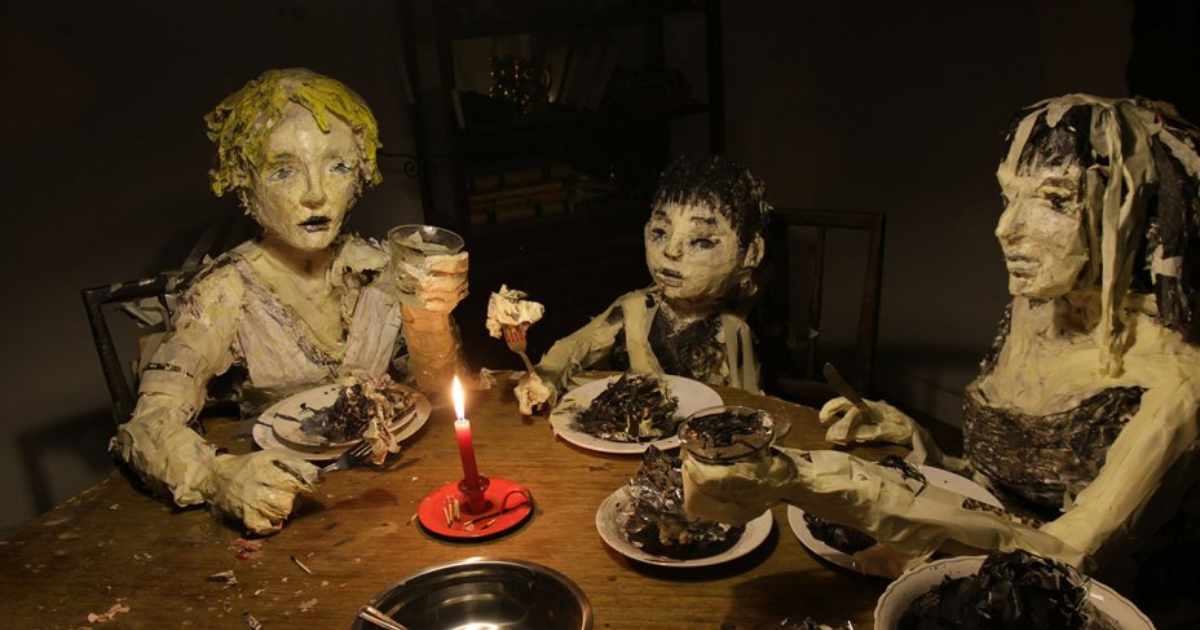 Latin America has not only been, throughout the history of film, been one of the most fruitful landscapes for filmmakers and their artistic process but has become over the last handful of years the breeding ground for some of cinema's most exciting and essential films. Be it horror films, classical dramas or experimental art films, there isn't a shortage of incredible works from incredible artists in Latin America. And now, going into its fourth year, Film Society of Lincoln Center and distributor Cinema Tropical are teaming up for Neighboring Scenes, the annual cross-section of the latest and greatest in Latin American cinema. Opening with the incredible Belmonte and featuring a centerpiece screening of director Carlos Reygadas' Our Time, this year's slate is as good a lineup as we've seen in the history of this series. And here are five films from that slate that you need to keep an eye on.
5. Eternity
Starting off this list not just a great film, but a historic one. Entitled Eternity, director Oscar Catacora makes his feature directorial debut crafting what is the first Peruvian film to be shot entirely in the Aymara language. This slice of life drama introduces viewers to an elderly couple living in the most remote part of the Andes mountains, trying to survive the day-to-day trials and tribulations of life on the periphery. Eternity shows a director far beyond their years, with Catacora crafting a deeply intimate and richly told tale of two people at the end of the lives while at the edge of the world. A simply told slice of life story, Catacora also lenses the film, which sees the director shooting the film in an incredibly naturalistic manner, leaning heavily into the sparseness of his characters and their lives, while never losing sight of their genuine humanity.
4. Enigma
Directed by Ignacio Juricic Merillan, Enigma is one of the many quiet character studies among this festival's ranks, and is also one of the many directorial debuts. The film tells the story of a 54-year-old hairdresser who, following the horrifying death of her daughter years earlier, is tasked with appearing on a TV show that is attempting to make good on the current wave of "true crime" TV. With her daughter's sexual orientation at the forefront, this politically entrancing neo-realist feature spends much of its runtime enveloping the viewer in the lead character's sense of grief and loss, until a final act that turns the entire proceedings into something more resembling a surrealist nightmare. This shifting of tone and mood only amplifies the film's potent musing on grief in the face of pointless violence, and the final ten minutes play as almost the grotesque nightmare of the previous 70. It's a mature, assured and provocative drama and as thoughtful a debut as we've seen in quite some time.
3. Baixo Centro
Another impressive debut, directors Ewerton Belico and Samuel Marotta mark their first feature effort with this story of life in the Brazilian city of Belo Horizonte. More or less a hybrid film, at least in its aesthetic, this neo-realist portrait of life on the outskirts of society is an ambulatory character study that's as gorgeous as it is thought-provoking. Fans of films like the astounding Araby (whose cinematographer Leonardo Feliciano lenses this film) will see much to admire here, as this is a style-first journey through the maze-like streets of modern-day Brazil. Very much in keeping with the same sense of dream-like otherworldliness, the film is more about the place than the characters that inhabit it and while that makes for an admittedly light piece of drama, this is a hauntingly rendered proto-city symphony. Performances are uniformly good-to-great, and if you're looking for visually impressive experiments in neo-realism, then you've come to the right spot.
2. A Wild Stream
The two films that top off this year's list are two of the very best films to ever play as part of this incredible film series. First up, A Wild Stream. Documentary as tone poem, Wild Stream is the third film from director Nuria Ibanez and introduces viewers to Chilo and Omar, two elderly men who are on their last legs, attempting to reconcile lives full of love, loss and grief. At just under 80 minutes, this quiet and unassuming documentary is a breathtakingly shot (by Roberto Minervini's longtime DP Diego Romero) and potent look at loss and masculinity and is one of the genuine discoveries from this year's Neighboring Scenes. The two lead characters here are absolutely captivating on-screen presences, and the chemistry they share is electric but never seemingly put upon, and their relationship feels profoundly deep and lived in. Sexuality is at the forefront here, without ever being superficially mused upon, and the film's photography is rich and full of lush shots and intimate moments. A real doozy, this film.
1.The Wolf House
My jaw is still on the floor after seeing this new animated film, and it's been quite a long time since I was able to check out this incredible new stop motion picture, The Wolf House. Owing a debt to the films of David Lynch and the Brothers Quay, this rumination on isolation and motherhood through a dense and richly textured nightmare of sorts is an animated film without peer. A handcrafted surrealist hybrid film takes one of Chile's darkest political moments and thrusts the viewer into the middle of the Pinochet regime in what is an act of revolution unlike any you've ever seen. The animation is unsetting and disturbing in a manner that's oddly beautiful as well, and despite being clearly influenced by directors like Lynch, these influences are never simplified or derivative. At first glance, it's seems to be a ramshackle horror film, but as the picture progresses it evolves into a profoundly moving and intellectually provocative meditation on existential terror as seen through the eyes of a young girl named Maria. Set during and within the Colonia Dignidad, the film follows her as she deals with the tyrannical Paul Schafer, a monstrous man working under the Pinochet regime. She escapes his control, only to find a house abandoned in the forest, and from there the film dives headfirst into the depths of hell in a film that's utterly unshakable. It's simply an absolute masterpiece.