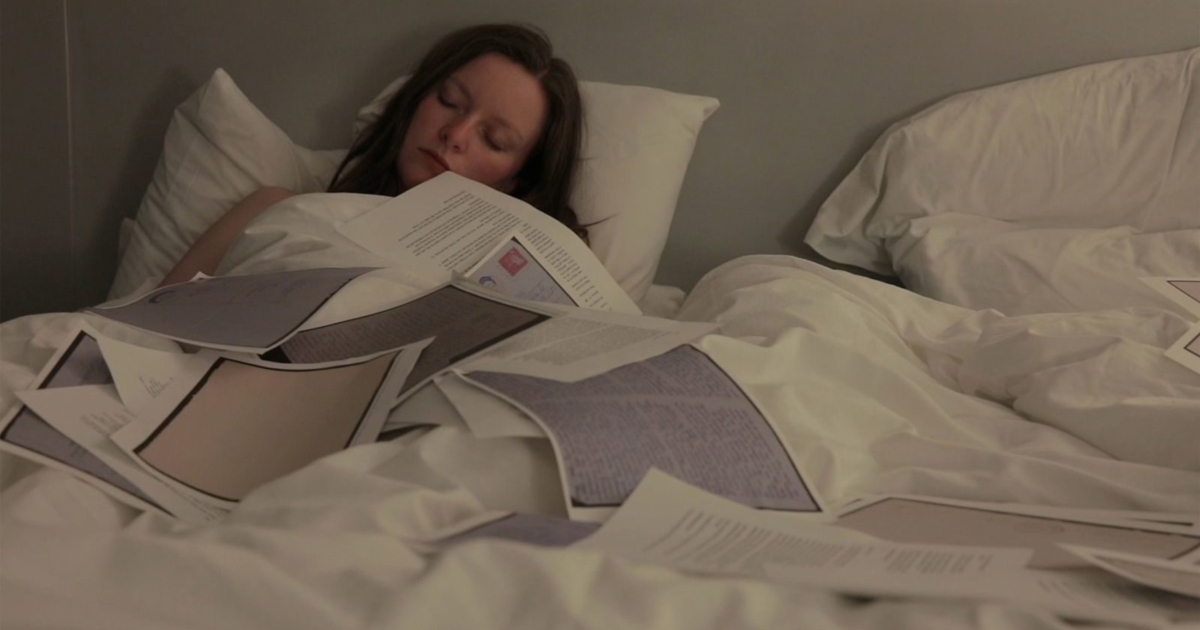 While the list of legendary film festivals with incredible pedigrees seems to be growing ever so quickly, few film festivals have the sheer history within their alumni as Film Society Of Lincoln Center and the Museum Of Modern Art's New Directors/New Films. Names like Fassbinder, Akerman, Bi Gan and even the likes of Spike Lee and Kelly Reichardt have all been associated with this annual collection of films, all from filmmakers at the very earliest stages of their careers. One of the most exciting and exhilarating collections of films within any given year, New Directors/New Films 2019 is no change in that history. And these are five of the films you need to keep an eye on as the festival begins on March 27.
5. Belonging
We live in a time where true crime stories have taken over the world of streaming television series, novels and podcasts. Over the last half decade, murder has been a topic of conversation at a potentially alarming scale. However, few of these things have the ambition to break new ground in any real way, particularly in their form. This is why starting off this list is a film entitled Belonging, a spin on the murder investigation, unlike anything you've ever seen. Directed by Burak Cevik, Belonging is the director's second feature after the relatively unseen Tuzdan Kaide, and riffs on the true-life murder of someone incredibly close to the filmmaker. Some decade and a half ago, Cevik's aunt Pelin and her partner Onur murdered her mother in cold blood, and this is the director's surreal attempt to come to terms with this tragedy. A brisk 72-minute experiment in perspective and storytelling, Cevik spins a yarn that's as elliptical as it is gorgeously composed. Formally inventive from the get go, Cevik's film ebbs and flows from documentary-like first hand recounting (the prologue, for example, opens with the director talking directly to his aunt) to bizarre proto-re-enactment come the film's startling final act of sorts. Through this formal experimentation, Cevik is able to mine incredible insights as broad as storytelling itself and as intimately personal as one man's attempt to find some sort of connection to an incredibly dark part of his family's history.
4. The Plagiarists
Speaking of films about storytelling, in its own way The Plagiarists is one of the year's most exciting meditations on the idea. Written by the team of James N. Kienitz Wilkins and Robin Schavoir, The Plagiarists is an entrancing film, a film that's part stylish filmmaking experiment and part comedic send-up of low-budget independent American cinema. The film introduces viewers to a young writer and her filmmaker beau, who after getting caught in a blizzard spend the night under the roof of the charismatic Clip (played brilliantly by Michael "Clip" Payne of Parliament Funkadelic). A seemingly insightful and engrossing friend of a friend of a friend, Clip instantly clicks with the couple, which makes a discovery a few months later truly shocking. Or utterly monotonous. It's this reveal and the deep seeded issues they raise for each half of the creative couple that deepens the film's overt discussions on race panic, authorship and authenticity. Given the film's low-fi aesthetic (the film was shot, gloriously, on vintage news cameras), viewers may think they're set for little more than a mumblecore spoof, but instead The Plagiarists is a provocative work of fiction that's as gutbustingly funny as it is unsettling and formally quite inventive.
3. Fausto
From vintage TV cameras to impossibly rich 16mm, Fausto slots into the middle of this list. Directed by Andrea Bussmann, Fausto is the filmmaker's sly sort of remix of the Faustian legend, as seen through the lens of Mexican folklore. Playing in similar arenas as the films mentioned above, Bussmann takes on this legendary bit of mythology and uses it to more broadly speak to the role that folklore and fiction writ large has on a nation's history, all the while trying to bring back to life stories seemingly lost to generations of colonization. The film owes a great deal to the more poetic strains of world cinema (I'm thinking names like Weerasethakul specifically), Bussmann also shoots and edits the film, pushing her 16mm photography to near abstraction. It's incredibly rare to see 16mm film shot with this level of beauty and energy, giving the entire film a dream-like quality that's fitting of the folklore that is its main influence. Surreal and endlessly pretty, Fausto is a filmic experience unlike any in this series.
2. MS Slavic 7
Where does one begin trying to describe MS Slavic 7. Directed by Sofia Bohdanowicz and Deragh Campbell, the film is a quiet comedy about a young scholar who attempts to execute the estate of a beloved Polish poet who also happens to be her great-grandmother. Very much in keeping with the recent rush of hybrid docu-fiction films like the Campbell-starring Fail To Appear, MS Slavic 7 blends the world of narrative fiction and non-fiction cinema into a mixture that's entirely its own. An unusually humorous work from this vein of modern filmmaking, Bohdanowicz takes a superlative performance from collaborator Campell and turns in a film that's at once quietly gorgeous and as nuanced a look at family dynamics as you'll find anywhere in this festival. Directors like Chantal Akerman feel oddly relevant when discussing this film, particularly in Bohdanowicz's insight into how family's focus on history and generations dispute over it in mean, vile ways. This is where the non-fiction aspect of the film comes into play, as this is an autobiographical touch from the life of the film's director, with Campbell tasked with taking on the role of Bohdanowicz. Performances are uniformly good-to-great, particularly the lead who has an uncanny ability to deliver these lines with a naturalism that at once feels entirely hyperreal and yet entirely fitting of this intellectual character. Also, one shouldn't go without saying that the film is incredibly funny. The use of editing, in particular, allows for many a great gag here, specifically near the end when a translator is introduced. It's really a special little picture.
1.Genesis
Topping this list is the greatest discovery of this festival. Phillipe Lesage's sophomore directorial effort, Genesis tells the story of two young kids as they grow up under the same roof in Quebec. We meet Guillaume, a boarding school student challenged with a sexual awakening far beyond his expectations, whose sister Charlotte, is dealing with her own awakening as a woman hitting adulthood post-graduation. A coming of age tale set opposite a soundtrack spearheaded by "Outside" by the shoegaze band TOPS, Lesage's latest film is a gorgeously composed coming of age film that has an epic scope unlike anything else in the genre. Using the aforementioned TOPS ballad as something of an operatic theme, Lesage turns his nuanced and humane portrait of youth under duress into something almost cosmic with a sudden shift in focus in the film's epilogue, a beautiful and devastating tone poem in its own right. Some aspects seem a bit maudlin (of course our lead male is caught reading Salinger, for example), but with the opulent, almost dream-like photography and intimate direction it all seems to make one cohesive and devastating whole. With two star-making performances from Theodore Pellerin and Noee Abita, the film is the absolute epitome of what this series has become so storied for, a mature and assured effort from a thrilling new voice in world cinema.