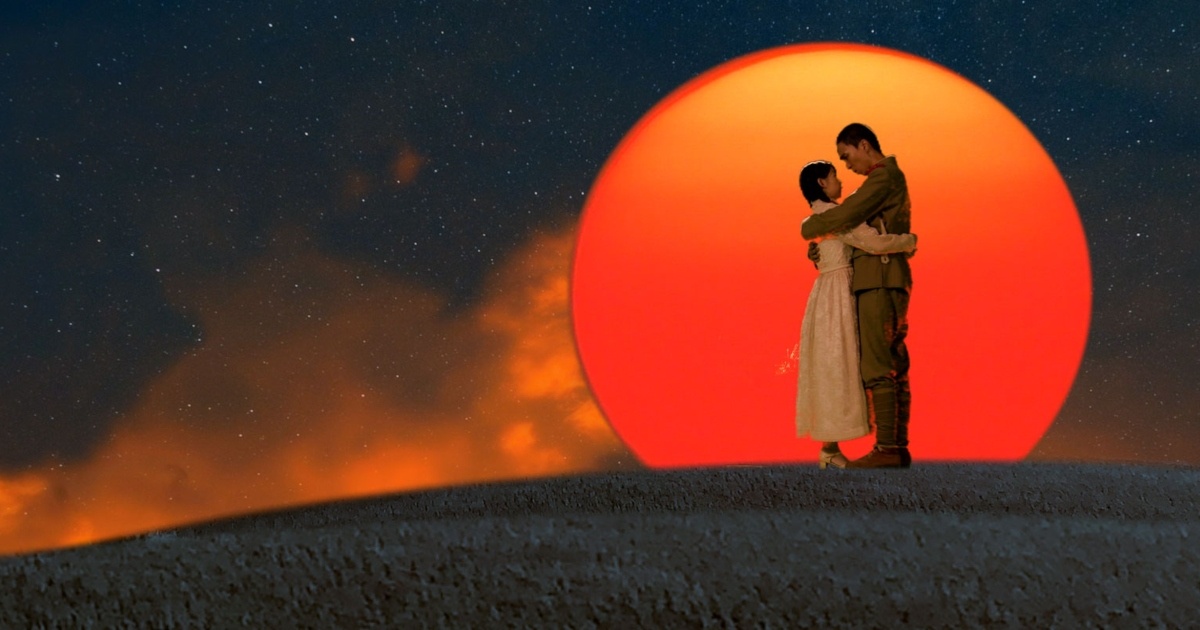 Now nearly a decade-and-a-half into their storied run as America's great film festival focusing on Japanese cinema, Japan Cuts is, like most of the film world, making proverbial lemonade out of the terrible, bitter, sour, grotesque lemons that COVID-19 have given the world. Now going fully online for this year's otherwise incredibly impressive edition, Japan Cuts 2020 is open to an even wider group of people than ever before, and remains one of the great explorations of modern Japanese cinema in all of its forms. Documentaries, shorts, animation and even the occasional epic, this year's lineup is as intriguing a cross-section of one nation's cinema as there will be all year. And here are a few highlights to keep an eye on, or check out as the festival is, again, online from July 17-30.
Cenote
Starting off this preview of Japan Cuts 2020 is the first of two entries debuting as part of the "Experimental Spotlight" sidebar of the festival. Entitled Cenote, the film comes from director Kaori Oda, and is actually a Spanish-language experimental docu-hybrid film that sends viewers to Mexico in what is one of the festival's most beautiful and singular works. Drawing its name from the natural sinkholes that are found throughout Mexico, particularly in the Yucatan, which have been, for hundreds of years, considered sacred as both a source of water and also a spiritual barrier of sorts. Seen by indigenous groups as a gateway between the mortal realm and the afterlife, these sinkholes become truly transcendent entities thanks to the boundary-pushing direction from Oda and the blending of both Super-8mm footage as well as that shot on an iPhone X. This mixture of formats and narration featuring Mayan poetry and actual research regarding the centuries-long history of these natural occurrences, turns Cenote into a brooding and beautiful rumination on life and death as seen through the lens of water being something both physically necessary and spiritually metaphysical. Truly unlike any film you'll see this year.
Reiwa Uprising
Not so much a film from a new voice as a new film from a filmmaker many may not be familiar with, Reiwa Uprising is the latest film from The Naked Emperor's Army Marches On director Kazuo Hara. One of world cinema's legendary documentarians, Hara returns here with a film that introduces viewers to Ayumi Yasutomi, a cross-dressing professor at Tokyo University who, over the span of the film's four hours, tries her best to run for office in the Diet's Upper House. A proponent of human and civil rights, Yasutomi is proven to be a genuine and outspoken supporter of those with disabilities and placed on the margins of society, using her voice to give one to the previously voiceless. Very much rooted in the fly-on-the-wall tradition of his previous films, Reiwa Uprising is one of Hara's most energetic films, an exhaustive (and occasionally exhausting) look at a political revolution quite literally on the ground floor.
Kinta And Ginji
Back to the Experimental Spotlight portion of the festival for this incredible and strangely funny avant-garde comedy. Kinta and Ginji tells the story of the titular best friends, a robot and red-capped raccoon made manifest by the film's directors Takuya Dairiki and Takashi Mirua. Ostensibly some strange absurdist hang-out picture, viewers become privy not to any real narrative tension, instead watch as the pair meander through the woods and wax philosophical about everything from life and death to the importance of wet rocks. The duo behind the film are literally behind it, standing as producers, directors, cinematographers, composers, sound designers, editors and actors, which sounds almost pretentious but instead points perfectly to both this film's shockingly clear voice as well as the larger atmosphere of the film. Shot on miniDV, the Japanese countryside has rarely ever looked this gorgeous, and while this is a film seemingly "about nothing," it's actually one of the more emotionally astute comedies of 2020, and is a whip-smart picture about life and death and our role in this thing we call the world.
ON-GAKU: Our Sound
The sole animated film on this list, ON-GAKU is an absolute knockout. Directed by Kenji Iwaisawa, ON-GAKUis a gorgeous hand-drawn animated feature made on a startlingly shoe-string budget, that adapts the beloved Hiroyuki Osashi manga about a group of high school ne'er-do-wells who, upon hitting their absolute nadir of boredom, start a band. With a voice cast led by one of today's great Japanese musicians Shintaro Sakamoto, the film is a genuinely beautiful bit of craft, collecting over 40,000 frames of hand drawn animation done almost entirely by the director himself, all in the service of a quietly moving and uproariously funny comedy. Almost Richard Linklater-like in many ways, the film is punctuated by brief glimpses of the sort of surrealism only animation can provide, emphatically embracing the true power of music and how through one's own self expression true humanity can explode. It's the rare film that both understands just how maddeningly shitty high school can be, and yet how almost spiritually baptismal it can be to find music as an outlet when you're living in that world. 
Labyrinth Of Cinema
Rounding out this preview of Japan Cuts 2020 is not just the best film showing during this year's festival, but arguably the best film yet to see theaters (virtual or not) here stateside yet this year. From the late Nobuhiko Obayashi comes Labyrinth of Cinema, a ground-shattering conclusion to one of Japanese cinema's great careers. A densely packed three hour magnum opus, Labyrinth tells the story of three men who are transported into a series of Japanese war films being shown at a theater on its last night being open. Bombastically anti-war, the film is a love letter not only to cinema as the premise would have one imagine, but also a thrilling and audacious meditation on the power of cinema to connect people through space and time. Embracing every trick and gimmick the director has ever used into one eye-popping extravaganza of surrealism, Labyrinth is a thoughtful and thought-provoking acid dream that finds Obayashi distilling all of his interests and passions into a final sonic boom from one of cinema's great experimenters who saw cinema as a way to connect nations to their history and one generations to one another. A genius work.