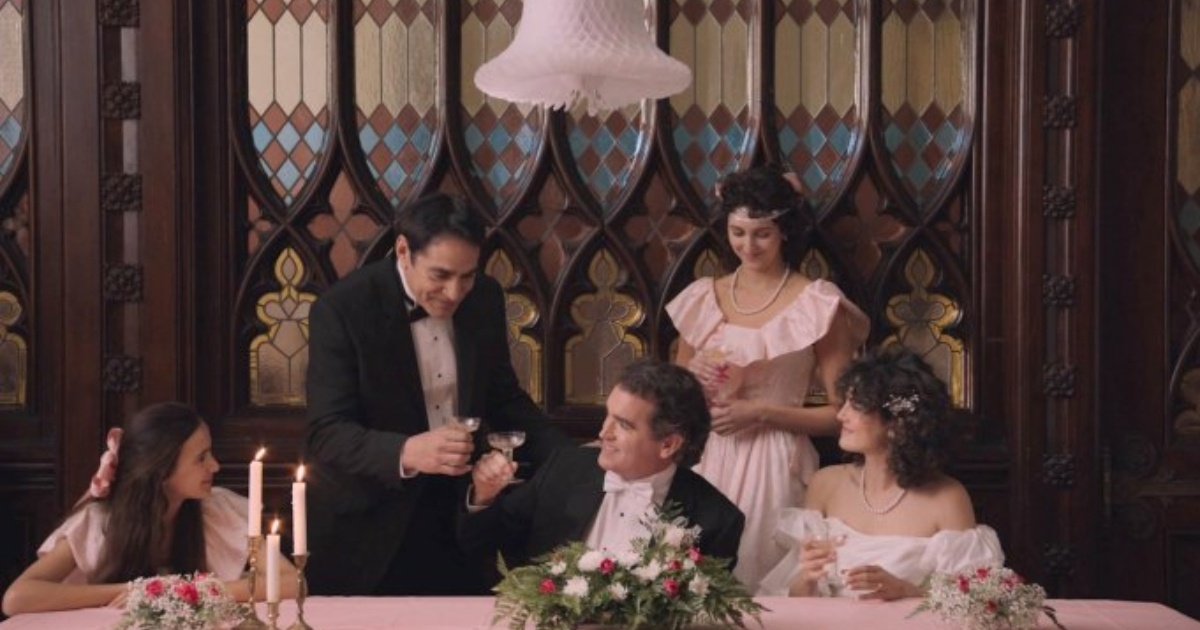 New Directors/New Films is an annual film series hosted by Film At Lincoln Center and The Museum Of Modern Art, highlighting the latest and greatest in first/second features and shorts, with a focus on the more experimental and boundary-pushing efforts therein. This year's festival runs April 20-May 1, and here are a few highlights:
5. Madhu
First up on this breakdown is the sole short on this list, one of a good handful of shorts that prove the form is still very much alive, and maybe even more vital than it's feature-length brethren. Madhu comes from directors Tanmay and Tanvi Chowdhary, and tells the story of two childhood friends who reunite in their twenties during Durga Puja. Sataskhi and Madhyama spend the brisk 13 minute runtime reconnect in a world that's surely bustling, but given an intimate and personal feel unlike anything else really seen during this year's ND/NF. A film about reconnection and the remembrance of one's former hopes and dreams, Madhu is a gorgeously rendered, dream-like poem about a relationship that can never truly be broken. As the short progresses, viewers become privy to our lead's true feelings for one another in a short that's as delightfully energetic as it is heart-breakingly romantic, if even for a moment in time more than a flesh-and-blood person. A one of a kind short, this film.
4. Children of the Mist
Next on the list is one of the festival's more exciting debut efforts. Children of the Mist comes from first time feature filmmaker Diem Ha Le, and follows a family that's part of the indigenous Hmong ethnic minority in Vietnam, with a particular focus on the youngster Di. A 12 year old girl who is among the first generation of Hmong to get proper schooling, Di's youthful exuberance is juxtaposed opposite a harrowing marriage ritual that sees young women be kidnapped by their future husbands on New Years Eve, resulting in negotiations between the two soon-to-be-joined families. This blurring of Di's home and school life create rifts throughout, turning Diem Ha Le's film into a deeply personal, often profoundly upsetting rumination not just on generational evolution and modernity but also the role of women within the culture writ large. Diem's filmmaking is startlingly intimate, with frank conversations about marriage, sex and gender politics happening with a bluntness that proves just how embedded this marriage ritual is within the larger Hmong culture. The final 30 minutes ramps up into something that's genuinely uncomfortable to experience, but that would be for naught had the previous hour not been as personal as Diem's film proves to be. One of the more unsettling experiences of the year so far.
3. Riotsville, USA
Next up is one of 2022's most powerful and provocative documentaries. Entitled Riotsville, USA, The Reagan Show director Sierra Pettengill once again goes the archival route, this time sending viewers to 1960's America where protests and riots were taking the streets by storm in response to continued political and racial injustices, particularly done onto marginalized communities by militarized police forces. More specifically, the director uses material created either for broadcast or by the US military, chronicling this time period and the rise of military-built model towns called Riotsville, where the military and police departments could train. As that logline may hint, the power of the film comes not from seeing the material specifically. No, instead the film's brilliance is its textured and nuanced retelling of this time in a manner that firmly roots it in similar conflicts seen in modern America. Pettengill's hand is deft here, drawing connections to cultural discourse seen beautifully through a series of archival interviews originally airing on public broadcast TV all the way to things like the Kerner Commission, a group of politicians brought together by then president Lyndon B. Johnson to get to the root of the "outside aggressors" the President was sure were behind the riots. Despite being just 90 minutes in length, the film is startlingly dense and thoughtful, yet with a fantastic score and some powerful narration has a distinct approachability to it.
2. Fire Of Love
In the penultimate slot is a one of a kind documentary that's been making waves throughout the festival circuit. Oozing style, director Sara Dosa's Fire Of Love is a kinetic, one of a kind documentary that takes its own legendary couple and spins a yarn that feels like an eruption of energy. Telling the story of volcanologists Katia and Maruice Krafft, Fire Of Love uses footage shot by the couple of their journeys across the world and to landscapes that feel ripped out of a science fiction epic. Infatuated with volcanoes and the world they leave in their wake, the footage shot by the Kraffts is deeply engaging, pairing perfectly with a passionate story about a very strange but profoundly lovely menage a trois. Dosa's use of the archival materials here gives the film an almost punk rock-like energy, pairing perfectly with the droll narration from Miranda July and Nicolas Godin's delightful score. Recently the subject of a bidding war, Fire Of Love recently won a seven-figure deal with National Geographic Documentary Films, so this will likely not be the last time you hear about this profoundly moving documentary love story.
1. The Cathedral
Topping off this list is one of the year's most impressive features, from one of film's more impressive young voices. From director Ricky D'Ambrose comes The Cathedral, a deeply personal character study, introducing viewers to a young man by the name of Jesse Damrosh, and the family that surrounded him. Ostensibly chronicling 20 years in his and his family's lives, D'Ambrose spins a yarn about a failed marriage, feuding relatives and traumas felt by his lead and those who he grew up around. Almost achingly auto-biographical, the film stars Brian d'Arcy James as Richard, Jesse's father, and quietly tracks he and his family's rise and fall over the span of a generation. Not quite a coming of age film, The Cathedral has an almost archival documentary feel to it, with narration acting as the only real vessel for tactile exposition. Interjected therein are moments from this time period, furthering not just the essay film aesthetic but doing so in a manner that aids in setting a time and place for the narrative. Something of an elevated photobook of sorts, D'Ambrose's second feature is a deft, deeply felt family study that feels as personal as it does strangely cold. Toss in expert photography from Barton Cortright, whose muted photography adds to the memory-like energy the film leans into, and you have a one of a kind piece of filmmaking from a one of a kind director.