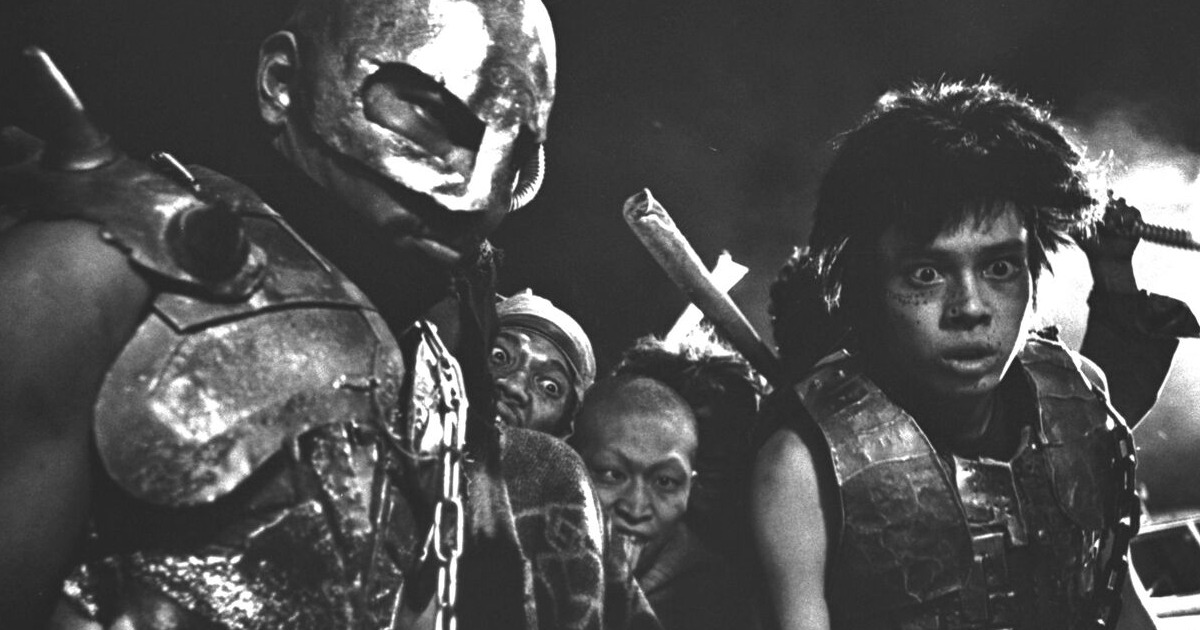 While every film aficionado and their mother seem to know about major film festivals like Sundance, Cannes, Toronto and New York, some of the year's most interesting films make their first real splash at festivals and series with a much smaller reach. In New York alone various series like New Directors/New Films, The Art Of The Real and the recent New York Asian Film Festival have become home to some of any given year's most interesting, thought provoking and genuinely exciting pieces of work. And now we have the 10th edition of the much lauded Japan Cuts series.
Marking this special anniversary with a lineup of roughly 30 features and 20 shorts, the festival is currently running from July 14-24 at Japan Society in New York City, and with a blend of new and repertory screenings, this lineup is one of the most dense and diverse in recent memory.
---
---
Most notably, there has been a dramatic shift in the series' repertory series. This year sees the festival not only highlighting older films, but specifically those from directors who have new pictures in the festival proper. Leading the way here is director Sogo (Gakuryu) Ishii. With his newest film, the bizarre and utterly lovely Bitter Honey comes his legendary cyberpunk masterpiece from 1982, Burst City. Both films prove that Isii's voice is specific and otherworldly, with Burst specifically highlighting the filmmaker's brazen use of aesthetics (Ishii uses various stocks, shutter speeds and even some documentary sequences). The new restoration looks superb, and while many will find a comparison to films like The Warriors or more particularly Mad Max, this is a far more anarchic achievement aesthetically, and is an early grandfather to much of the punk cinema seen in Japan during the early-mid '80s. Then there's Bitter Honey, the story of a young woman who has the ability to transform into a goldfish, only to become the muse for an aging writer in what can only be described as one of the year's more odd romance tales. A film exuding charm out of every pore, Honey is a distinct 180 for the filmmaker, a comedy that is admittedly as off kilter as his early punk work, but has much more heart and much more wit than one would likely imagine. It's a beautifully made film, and the lead performances from Fumi Nikaido and Ren Osugi are absolutely top notch. Nikaido in particular is slowly becoming one of the most interesting actresses in all of Japanese cinema, and this is both one of the most enjoyable experiences in all of this year's Japan Cuts and also one of its most unforgettable.
Another director getting the mini-retrospective treatment is Junji Sakamoto. The filmmaker's 2000 film, Face gets a new run during this festival, and is one of the biggest discoveries of the lineup. Garnering some acclaim when it first arrived in theaters, the film has seemingly gotten lost among the great achievements in Japanese cinema, and absolutely shouldn't have. The story of a seamstress whose life forever changes after one moment of violence, the film in many ways revolves around the 1995 Kobe Earthquake, and uses it as a backdrop for a story about one woman's attempt to evade the law. It's a quiet film, a low-key drama that has a keen sense of humor that pairs perfectly with the distinct focus on violence and its impact. Pairing that with Sakamoto's newest film, The Projects is an interesting idea, as it also feels like a new change of pace for the director. Much like Ishii's newest comedy, Sakamoto's new film is a comedy with a startling sense of humor. Dryer than sand, The Projects is a deadpan comedy that tells the story of a doctor and his wife who run an herbal medicine ring out of their home, only to come in contact with a young man who needs to find a cure for a mysterious illness that hinders he and his countrymen. With a third act that expands the reach of the film to, dare I say, cosmic levels, The Projects is a delightful and bizarre slice of life comedy that goes from eyebrow shifting absurdism to a third act that will leave you turning a stunned open mouth into as wide a smile as you'll ever hope to have. Rounding out the list of directors getting this treatment is Ryosuke Hashiguchi, who sees his great 2001 film Hush! pair with arguably the festival's best film Three Stories Of Love. It's truly one hell of a lineup.
However, there are few directors with more of a stake in this year's festival than the legendary Sion Sono. First, he's the subject of one of the festival's best documentaries, The Sion Sono. Seeing its North American premiere here, Arata Oshima (Nagisa Oshima's son) films the director as he goes about producing his newest film The Whispering Star. Lo-fi and bursting at the seems with energy, Sion Sono is as much a documentary about the making of a film as it is one director's very distinct process. The viewer watches as Sono delves into his past by going back to where he grew up, and also digs deeply into his present, as we watch the multi-hyphenate auteur try to expell the various demons he seems to be getting off his chest through his work while also having a wife and home life. An insightful, energetic and utterly engrossing documentary, I Am Sion Sono is a documentary that can't be missed.
And speaking of Whispering Star it and Sono's long awaited Love and Peace are screening here, and both of which show two very different sides of the Sion Sono coin. Star is an almost Eraserhead style lo-fi science fiction feature, and marks his first film backed by his own indie production company. It tells the story of a humanoid woman who spends her time delivering packages to the various humans who are scattered across the galaxy. Shot in the evacuated zones in Fukushima, this film has a singular sense of style that, paired with its black and white photography, feels haunting and truly unlike anything Sono has done up to this point. Muted, Whispering Star is one of Sono's most beautiful films, a film played in a key of barely audible utterances. It will be hard to get into its rhythms at first, but the humor here is engrossing, particularly with its nonsensical use of time, which often brings the biggest laughs. Finally, there's Love and Peace, a film that has taken Sono decades to make. Far closer to the type of anarchic, aggressively weird features that have made Sono the icon he is, Love is a film close to the director's heart, as its central theme of art and responsibility feels vital to the work of Sono. The film follows the story of a young man who goes from abused coward to rock god, with an inspirational turtle named Pikadon thrown in for good measure. Bursting at the seams, Sono's film is a brazenly weird political allegory that for every drop of humor it has twice as much biting social commentary. And thankfully, it's showing at this year's Japan Cuts, giving a much do focus on the work of a director who may be at the very top of his game.
But that's not where this slate stops. Other highlights include the wonderfully titled and decidedly political look at one of Japan's most interesting punk artists Michiro Endo Mother, I've Pretty Much Forgotten Your Face, which puts events like those taking place in Fukushima and Hiroshima on center stage. There's also the festival's most experimental documentary, A Room of Her Own: Rei Naito and Light, which looks at the relationship between five women and the work of artist Rei Naito. A meditative documentary almost to a fault, this quiet and thoughtful film is unlike anything in this year's slate.  These are also part of a newly revamped documentary slate, which focuses on four artist-focused documentaries which also include the above mentioned Sion Sono documentary and a solid documentary entitled Fake. It's a beautifully curated side bar and really shines a light on the vast range of styles, even in the world of non-fiction cinema, that is held within Japan. These are just a few of the films among many at this year's lineup that prove that while it may not have the brand of other festivals, in 10 years Japan Cuts has become one of the most intriguing festivals in all of film.
For more information head over to the Japan Cuts website.