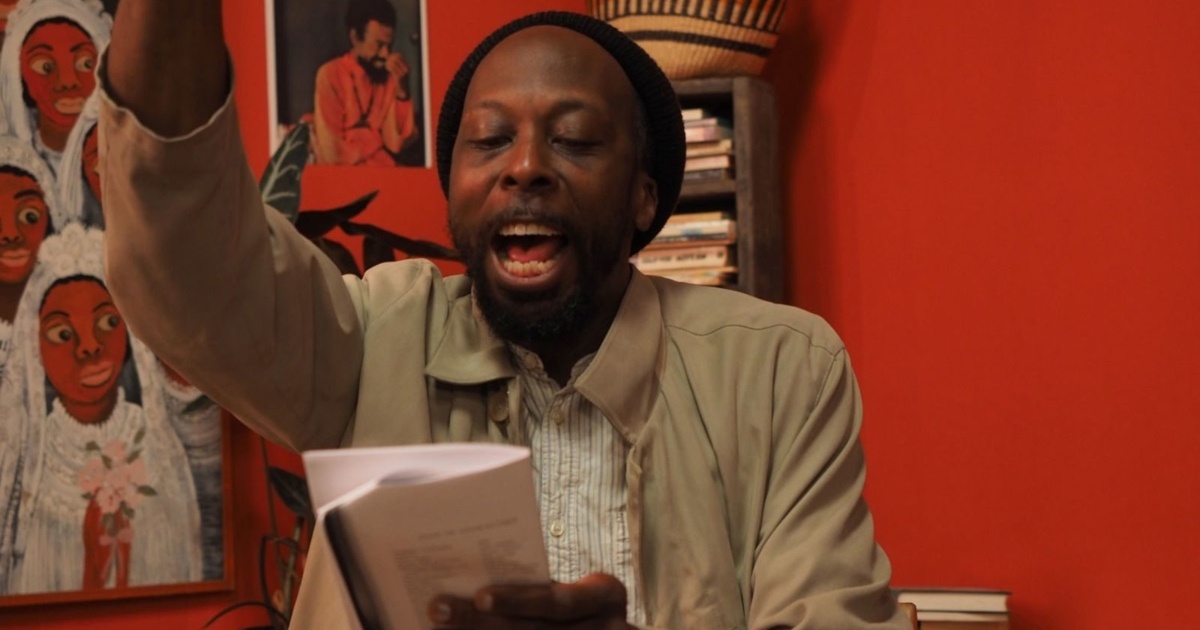 Among the myriad of films playing as part of the annual New York Film Festival, few sections carry with them as exciting a selection as that of the Currents sidebar (formerly known as Views From The Avant-Garde and Projections). More or less the festival's "experimental" section, this sidebar finds the festival and their most progressive and boundary pushing. Collecting 14 features and eight separate programs of shorts, the Currents selection collects the latest and greatest from the avant garde, films from across the globe that highlight new and exciting voices experimenting with new and exciting modes of visual storytelling.
Take, for example, the opening night film, The Inheritance. From director Ephraim Asili comes this Philadelphia-set drama, which itself blurs the line between fiction and non-fiction while standing as a vehicle for expression of black liberation. Mixing a documentary about the Philadelphia liberationist group MOVE with a fictional work about a collective trying to reach some semblance of political consensus, the film is a gorgeous and evocative work of cinematic revolution. With clear influences ranging from Tarkovsky to Sam Greenlee's seminal The Spook Who Sat By The Door, Asili's film owes its greatest debt to the work of Jean-Luc Godard, whose iconic La Chinoise plays not only as a literal reference (a poster is seen throughout) but its closest stylistic relative as well. The photography here is utterly breathtaking, and each performance is properly textured and modulated as to not just elevate the film beyond something that could have been stale and stagnant, but to give this politically charged feature a definite humanity and heart.
Three other films that attempt to challenge what we view as cinema on a formal level are also three of this lineup's strongest works. First there's the film with the best title in the lineup, There Are Not Thirty-Six Ways of Showing a Man Getting on a Horse. The third film from director Nicolas Zukerfeld, Thirty-Six Ways is drawn from an alleged quote given by director Raoul Walsh, whose body of work becomes much of the focus for this fascinating piece of work. A film of two halves, the film opens with a lengthy bit of narrative, using clips from Walsh's film to reformulate a narrative all Zukerfeld's own. Following this fun bit of storytelling, Zukerfeld reverts back to the director himself, exploring the very quote from which the film's title is drawn. This essay-style film is an engrossing exploration of narrative and the extent film craft can in turn criticize the medium in and of itself. (Also noteworthy, the film will be playing with director Guy Maddin's latest short, Stump The Guesser)
Another film that similarly makes a point to explore the form of film regarding its relationship to text is Her Socialist Smile. John Gianvito's new film takes a look at the life and time of Helen Keller, particularly her relationship to the progressive movements that she became an outspoken proponent of. Using lengthy blocks of text from Keller's own speech as well as a mix of voiceover and archival materials, Gianvito's film is an emotionally devastating work despite its admittedly stiff formalism. A testament to Keller's import as a leftist political figure, Her Socialist Smile is a fascinating look into the history of progressive movements at the turn of the century, an interest of the director throughout his career. There's simply nothing like it in this festival's lineup.
The final film of this makeshift trilogy is a new film from director Nuria Gimenez entitled My Mexican Bretzel. Maybe the most formally inventive film in this trio, Gimenez's debut feature takes home movies from Vivian Barret and her WWII fighter pilot husband Leon, pairing these gorgeous home movies with subtitles taken from Vivian's own diaries, making a strange narrative of sorts that's equal parts surreal and incredibly moving. The source home movies are almost impressionistic in their color and the graininess of the footage, pairing wonderfully with the increasingly unpredictable and otherworldly narrative. It's truly a fascinating and oddly stirring experiment in form and narrative.
Not all these films are from directors making their debuts, however. Two of the more well known directors in the lineup have three films screening as part of this lineup. Two of them are from genius auteur Heinz Emigholz. The Last City and it's quasi-sequel The Lobby are featured here, with the former being one of the director's more ambitious and impressive works yet in his storied career. More or less a collection of conversations about everything from war to poverty set against a collection of five gorgeous cities, the film is a strangely funny and compelling rumination on everything from performance to modern intellectualism as part of urban landscapes. The Lobby, on the other hand, is a decidedly small scale picture, but no less entrancing. This time focusing on one man as he filibusters throughout various hotel and apartment lobbies, the film sits firmly to the left of most modern essay films, quite literally placing itself as one man's own dissertations on everything from life to death while encased in urban modernity. The other auteurist gem comes from the late director Raul Ruiz and the woman who has, since his death, made it her life to finish the director's final films, entitled The Tango of the Widower and Its Distorting Mirror. Another surreal and impressionistic work from the great Chilean filmmaker, this follows a professor as he slowly devolves into madness as the wall between his dreams and his everyday life slowly crumbles following the death of his wife. Slowly becoming one of the director's more nightmarish efforts, this brisk 65 minute masterpiece will surely be one of the more talked about films in this lineup.
Shorts are also incredibly important with regards to this collection of films, as there are eight separate programs pertaining to everything from stories about New York like Ricky D'Ambrose's incredible and poignant Object Lessons, or: What Happened Whitsunday to a series called "Code Unknown," led by the latest collaboration from director Sofia Bohdanowicz and star Deragh Campbell (MS Slavic 7). In this gorgeously shot 18 minute feature (shot brilliantly on 16mm) Point and Line To Plane draws its title from an essay penned by painter Wassily Kandinsky, whose paintings provide part of the backdrop to this devastating story of loss and memory through art. Other highlight from this section include Ben Rivers' hypnotic Look Then Below and the brazenly radical Labor of Love from director Sylvia Schedelbauer, both of whom are featured in Program 4, "There Are Other Worlds They Have Not Told You Of," probably the single most excited section within this part of the Currents lineup.
For more information head to the New York Film Festival's official website.