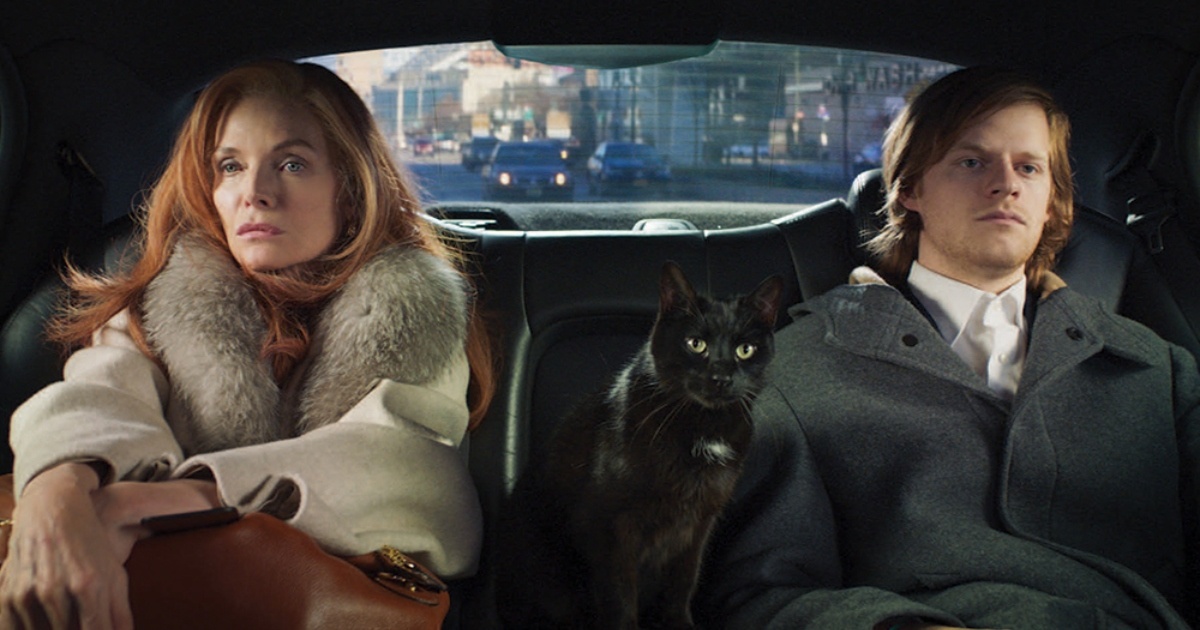 As the New York Film Festival comes to a close, the festival does so with one of the handful of world premieres lined up for this year's slate, and one of the more anticipated ones at that.
From The Lovers director Azazel Jacobs comes French Exit, based on the beloved hit novel of the same name from author Patrick deWitt. The film stars Michelle Pfeiffer as Frances Price, a mid-60s New York socialite who, years after the passing of her husband, finally burns through her savings and takes her and her son Malcolm (Lucas Hedges) to Paris with little intent beyond making the most of what may or may not be her final days.
A deadpan and properly arch Whit Stillman-like 1%-er melodrama, French Exit doesn't luxuriate in the posh upper-crust world Frances and her son maneuver, instead spinning a slyly absurdist yarn about loss and grief set among a world of characters that feel more at home in a Wes Anderson drama than anything remotely resembling the neo-realist sentimentality that one would expect in a film of this ilk. This is a story of a snobbish mother caught at the end of her wits and her wallet, alone in a world without her partner and a son that, based on one of the better scenes in the film, is on the brink of potentially leaving the proverbial nest for good. Closer in tone and atmosphere to screwball comedies than anything like a typical familial drama, French Exit completely jettisons any idea of portraying a "real" world once they land in France, and subsequently task a private investigator to get in touch with a fortune teller that Malcolm had a brief affair with on the boat ride across the ocean. In doing so a seance is had, and the film turns from a simple absurdist dark comedy into something far more surreal, and ultimately far more moving.
The triumph of this film is Pfeiffer's lead performance. Her handling of the Jacobs and deWitt-penned screenplay is utterly incredible, beautifully embodying the bleak worldview and sharp-tongued wit as something less than a sense of self-assurance than a literal shield against a stark sense of loneliness that pervades the entire picture. It's not a quiet or textured performance, instead playing to the theatricality of the universe her character lives in, yet never losing sight of the, maybe deeply-seeded, humanity at the core of Frances. Her relationship with Hedges' Malcolm is also quite moving, with his performance playing rather quiet and lived in compared to Pfeiffer's fence-swinging turn.

French Exit really comes to life once the pair land in Paris, particularly following their encounter with Mme. Reynard (an incredible Valerie Mahaffey), a woman who doesn't feel all that far off from our lead matriarch. A mirror image of our increasingly lonely lead, Reynard leans in to her solitude, openly admitting to it and embracing it, in turn extending a hand to the new Parisian mother/son duo. It's a nuanced balance between the two, particularly as the early interchanges between them are quite ugly, but they begin to soften in intriguing and textured ways. While the film itself does devolve a bit into something a pinch more sentimental and strangely saccharine, French Exit runs a bit long in the tooth but stands as a charismatic and involving familial farce and with a top tier performance from Pfeiffer, becomes in its own way a must see drama.