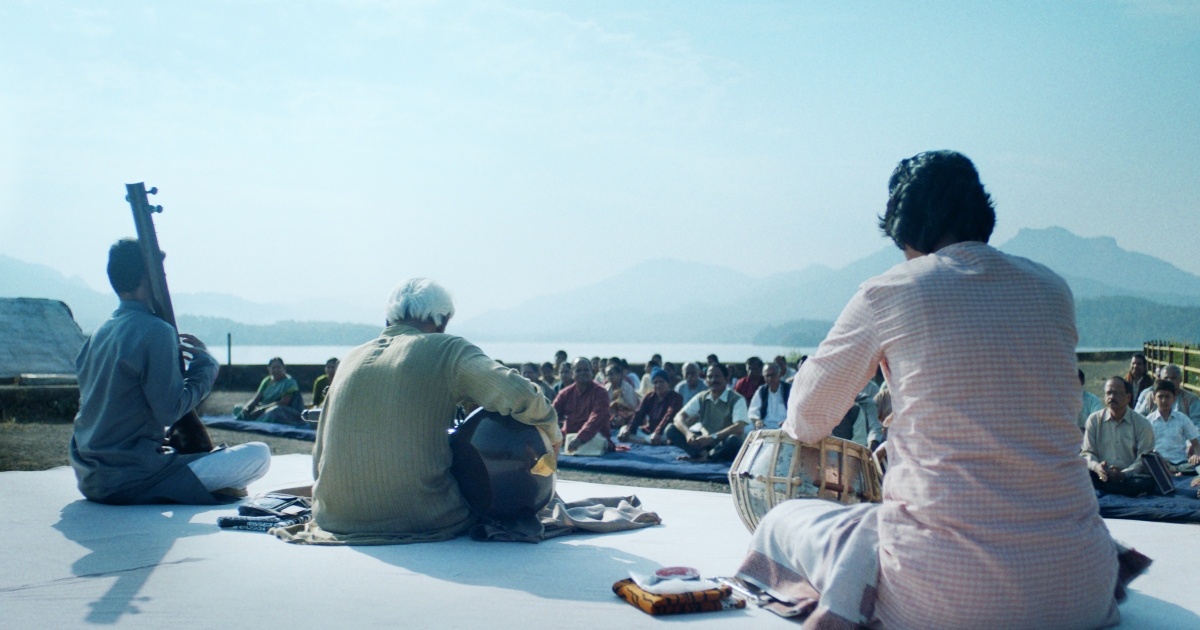 The history of Indian cinema is a long and profoundly important one. Giving life to some of cinema's great artists and great pictures, it has also been something of an overlooked filmmaking economy here stateside, even among prestigious film festivals.
That even extends to the more globally-minded ones like the New York Film Festival.
However, that does appear to be changing, at least with this year's festival edition. Marking the first Indian film featured as part of NYFF's main slate since 1996, director Chaitanya Tamhane's sophomore effort The Disciple tells the story of Sharad (Aditya Modak), over the span of many years, chronicling his journey to become a star in the Indian music scene. Specifically highlighting the meditative raga genre, the film navigates the life of a man living in Mumbai, as he attempts to live up to the legacy of his legendary father, himself a titan in the Khayal music tradition. Clocking in at just a pinch over two hours, this is an epic feature through and through, a step forward for its up and coming director and one of the more fascinating deconstructions of art, performance and legacy seen on a big screen in some time.
Steeped heavily in the musical tradition of the region, The Disciple is, above all else, a film of and about the artistic experience. The relatively simple log line of a man's life being more or less about living up to his father isn't all that new. However, what makes this second feature from director Tamhane so engrossing is its uncanny ability to not just expound upon the evolutionary nature of art but doing so in a manner that feels entirely experiential and almost verite-like. The film soars when it allows the musical performances to play out, taking a genre of music known for its improvisational style and using that to starkly heighten the emotional resonance of each scene.
With Alfonso Cuaron aboard as an executive producer, one can draw subtle comparisons to the works of the beloved auteur, particularly in Tamhane's ability to make the minor moments of a life play out in almost operatic sequences. Viewers watch as Sharad deals not just with a familial legacy far beyond his own talents, but also familial pressures from members of his unit who see his aspirations as little more than folly. Building his entire life around this music, Sharad's life becomes less about finding the artist within him as the highly emotional music genre he works in would have one believe, instead being boiled down here on screen into little more than a mundane routine.
That's where the film's true impact lies. Instead of making Sharad a force to be reckoned with, Tamhane always leaves the viewer at a distance, as he does Sharad himself. Sharad's clearly a talented performer, but instead of taking the world by storm, the film shifts mutes itself both visually and narratively, realizing that he may just not have it in him. A quiet, lyrically paced film, The Disciple is, in this way, less about the artist himself and more about the experience of a performer in a world less interested in craft and heart. This only escalates once a contestant on a television talent show comes into the fray, subsequently upending Sharad's life to the point where it truly could never come back from.
Gorgeously quiet in its compositions, this film elevates the relatively static frame by enveloping it in a melancholic atmosphere. The photography is utterly breathtaking, particularly during the lavishly shot musical sequences, and as the film's narrative evolves so does the visual language. As meditative in his own directorial approach as his characters are in there creative ones, Tamhane consistently places Sharad in relation to other people, be that family, critics or, more importantly, audiences watching him, embracing the larger idea of an entire art form passing him by with thrilling intimacy and physicality. Instead of romanticizing the life of an artist, Tamhane's camera plays it far less rosy, portraying a world losing sight of creativity and artistic expression in loo of commercialism and simplicity. Maybe a bit too stoic for some, there's simply nothing quite like The Disciple, a true cementing of a new filmmaking talent on the world stage.