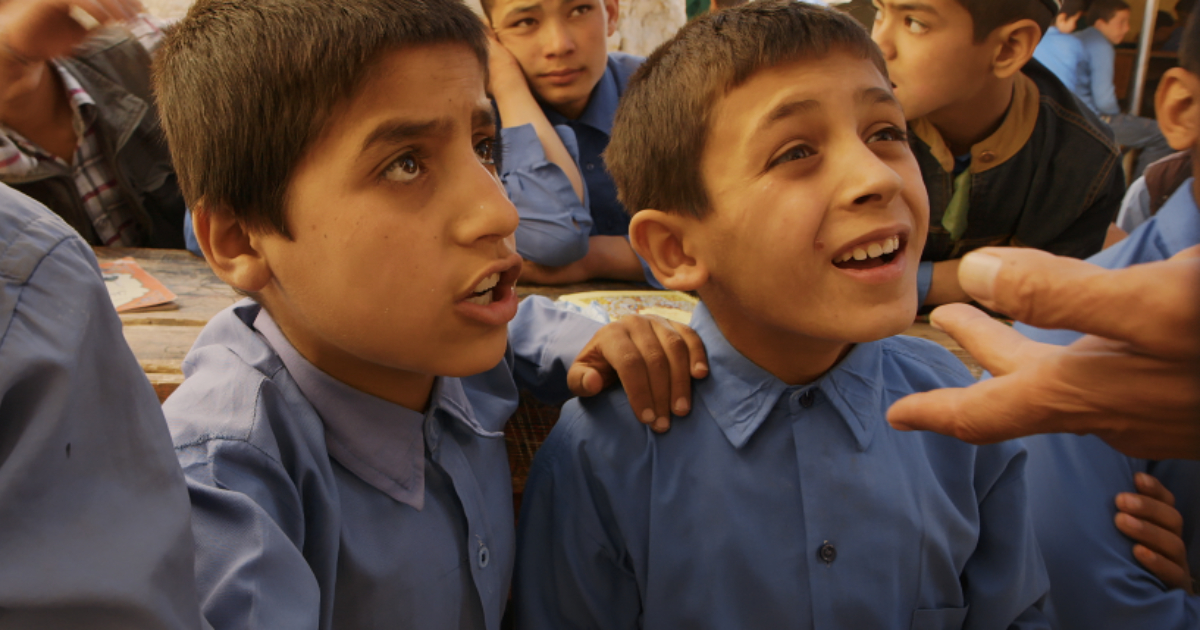 Returning to feature non-fiction filmmaking following the ground-breaking Iraq In Fragments, two time Oscar nominee and MacArthur "Genius" Award winner James Longely once again thrusts viewers into the tumultuous socio-political climate of the Middle East, this time chronicling three years spent in Afghanistan.
Entitled Angels Are Made Of Light, this gorgeous and evocative new documentary sees Longley following students and teachers in a neighborhood in Kabul, as they attempt to not only forge lives for themselves through continuing their education, but also find a way to rebuild the world around them both figuratively and quite literally. Marking its New York premiere with its recent bow at the New York Film Festival, Angels Are Made Of Light is a powerful, thrillingly told rumination of life in wartime, a story of men and women trying to continue living their lives despite a cloud of war forever hanging over their collective heads.
What makes Angels both a superlative documentary and also a real crowning piece of work in this type of social awareness documentary, is its interest in both the history of the region as well as the specificity found in the lives of the people who lived that history first hand. Coming 12 years after his last feature film, Longley returns with a deeply moving and mature character study, a film that focuses primarily on the lives of three brothers – Sohrab, Rostam and Yaldash – caught in the middle of a world that asks of them both growth and the possibility of utter destruction. While the city and region they inhabit may not be under the same duress it was a decade ago, the shadows of that conflict are still crystal clear throughout their world. Even seemingly mundane issues like Yaldash wanting to both make an honest living doing metal work while also staying focused on his studies, these lives are eventually seen as ultimately small cogs in a much larger world.
As the film introduces viewers to more and more people within the general sphere of influence of these young men, Angels becomes a relatively moving epic. Teachers are seen discussing the history of the area and Kabul specifically, including its time as a British and Russian territory, with the film splicing in archival footage of Kabul as one of the world's great cultural centers. Longley goes as far as cutting between archival footage of specific streets and buildings, only to cut to the same location in the present day, which is a potentially trite and "simple" commentary on this city's history but in Longley's hands this juxtaposition is haunting and quietly moving. Clocking in at just shy of two hours, the film is incredibly ambitious, attempting to tell numerous human stories through a lens that's both deeply humanist and yet historically contextual. The late Jonathan Demme is the closest comparison one can make when seeing Angels, or maybe a more cinematically ambitious Steve James. This is a profoundly assured and textured documentary, a near-masterpiece that will hopefully pop out of the festival circuit and find a home in art houses across the country.