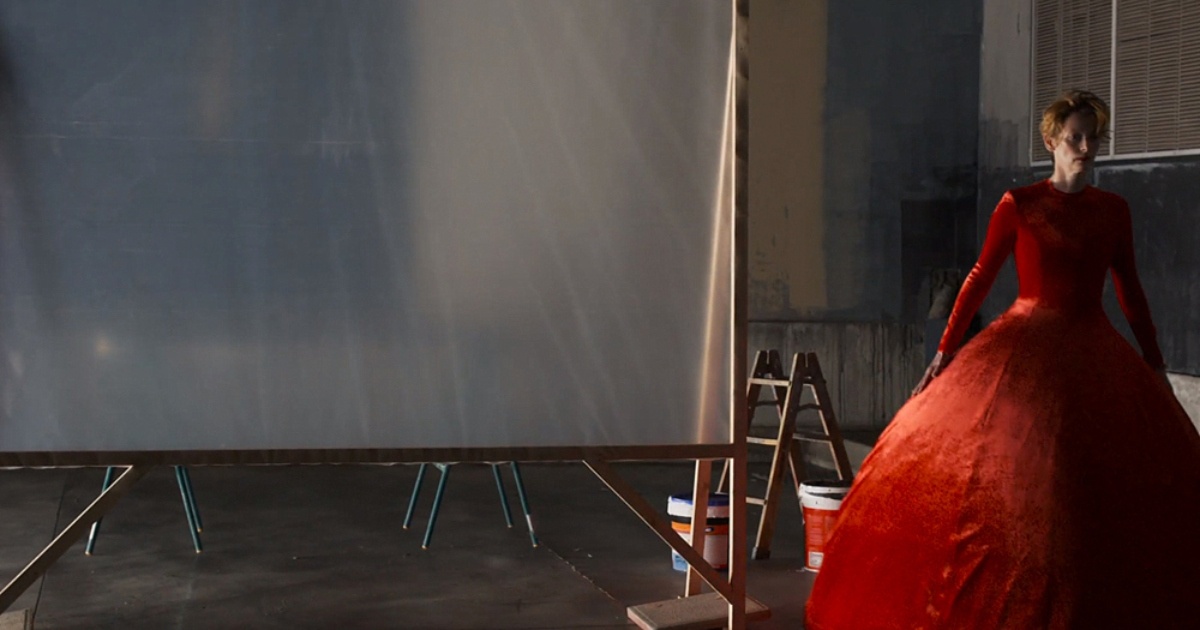 At just 30 minutes, it may be easy to dismiss The Human Voice as a curio in the largely essential filmography of legendary auteur Pedro Almodovar. Particularly when you look at cinephilia as a world that largely ignores short films, even though it comes from the mind of an iconic filmmaker, it's short runtime may make it seem like a skippable venture.
However, that would be a folly on the part of anyone who does so.
Almodovar's latest may be short in runtime, but it's dense in narrative and thematic resonance, as the director's take on a beloved one act play by Jean Cocteau is not only Almodovar's English language debut, but it's also an essential and emotionally devastating rumination on loneliness and loss.
Starring Tilda Swinton, The Human Voice introduces viewers to a woman who remains nameless throughout the film, who, to her dismay, awaits anxiously to hear from a lover who after leaving three days prior, still hasn't called. A simple premise begets a simple film, one would initially believe, but what Almodovar has done with Cocteau's thrilling one act text is turn it into a stylish and emotionally textured character study.
And that's really, ultimately, all there is with regards to a narrative. Despite being a filmmaker Almodovar has been seemingly riffing on throughout his career, his take on the director's great one act doesn't find a need in exploding out the narrative. Instead, Almodovar stays in his relative lane, turning the play into a stylish, deeply moving experiment in both form and, in his own way, design.
Swinton is otherworldly good here, meaning that adjective in a quite literal sense. Her take on Cocteau's lead is at once increasingly stylish and styled and yet also deeply relatable and textured, turning a theatrical performance in what's ostensibly a melodrama into something that feels of a piece with the film's tone while also being keenly aware of Almodovar's theatrical direction. Her performance modulates in a way far beyond the paltry runtime, with viewers watching as she goes through several moments in a breakup, segments of that grief that play out in lightning fast time without ever feeling superficial or put upon within Swinton's performance.
Yet, it's an Almodovar film through and through. Expertly styled and gloriously composed through a film that gets increasingly metatextual and delightfully theatrical, The Human Voice finds the director at his most free and experimental. Vibrantly colored in a way only one of his films could be, this is a set designer's dream, with lavish sets begetting a film that's more thematically textured than the style may point towards. Shot over the summer with COVID-19 restrictions firmly in place, the film feels strangely intimate and tactile, with Almodovar's whip-smart script turning this rumination on loss and grief that turns the film intp more than the gorgeous dresses and theatrical set production. Instead, what results is a film that plays perfectly to Almodovar's almost gleeful fascination with touch and design and uses it in a way that amplifies a performance of increasing theatricality that turns the melodrama back in on itself. A film of pure visual art, The Human Voice takes a story of love, loss and abandonment and takes its own splashes of modernity and turns it into a purely tonal piece of film art. A one of a kind picture.