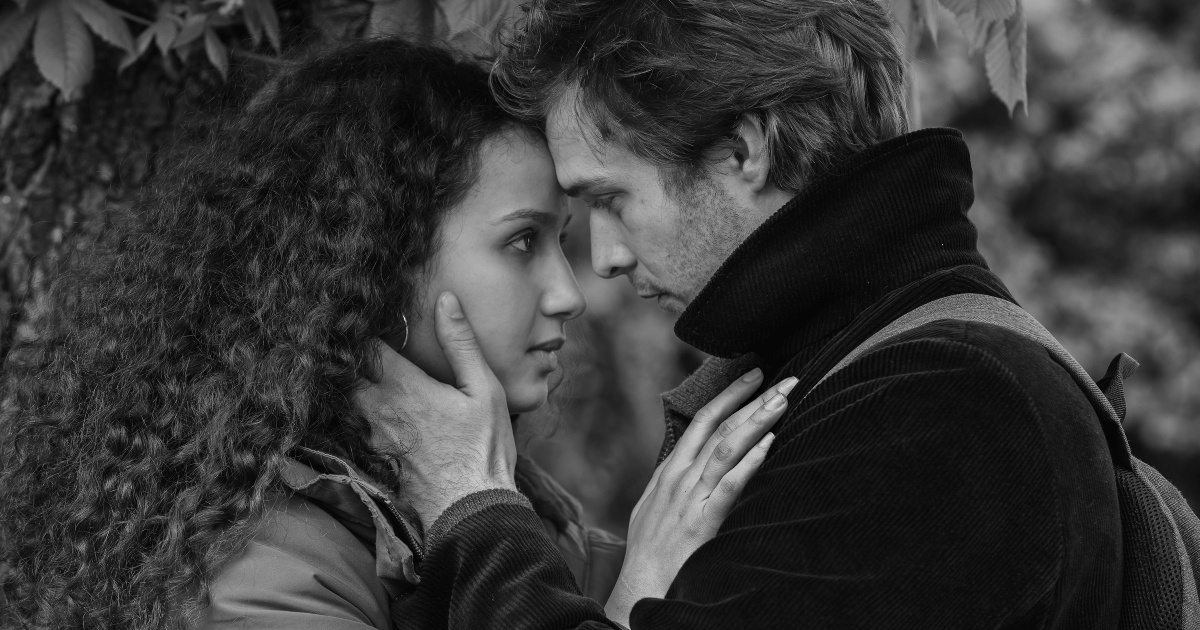 Continuing a seemingly unintentional series of films that began with works like Jealousy and In The Shadow of Women, French auteur Philippe Garrel returns to the New York Film Festival for one of the festival's more beautiful, if underwhelming efforts.
Entitled The Salt of Tears, Garrel returns to themes he's spent recent films mining with greater success, this time focusing on the story of Luc, as he jumps from relationship to relationship in this triptych style picture. The film first puts Luc in the orbit of Djemila (Oulaya Amamra), two strangers who meet at a bus stop in Paris. Luc's an out-of-towner in the city to take a test to earn top spot in a prestigious carpentry school, and after professing his need to see Djemila again, the two connect over coffee and begin an affair that seems them trying to find a place to make love only to completely second guess the act before it happens, sending the entire relationship into disarray despite its relative youth. Luc then enters another fling after his time with Djemila fizzles into nothingness, this time in many ways meeting his match of sorts.
His high school sweetheart, Genevieve (Louise Chevillotte) the two seem to have not missed a beat despite the latter moving away some years prior, in so far as to say that it's more or less the type of carnal romance Luc appears to be fully intent upon. The two relationships do merge, however, as the bumbling prick that is Luc neglects telling Genevieve that he's invited Djemila for a visit. This sends the new relationship into yet another spiral, leading to the third act introduction of Betsy (the brilliant Souheila Yacoub), who comes into the film like a bolt of lightning, proving to be quite literally Luc's match in that her interests lie in something less concrete than your typical relationship might permit.
You might be asking yourself if you haven't seen this exact film before. The answer to that sincere and smart question is resoundingly yes. Garrel himself has become a titan of the relationship drama, yet even here the narrative feels decidedly stale. Logan Antuofermo stars as Luc, and gives a frustratingly flat performance, boiling down the typically simple-minded Garrel man into something that feels as nuanced as a punch to the groin. Men in Garrel films aren't your typical heroes, yet what's missing here is any real texture, save for a fascinating relationship Luc carries with his father (Andre Wilms). The scenes the two share are really quite lively, giving some much needed texture to an otherwise simple and sterile characterization.
Equally frustrating is the depth given to the women in this picture, something Garrel has throughout his career been relatively talented at. Yacoub's turn in the film's final act feels much too rushed to make much of an actual impact emotionally despite her giving a fine performance, as the script here becomes the issue. Amamra has arguably the film's meatiest performance, and even there the film does little to broaden her character outside solely her relationship to and placement within the life of Luc. Chevillotte's Genevieve is done an even greater disservice, giving a performance that feels strangely detached from the film's overall atmosphere.
Thankfully Garrel hasn't lost his touch as a filmmaker. The black and white photography here is rightly crisp and engrossing, giving the film a vaguely otherworldly quality, pairing brilliantly with the maudlin music and evocative editing. Feeling itself completely out of step with a film that's much more passive than the impressionistic craft may have you think, there's a disjointed quality throughout the film that makes The Salt of Tears one of the greater disappointments of NYFF 2020.