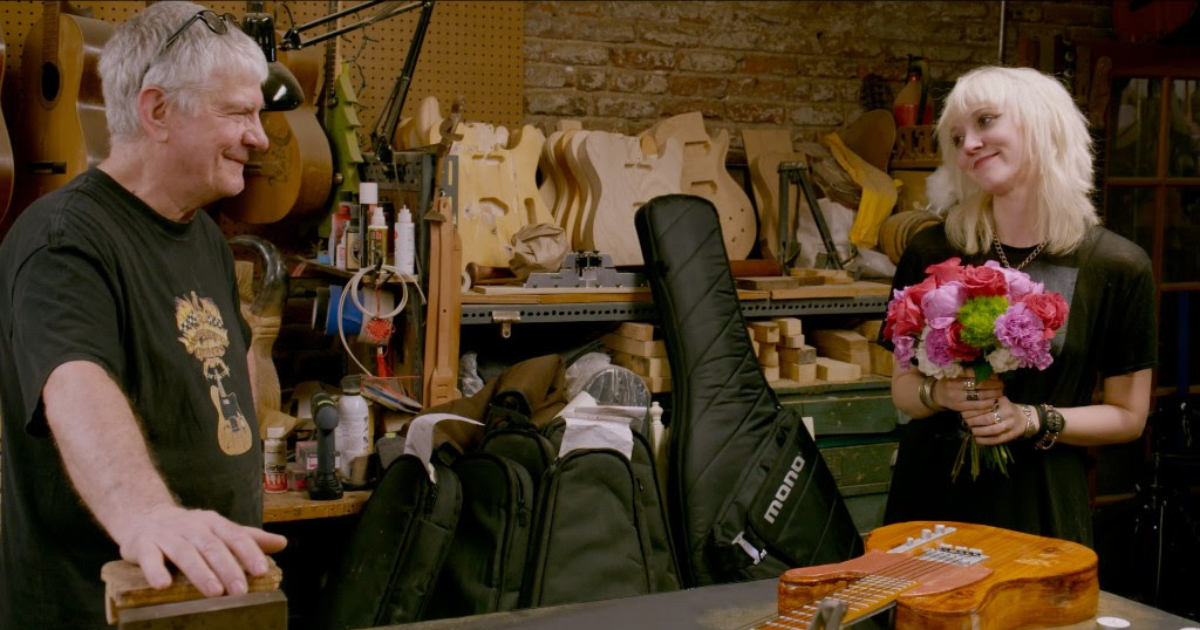 It may not seem like much on the surface, but the latest documentary from director Ron Mann (Altman) is one of the truly superlative discoveries of this year's New York Film Festival.
Entitled Carmine Street Guitars, Mann turns his camera onto the world of one of the New York's more legendary guitar shops. The titular guitar emporium has become a mainstay of Greenwich Village, with famed guitar craftsman Rick Kelly assisting in a who's who of legendary rock performers both past and present. A crafter of incredibly singular sounding guitars, artists from Lou Reed to Bob Dylan have used Kelly's iconic guitars, and countless others have as well, as seen in this chronicling of one week in the life of the guitar shop.
Again, this superficially sounds like a thin documentary, a piece of non-fiction filmmaking that could be seen as nothing more than a curio for the nerdiest of music nuts. However, that couldn't be further from the truth. Mann has proven to be a talented, if undervalued artist, and this is easily one of his most exciting and quietly provocative films yet.
As much a film about music, Carmine Street Guitars is a shockingly complex and intimate portrait of New York, both of yesterday and today. Throughout the film the viewer becomes privy to first-hand accounts of stories from a decidedly pre-Guilani New York, a New York of punk rock, troubadours and danger. One of the earliest stories is of Kelly himself taking a journey out to Long Island to see an artist by the name of Jimmy James, later known as iconic axe-man Jimi Hendrix. This story, while seemingly small in scale and slight in second-hand description, is told in a matter of fact nature that really allows the picture being painted by Kelly to be actualized in a quite exhilarating way.
This is really as much a film about music as it is storytelling in general. Across the film's brisk runtime, Carmine Street Guitars finds Kelly, his mother/bookkeeper Dorothy and apprentice Cindy Hulej in conversation with artists spanning generations, all while telling stories about the music of years past, and a New York that seems almost otherworldly. A New York that's now become the stuff of actual legend (that's more or less how these stories feel in their recounting given the distance between them and the New York of today), these are stories that are told in almost a whisper both in their volume and Mann's direction. Very few flights of fancy are seen here, and even when the film builds some sort of cinematic narrative, it keeps keenly to its week-in-the-life stylings.
It does help that the musical sequences here are equally as rousing as well. Of particular note is maybe the film's most moving musical sequence, a set piece involving Christine Bougie of Bahamas as she seems to lose herself in a devastating performance on her lap guitar. It's an intimately shot piece, a scene told more or less in a slightly tighter-than-normal medium shot, that both plays to the emotion of the piece and also the intricacy of the motions. Very much a vignette film, we see as Kirk Douglas of The Roots muses about the flaws he sees in the wood used by Kelly and even the flm's self-billed "instigator" Jim Jarmusch drops by for a delightful little chat. Jarmusch actually comes to mind a lot when watching this film, as while it doesn't have nearly the amount of cinematic energy as his films, there's an ease and a poetic energy to the film that feels in conversation with his work.
Not entirely sure where this film will land theatrically, but it's absolutely the type of documentary that will make a name for itself when it arrives on VOD or streaming services. The perfect type of "good hang" one looks for in these trying times, Carmine Street Guitars is a charming, humanist work deserving of more attention.