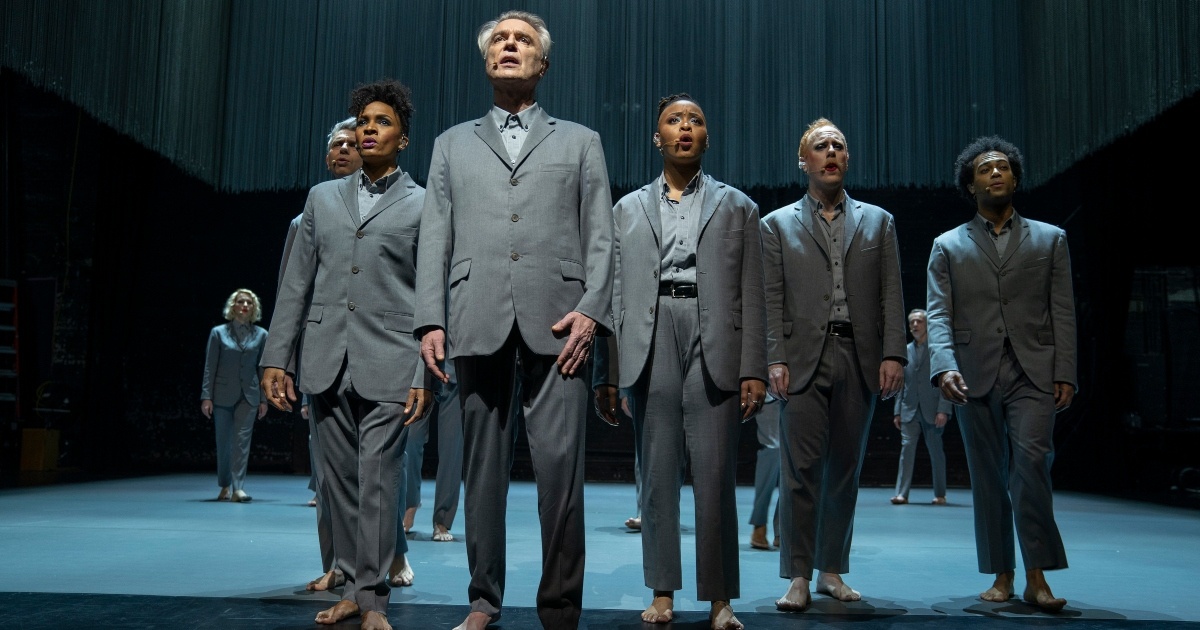 Among the millions of small ways our lives have uniformly changed following the start of the still ongoing COVID-19 pandemic, one of the more jarring has been the lack of gatherings surrounding the arts. Be it theatrical movie-going, live theater or live music, gatherings involving large groups interacting with art are a seemingly small-scale disappearance from one's life but when you encounter a portrayal of them in the media, they prove to be genuinely engrossing.
Art is, after all, less about simple consumption than it is the experience of that consumption. Be it critically or, in the very best cases particularly in live performance, something more spiritual, actual tactile experiences like these are something that seems almost science-fiction like at this point in 2020.
Take Spike Lee's latest film, David Byrne's American Utopia for example. A filmed version of Byrne's titular Broadway show, American Utopia finds the legendary Talking Heads front man fronting an incredible and diverse new band playing a series of classics spanning his entire career. An attempt to bring his audiences closer together both literally and figuratively, this film finds Byrne caught in his four-month residency on Broadway, blending staples like "Burning Down The House" with new masterpieces like "Everybody's Coming To My House" off of the American Utopia record from which this tour draws its name.
Clearly destined to draw comparisons to that other iconic Talking Heads documentary, Stop Making Sense, Spike Lee takes over for the late Jonathan Demme here, a director who may not have been involved in this film's production, but is never far from anyone's mind, performer or viewer.
"Us and you, that's what the show is." It's this humanity that stands as the film's biggest focus. Lee gives viewers as best he can a first hand account of what this performance feels like even more so than one it looks like, finding symbolism throughout the performance on both a small and grand scale. Take the opening for example. Performing "Here" from the American Utopia record to a plastic brain, Byrne instantly places his cards on the table. This is a performance piece as much about the music as it is the music's ability to unite audiences across any and all lines. About the music's ability to stand as a testament to human connection and the human experience, regardless of what life one leads or where they are in that life.
The greatest, and maybe most Spike Lee-influenced, sequence of them all comes not as Byrne does a classic Talking Heads song or some grand performance piece, instead it comes as he covers a Janelle Monet-penned protest anthem entitled "Hell You Talmbout." Opening with a monologue about the strange optics of a white man doing a protest anthem about the senseless murdering of black men and women, he then reveals Monet herself proclaimed this song as being "for everyone," only doubling down on the type of piece that draws Byrne's ear. Lee in turn uses this as the one performance to genuinely change the aesthetic of the film, placing against the lyrics telling listeners to say the name of black men and women senselessly murdered by the police state we all live in photographs of those same men and women and the dates of birth and death for each person. It's a towering moment of genuine protest that doesn't lose sight of the humanism at the very core of the film, instead harnessing it and using it to draw attention to a part of society where that humanity is being snuffed out needlessly. It's a breathlessly moving sequence that less sticks out as it does feel like a perfectly modulated crescendo to an already transfixing experience.
A soothing balm in what has been a devastating and seemingly endlessly terrible 2020, American Utopia sits firmly as not only one of 2020's great films, but an almost spiritually transcendent experience, and testament to the connective power of music and performance. Finding director Spike Lee at his most humanist, the connection to Jonathan Demme's previous masterpiece is clear, but Utopia is an entirely singular and captivating experience unlike any seen yet this year.