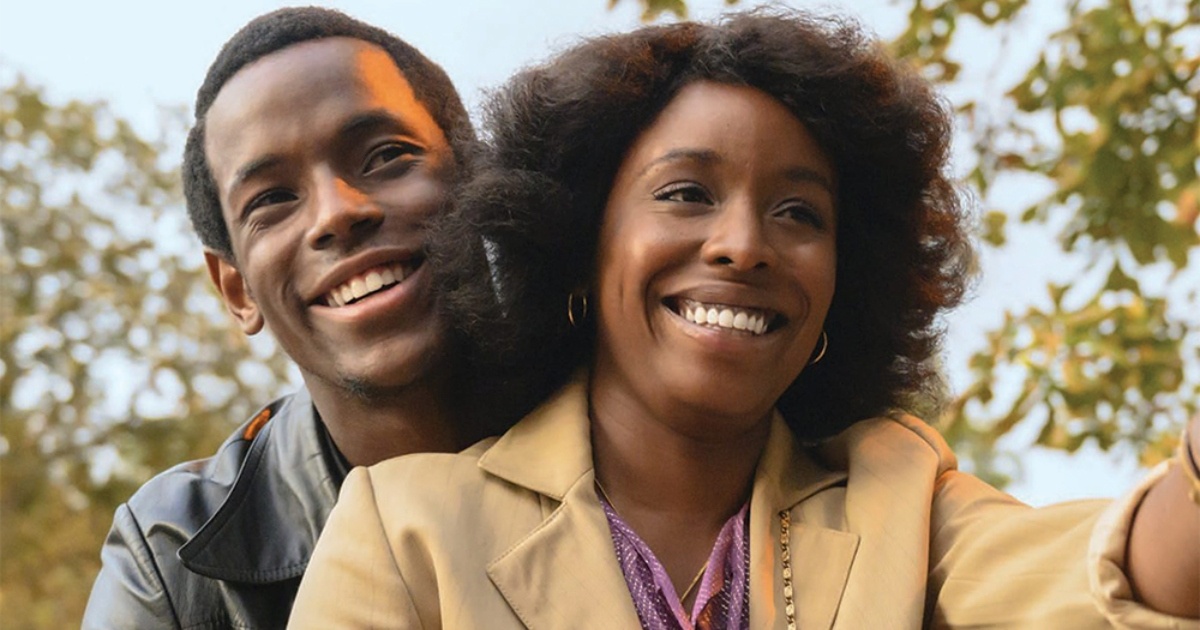 "If you are the big tree, we are the small axe."
This is the African proverb from which director Steve McQueen draws the title of his forthcoming five feature film long series, Small Axe. Three of these five features are set to debut as part of the 2020 edition of the New York Film Festival, with one, Lovers Rock, firmly planted as the festival's opening night feature.
A multi-generational look into the life and times of London's West Indian community, Lovers Rock itself finds McQueen jumping to the year 1980, and largely one special, almost rhapsodic evening in the lives of various young members of the community as they descend upon a house for a smoke-tinged birthday party. Co-written by Courttia Newland, the film introduces viewers to Martha (Amarah-Jae St. Aubyn), a young woman who with her friend Patty, and dressed to the nines for a night of music and dancing, use the party as a getaway from a world of poverty, abuse and racism.
Martha encounters a mysterious young man played brilliantly by up and comer Micheal Ward, and the two gradually spark a relationship despite the former's hesitance about the intentions of the latter. A film of nearly wall-to-wall music, Lovers Rock draws its title from the sub-genre of music featured throughout the film's bombastic reggae-infused soundtrack, a soundtrack firmly inspired by the soundsystem culture born of this time period. With the politics of the time always just at arm's length, this enthralling, impressionistic proto-musical sees McQueen working in something of a new key, ruminating on everything from the power of music as a near spiritual release to the ability for one to find love among the soundwaves.
The first word that comes to mind when trying to internalize Lovers Rock is texture. Set ostensibly during one increasingly smoke-filled house party, McQueen's camera is intimate and sometimes claustrophobic, without ever being distracting or out of tune with the film's larger mood and atmosphere. There's an incredible modulation of character and tone here that's entirely new for the director, who despite making just a 70 minute film with Lovers Rock, may have made his most mature and nuanced film yet. As the party gets more and more chaotic (culminating in a genuine motion of almost punk rock-like politically-charged revolution set against The Revolutionaries' "Kunta Kinte Dub"), the handheld camera work also gets more and more lively. McQueen's camera jostles back and forth with the music from tender and almost painterly shots of satin dresses and modernist button downs to kinetic shots of convulsing bodies finding revolutionary release in the sounds of musical protest.
Now that's not to say McQueen's making a purely political piece of work. At the very core of this film is a deep seeded love and affection not just for the music of this period, but the connection between the person or persons listening and the music that's attempting to move them. Culminating in a set piece set against Janet Kay's "Silly Games," Lovers Rock is for much of its runtime a potent picture about some semblance of puppy love. Martha meets Franklyn, and while she initially assumes he's out for simply a night of fun at her relative expense (itself a concept made literal by the brooding hustler Bammy played by Daniel Francis-Swaby), the two begin dancing and as the music progressively gets more and more romantic, so do the lovers, seeming less moved by their own growth in relation to one another than some spiritual guiding hand here shown in the form of the music they're listening to. The party itself carries with itself a spiritual atmosphere, made literal by a sing-a-long that closes out the scene scored by the iconic Janet Kay song mentioned above, that sees McQueen's camera turn what is simply an acapella performance of the song by a group of party-goers into an almost incantation-like spiritual being sung by a group of people who have found respite from a racist world within the walls of this party.
That is until the world quite literally comes to their doorstep. Near the film's conclusion this spiritual bubble is more or less burst, sending the film into relative chaos, itself culminating in the "Kunta Kinte Dub" sequence that feels less like a continuation of the party itself than a forceful response to the abuse and racism viewers witness just moments prior. Then, come the actual final act, the viewer and both Martha and Franklyn leave the party on the latter's bike, framed with the sky enveloping them in the crisp morning light as if, for one brief moment atop that bike, this heaven they found the night before may not leave them. With shots of the cross throughout the film, one can't help but find McQueen's fascination with that symbol to be crystal clear and incredibly focused, particularly when the closing scene so roundly brings that into full focus. It's a film about religion, just maybe not any literal or specific one, and less the type of spiritual hope and release that one thinks of in those terms. Here the faith is in the song and dance, the preacher the DJ.
Both Aubyn and Ward are absolutely incredible here, with their performances feeling textured and completely lived in. This isn't necessarily a naturalistic piece of writing or performance, but their performances are rightly modulated for the type of impressionistic film McQueen is directing. Aubyn is particularly wonderful here, taking on a role that could have easily been lost against such a bombastic soundtrack and setting, and making her Martha a strong and nuanced character of genuine pathos. The chemistry with Ward's Franklyn is palpable, particularly as it evolves from relative dismissal to something so pure and real come the film's final sequence. There's is a love that feels like it may only last one night, but that neither will ever forget those moments in each others arms.
Coming hot off the heels of his harrowing genre experiment Widows, Lovers Rock finds director Steve McQueen in a mode entirely foreign to him. A captivatingly rendered story of love and music, the first part of the director's epic five film series is a politically charged, yet defiantly humanist portrait of one night in proverbial heaven. His most humane work yet, this briskly paced drama is a work of astounding abstraction, less a film about an experience than it is of that experience. Smoke and satin. Music as connection. Release. Revolution. A perfect, soul-shattering tour de force.