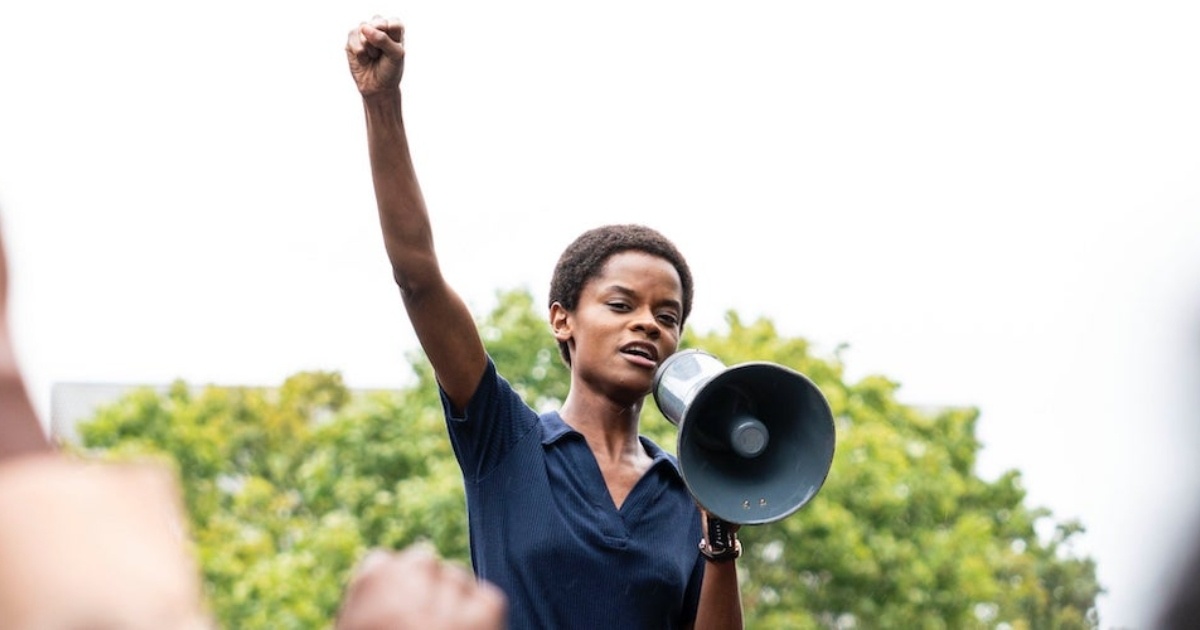 The second of three films directed by Steve McQueen showing during this year's edition of the New York Film Festival, Mangrove continues the forthcoming Small Axe quintet set to debut on Amazon Prime later this year, following up the director's NYFF Opening Night masterpiece Lovers Rock.
Nearly doubling that film's runtime, Mangrove may be part of the same series of films from McQueen, but couldn't feel more different. Jettisoning the music-focused neo spirituality of his brilliant Lovers Rock, this film instead finds McQueen at his most overtly political, telling the story of the Mangrove Nine. A group of Black British revolutionaries, the Mangrove Nine where a collection of activists who, in response to continuing pressure from the racist police force found in 1970 London, took to the streets to protest the continual raids of the titular restaurant.
The film takes place in the Notting Hill neighborhood of London, and stars Shaun Parkes as Frank Crichlow, a restaurant owner with a passion for Caribbean food and being a hub for community connection. Following raid after raid after raid, the restaurant becomes something of a figure for police brutality and their consistent persecution of the black community, becoming a place for political action after activists like Altheia Jones-LeCointe (a brilliant Letitia Wright) and Darcus Howe (Malachi Kirby) get involved. Right around half way through the film tensions boil over, with a peaceful protest turning violent following aggressive escalation by the aforementioned vile, racist police force. Turning then into a taut and thrilling courtroom drama, Mangrove turns from a slice of life drama about a community under attack by a destructive system into a drama about that very community getting their chance to speak for themselves and take what control they can.
Coming at a time where the world's slowly starting to see another hotly anticipated courtroom drama about police brutality, Aaron Sorkin's Trial of the Chicago 7, Mangrove blends verite-style, fly on the wall intimacy with a vivid visual language that could only come from a filmmaker steeped in experimental video art. McQueen's second Small Axe entry to hit theaters, Mangrove is quite a leap from the NYFF-opening Lovers Rock, but only in scope, really. This two hour-plus drama features similar energy and intimacy, with McQueen's camera finding increasingly moving ways to shoot both repeated police raids and also a lengthy back half of the film which ostensibly takes place entirely in a courtroom. Cinematographer Shabier Kirchner stands out as one of the stars of the film, particularly in he and McQueen's modulating of tone and atmosphere. The raid sequences, in particular, are properly chaotic and in many ways brutal to watch, coming one after another with aggression and little in the way of telegraphing.
As they increase in numbers, the raids also become more and more infuriating, as they're paired opposite sequences of this community bristling with life, passion and real, textured humanity. Parkes is shattering as Frank, turning in a performance that's increasingly on edge but also completely focused and lived in. It's a towering lead performance that could be easily elevated and turned into something more maudlin, but instead plays out brilliantly given a mature and thoughtful actor behind the role.
Wright is also otherworldly here as the activist Altheia. Her performance is arguably a bit more meatier than that of anyone else in the film, but Wright proves to be up to the task, with her and Kirby getting many of the larger, more classically rousing sequences. They're both given solid, if maybe too speech-heavy, writing, and genuinely run with it, particularly Wright who turns in a mature and layered performance far beyond her years. This is, to the film's benefit and arguably its point, an ensemble film, and the performances are uniformly quite great, even down to Alex Jennings in the role of Judge Edward Clarke, who is given little screen time but never once leans into anything arch, an easy trap for a character like this. McQueen rightly gets a lot of the credit here, crafting a film of nuance and little caricature (the racist police would fit the bill if their seemingly cartoonish brutality wasn't the same being shown to this day here in the states by actual police). However the performances, across the board, seem more than capable and given real vitality to a film riffing on a stale, classic film genre.
Gorgeously composed by a director at the height of his powers, Mangrove is the second masterwork from McQueen in what is shaping up to be one of the great film series of our time. A textured portrait of real, tactile political resistance, McQueen's courtroom drama is an act of political revolution in a time where that's more than needed. A major work from a major filmmaker, this is a courtroom drama unlike any film has seen.