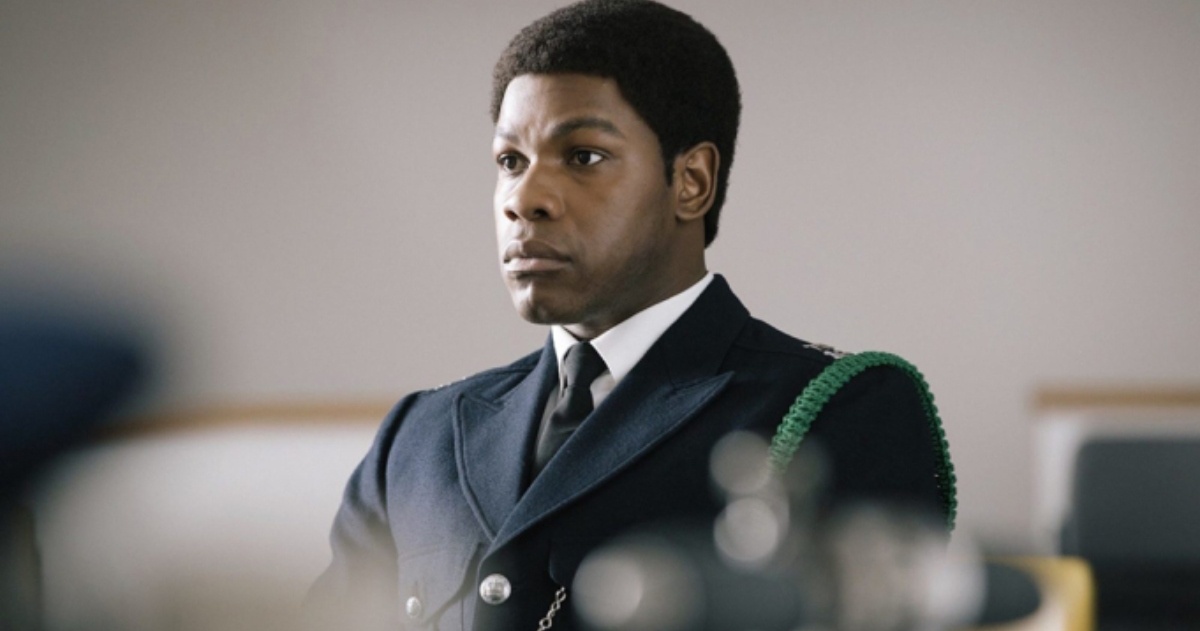 Capping off what has been a genuinely historic run at this year's New York Film Festival, director Steve McQueen has bowed his third and final film set to debut during the annual festival. Entitled Red, White And Blue and again part of his forthcoming Amazon and BBC-backed Small Axe film series, the director jumps from the world of proto-musicals and courtroom dramas into something a pinch more classical yet no less ambitious and revolutionary.

Red, White And Blue stars John Boyega as Leroy Logan, a real-life figure who went from being a forensic scientist as part of the London police force to joining the department as a beat cop upon the urging of a close friend. With a son on the way, Leroy must in turn navigate the life of a police officer not just as a man putting his life on the line behind the badge, but as a black man working within a system born literally out of racism. His own father is, near the beginning of the film, seen being savagely beaten for "resisting arrest" despite being clearly within his rights, making Leroy's turn to the blue side all the more conflicted and conflicting.
Of the three films shown from this series here as part of NYFF 2020, Red, White And Blue feels, in many ways, like a quiet summation of much of McQueen's pet themes throughout the series. Clearly the more classically told of the three features, McQueen's camera is often quite static, allowing the performances to breathe in a way that's particularly exciting and engrossing. Boyega is career-best here, getting the chance to flex muscles rarely used while he had been stuck inside the Disney machine. His performance manifests his characters conflicted nature, increasingly finding the actor and character getting more unnerved by the lack of support he's been shown by his co-workers on the force. His entire intent behind joining the police force was to be seen doing his job, setting a standard and spearheading conversations about race and racism in the community. Instead that own community rejects him, pointing to "working with the beast, and not for them" (a family member sparked Leroy's interest in policing as being a police liason). There's a central conflict of wanting to change a toxic system from the inside but in turn having the optics appear as though you're condoning their toxicity by joining them that's palpable and genuinely provocative given the state of things in the year 2020.
Fatherhood is also not far from McQueen's mind here. One of the film's more resonant sequences comes after the discovery by his father that Leroy has joined the service, with the former telling the latter that he helped get him schooling in order to give Leroy the ability to fight the police effectively. This isn't meant as a declaration of war, instead giving a narrative to his father's own internal monologue. Leroy's father sees him joining the force as a sort of betrayal, a betrayal because deep down he knows that the system doesn't change for one voice. Instead it forces that one voice to turn its blind eye, thus continuing the cycle as more generations are being recruited to themselves be forced into similar positions. It's a fascinating insight into police politics and McQueen's film handles it with texture and maybe not nuance (the performances aren't subtle nor is the script) but genuine, heartfelt conviction and passion.
All in all, this is also scheduled to be the final film in the Small Axe series, and as such one can't help but view this as some sort of capstone for the series itself. Infused with touches like a relative being part of the arts scene and courtroom scenes playing an integral part here, one can't help but see this both as a formal culmination but a thematic one as well. Boiling McQueen's sharp interest in race and community into a study of a single character, Red, White, and Blue is a gorgeous and emotionally devastating drama. It may seem less formally ambitious than a Lover's Rock (probably the best of the three films here at NYFF) and less narratively so than Mangrove but as a sort of epilogue, this cements Small Axe as one of 2020's great filmmaking achievements and a titanic moment in the documenting of black stories on film.